This question may have seemed funny years ago, but how can cowboy boots be worn for an interview? Well, today everything has changed.
No longer only appearing on the ranch, cowboy boots today have appeared in conferences, parties or luxury weddings across the United States, all thanks to improvements in construction and appearance.
Therefore, the answer is very simple, you can completely use cowboy boots for job interviews!
However, as cowboy boots evolve with many different constructions and looks, there are many things to keep in mind. Not all cowboy boots are suitable for your needs.
Today, this article will be the most essential guide for you for the upcoming important days!
Is it okay to wear cowboy boots for a job interview?
Today, cowboy boots not only have a distressed look with the wild style commonly found on the farm, but they come closer to regular life.
The evolution of cowboy boots makes them increasingly diverse, especially in terms of style.
Many modern cowboy boots can appear sleek and elegant without being rugged or dry. You can look for well-polished cowhide boots or exotic boots made from lizard or caiman.
Well-polished cowboy boots, lizard, or caiman boots are all great when you want to wear them with dress pants or a suit for business casual.
Therefore, you can completely use cowboy boots for job interviews without having to worry about whether they are appropriate or not.
Even so, the variety of cowboy boots can still confuse you, so here are some recommendations!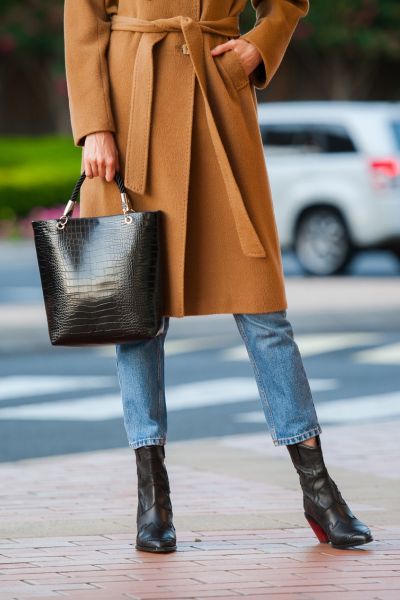 As for the toe shape, I suggest men should go for cowboy boots with round toe or square toe and stay away from pointed toe or broad square toe.
The reason is that boots with round toes often have a more refined feel as they taper toward the end. Your legs will look longer, slimmer and you will also look taller.
Square toes are also a good choice for men because they have a strong edge.
Pointed toe or broad square toe shouldn't really be worn with dress pants in this case. The pointed toe's tip looks extreme while the broad square toe's tip is too wide and lacks the necessary flair.
If you are a woman, maybe a snip toe and round toe will work for you as they look pretty sharp but not as extreme as a pointed toe or rough as a square toe. A slight curve on the tip of the toe shape also makes you attractive.
The heel should have a height of 1 1/2 inches to 1 3/4 inches when it gives you a taller, more confident look but still ensures enough balance for each steady step.
Stay away from cowboy boots with a too-high heel (more than 2 inches) and small bottom. They can cause your steps to lose confidence by not providing enough stability.
The most important thing when you have a successful interview is to keep your natural demeanor.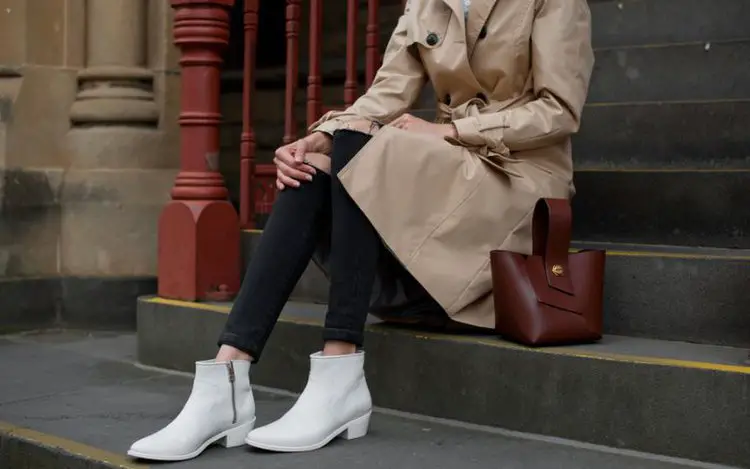 Cowboy boots should be well polished to have a luxurious finish. You should not choose distressed styles because they will be completely inharmonious in glossy places.
Boots made from exotic leather often exude class without a lot of stitching on the surface. They are great to go with a dress cloth or suit to an interview, simple yet beautiful and classy.
Some types of exotic boots you should consider are blue crocodile, caiman belly, and lizard. These leathers have a very unique look and still retain the classic vibe of cowboy boots as well as exude elegance and courtesy.
Cowboy boots should have a classic dark color to pair with any office outfit. You should avoid boots with a stitching color that contrasts with the dominant colors of the vamp and shaft.
Remember my words, office attire needs simplicity, try to find beauty in simplicity. That's why exotic boots are a good choice.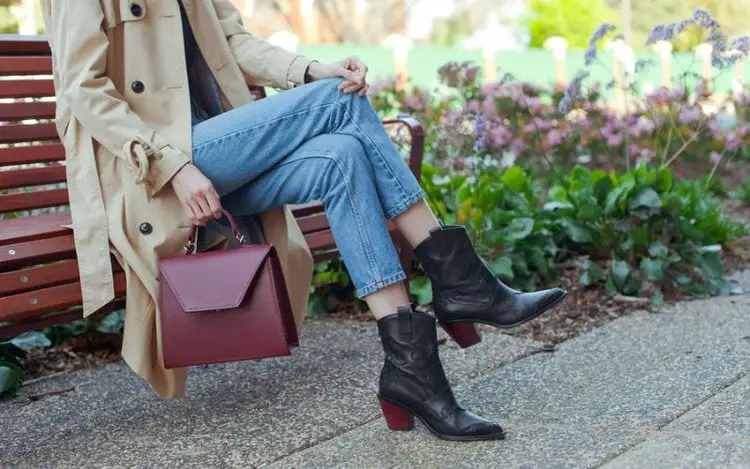 You should not wear specialized cowboy boots for outdoor work because they look rough and lack sophistication.
Traditional or roper style cowboy boots are good choices with elegant structure.
You should look for Tecovas boots as they have all the features I listed, including a wide variety of exotic leather and a very sophisticated traditional cowboy and roper style.
The fit of boots and pants
It is important that boots and pants are in harmony. It is not appropriate to tuck pants into your boots, and you should do the opposite. This ensures proper elegance in the interview.
Also, the pants should not be too tight, which will make them hug the shaft of cowboy boots tight and the motifs of the boots will print on the surface of the pants. That's not good at all!
You should try on your dress pants with cowboy boots. If they have enough room to tuck the shafts of the boots in, feel free to head to the interview site.
Some things you need to keep in mind
In addition to the cowboy boots suggestions, you should also pay attention to the outfit to wear with them to the interview.
Although jeans are a fashion item that goes well with cowboy boots, they generally tend to be quite distressed and not many people really use them for formal places. So jeans in this situation are not a good choice.
For men, you should wear dress pants and a shirt to go with cowboy boots. Or a suit with a pair of caiman boots is also a great combination.
For women, in addition to dress pants and suits, office dresses or skirts can also be used. However, you should use western booties to go with dresses or skirts instead of traditional cowboy boots.
Similar to men, women should also tuck the shaft of cowboy boots into their dress pants.
You should not wear skinny jeans and tuck them into cowboy boots, this style is too dynamic and youthful, so it will lack the necessary politeness in the workplace.
Conclusion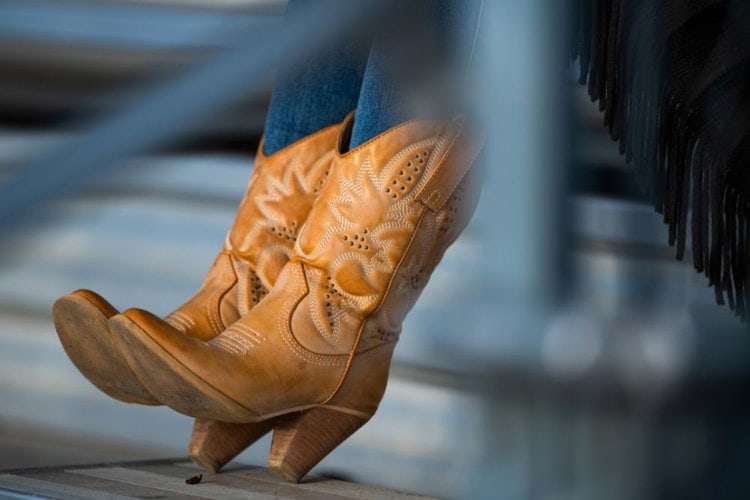 In general, cowboy boots today not only appear on the farm but are also a companion for many people for casual wear, outdoor activities or business casual.
The change in material structure and the style of cowboy boots make them more diverse. Not only do they have a wild Western appearance, but now they also have a graceful and polite appearance.
Well-polished cowboy boots or made from the right leather such as lizard or caiman are both great to dress up your suit during an intense interview.
That's all you need to know, rest assured!
Howdy y'all, and welcome to From The Guest Room, your ultimate guide to all things Western! I'm Jay Gatz, a lifelong cowboy boot enthusiast with over 5 years of experience in the Western style world. I'm excited to share my knowledge with you and help you discover the perfect cowboy boots and western gear to elevate your style. Let's explore the rich history and timeless appeal of Western fashion together!