Cowboy boots possess an interestingly different structure and appearance from any other riding boots from England or Europe. Some documents say that the first cowboy boots were designed and crafted by a German shoemaker when he immigrated to America a few centuries ago.
So, in my opinion, they can sort of be a mixture of American culture, some touches of European culture, and a few ideas from Mexico too.
An American friend of mine used to say that anyone who wears cowboy boots looks more American than any real American.
That's why any of my foreign friends moving to the US will tend to put a pair of cowboy boots as the first item on their outfit shopping list. I got them as cowboy boots can really be teamed with any kind of outfit.
In my opinion, you will not find any better line of boots with a more flashy, eye-catching, and fancier design than cowboy boots, especially the deep scallop (the deep V cut in the middle of the top of the boot shaft).
Have you ever wondered why they look so cool?
This confusion will be resolved in this article. Let's dive in!
Why Are Cowboy Boots Shaped The Way They Are?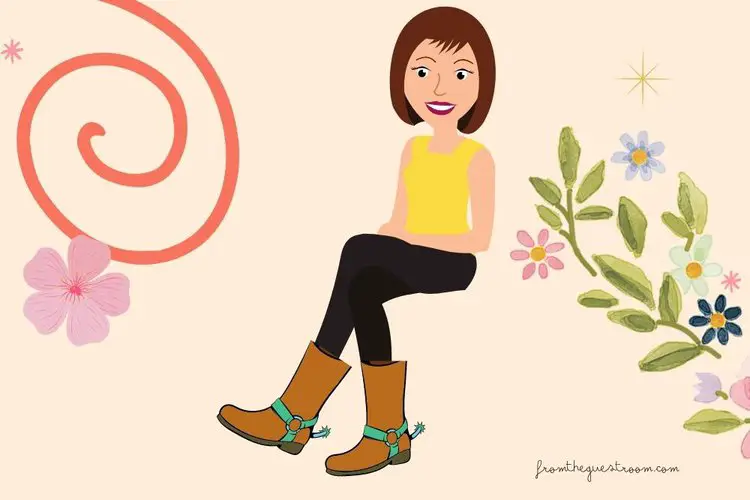 Before talking about why cowboy boots are shaped the way they are, let's talk about their history first.
Cowboy boots are actually designed and modified based on the idea of the Mexican Vaquero boots. During the colonial era, Mexican cowboys (also known as vaqueros or charros) shared some common living and livestock areas with American cowboys.
After that, many vaqueros went to work on American farms. Here, they taught the Americans a lot of skills in hunting, horseback riding, and cattle rearing. But they are not imparting any idea about their boots, which are traditional Vaquero boots.
Americans learned these skills very quickly and developed them more deeply. They also noticed the Vaqueros' apparel and footwear, and I guess they took those ideas to design their own riding boots.
However, Americans did not 100% copy the way traditional vaquero boots were shaped. They modified and changed the original boot style to better suit different uses in their lives.
These are changes in lengthening the length of the vaquero boots to the calf (while vaquero boots are usually just below the calf), adding scallops (vaquero boots traditionally do not have this detail) and cowboy heels (vaquero boots traditionally feature square heels).
Americans have done a great job of inheriting and developing the ideas of traditional vaquero boots into cowboy boots and turning them into a symbol of American culture.
These designs have been preserved until now.
Mainly for riding purpose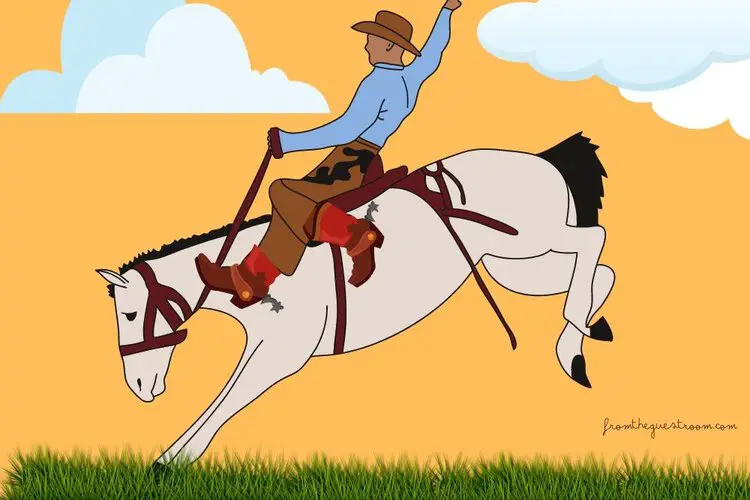 The first and foremost reason cowboy boots are shaped that way is for riding purposes. In the 18th and 19th centuries, people often rode horses to graze cattle on the vast grasslands instead of walking for miles and miles every day.
Besides, horseback riding is also the main means of transportation between regions. Therefore, people can sit on horseback more than walk on the ground.
Cowboy boots have adjusted the shape of the square vaquero boot heels to be way smaller, curved inward, and slightly taller.
This allows the wearer's feet and boots to stay better fixed to the stirrups and virtually has no chance of slipping off the stirrups in the middle of the ride.
Traditional Vaquero boots have slightly pointed toes for easy in and out of the stirrups. I would guess that Americans in the 18th and 19th centuries had smaller foot sizes than these things from Mexican vaqueros.
This is because I noticed that Americans have trimmed these pointed toe designs to become narrower on their sides, much like today's modern S-toe designs. This does nothing more than improve the fit of their shoes while riding and make putting their feet into stirrups easier.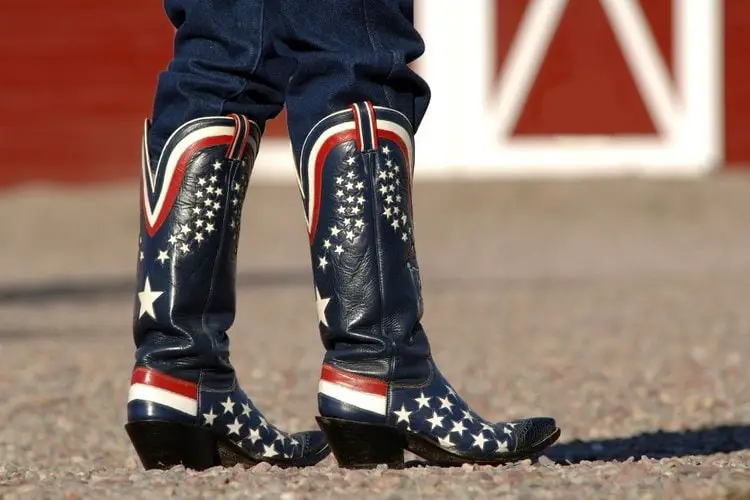 You can also figure out that the toes of cowboy boots are more curved upwards, while the traditional vaquero boots have a flatter toe design. They look quite a lot more artsy.
Traditional Vaquero boots are fitted with spurs to guide the horse on the move. Some documents say that cowboy boots do not inherit this detail. But perhaps even into the 19th and early 20th centuries, Texian cowboys were still wearing spurs in their attire.
This also allows them to easily control the horse while riding, and yes, this device looks deadly cool.
More protection and require less cleaning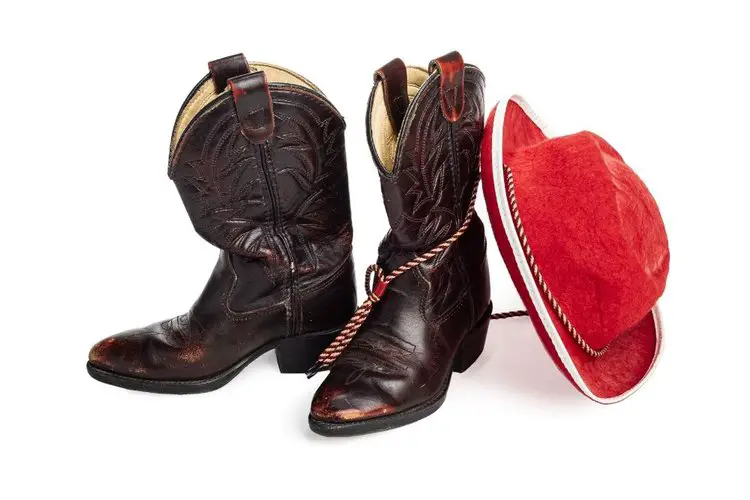 What is most obvious when comparing the correlation between the ancestors of cowboy boots and traditional vaquero boots is that this American line of boots is more optimal in protecting the wearer's feet.
Most traditional cowboy boots have a mid-calf shaft design, and the height of the boot shaft can reach 16 inches or more (what we often call "buckaroo boots").
This provides better foot protection from snake bites, poisonous grassland insects, and scratches from work tools or twigs from bushes.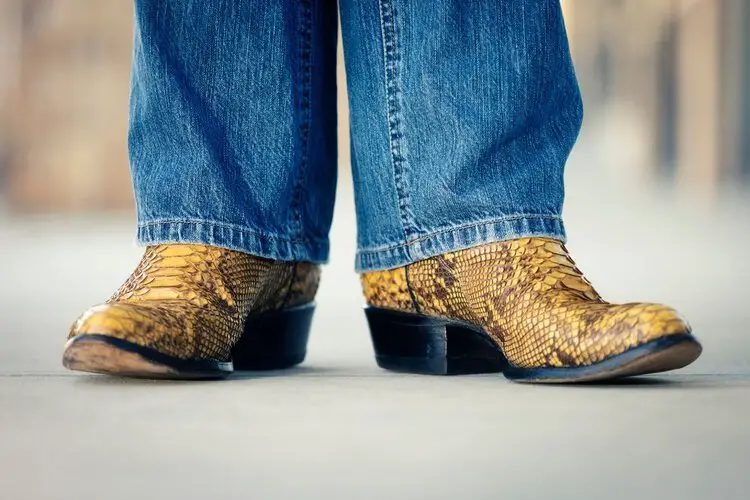 Today, Buckaroo boots can also be improved to become snake boots thanks to their superior boot shaft length.
Besides, most cowboy boots use real, sleek leather as the main material in their construction. Boot makers optimize leather for insoles, outsoles, and the leather lining inside boots.
This also helps keep feet cool in the summer or when riding for long periods of time in the sun.
The wearer's feet are less likely to sweat too much due to the porous and breathable construction of the leather. This material is also very tough, durable and can last more than 10 years, which is pretty ideal for heavy-abused jobs in ranches, yards, or farms.
Most snakes in the United States cannot pierce leather with their fangs. So you can rest assured that your feet are best protected when working around dense bushes.
Leather also requires less frequent cleaning and maintenance. Some natural leather lines that have not been dyed or polished have an aged and worn-out look. They are naturally water resistant to a medium level. You just need to wipe their surfaces with a wet cloth and the dirt will disappear.
Easy to put on and take off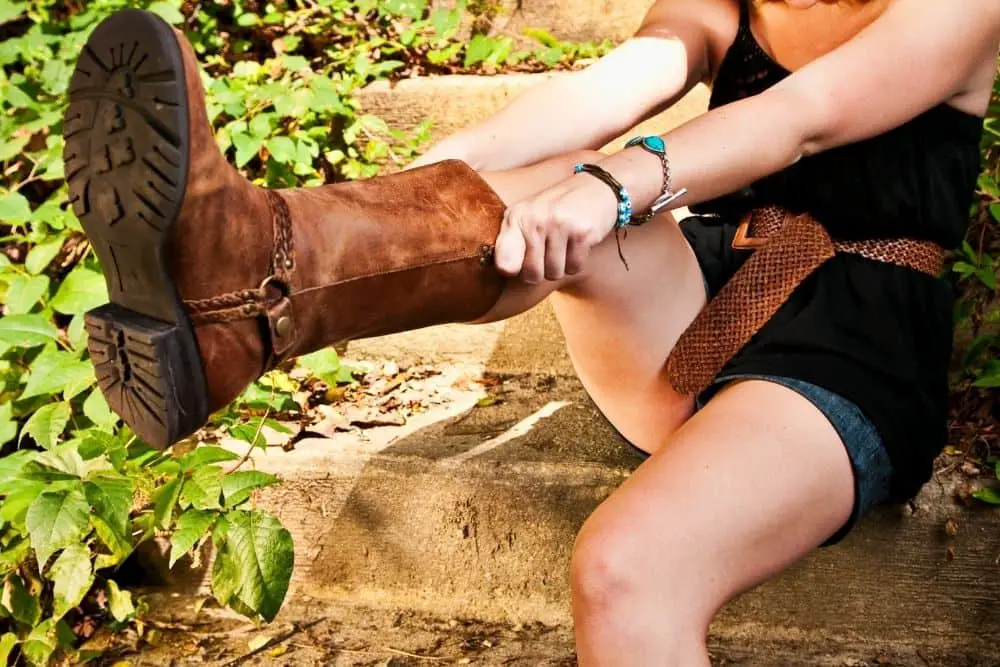 I believe the Americans added Scallop (the flashy deep V-cut in the front top of the boot shaft) to the structure of the traditional cowboy boots with a purpose. Meanwhile, traditional Vaquero boots have the same flat top boot shaft design as British riding boots.
Cowboy boots have changed to appear with an interesting scallop detail. This design is located opposite each other in the center front and center rear of the top of the boot shaft. I guess this detail helps soothe the calves when sitting on a horse all day long.
Imagine when you're wearing mid-calf cowboy boots with the flat, closed top of the boot shaft. This will cause your calves to uncomfortably compress while sitting on a horse or using your feet with stirrups and spurs.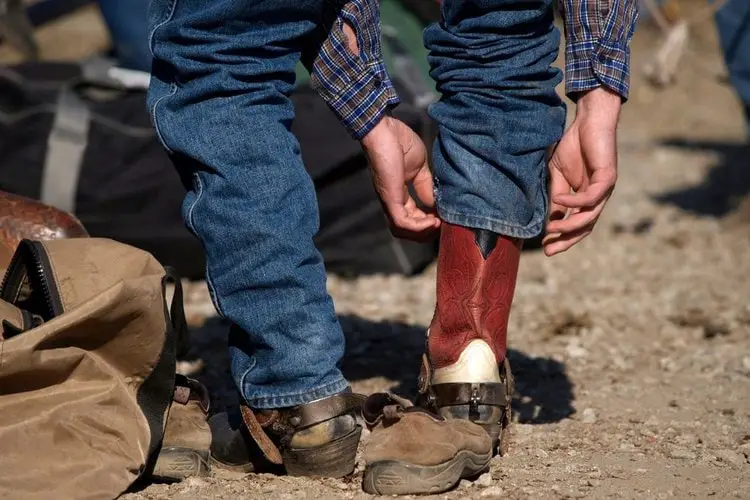 Especially when cowboy boots are often worn under pants instead of outside pants like other riding boots. Basically, this design promotes blood circulation around the calf with better ventilation in this area.
These days, Scallop design is even considered to be centuries ahead of its time. Modern Americans have one of the highest body weights in the world. This, along with their hobby of going to the gym, makes their calves much larger.
This deep scallop design will make it easier to put on boots for those with muscular and chubby calves.
More adaptable for walking purpose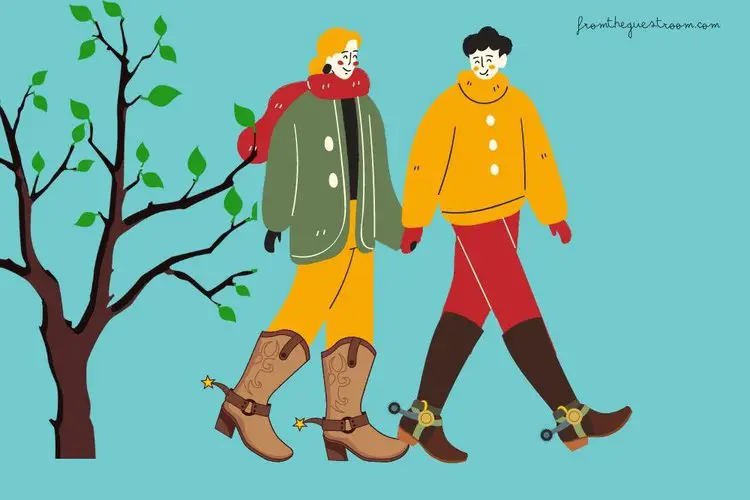 I couldn't find other variations of the traditional vaquero boots, but variations of cowboy boots abound. This is reflected in the different heels and toe designs of cowboy boots.
At the time, when vehicles other than horses appeared, people tended to walk more on the ground. This requires cowboy boots to have other features that support being on their feet all day long, since cowboy heels are not really useful anymore.
That's why Roper boots were born later. They adopted low, square-off heels with round toes to make the wearer feel more comfortable.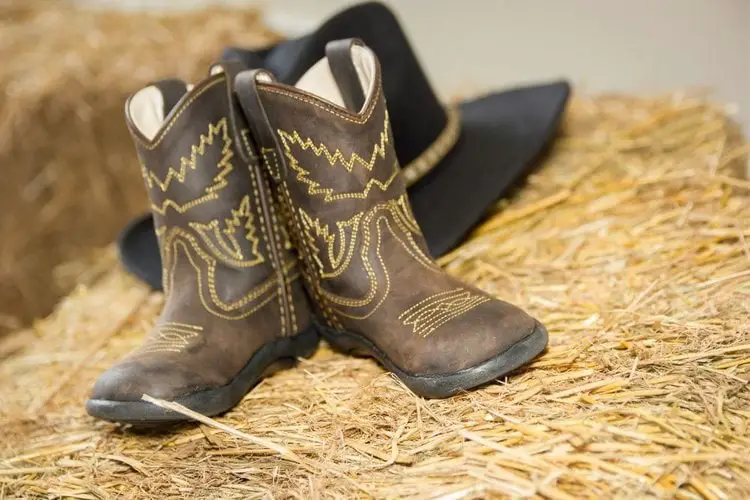 Square heels don't put as much pressure on ankles, heels, and arches as cowboy heels, while round toes provide more roomy toe boxes to promote blood circulation in the toes—what industrial workers need when standing all day long.
But to some people, round toes may not seem elegant and stylish enough for their look. Maybe that's the reason for the birth of square toes. This is considered a design that blends the classics, elegance, and functionality at the same time.
The idea behind this design is wide snip toes that are cut across the top of the boot toes, creating a space comfortable enough for toes but still narrow enough to spark elegance. Those with extra wide feet have options with broad round toes and broad square toes.
Now cowboy boots are a real fashion symbol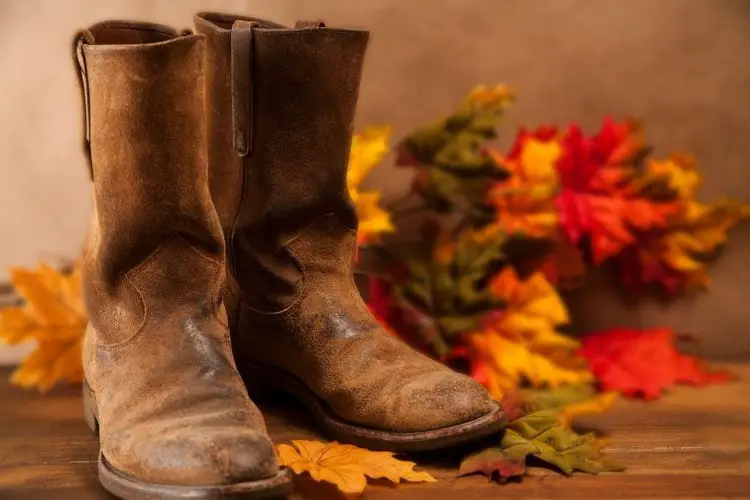 Since cowboy boots are widely promoted through cinematic images associated with Texas cowboy heroes, they have quickly become a fashion trend until now. They are also widely worn by Hollywood stars.
You will likely find cowboy boots made from exotic leather such as natural snakes, crocodiles, elephants, or ostrich leather that can cost an arm and a leg. They affirm the class and luxury of the wearer.
Another unique and artistic feature of cowboy boots also comes from the decorative details on the boot shaft that inspire a strong western vibe. You probably won't find this in traditional British and European riding boots or vaquero boots.
These details embody the American spirit of creativity, wildness, and freedom in our national footwear. These details can be embroidered with thread or carved.
My guess is that former American aristocrats preferred to use these embellishments as an ostentatious display of their social status and caste.
Before you leave…
I believe that freedom is what makes Americans so much better able to inherit and develop previous ideas. That is the spirit that our cowboy boots always inspire in the wearer.
Some of my Mexican friends admit that we have done a better job than they have in making cowboy boots more useful, versatile, and eye-catching. The way cowboy boots are shaped makes them an integral part of American daily life.
Howdy y'all, and welcome to From The Guest Room, your ultimate guide to all things Western! I'm Jay Gatz, a lifelong cowboy boot enthusiast with over 5 years of experience in the Western style world. I'm excited to share my knowledge with you and help you discover the perfect cowboy boots and western gear to elevate your style. Let's explore the rich history and timeless appeal of Western fashion together!