I recently heard an old rule that men often apply: your belt must match your shoes, and your tie must match your suit.
Temporarily put the suit and tie aside, today we will talk about the shoes and the belt, typically cowboy boots. "Does a belt have to match cowboy boots or not?" Maybe this confusion stems from the above principle.
Well, it can be said that it's not necessary, but it is still better if the belt and cowboy boots could have harmony in style and color.
For any style, especially with classic and traditional styles like cowboy boots, color and style harmony are important. Just a few basic mistakes like tucking your pants into your boots or wearing an overly flashy belt can completely ruin your well-groomed look.
Today's article will be the most detailed answer for you. Let's check it out!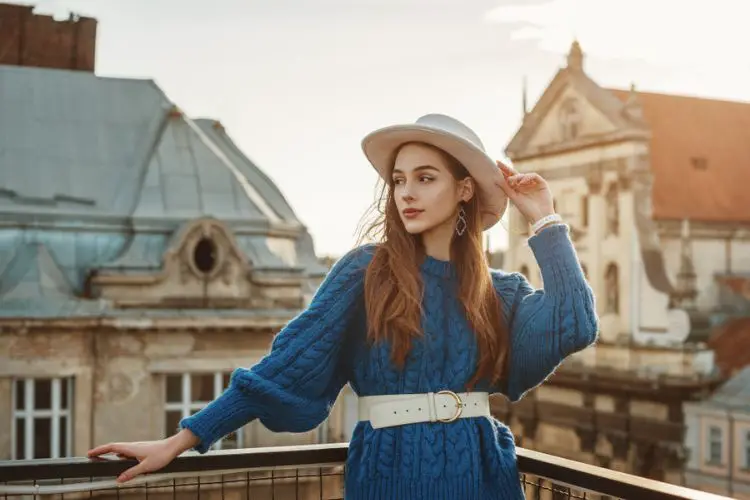 Is it Necessary to Choose a Belt that Matches Cowboy Boots?
Most people, especially men, wear cowboy boots for a clean and classic look. So cowboy boots often go with pants whose main color is usually dark. Among them, dark blue jeans are the most popular.
In addition to dark blue jeans, some lighter tones like khaki are also very popular in the cowboy boots world.
Today, the improvements in the structure and color of cowboy boots give them a variety of looks to be worn with many different types of outfits. Cowboy boots can even pair with a chic and formal item like a black suit as their overall look is always classic and clean.
To have good harmony, you should also choose a belt that will either match cowboy boots, pants, or your outfit.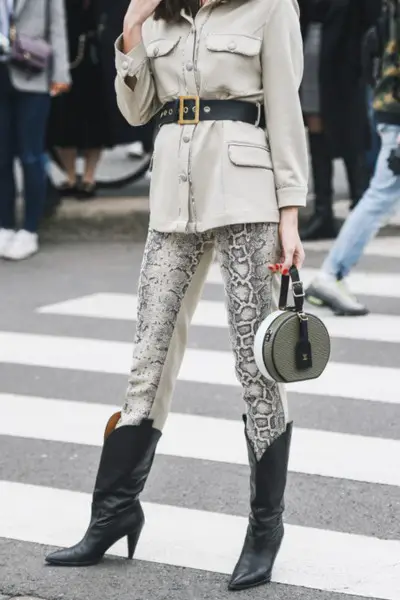 So, it's great if your belt has the same tone as cowboy boots, a classic and eye-catching tone. But if not, make sure they have the same color as the pants, or at least, opt for classic or dark-colored belts.
The harmony in the style and color of the belt will affect the entire outfit, from the top to the bottom, because nothing in your ensemble should be underestimated. Don't choose a red or green belt, they will greatly contrast with the classic colors commonly found in cowboy boots like brown, black, or tan.
The difference in the color of the belt to cowboy boots and the rest of the outfits will cause discomfort to the others, they can completely ruin the clean and classic image you try to build.
I have 2 belts at home, one made from ostrich in brown color and the other made from alligator in black. They can go with a lot of different cowboy boots because those are two super easy colors to match (especially brown).
Meanwhile, for women, things are much simpler.
Unlike men who often consider cowboy boots as a traditional and classic accessory, women come to cowboy boots sometimes because they are a trendy fashion item.
Actually, you ladies don't have to follow such classic and traditional principles, you can let your imagination run wild.
You can totally wear a stylish yellow belt to go with a pair of red cowboy boots. They are sure to create a breakthrough and dynamism in style.
In general, for women, just try it, you will find the belt that suits your style and personality.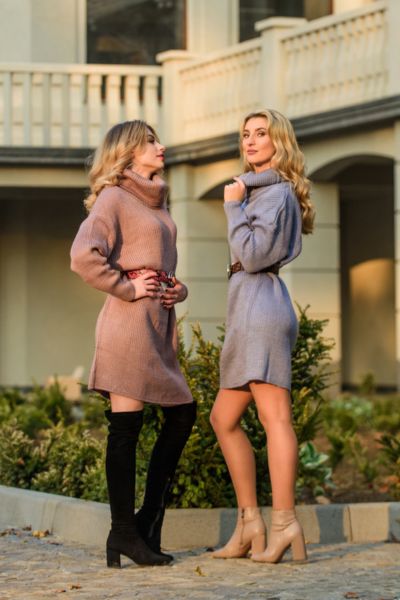 Conclusion
In short, if you want a classic and clean look in cowboy boots and belts, make sure these two accessories harmonize with each other in color.
Most cowboy boots are dark in color like black or brown, sometimes tan. It's also the color your belt should have to match your cowboy boots.
Or at least, the belt should match the pants you are wearing so as not to create too much contrast in the look. Simply put, if you're too busy, stick to classic colors like black or brown, they go with almost anything.
For girls who consider cowboy boots as trendy fashion accessories, things are simpler. There are no rules, and you just need to be yourself! Relax your mind and be creative with the outfits in your closet.
Good luck!
Howdy y'all, and welcome to From The Guest Room, your ultimate guide to all things Western! I'm Jay Gatz, a lifelong cowboy boot enthusiast with over 5 years of experience in the Western style world. I'm excited to share my knowledge with you and help you discover the perfect cowboy boots and western gear to elevate your style. Let's explore the rich history and timeless appeal of Western fashion together!