Are you looking for a cool accessory to go with your badass cowboy boots?
Or a useful item to accompany cowboy boots on the upcoming forest picnic?
Spur? Come on, this is not the 19th century anymore, you won't ride a horse to the forest.
So it looks like you are looking for a boot knife! It's a great accessory to accompany your perfect cowboy boots!
However, not everyone knows how to wear a boot knife with cowboy boots, today we will show you how to choose boot knives, cowboy boots and how to match them!
Let's see it!
Why wear a boot knife with cowboy boots?
Listen, before we dive into this article, I have to say that this article doesn't promote the use of boot knives for improper purposes such as aggression and attack on others.
A boot knife is a perfect tool for you to protect yourself and use for survival purposes on long journeys.
Some states do not allow you to use boot knives, you should obey the rules and play by the rules!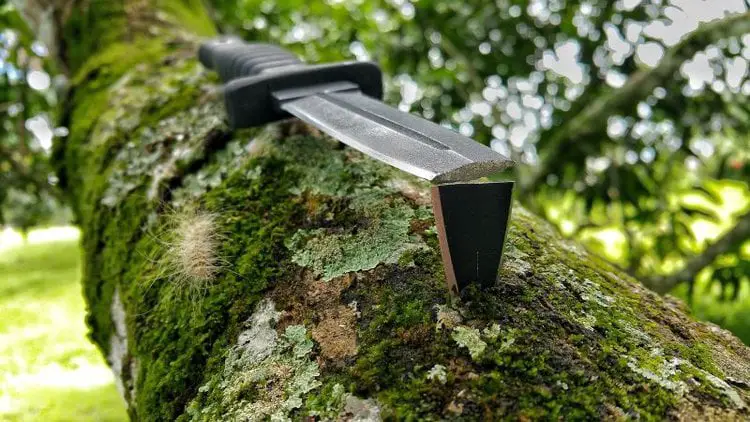 The long journeys in the mountains or forests are not only full of interesting stories but also full of scary mysteries. That you need to have the tools to protect yourself.
They must be easy to use, take damage to a certain extent and have great flexibility – that describes a boot knife.
Of course, you can't use a boot knife to fight a bear, but with a 9″ boot knife, you can run faster than holding an 18″ knife… Well, an 18" knife isn't necessarily helpful if you meet that bear.
But with a boot knife, you can take the initiative and be flexible against a wild boar or big animals when you are attacked.
Besides, to survive in a forest you need to have a knife that is sharp and convenient enough to hunt rabbits, fish or simply to cut something like a rope.
So why should you use a boot knife with cowboy boots?
Because cowboy boots have a high shaft that is higher than many other boots or shoes, they completely protect you from sneaky and poisonous animals such as snakes, scorpions, leeches or spiders.
So the combination of cowboy boots and boot knives is the perfect choice for you to make a journey full of mystery and fun.
Choose the perfect cowboy boot to go with the boot knife
Usually, when you have a boot knife prepared, you definitely don't have to go out for a walk in town or flirt with a girl. You wear a boot knife to avoid a wild boar flirting with you.
In other words, you should only wear a boot knife with cowboy boots for forest picnics, hiking, or camping,… where you need sharp knives to survive.
For that reason, we recommend you use cowboy boots with a low heel, square toe or round toe with the shaft isn't too high and leather around the calf isn't too tight.
Cowboy boots to go with a boot knife should be boots with high mobility, not high heels like riding boots, not high shafts like buckaroo boots and not beautiful like fashion boots.
You should choose stockman cowboy boots or western work boots to get the perfect design for camping or adventure.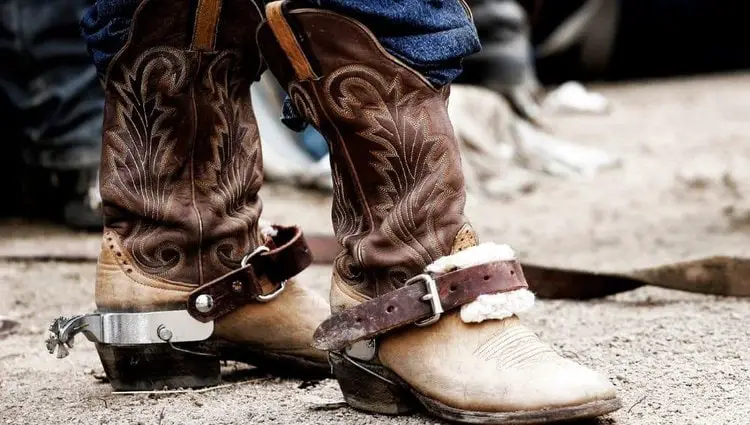 Stockman and western work boots are cowboy boots with high mobility, good durability and above all great comfort for long trips.
Besides, boots shouldn't have too high of a shaft (slightly higher than mid-calf is enough) with leather around the calf that has enough room for you to insert the boot knife inside and take it out easily.
However, if your cowboy boots don't have enough room around the leather around the calf (because you bought them before you think of inserting a boot knife), you can also attach a knife outside the cowboy boots.
Cowboy boots often have a leather strap inside, you can attach a boot knife to that position.
3 Perfect Pairs of Cowboy Boots to go with a Boot Knife
1. Rocky Men's Dakota Ridge
| | |
| --- | --- |
| What we love | What we don't like |
| Full-Grain Leather, Waterproof | It takes time to break in |
| Rubber outsole is oil and slip resistant | |
| Fiberglass shank and cushion footbed | |
| Durable and solid | |
Rocky Men's Dakota Ridge has a strong and masculine appearance, you will not be able to find cowboy boots that are more suitable for mounting boot knives than that.
With standard heel height (1.5 inches) and square toe, these cowboy boots give the wearer absolute balance and comfort. They are flexible for picnics, camping, etc.
Besides, a 12″ shaft is a very suitable feature for you to attach a boot knife, neither too high nor too low, it is convenient for you to remove the knife from the sheath.
2. ARIAT Men's Ryden Ultra
| | |
| --- | --- |
| What we love | What we don't like |
| 100% Leather, Rubber sole | |
| ATS technology | |
| Lightweight and durable | |
| Handcrafted leather foot to the shaft | |
If you love boot knives and cowboy boots, then you definitely love the cool style. So why not choose ARIAT Men's Ryden Ultra Western Boot?
With the design made from cracked skin, full of distressed style and the color of Chocolate Elephant Print, it has an attractive and cool appearance that you cannot deny.
Besides, the rubber sole provides a sense of stability and balance for wearing all day long camping. Along with ATS technology, this Ariat boot supports your feet very well from the arch of the foot to the heel.
Ryden Ultra Western Boot comes with the Smith & Wesson boot knife, then perhaps there is no better option.
3. ARIAT Men's Circuit Patriot
| | |
| --- | --- |
| What we love | What we don't like |
| 100% Leather, Leather sole | The sole wears out pretty quickly |
| 4LR technology, Leather lining | |
| Full-grain leather foot and upper | |
| Insole with contoured massage surface | |
Stockman boots are always the number one choice for those who love adventure and exploring new lands.
With inherent maneuverability and cool looks, ARIAT Men's Ryden Ultra Western Boot is your wise choice.
Not to mention the American flag pattern on the back shaft, if you're a patriot, what are you waiting for?
The texture of the American flag is gold, it never gets old!
Choose the perfect boot knife to go with cowboy boots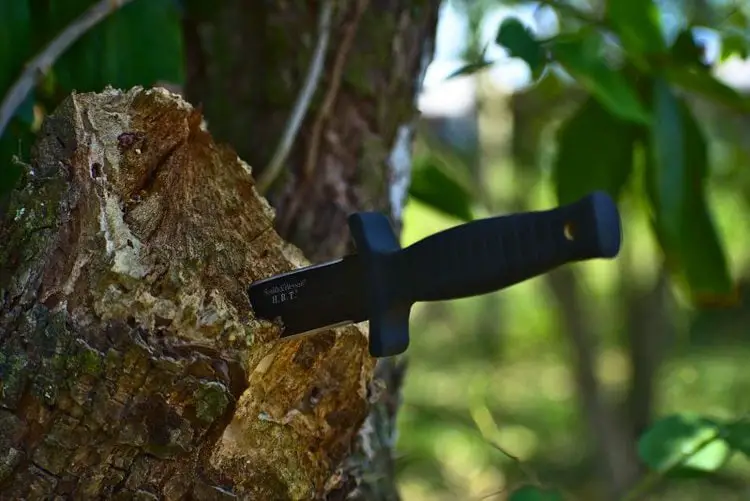 Size is the most important thing, if you decide to put the boot knife inside the cowboy boots, choose the one that is small and fits the room inside leather around the calf.
It is best if the boot knife is a bit loose with the space available in cowboy boots, or as long as the space isn't too tight. If it's too tight, the knife could hurt its owner.
Be careful when choosing the size of the boot knife, just like you choose cowboy boots.
Besides, pay attention to the sheath of the knife. Choose the type of sheath made of leather to have enough smoothness and softness so that you can feel comfortable. This is also a very important part!
The sheath of the knife should be made from genuine leather to ensure durability. Besides, it must be smooth, not rough.
The sheath has to keep the knife firmly so it doesn't slip out, thus it offers you more ways to carry the boot knife.
The boot knives have blade lengths that should be less than 5.5 inches for easy on / off.
When buying a boot knife, you should try inserting and removing the blade many times to see if it is smooth and flexible.
It is important for you to react quickly if a strange animal attacks.
3 Perfect Knives To Go With Cowboy Boots
Here are 3 great knives to wear with cowboy boots. But if you want more choices, we have prepared for you a lot of other boot knives that work well with cowboy boots here!
1. Smith & Wesson SWHRT9B
Sale
Last update on 2023-05-27 / Affiliate links / Images from Amazon Product Advertising API
As a best seller on Amazon and trusted by thousands of people, Smith & Wesson SWHRT9 is a reliable product for you.
With a blade length of 4.7 inches and a weight of 7.7 ounces, this is a perfect design, compact, lightweight, flexible and easy to hold.
You will be completely flexible and proactive in every action.
Besides, the knife is very quick and easy to access, along with boot sheath support so you can easily take it with you.
2. Kershaw Secret Agent (4007)
Sale
Last update on 2023-05-27 / Affiliate links / Images from Amazon Product Advertising API
Easy to hold, easy to use, small, light, durable, sharp and powerful – that's what we say about the Kershaw Secret Agent (4007)
With only a 4.4-inch blade design, it is made from high-carbon steel and heat treated to create an extremely durable and strong blade.
Besides, the handle is reinforced with synthetic polymer and covered with rubber to prevent the hand from slipping when you use the knife, thereby providing good balance and stability.
3. MTECH USA MT-20-03
Last update on 2023-05-27 / Affiliate links / Images from Amazon Product Advertising API
Small, fast and dangerous – MTECH USA MT-20-03 shows us the pinnacle of boot knives.
The 4.75″ long blade is durable, strong and sharp with a 4″ long handle made from wood for a perfect design for the forest. It is completely flexible and easy on / off for you.
However, the sheath of this knife has no clip, which is quite inconvenient.
To use this knife, you should buy an extra clip, or you can attach the available sheath with clip in your house to your cowboy boots.
How to wear a boot knife with cowboy boots?
The first thing you need to determine is whether to wear a boot knife inside or outside a cowboy boot.
If you choose to wear a boot knife inside cowboy boots, opt for a sheath boot made of leather. But if you wear the boot knife outside, the case can be made from nylon or plastic, as long as they are easy on / off.
Besides, make sure the leather around the calf has enough room for you to insert the boot knife inside. At least, it should fit snugly, don't be tight. If not, you must attach a boot knife outside the cowboy boot.
All boot knives have a cowboy boot support. Each of them is different, you should read the instructions carefully before attaching them to cowboy boots.
Make sure the boot knife doesn't interfere with your movement, you need to be comfortable and flexible for emergencies. Put the sheath in the boots first, and then shove the blade into the sheath.
Besides, a thin and sharp boot knife will help you a lot when cooking, so be sure to check its sharpness carefully before going on a new adventure.
It is very important that you put jeans into cowboy boots, this is different from normal when you put cowboy boots in jeans.
Cowboy boots are taller than other boots or shoes, so you have to tuck jeans into cowboy boots to get a knife out.
And especially remember to wear socks to protect your leg from hurting by your own knife!
And one last thing, run really fast if you encounter a bear… You are not Hugh Glass anyway.
Read more: How To Wear Cowboy Boots For Guys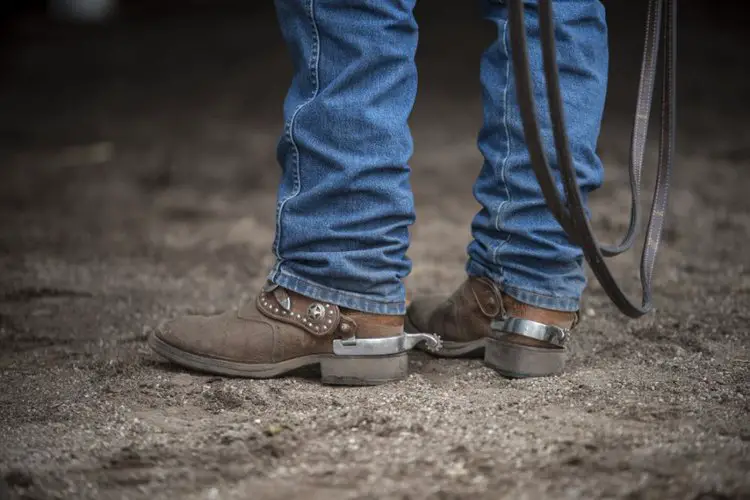 Before you leave
Howdy, adventurous souls! As you prepare to set off on your journey, we'd like to leave you with a few parting words to ensure you fully embrace the frontier style with your boot knife and cowboy boots.
Find Your Perfect Pair of Cowboy Boots:
Remember, cowboy boots aren't just footwear; they're a statement of your Western spirit. Choose boots that not only fit comfortably but also reflect your personal style.
Whether it's traditional, modern, or a unique blend, let your boots be an extension of your individuality.
Selecting the Right Boot Knife:
Your boot knife should be both practical and stylish. Consider factors like blade length, handle material, and sheath design.
Find a blade that matches your needs, and don't be afraid to add a touch of flair with decorative elements or engraving.
Pairing Boots and Blades:
When combining cowboy boots and boot knives, think about the overall aesthetic.
Choose a sheath or bootstrap that complements the design of your boots while allowing easy access to your knife.
Strike the perfect balance between functionality and fashion, showcasing your Wild West spirit with every step.
Once you've assembled your cowboy boots and boot knife, remember to wear them with confidence.
Embrace the heritage they represent and let them empower you on your adventures. However, always prioritize safety and responsible knife handling.
Familiarize yourself with local regulations and ensure your knife is securely fastened and easily accessible.
Now, with your cowboy boots snug on your feet and your trusty boot knife by your side, you're ready to conquer the untamed paths ahead.
So go forth, trailblazers, and let the spirit of the Wild West guide you on your daring escapades.
Happy trails and stay sharp!
Howdy y'all, and welcome to From The Guest Room, your ultimate guide to all things western! I'm Jay Gatz, a lifelong cowboy boot enthusiast with over 15 years of experience in the western style world. I'm excited to share my knowledge with you and help you discover the perfect cowboy boots and western gear to elevate your style. Let's explore the rich history and timeless appeal of western fashion together!