If you often work on the farm, you are probably no stranger to this animal.
Snakes are the obsession of American western cowboys. These lurking animals scare everyone confronting them.
Was this nightmare one of the reasons cowboy boots were born?
Join us to discover a very interesting topic today: Can a rattlesnake bite through cowboy boots?
Let's find the answer!
Can a Rattlesnake Bite Through Cowboy Boots?
First, we need to know briefly about this confrontation: rattle bite vs cowboy boots.
Rattlesnake Bite
A rattlesnake is a venomous snake with a rattle at the end of its tail. The rattle will emit rattling sounds to signal predators or distract prey.
There are more than 30 known species of rattlesnakes with various subspecies. They mostly occupy Southwestern America and Northern Mexico.
In the United States, around 7000 to 8000 people are bitten by venomous snakes and about 5 people die every year, says the research.
Most rattlesnakes have "very strong" venom. For your information, the bite force of a rattlesnake is approximately 150 psi. It's quite strong and scary, right?
Though they are dangerous, their bites are rarely fatal to humans. When people get bitten, they will have the symptoms such as swelling, pain, numbness, bleeding, paralysis, etc. Children get more severe symptoms from the venom of rattlesnakes than adults.
With proper antivenom treatment within 2 hours, the victim will have a 99% chance to recover from a rattlesnake bite.
Remember, a rattlesnake isn't so aggressive, it only bites you if it feels threatened (you stand near or step on them). Their favorite foods are birds and rodents.
Rattlesnake has an important role in limiting the population of rodents (rodents are very destructive to crops), helping to stabilize ecology.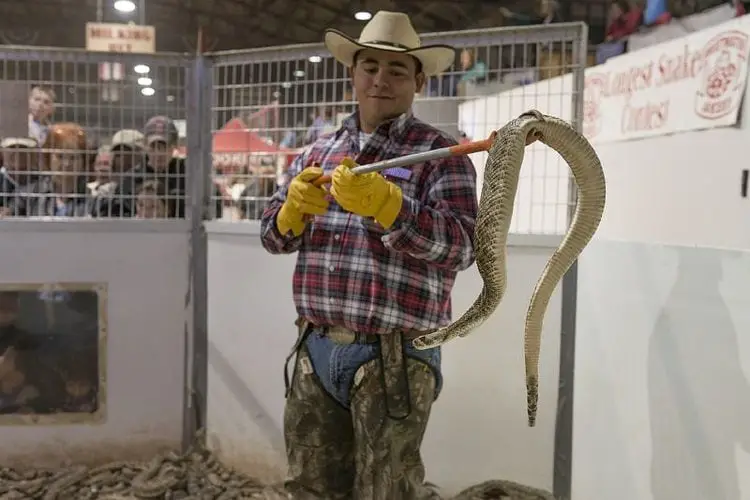 Cowboy boots
Looking back in the past, that was in the late 18th century to the early 19th century, when farmers in the vast fields of the United States needed boots that were safe enough and could support them to ride horses when working.
That's why cowboy boots were born. The first cowboy boots are usually made entirely from leather.
Cowboy boots have a feature that very few other boots have – a very high shaft (12 inches to 14 inches). This aims at protecting the user's feet and legs absolutely from external forces and from small yet dangerous animals such as scorpions or… snakes.
Cowboy boots have been trusted by American farmers for centuries. Nowadays, cowboy boots are not only used for working in the fields, but they have evolved and become one of the popular fashion accessories.
But can they really withstand the bite of a rattlesnake?
The answer
Yes, rattlesnakes can bite through cowboy boots.
Cowboy boots won't prevent the fangs of an adult rattlesnake, but cowboy boots will give you a chance.
With a bite force of more than 150 psi, a rattlesnake can bite through traditional cowboy boots.
The reason cowboy boots are born is to prevent bites from dangerous animals such as snakes, scorpions, etc. But they cannot prevent all animals. Rattlesnakes, for example, can bite through cowboy boots.
However, cowboy boots can make the rattlesnake bite not too deep, preventing a large amount of its venom, thus giving you a chance to survive.
The position that is often bitten by rattlesnakes is the vamp and shaft of cowboy boots. If you are bitten at the shaft, there's a good chance the fangs won't be able to bite through, because that's where there's another layer of jeans and a layer of socks.
But if cowboy boots are bitten by a rattlesnake at a vamp, the chance is they will bite through.
The top of the foot of cowboy boots is thinner and softer than other positions so the feet can be comfortable and flexible.
That's why a rattlesnake with a length of 4 feet and 2.5 pounds can bite through this position.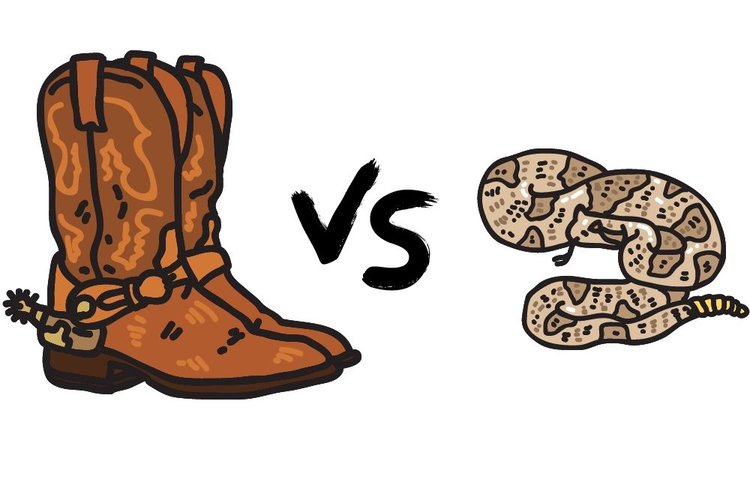 Our advice is to wear jeans with thick socks when wearing cowboy boots to work on the farm. This can limit the danger of fangs that can always come unexpectedly.
Another thing that cowboy boot fans should be happy about: there are many different types of cowboy boots that are highly capable of preventing rattlesnake bites, such as western work boots.
Western work boots are cowboy work boots created for American farmers working on farms. But not only that, today's western work boots have been developed a lot more, so they can have safety toes. This helps better protect you against rattlesnakes.
They are extremely durable, stiff and often waterproof.
Western work boots also often have steel toe and steel shank, making sure the rattlesnake cannot damage your toes and soles.
However, keep in mind that, if a rattlesnake bites at the boot vamp, it can still bite through.
Some other cowboy boots have similar characteristics, such as Ariat rambler or Ariat Workhog boots, etc.
Ariat Mens WorkHog Wide Square Toe Steel Toe Work Boot Dark Earth/Brick 7
STEEL TOE WORK BOOT: WorkHog by Ariat is a safety boot designed for serious workers. Crafted with a...
ATS MAX TECHNOLOGY: These wide square toe boots for men are designed with Ariat's ATS Max...
RUBBER DURATRED OUTSOLE: Designed for durable support for tough jobs and extended durations, this...
Last update on 2023-05-27 / Affiliate links / Images from Amazon Product Advertising API
Please note that if you are bitten by a rattlesnake, you should immediately go to the doctor for treatment even if it's unknown whether the snake bites through cowboy boots or not. Don't be imprudent!
Can a snake bite through leather boots?
"I know that a copperhead can if it strikes around the top of the foot. I had one fang penetrate and prick my foot and ruined about 1 month of a happy life." – Timothy H. Blair
Yes, snakes can bite through leather boots.
Of course, depending on the size of the snake, the cowboy boot can withstand the bites of some small snakes, but with a copperhead of 29 to 30 inches in length, the leather boots cannot stop them.
Though leather boots can be safe, you still have to be careful.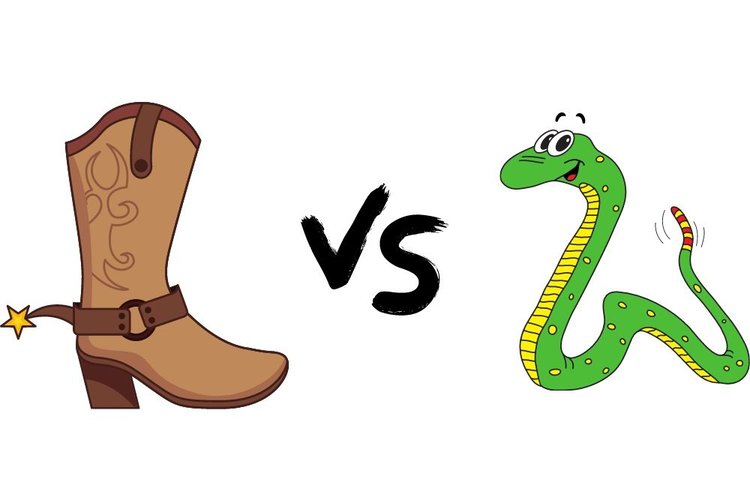 Can a rattlesnake bite through rubber boots?
The answer is the same, rubber boots won't protect you from the fangs of all snakes.
Rubber boots may protect you from small snakes, but they may not protect you from large snakes, so make sure you are always careful.
Many snake species have very strong bite forces, such as cobras, rattlesnakes, copperheads… If the boot you are wearing is not Hunting Snake Boot, do not be foolish to try.
What kind of boots protect against snake bites?
Last update on 2023-05-27 / Affiliate links / Images from Amazon Product Advertising API
There is one type of boot that is definitely not afraid of any snake – the Hunting Snake Boot. This is a specialized boot fighting against snakes. With special rubber material, no snake fangs can penetrate them.
Through its name, you can guess this is a boot made for hunting snakes.
These boots are usually made of rubber. In the positions such as soles, heels and toes are reinforced with hard layers of rubber, making them virtually invincible to snake bites.
The bottom line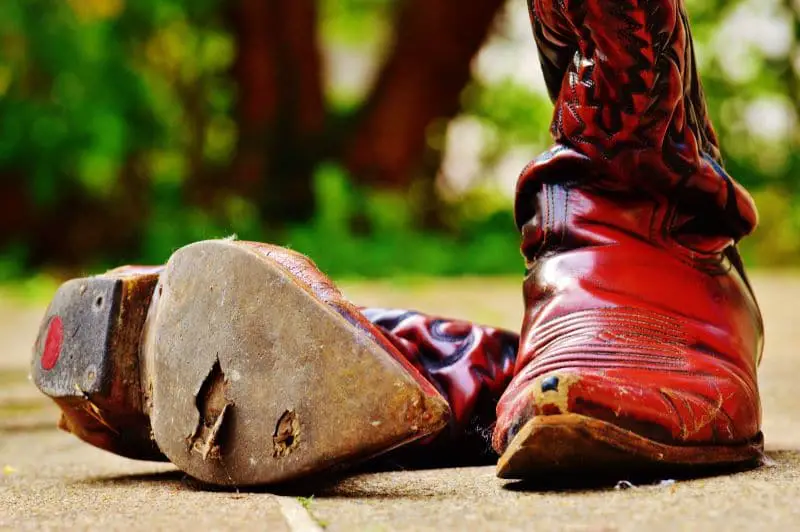 You probably got the answer: cowboy boots will not protect you from the fangs of snakes completely. So, stay alert!
Cowboy boots are tough and durable, but it doesn't mean they're invincible to the bite of a big rattlesnake.
If you face a huge rattlesnake, just run away! They won't chase you.
Howdy y'all, and welcome to From The Guest Room, your ultimate guide to all things western! I'm Jay Gatz, a lifelong cowboy boot enthusiast with over 15 years of experience in the western style world. I'm excited to share my knowledge with you and help you discover the perfect cowboy boots and western gear to elevate your style. Let's explore the rich history and timeless appeal of western fashion together!