Honestly, I am sort of an old soul. Means that during my years of the lifetime of wearing cowboy boots, I have always stuck with the old, famous and quality-proven cowboy boots brands that my dad has experienced and encouraged me to wear them.
But things kinda changed my mind quickly since I discovered a new brand of cowboy boots for our generation, Tecovas.
I already have my 3rd pair of Tecovas cowboy boots in just a year whether they are as pricey as The Wyatt or as casual as The Stockton.
I was born in a small town in Mexico and immigrated to Texas with my family 23 years ago. Honestly, I'm glad to see some sort of Mexican craftsmanship cowboy boots hit the USA market in a big game with a big competition with other big guys like Ariat or Lucchese.
I grew up wearing Ariat quite a lot.
But now Tecovas cowboy boots have won my heart. As far as I know, the brand was just started around 2015 but I can feel some different values ​​from the brand.
What attracts me the most from the brand is the way that the manufacturer cares about the comfort of the wearer – they use a cork footbed which is often used by higher quality boots, kinda proud of the Mexican-made Tecovas cowboy boots.
However, since most Tecovas boots are made from Bovine leather without any artificial elements, their boots may require some time to break in completely.
Besides, Tecovas cowboy boots optimize Vibram soles for anti-slip and durability, this can also take you some days to feel good on your feet, especially when you have been used to wearing leather soled cowboy boots for many years.
Let's check out to see how you can stretch your Tecovas cowboy boots perfectly!
How to Stretch Tecovas Boots?
Tecovas cowboy boots are a real player in this field for young men who are a big fan of elegance, gentleman-style and fineness.
You won't see the large, dense and colored embroidery all over the boot shaft. This makes elegant guys can't wait to make Tecovas cowboy boots a part of their outfits.
Like cowhide, sheepskin, Bovine leather feels pretty sturdy, lacks suppleness and would probably hurt your bare skin on the very first try.
I have gathered around some good ways to overcome the hardest time of stretching Bovine cowboy boots. Here's how.
Stretch Tecovas boots around the calves
If you're used to your cowboy boots that fit pretty wide your calves, you might have a little trouble with your Tecovas cowboy boots on your first try, they can fit around your calves pretty snugly.
Trust me, things are going to get better after a few days to a few weeks. The leather absorbs heat from your feet, softens and fits more comfortably. To shorten this period, try some of the ways below.
Solution 1: Boot shaft stretcher
The most important thing to stretch real leather is to give the material the necessary tension and over time the material will stretch since real leather can be stretchable.
However, when it comes to boot stretchers, there are many many designs with stretch function in different positions of cowboy boots, you need to keep in mind about this thing.
The boot shaft stretcher has a long construction and is capable of stretching the boot shaft.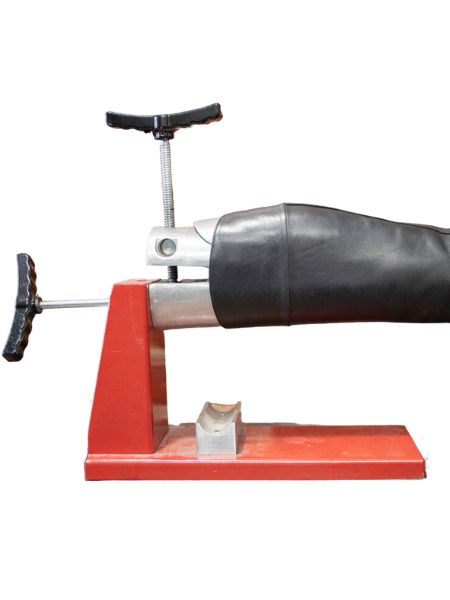 You can even adjust the tension applied to the boot shaft to stretch the material to the extent you want.
This is a professional device and what you can be sure of is that it will not affect the biological structure of the Bovine leather material for the purpose of stretching.
Using this device is pretty much a piece of cake. You just need to insert the device inside the boot shaft and wait until your boots have stretched to the extent you want.
The main downside of this approach is that they take pretty much time to get things done as you expect. You may need to wait 5-7 days for your Tecovas cowboy boots to automatically stretch.
Sometimes, you are unable to control the level of stretch to the boots since you can't measure it well. This could lead to over-stretching around somewhere such as toes or heels.
For exotic leather, you can simply wait 1-3 days since this leather is softer and thinner than Bovine leather.
Yet, overall, using a boot shaft stretcher is perfectly safe for your pricey Tecovas cowboy boots. Yet, it may cost your pocket quite a bit.
How to Use Boot Instep & Shaft Stretcher For Stretching Shoes | Cast Aluminium || @myshoesupplies
Solution 2: Using hot steam
Yep, I used to do this method and it really worked. You can see some instructions on Google that you should steam your cowboy boots from the inside.
From my own experience, this is absolutely not because it brings more disadvantages than benefits. As the steam rises and soaks into the leather lining inside your cowboy boots, if you don't dry them thoroughly afterward, mold can build up and grow inside your boots.
Therefore, to make your Tecovas cowboy boots safer, you should use steam from the outside to soften the leather structure.
You need to heat a pot of water on the stove until it boils at 100 degrees Celsius and evaporates. However, the steam temperature can be much higher than the boiling water temperature and it can damage your leather instantly.
Lower the heat until you feel moderate heat (about 80 degrees Celsius) from the steam to your hands.
Now you need to heat the Tecovas boot shaft on a steaming surface for about 1 minute and do a continuous inversion of the boot shaft to soften the material all the way.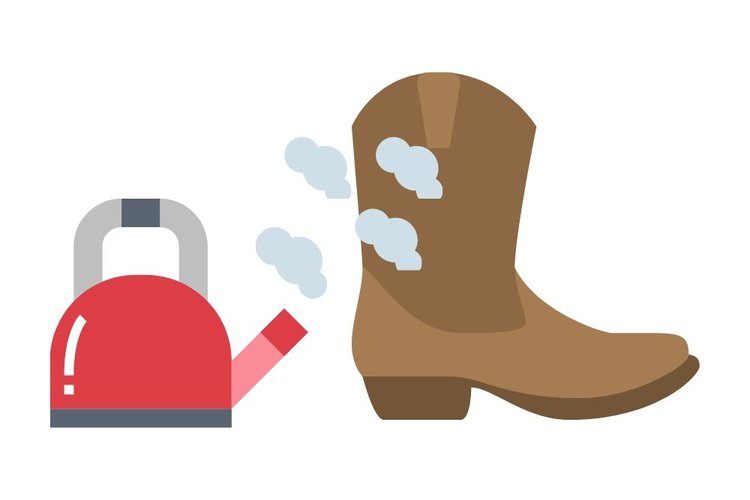 You may need to do this 3 to 4 times to soften the material completely.
Then, steam dry the surface of the cowboy boot shaft to avoid water marks happening later.
Not done yet, bro! Now you need to put on your cowboy boots and walk around for about an hour. This will quickly stretch your Tecovas boot shaft in just 1-2 days.
Solution 3: Leather stretch spray
Another professional and safe way you can use is using a leather stretch spray.
I used to be very skeptical of this method and the sweet hymns that simply spray the solution on the leather and the leather will automatically expand.
No, the spray doesn't work smoothly that way.
From my experience's perspective, the leather stretch spray contains chemicals capable of softening leather. I use several products and feel the leather surface a little hot after being sprayed with this solution. That's a thing!
I guess the solution uses some chemical that is able to heat the leather material after being sprayed on without using direct heat. This helps soften the material quickly.
Just like using hot steam above, then spray with leather stretch spray on the boot shaft, you have no choice but to wear your cowboy boots and walk around your house as far as you can.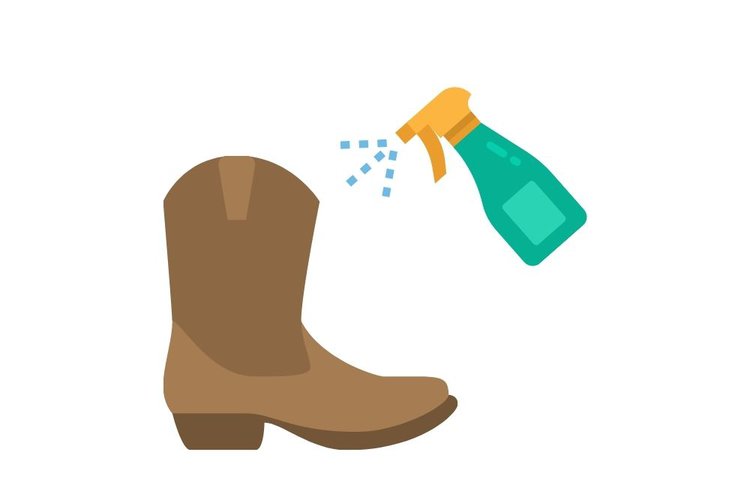 I am kidding but what I mean is that you should find ways to stretch the boot shaft area, thereby increasing the effect of stretching the material.
You don't even need to walk for miles, just sit down for 10 minutes. The tension of your calf into the boot shaft is enough to stretch the Tecovas Bovine leather.
Yet, be wide aware that some leather spray may darken your leather Tecovas cowboy boots right away.
Solution 4: Stretch on the go
If you don't have about 2-3 days to break in your Tecovas cowboy boots before putting your feet on, you can completely stretch the boot shaft on the go.
Tecovas Bovine leather can be a little stiff and rigid right out of the bag, but they're not so bad they'll scratch your feet bloodily.
Therefore, rest assured to wear brand new Tecovas boots and work as usual, but the following will increase the effect of stretching your boot shaft on the go:
Tuck jeans inside the boot shaft
If this isn't inconvenient for you, tucking jeans inside the boot shaft is the best way to stretch the boot shaft on the go. This is very convenient because you do not need to add any other tools.
You just fold the hem of your jeans vertically into folds and then go inside the boot shaft. The stiffness of the jeans material plus the tension from your calves as you move will be able to stretch your Tecovas cowboy boots in just one day.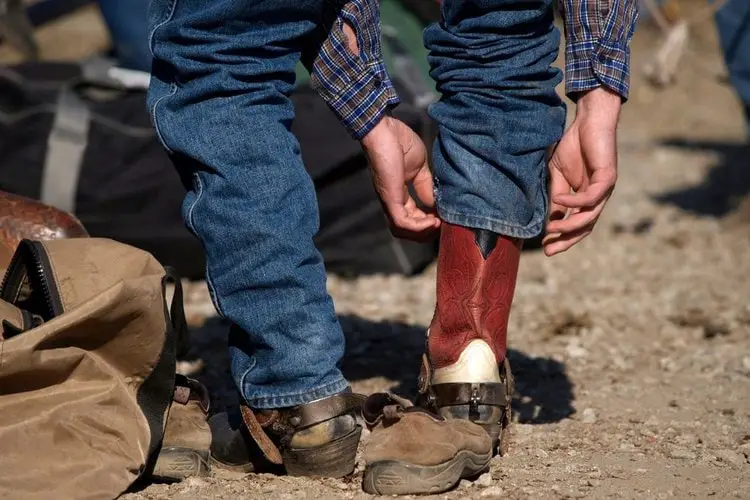 Wear thick knitted calf bands
Guess this method is only for women since this might sound odd if men wear knitted bands inside their boots (and people unfortunately see this). You can knit your own calf band in the right thickness and size. Otherwise, they are available to buy.
You need to insert the band into the calf area where you want it to stretch. However, the band may pull or slide down as you move continuously. This is also the weak point of this method.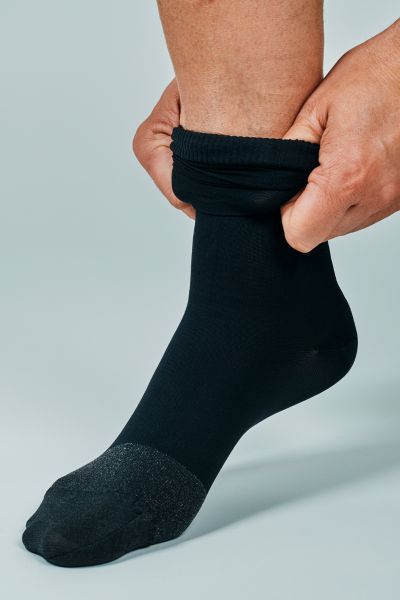 This method is well applied for both genders but I think men would love it more since they don't want to tuck the jeans inside the boot shaft. You need thick, preferred calf socks made from thick wool.
Put on your socks and fold the sock's legs horizontally several times until they thicken considerably and come to a stop where your boot shaft needs to be stretched.
This method does not affect the movement of your feet, yet it may heat your feet pretty much. Therefore, I don't recommend doing it in hot conditions or hot weather.
Stretch Tecovas boots around at Vamps, Heels
Some other places where people wearing Tecovas cowboy boots often encounter tightness are in the toes, heels or vamp of the boots.
I don't see too many square toes or broad round toes designs appearing in Tecovas cowboy boots, so if you have a little wide foot or chubby foot, you'll probably need to read this right away.
Here are a few ways you can soften and stretch the toes, heels and vamps of cowboy boots.
Softening leather materials
Any leather material needs to be softened before it can be stretched. Since real leather is pretty tough with a porous structure, heat will dilate the pores, contributing to softening the material structure.
However, you may not get the same results as used with cowboy boots boot shaft as above. This is because the toes, heels and vamps of cowboy boots are located deeper and are reinforced thicker
Read more: How to make cowboy boots less stiff?
The Boot Dryer is a tool to dry cowboy boots that any cowboy boot lover should have.
Just turn each piece of your cowboy boots upside down and the machine will dry deep inside the boots. The heat will come in close contact with the toes, vamps and heels. Therefore, just heating this area for a short time, the Bovine leather is softened and ready to be stretched.
Pay attention to the heating temperature of cowboy boots since your boots are not wet or damp before they get to touch the heat. If the drying temperature is too high, it may burn the leather lining and worse, all over the inside of your Tecovas cowboy boots turn singed.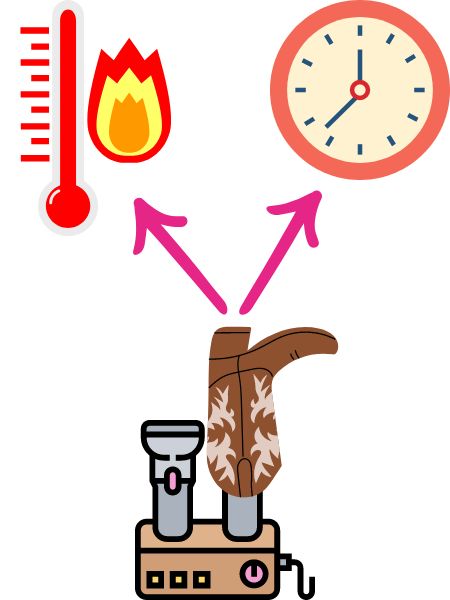 Stretching boot shafts can simply be done by spraying leather stretch spray from the outside.
However, to effectively soften your toes, vamps, and heels, you will likely need to spray both in and out of these areas.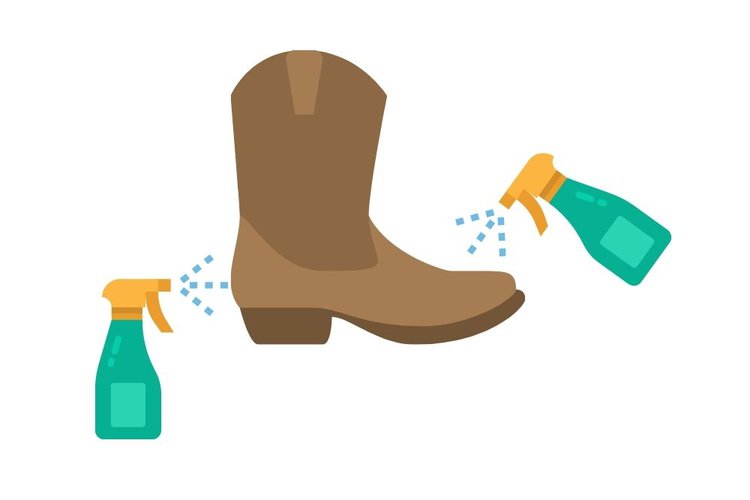 Keep in mind to wipe away the excess water immediately after spraying. Otherwise, the chances are that the materials will develop molds without your knowledge.
Stretching leather using tension
After effectively softening the Bovine leather, keep moving with the following ways to stretch your Tecovas cowboy boots.
Unlike the boot shaft stretch tree, the toe stretch tree is usually shorter than the boot shaft device and focuses the force on the toes and heels area.
Once inserted inside the cowboy boots, the device will lie flat and take up the full length of the soles. This will provide thrust to both the heels and toes, helping to stretch these areas.
After the Bovine leather has been thoroughly softened, the stretch process with the stretch tree can take only 1-2 days to reach the stretch you want.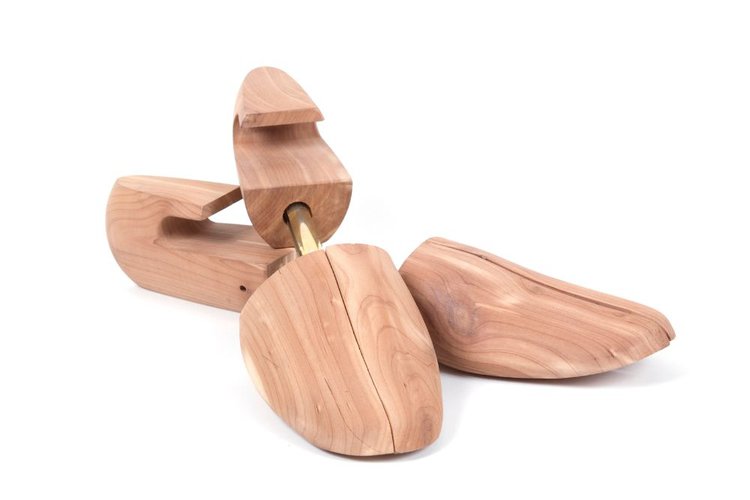 If the stretch tree is not readily available in your home as well as not readily available to buy in your place, the best DIY way is to double your shocks, highly preferred wool socks.
But this time, doubling short socks are more suitable since it's important that you can stretch your toes, vamps and heels as much as possible. This method also works fairly well.
From my own experience, you just only need 1 day to achieve the desired stretch. Don't forget to walk around or bend your cowboy boots to make them stretch faster after putting on double socks.
Stretch Tecovas boots at insteps
No wonder a lot of my friends have to figure out how to stretch cowboy boots around their instep and vamps. Tecovas cowboy boots are also no exception.
Be aware that there is a difference between the toes and the instep of cowboy boots because they are in fact located in different positions.
Cowboy boots often fit your instep pretty snugly right out of the box.
This can make some newbies pretty shocked when wearing cowboy boots for the very first time.
Since new leather cowboy boots' vamps are pretty tough and stiff, especially alligator or crocodile cowboy boots (due to their high calcium deposits contained within the leather construction), you may be craving for quick ways to break in your boot's vamps and instep.
There are several ways that you can use below:
This tool is quite similar to the toe stretcher or boot shaft stretcher. However, they only focus on expanding the boot's vamps and instep.
The dilator of the tool is only as long as the length of the vamps. This does not affect the heel stretch if this is not what you want.
FootFitter Cast Aluminum Boot Instep Stretcher and Vamp Raiser
You just need to put the tool in the boots and wait about 3-4 days after that. From my experience, this method really works but it is quite time consuming.
Stretch the instep on the go
You will probably need to wear double or triple the thick socks and cowboy boots. This increases compression over the boot vamps and along with bending the boots all the way out on the go, the boot vamps break in much quicker.
Final thoughts
Stretching Tecovas cowboy boots is just one of the necessary procedures so that you can wear cowboy boots as comfortable as possible.
From my own experience, my Tecovas boots break pretty fast but they don't degrade the quality of the Bovine leather. If you are struggling with this problem, I hope this article is helpful to you!
Howdy y'all! I'm Grace, a Western style enthusiast with over 5 years of experience. From cowboy boots to western gear, I'm passionate about all things Western and dedicated to helping you find the perfect style to suit your taste. Join me and my fiancé Jay Gatz as we explore the rich history and timeless appeal of Western fashion together!