The rainy season is on the way for Texans when I saw the first rain a few days ago in Austin. As we make cowboy boots year-round footwear, it's time to waterproof real leather cowboy boots.
This becomes even more vital when you get yourself a pair of Tecovas that are worth around a few hundred bucks.
These exquisite things are sewn mainly from Bovine leather, a sort of real leather. While they're both naturally water-resistant, that doesn't mean the material is untouchable to either the rain or water on the go.
Conversely, if the wearer ignores this process without your knowledge, soon you will notice a ton of insightful watermarks that will happen on your pricey Tecovas cowboy boots and it's probably too late to say sorry.
The good news is most Tecovas cowboy boots are optimized with a Vibram rubber sole, which increases water resistance from below.
With a supple and porous construction, traditional leather outsoles are way too bad to resist water. I was forced to say goodbye to my beloved leather-soled cowboy boots after just one rainy season in Texas.
But the story has changed with Tecovas boots, you won't have to worry much about how to waterproof cowboy boots though from my experience's perspective, this is one of the hardest tasks that I haven't succeeded in in the past.
Meaning that your cowboy boots tend to last longer through many more rainy seasons in Texas or somewhere else in the USA.
Yet, it's not all, though!
We still have problems with how to waterproof the large area of leather on the boot and that's the reason why you are reaching out to us.
Let's check out the best ways to waterproof Tecovas cowboy boots.
How to Waterproof Tecovas boots?
Regardless of whether your cowboy boots are made of real leather or faux or suede, the truth is that you always need to waterproof your footwear to prolong the life of the material.
Especially in some cases, this cost is considered pretty much economical compared to restoring a damaged pair of soaked cowboy boots.
In fact, periodically cleaning and moisturizing leather cowboy boots directly provides water resistance to the material. However, this does not mean that water resistance will be guaranteed for a long time with just one maintenance with professional leather oil-based liquids.
When it comes to waterproofing my Tecovas cowboy boots, choosing the right waterproof method becomes even more complicated since you have more than just basic leather options like Bovine or suede only, you have exotic leather as well.
Every time I see my Tecovas Townes with just a little small watermark, I feel like my heart skips a beat because of the pain.
No more waiting, here are the best ways to waterproof your Tecovas cowboy boots.
Bovine Tecovas cowboy boots
The majority of Tecovas cowboy boots are made from Bovine leather which is pretty tough, fairly thick and supple. This material is naturally water resistant but I don't think this will last forever.
You will probably see the shape of a drop of water appear on the surface of your boots only after you step through the wet grass in the morning.
Here is the procedure for waterproofing your Bovine Tecovas cowboy boots.
Step 1: Clean the surface of the material
Surely not everyone who buys Tecovas cowboy boots will think about waterproofing them right out of the box. People always stagnate until the consequences happen.
So, guess people who are reading this article are having really dirty cowboy boots full of dirt or even mud.
You need to clean Bovine cowboy boots before applying anything to the surface of the material to make them water-resistant. This prevents the material from getting scratched while rubbing with a cloth later on.
In addition, cleaning cowboy boots will simultaneously clean the pores of the material, create better ventilation and absorb the oil-based solution in the next step.
What you need to prepare:
Leather cleaner (optional)
A solution of water and apple cider vinegar with a ratio of 3: 1 (optional)
Water solution and mild soap with a ratio of 4:1 (optional)
A solution of water and fresh lemon juice with a ratio of 3:1 (optional)
A piece of soft foam
Keep in mind that you do not need to prepare all 4 types of cleaning solutions as above. You just need to choose 1 out of 4 things to apply to your cowboy boots.
If your Bovine leather is way too speckled with watermarks, mud stains or patchy stains, a professional leather cleaner is your best thing to go. If your Tecovas cowboy boots possess only mild and almost invisible dirt, other household cleaning solutions will be a better choice.
Now you need to take foam and rub it all over your cowboy boots to remove wet or dry dust particles from the entire surface. Then, you need to soak a small amount of cleaning solution on another piece of foam and rub it all over the cowboy boots, especially in areas where there are obvious and stubborn stains.
If you need more than 1 application to get the best cleaning effect, apply the cleaning solution to the surface of the material every 3 minutes. Otherwise, chances are the leather may be darker or worse, watermarks will appear.
Now let your Bovine cowboy boots dry on their own for 3 hours with air dry.
Step 2: Waterproof Bovine cowboy boots
As a general rule, when applying any oil-based liquids/cream/wax to the surface of Bovine materials, they will act as an external water resistance since the chemical structure of fats or oils is insoluble in water.
Besides, water is not normally able to penetrate the surface coated with oils or fat-based liquids. As a result, you will have more than one chemical you can use to make your Bovine cowboy boots water-resistant.
What you need to prepare:
Vegetable oils (optional)
Leather conditioners (optional)
Leather wax (optional)
A few pieces of soft sponge
Just like step 1, I give you more of a choice of things you can use. But keep in mind that you should only choose 1 of the 3 water-resistant solutions above. Otherwise, your leather can be soaked in oils with pretty much-darkened colors and takes longer to dry.
There are a few things you may need to pay attention to when it comes to finding the best waterproof liquid you need.
Vegetable oils: although they are all household oils, you should choose oils that have a thick texture and are able to stick immediately to the surface of the skin like coconut oil, olive oil or avocado oil. You may need to apply more than once to the surface of the material to achieve the desired water resistance effect. Keep in mind that vegetable oils can darken leather.
Leather conditioner: This is a professional water-resistant and conditioning product for Bovine leather and I also recommend them when it comes to leather care. You only need to apply the solution once on the surface of Bovine leather because their effect will be visible immediately. The surface of the material becomes glossy and taut immediately afterward.
Leather wax: Leather wax is usually waxy and non-liquid. They will be kept for a long time on the surface of Bovine leather but the moisturizing effect is not as good as leather conditioners.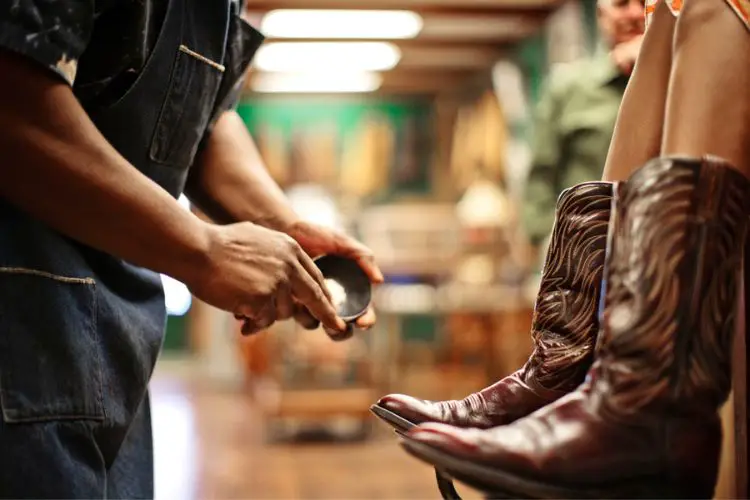 Once you've chosen the best water-resistant thing, you need to soak a moderate amount of the solution on the sponge and apply it to the entire surface of the material. You may only need to do this process once.
Then, let your Bovine Tecovas boots dry overnight naturally.
Once completely dry, your boots are provided with effective water resistance to some extent.
Step 3: Prolong waterproof effect
If your job requires your boots to be in constant contact with water, you may need a professional waterproof coat over the entire surface for complete water resistance.
Not a single drop of water can even penetrate the gaps between the stitches of the welt after being sprayed with waterproof products.
After your boots are ready to reach this step, meaning they have to get dried up all the way out. You need to shake the waterproof spray well and spray evenly over the entire surface of cowboy boots. Keep in mind to spray evenly to avoid leaving uneven stains on the surface of the material.
But the effect won't last forever, it's true. You may need to recoat your boots with this product every 3 months or more depending on your level of abuse.
This is because this waterproof layer will peel off the more you use them.
Exotic Tecovas cowboy boots
Exotic Tecovas cowboy boots are such a masterpiece. I can feel all the sophistication, perfection and fineness happening to these boots. Honestly, after wearing my Tecoves Townes for a while, I feel like they're worth every penny.
However, waterproofing my ostrich Tecovas boots or other exotic leather is not easy, at least you can't rub it the way you rub Bovine leather since their thickness and sensitivity are way too dissimilar.
If you're not careful, you may not have time to regret it.
Step 1: Clean exotic Tecovas cowboy boots
The good news is exotic Tecovas cowboy boots have not yet used snakeskin, python skin or thin, scaly reptile skin.
Because this material is extremely difficult to please, very sensitive and needs careful care. It's almost impossible to use normal leather cleaner to clean them. You only need warm water with a gentle wipe!
Exotic Tecovas cowboy boots currently use high-grade leather lines of relative thickness such as caiman leather, Nile crocodile skin, ostrich skin or lizard skin.
Due to this thickness, you have a wider choice of cleaning products for them. I'm not saying these materials can't be cleaned with household solutions but it's better not to risk your luck to give them a try. A professional exotic cleaner does a better job with no worries for you.
What you need to prepare:
Exotic leather cleaner
Tecovas leather cleaner
A few pieces of foam
A few soft cloths
Warm water
First, you need to soak a dry cloth with a little warm water and place it on the areas of the exotic leather to soften caked dirt on the surface.
Ostrich skin is quite soft and its large pores are capable of hiding dust underneath, you need to clean the dust thoroughly in these areas. In addition, ostrich leather or crocodile skin both have low breathability due to the few pores in the structure, you probably won't want to put too much water on the surface of the material to clean.
After thoroughly removing dust, take a foam pad and apply a small amount of exotic leather cleaner. Then, apply the duo to the entire surface of the material and should only be done once to clean.
Rest assured that the smooth and shiny surface of the exotic leather will not absorb the cleaner quickly if you accidentally pour too much of it.
Now let your boots rest overnight for them to dry completely.
Step 2: Waterproof exotic Tecovas cowboy boots
You may not find true waterproof performance when applying the usual methods of water resistance as you did with Bovine leather.
This is because Tecovas ostrich and crocodile skins are not able to absorb oil-based liquids as well as Bovine leather due to the less porous and dense leather structure.
So you may notice the fat clinging to the surface and temporarily becoming water resistant, but this doesn't happen for long. They also easily wash away.
Personally, I don't appreciate this although leather conditioners or leather wax can provide moisture to exotic leather to some extent.
What you need:
Sale
Last update on 2023-11-11 / Affiliate links / Images from Amazon Product Advertising API
Keep in mind to pick exotic leather spray to use for your exquisite leather since it sounds quite a lot of peace of mind. You need to shake the bottle well and spray the entire surface of the leather cowboy boots thoroughly.
Remember that you only need to spray 1 coat. Since ostrich or crocodile skin is quite thick and less porous, layers of waterproofing can heat your feet pretty badly.
Leave your boots a few hours in a cool dry place to dry completely.
The same rule, the more abused your cowboy boots are, the quicker you will need to recoat with waterproof spray.
Waterproofing Suede Tecovas cowboy boots
You may not see many suede Tecovas cowboy boots for men but women love these boots. The designs look trendy, stylish and elegant with excellent construction.
I bought my wife a pair of The Daisy and she wore them throughout fall and winter last year. I know she just loved it so much.
Although not producing too many designs of suede cowboy boots, Tecovas still has a cleaning kit for suede material.
Just like Bovine or exotic leather, you also need to clean suede before waterproofing them.
Step 1: Clean suede Tecovas cowboy boots
Honestly, suede can be cleaned very easily, even just by brushing all over the surface to get rid of caked dust that gets stuck during your movement.
However, if your boots have some particular staining, you may need to use Tecovas suede cleaner.
What you need to prepare:
You need to take a small amount of the solution and put it on the suede brush. Then brush the duo focusing on areas with heavy stains. You may need to get more cleaning solution if the stain stays wide and patchy.
After that, you do not need to rinse with water, but use a soft cloth to wipe away the soap bubbles in the areas that have just been cleaned with suede cleaner.
Let your boots dry completely afterward. The process may take 1-3 days to complete.
Once your suede cowboy boots are completely dry, use a brush to scrub all of the cowboy boots. This will loosen any clumped hairs during the drying process.
Step 2: Waterproof suede Tecovas cowboy boots
You cannot use oil-based liquids to make suede boots water-resistant. They really have no effect at all.
What you need is a professional suede waterproof spray, not even a normal leather waterproof spray.
No products found.
This particular product will not overwet suede hairs, which will degrade the quality of the material.
After shaking the spray bottle well and spraying it to make your boots water-resistant, the solution will dry quickly on the suede surface, leaving a perfect waterproof layer.
Before you leave
It's not pretty much complicated to waterproof your Tecovas cowboy boots since we've got your back. But their results and effects will last for a very long and save you some great bucks. Trust me!
Howdy y'all! I'm Grace, a Western style enthusiast with over 5 years of experience. From cowboy boots to western gear, I'm passionate about all things Western and dedicated to helping you find the perfect style to suit your taste. Join me and my fiancé Jay Gatz as we explore the rich history and timeless appeal of Western fashion together!