Some people say that cowboy boots are the most expensive of all boots. Is that true? In fact, when browsing the price of cowboy boots, you can see that they always cost a few hundred dollars.
Given the popularity of cowboy boots, they appear in many continents such as Asia, Europe and the Americas. Are their prices different in such places? And how to explain that expense?
Today, I'm going to unveil this problem for you. Let's find out why are cowboy boots so expensive!
Why are Cowboy Boots so Expensive?
Are cowboy boots really expensive or not?
Yes, with the initial price tag of a hundred dollars, they are actually one of the most expensive boots in the world.
Cowboy boots are more expensive than work boots, sneakers or dress boots. But that price is only expensive in the beginning.
To explain why cowboy boots are so expensive in the beginning, we need to consider three factors:
Where are cowboy boots made?
How are cowboy boots made?
What are cowboy boots made of?
These three main factors are the main reason for the price of cowboy boots.
Where are cowboy boots made?
Asia, the Americas, and Europe.
Cowboy boots made in Asia (China and India…) are cheaper than cowboy boots made in the Americas (USA, Mexico and Canada…).
Cowboy boots made in Europe (Spain, Italy…) are the most expensive ones.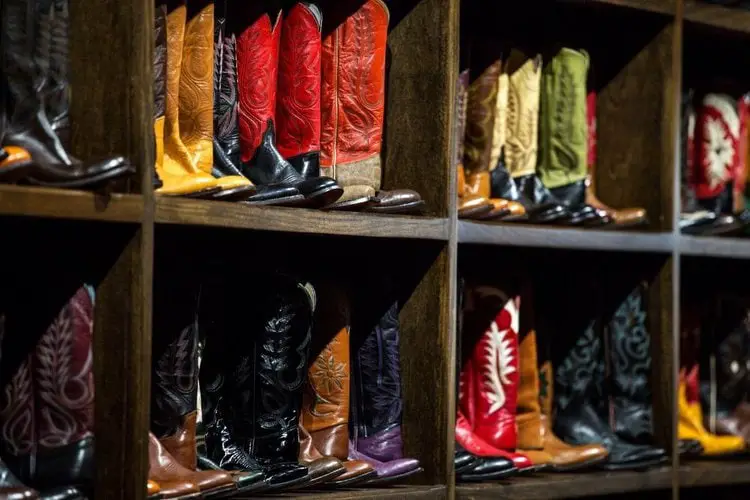 How are cowboy boots made?
Machine-made cowboy boots will certainly be much cheaper than handmade cowboy boots. This is the main reason leading to the difference in production costs on 3 continents in the world.
Cowboy boots in Asia are mostly made by machines. With such machines, hundreds of cowboy boots are produced in a day without spending too much on labor.
Besides, Asian labor costs (salaries and bonuses) are much lower than those of Europe and America. Therefore, production costs can be reduced to a minimum.
On the other hand, cowboy boots produced in the Americas (such as the United States and Mexico) are not entirely manual. There are parts of cowboy boots made by hand and parts made from machines. It is generally more labor-intensive than in Asia.
Meanwhile, cowboy boots from Europe are more expensive because most of them are entirely handmade.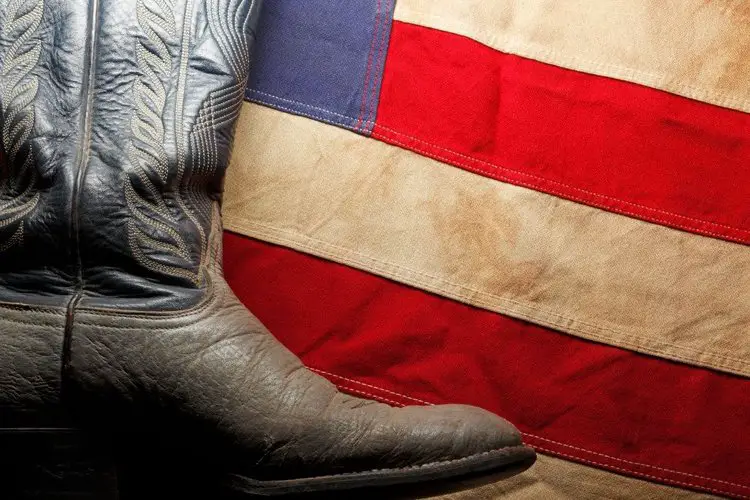 A cowboy boot in Europe can be made by one person or many people. To make a beautiful cowboy boot by hand, it takes 12 hours to 24 hours.
In addition to consuming a lot of labor to make cowboy boots and high labor costs, time is money, 12 hours to 24 hours to make a pair of cowboy boots is a huge cost.
It also takes a lot of time to create the details of cowboy boots. Since these details are the "signature" of each cowboy boot manufacturer, they need to be done meticulously and carefully.
Another thing is that handmade cowboy boots have a sharp and elegant look. Many people still prefer handmade cowboy boots made from their cradles to cowboy boots made from machines in the remote East.
What are cowboy boots made of?
Cowboy boots are made from many different types of leather such as cowhide, ostrich, snake, lizard, crocodile, buffalo, elephant… These types of leather are limited and expensive to procure.
For cowboy boots made from cowhide (a material that is easy to find, affordable and easy to work with), the price is not cheap as they consume a lot of material compared to other types of boots. (higher structure).
For cowboy boots made from exotic leather such as caiman, lizard, stingray, shark, etc., the price is usually much higher than cowhide boots. Because these materials are harder to find and limited in quantity.
Besides, cowboy boots made from exotic leather are often handmade. This takes longer to produce cowboy boots as it needs more meticulousness and processes, etc. so their price is multiple times higher than cowhide cowboy boots (maybe up to 6- 7 times).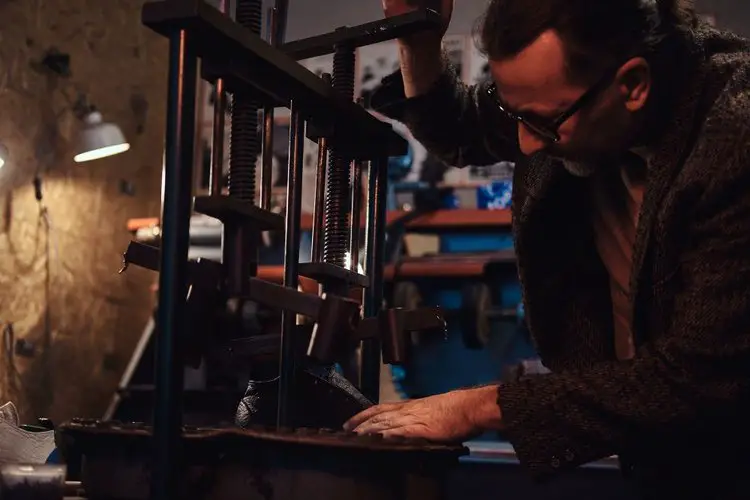 Fun: One of the most expensive Lucchese cowboy boots is made from crocodile blue leather and costs thousands of dollars.
If you notice, it requires a lot more material than other boots to create a complete cowboy boot.
Cowboy boots usually have a height of 11 inches to 13 inches. Some cowboy boots are taller (Buckaroo boots are 14-inch to 16-inch tall), so they are very expensive compared to other boots such as Chelsea boots or Work Boots. This is also one of the main reasons to explain the high price of cowboy boots.
Another reason is that there are many types of cowboy boots described as 100% made of leather. Many cowboy boots even have leather outsoles, which is very rare in other boots.
FromTheGuestRoom's comment on the price of cowboy boots
All of the above factors constitute the price of cowboy boots, now you know why cowboy boots cost more than other boots.
Again, we want to emphasize that the price of cowboy boots is "higher" than that of other boots, not that cowboy boots are "more expensive".
Why do we say that?
Please scroll down…
Are cowboy boots really expensive?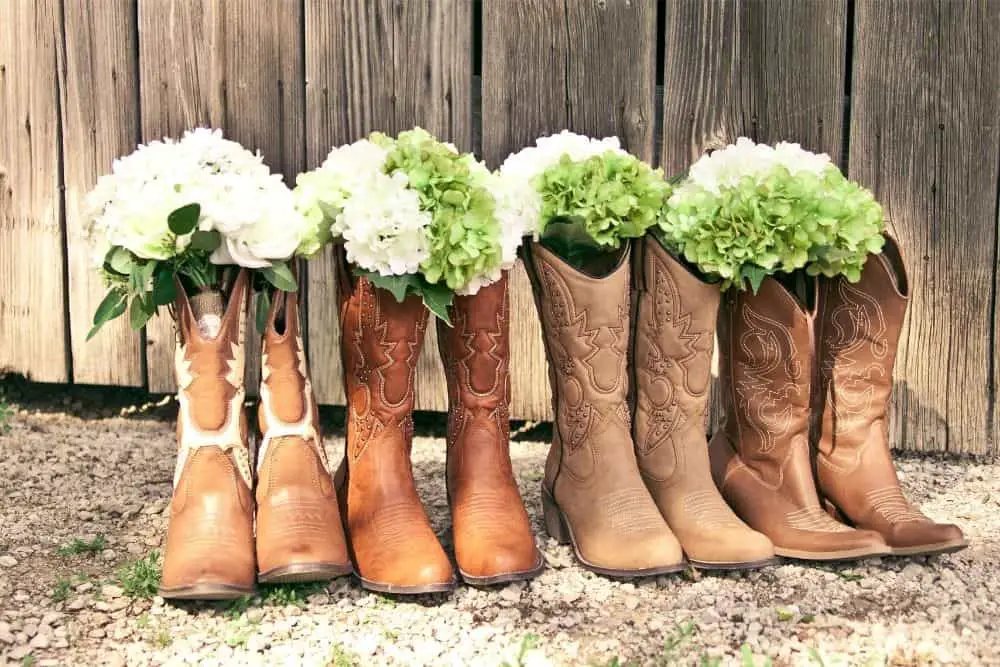 To answer this question, you need to have a fair comparison.
At the beginning of this article, we said that cowboy boots are expensive in the beginning, why?
In the long run, you need to compare a pair of $200 cowboy boots that can be used for 10 years and a pair of $70 sneakers that can only be used for 1 year.
Cowboy boots need to be repaired (ex. resole) every 2 years, each replacement costs around $70. So, in 10 years you will spend $200 (money to buy original cowboy boots), we have:
$70 * 5 (resole 5 times in 10 years) = $550
A pair of sneakers can be used continuously for 1 year, then you need 10 pairs of sneakers within 10 years, so you will spend
$70 * 10 = $700
within 10 years (excluding the cost of repairing sneakers)
To summarize, within 10 years, cowboy boots will cost you $55 / year while sneakers cost you $70 / year, which investment would be better?
Of course, all comparisons can be overwhelming and you may not completely agree with us. However, one thing we have to admit is that cowboy boots are not expensive in the long term. They even remain cheap when it comes to a long time of use.
Today's cowboy boots with rubber outsoles can last up to 10 years with just one or two times resole.
Cowboy boots are only expensive when you are "addicted" to them that every year you have to buy yourself a new pair…
Another proof that you don't think cowboy boots are expensive is the feeling that cowboy boots bring you.
After new cowboy boots are broken in (around a week if you wear them continuously), then for 9 years and 358 days you won't be able to find that great feeling in any other boots.
We may be crazy cowboy boots enthusiasts, but try it, you won't be disappointed!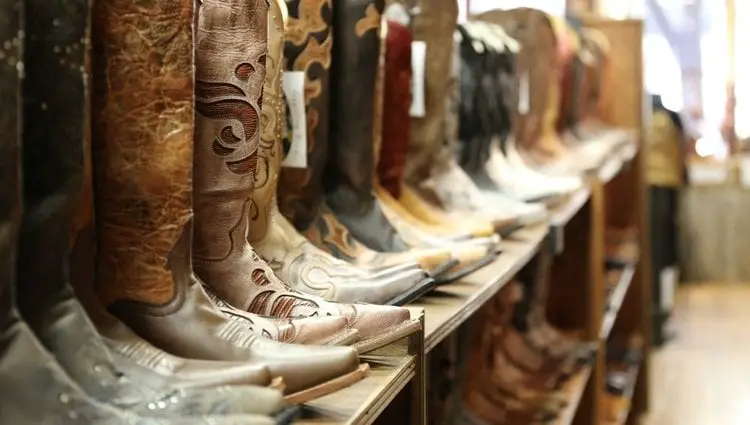 Conclusion
It is a smart investment to choose good cowboy boots from reputable brands.
Eventually, you get what you pay for.
Cowboy boots can be expensive in the beginning, but in the long term, their durability will prove that they are cheaper and more beautiful than any boots or shoes in this world.
What are you waiting for?