When we think about cowboy boots, our minds often conjure images of rugged style and rustic charm. However, there's another crucial element that completes this iconic look: the belt.
Far from being just a functional accessory, belts play a pivotal role in cowboy attire, especially in colder weather. In this article, we'll explore not just the practicality of belts in a cowboy outfit but also their significant contribution to style.
In colder climates, a sturdy belt is more than a fashion statement—it's a necessity. It helps in securing layers of clothing, ensuring that shirts or jackets stay tucked in, providing an additional layer of warmth and protection against the elements.
The right belt can also offer support when engaging in outdoor activities, a common scenario for those donning cowboy boots.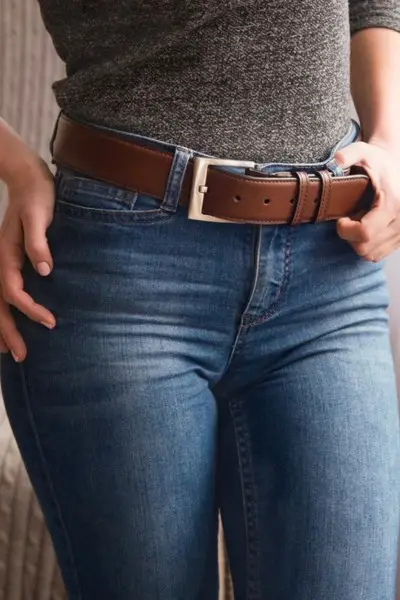 Beyond the practical aspects, belts bring an undeniable flair to any cowboy ensemble. They serve as a bridge, tying together the ruggedness of the boots with the overall outfit.
Whether it's a simple leather belt or one adorned with ornate buckles, the choice of belt can elevate a cowboy outfit from ordinary to extraordinary, making a statement about the wearer's personal style and attitude.
In the following sections, we'll delve into various outfit ideas that showcase the synergy between cowboy boots and belts, ensuring you stay warm, comfortable, and stylish, no matter the weather or occasion.
1. Casual Wear with Belts and Cowboy Boots
The art of styling cowboy boots with belts in casual wear lies in the ability to create a silhouette that is both flattering and stylish.
A skinny leather belt, for instance, can dramatically enhance a simple outfit.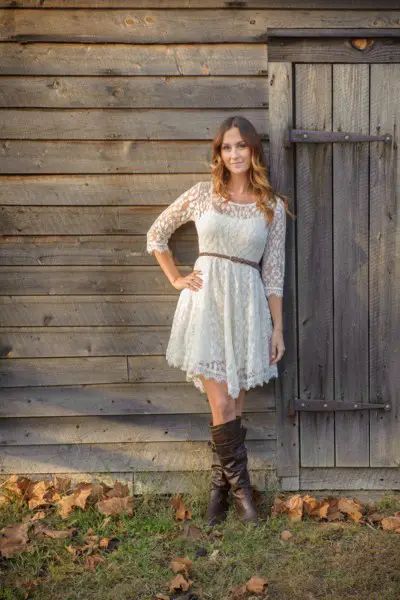 Consider pairing a white lace dress with brown cowboy boots for a stylish yet comfortable casual look.
Adding a brown leather belt to cinch the waist elevates this ensemble, emphasizing your silhouette and elevating the aesthetic appeal.
Brown leather belts offer incredible versatility in casual wear. They can seamlessly blend with various outfits, such as slim-fit straight or flare jeans, combined with cowboy boots, and a blouse or plaid shirt.
The key is to tuck in the blouse or shirt and use the belt to tighten the outfit, creating a snug fit at the waist and accentuating your figure.
This combination not only looks great but also feels comfortable and practical for everyday wear.
2. Elegant Wear with Bulkier Outfits
Moving towards more elegant attire, belts become essential in managing bulkier outfits.
A pleated skirt paired with a sweater or blouse, complemented by cowboy boots, creates an elegant, sweet, and feminine style.
However, without careful styling, this outfit can appear fussy and bulky.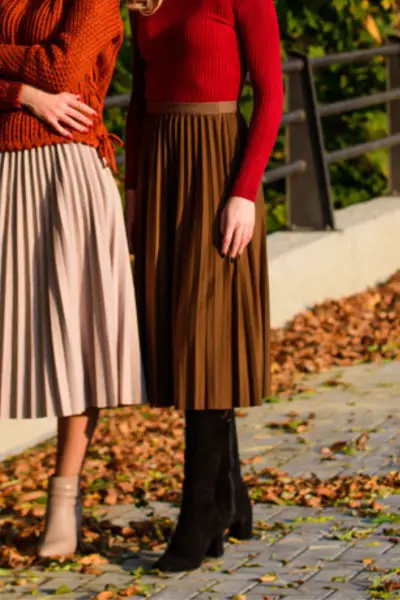 A stylish leather belt can effectively streamline the look, adding neatness and cohesion.
The color of the belt should complement the boots, with shades like brown, black, or beige maintaining an elegant overall appearance.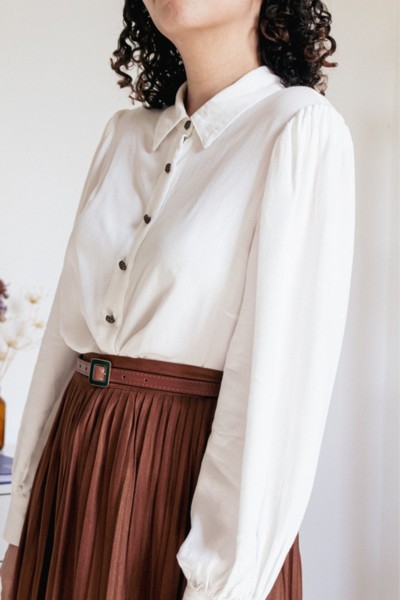 Maxi and midi dresses/skirts work wonderfully for elegant wear.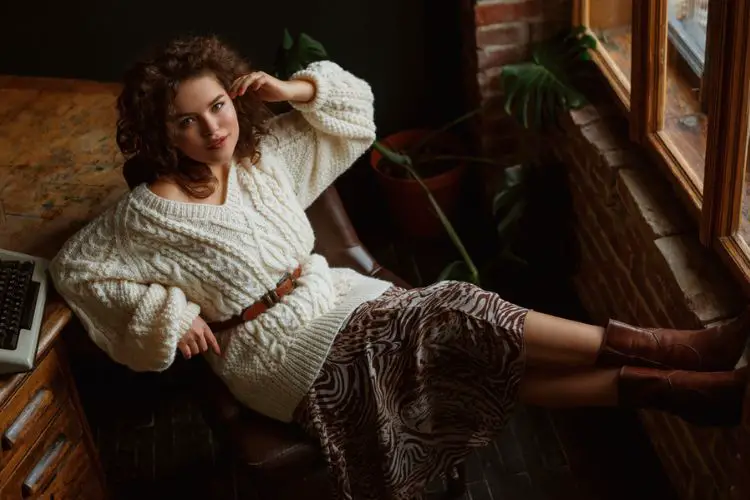 Consider a typical cold-weather ensemble: a bulky sweater paired with a skirt. While cozy and warm, this combination can often appear unstructured.
By introducing a belt to this outfit, you create a point of definition. The belt cinches at the waist, breaking up the layers and adding a sense of proportion.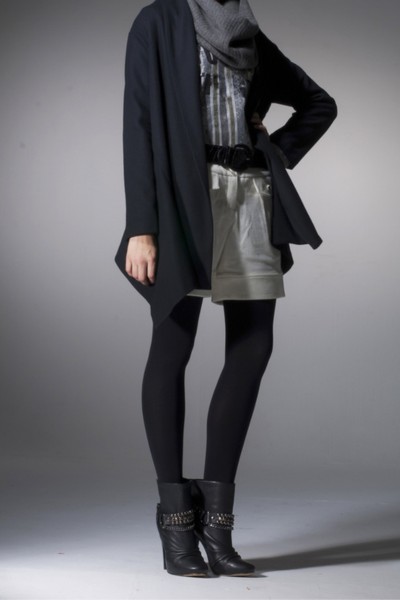 This technique is not only functional in keeping the layers in place but also aesthetically pleasing, as it highlights the waistline and balances the bulkier upper and lower garments.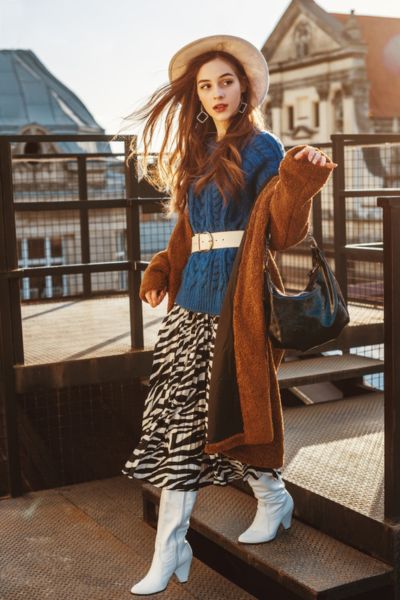 A key aspect of layering is the outermost piece, often a coat or a blazer. In such scenarios, a well-chosen belt can transform the look.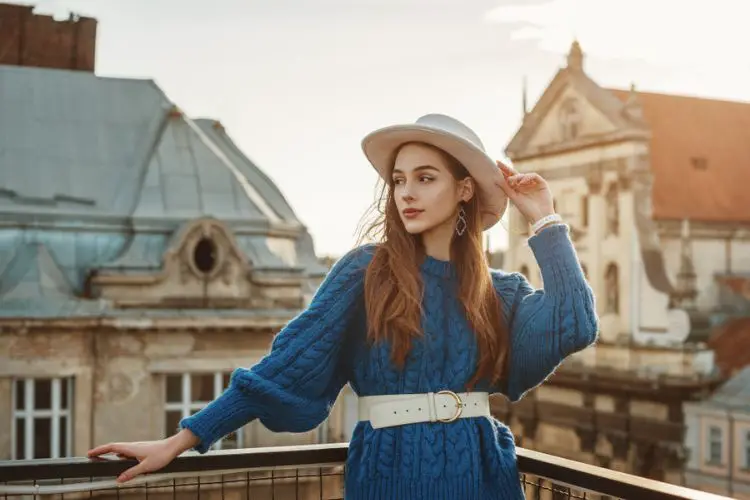 For example, with an oversized wool coat, which can sometimes drown the figure, a belt tied at the waist creates a more tailored silhouette.
It accentuates your figure, while still allowing the coat to serve its purpose of warmth and style.
To further elevate the look, consider pairing these belted layers with complementary accessories. A tote bag adds practicality and a touch of sophistication.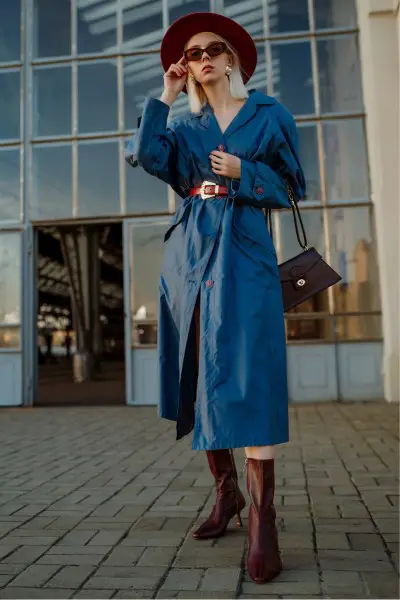 A wide-brim hat not only serves as a shield against the elements but also adds an element of classic style, reminiscent of traditional cowboy attire.
These accessories, when combined with the streamlined look created by the belt, result in an outfit that is both functional and fashion-forward.
3. Business Casual with a Twist
Belts are also a key element in business casual outfits featuring cowboy boots.
They complement suits well, especially when paired with snake-skin cowboy boots for a professional look.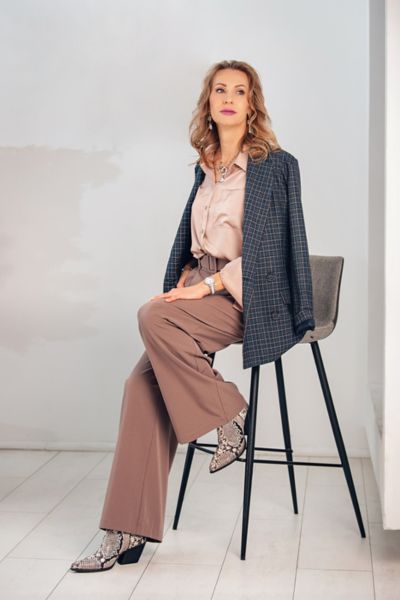 For a relaxed fit, such as Palazzo trousers with a silk blouse, a wide belt can ensure neatness under a suit blazer, enhancing the professional appearance.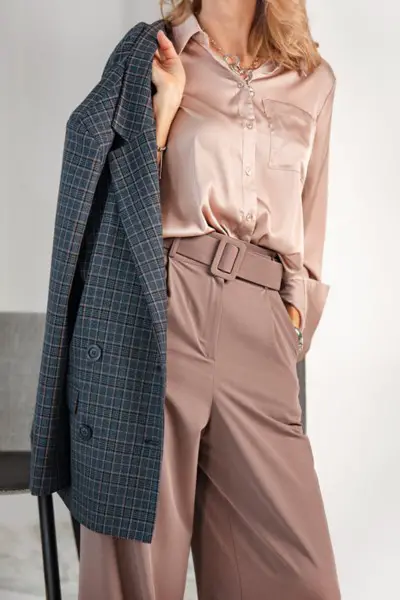 4. Street Style with Belts and Cowboy Boots
Belts can surprisingly complete an outfit even in street style, creating a stylish breakdown.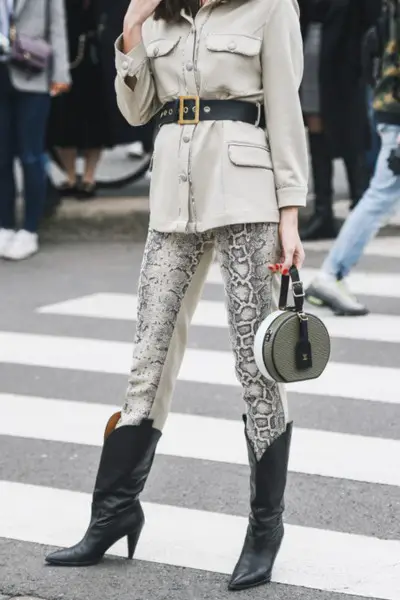 A pair of stylish black cowboy boots with snakeskin print pants and a light gray blazer can be tied together with a bold black belt, creating a strong style statement that reflects your personality without compromising neatness.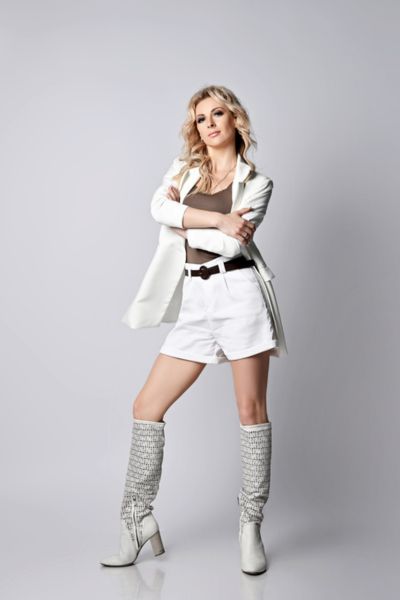 Alternatively, light gray cowboy boots paired with white shorts and a blazer can be accentuated with a black wide belt for a striking color contrast, perfect for a standout street look.
Conclusion
In summary, the combination of cowboy boots and belts is a powerful duo in fashion, transcending beyond mere functionality to become a style statement.
Whether dressing for casual comfort, elegant occasions, professional settings, or making a statement on the street, a well-chosen belt can elevate your look.
It defines silhouettes, manages layers, and adds a personal touch to your outfit. In colder weather, it's particularly effective in keeping layered looks sleek and tailored.
Remember, the right belt can transform your cowboy boot outfit into a cohesive and stylish ensemble, showcasing your unique fashion sense with every step.
Howdy y'all, and welcome to From The Guest Room, your ultimate guide to all things Western! I'm Jay Gatz, a lifelong cowboy boot enthusiast with over 5 years of experience in the Western style world. I'm excited to share my knowledge with you and help you discover the perfect cowboy boots and western gear to elevate your style. Let's explore the rich history and timeless appeal of Western fashion together!