Most people know that jeans with flared bottoms like bootcut jeans or cowboy cut jeans are great choices for cowboy boots.
The reason is simple, they have enough room in the bottom legs for you to insert the boot shaft. And this is also a very popular style of most die-hard fans in the cowboy boots world.
So besides bootcut jeans, are there any other jeans suitable to wear with cowboy boots?
Today's post is the answer for you! You just need to grasp some basic principles, it's very simple!
Let's check it out!
Is it ok to wear normal jeans with cowboy boots?
Usually, the most basic and preferred style of men when wearing cowboy boots is tucking the boot shaft into jeans. For this reason, the bottom legs of the jeans must be wide enough.
In fact, you don't necessarily consider bootcut jeans the only option for this style, any type of jeans is fine, as long as the bottom legs have enough room to fit the boot shaft in and bring you a "smooth" look. The "smoothness" here means the V shape of the boot collar should not be imprinted on the surface of the jeans.
Just knowing that basic, regular jeans or straight-leg jeans are both very good choices for men's cowboy boots. They still give you the clean look you've always desired.
Today, Wrangler, a major brand in jeans and other accessories, has released cowboy-cut jeans that are a great match to wear with cowboy boots. They have bottom legs that are not as wide as bootcut jeans but are still enough to tuck the boot shaft in and give you a more youthful style.
Also, some famous cowboy boot brands like Tecovas offer casual jeans that are great to wear with cowboy boots.
Standard Jeans from Tecovas are not bootcut jeans, but they fit both your body shape and the boot shaft well.
Some of my friends even wear slim jeans with cowboy boots. The way they make the boot shaft not print on the jeans is to use laces to tighten the boot shaft. Interesting, isn't it? You can also do this with tapered jeans!
But for the same reason mentioned above, jeans like skinny or short jeans are not a good choice.
Skinny jeans have a too narrow cut to fit boots in, but to do the opposite (let boots outside the pants), while short jeans will reveal the boot shaft. These 2 types of jeans are what men don't favor the most.
The world of men's cowboy boots doesn't like revealing boot shafts if your job doesn't really force you to do so. They cause a contrast in style and do not offer a clean look or classic beauty as one would expect.
Meanwhile, it's a different story for women, they can wear… everything with cowboy boots. So in addition to bootcut jeans, other types such as regular jeans, straight leg jeans, skinny jeans, low rise or high rise jeans are all great choices! As long as you coordinate your cowboy boots, jeans, and outfits in the right way.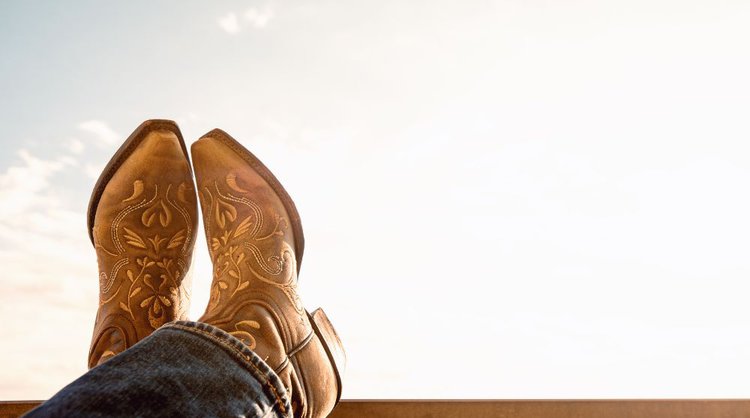 For women, you don't really need to care about what kind of jeans can go with cowboy boots, but to pay attention to the harmony and match between outfits and boots. There are no strict rules for women like that for men in the cowboy boots world.
Conclusion
In general, do not be too rigid in style, you can completely use ordinary jeans like straight-leg jeans to wear with cowboy boots.
Nowadays, you will see men even wearing dress pants or suits with cowboy boots and that combination is absolutely amazing.
Just for men, you need to stay away from exposing the boot shaft like tucking pants into boots or wearing shorts. Don't make yourself silly. Also, make sure your jeans have enough room at the bottom for the boot shaft to fit in.
For women, wear whatever you want with cowboy boots! As long as they are harmonious, eye-catching, and fit your purpose, that's it!
Howdy y'all, and welcome to From The Guest Room, your ultimate guide to all things Western! I'm Jay Gatz, a lifelong cowboy boot enthusiast with over 5 years of experience in the Western style world. I'm excited to share my knowledge with you and help you discover the perfect cowboy boots and western gear to elevate your style. Let's explore the rich history and timeless appeal of Western fashion together!