Jeans are always considered the ultimate compliment to cowboy boots, and in the American West, jeans are always the number one choice.
However, there are many ways to wear jeans with cowboy boots, which can result in different interesting styles.
One of the more popular styles is to wear longer jeans than usual to stack with cowboy boots. This ensures that the entire shaft of the cowboy boot is properly covered for a nice look.
However, some people don't like this style. Instead, they have a habit of cuffed jeans at the bottom, that's why they wonder if they can apply this style to cowboy boots.
Today, we will dig into that question and give you the answer now.
Shall we?
Key takeaways
You can wear cuffed jeans with cowboy boots. This can protect the hem of your jeans and bring you a clean and neat look.
Men when cuffing jeans still have to make sure the bottom legs of the jeans can cover the entire boot shaft.
Cuffed jeans style to wear with cowboy boots should be longer than usual.
Cowboy boot fans often prefer light cuffs in jeans. The cuffs should not be wide!
Can Cuffed Jeans Go Well With Cowboy Boots?
In fact, the style of wearing cuffed jeans with cowboy boots is not new at all, and you have no reason not to try this style.
The biggest strength of this style is that it creates a neat and polite look.
If you're wearing a pair of jeans that are too baggy, a few cuffs at the bottom will save you. At the same time, you can also protect the hem of your jeans from tearing if it is too long and scratches the ground.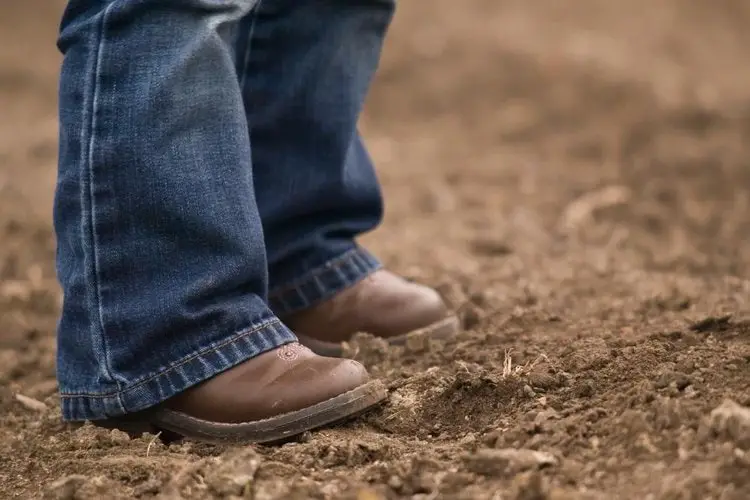 Even so, if you pay close attention, when paired with cowboy boots, the cuff of jeans is usually not wide. And this is exactly what you should keep in mind.
To get good cuffs, you should only keep the width between 1 and a maximum of 1 1/4 inches if your lower body is short. And from 1 1/4 inches to 1 3/4 inches if your lower body is tall.
In general, determining the width of the cuff depends quite a lot on your preferences, as long as you feel confident. But in the cowboy world, people often choose a fairly light cuff! This ensures a clean look and a harmonious style!
Another suggestion is that you should fold the bottom of the jeans leg at least twice, this will ensure the cuffs are neat and in shape. The double cuff will definitely fit better than the single cuff, believe me!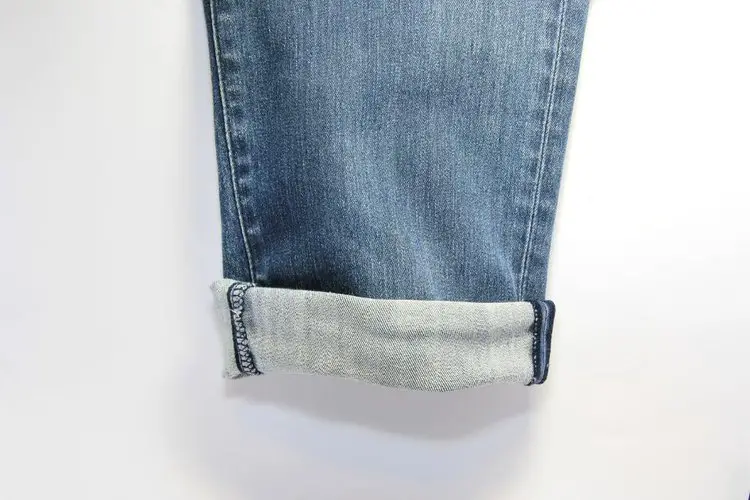 However, don't create too many cuffs, it can make you look silly when the bottom legs of jeans swell up unnaturally!
As for men, to ensure that jeans with a nice cuff can still cover the entire boot shaft, you need to choose jeans with bottom legs with adequate width and length.
Cowboy boots have a classic style, and most people don't like them showing their shafts. They are not a pair of sneakers that you have to cuff your jeans higher than your ankles to reveal the whole shoes and fashionable socks underneath like a teenager.
In the world of cowboy boots, people don't do that!
Usually, to create beautiful cuffs as described above, your jeans should at least touch the ground in the back heel (when you don't wear boots). That way, when you put your cowboy boots on, you'll still have an extra length of the jeans to fold them up and create at least 2 cuffs.
When wearing cowboy boots, even though you cuff jeans to shorten their legs, the cuffs should still not sit higher than the top of your foot. This ensures that the jeans will cover the entire boot shaft safely.
Some people like bootcut jeans, because this type of pants can ensure the width and length to cover the entire boot shaft. But personally, I prefer straight-leg jeans or cowboy-cut jeans.
The reason is that the width of the bottom legs of the bootcut jeans will sometimes prevent you from creating a nice cuff. They often flare out!
Meanwhile, straight-cut jeans have a straight top-to-bottom construction, so it's easy to cuff them for a neat and clean look.
Alternatively, cowboy cut jeans can also be a good alternative to bootcut jeans which are a type of pants developed by Wrangler to cater to the cowboy boot world.
Cowboy-cut jeans usually fit tight from the knee up and wide from the knee down. They have a similar construction to bootcut jeans, except that their bottom is not as wide as bootcut jeans, and you will easily create a better cuff.
As for women, the formula is similar if you choose to wear jeans with the legs covering the entire shaft of cowboy boots.
However, there are variations for our ladies. Some prefer to wear ankle cowboy boots or western booties, then cuff their jeans above the ankle. This will partially expose their ankle and create a stylish and fashionable look!
Others, prefer to pair cuffed denim shorts with traditional cowboy boots.
These are all great styles for women. Believe me, for women, cowboy boots are a trendy fashion accessory, not a classic item like for men. Therefore, women can easily get creative with cuffed jeans and cowboy boots than men.
Before you leave
Overall, wearing cuffed jeans with cowboy boots is not uncommon. This style can actually keep you neat for the ranch jobs, or elegant enough for the office. What you need to do is pay more attention to the overall outfit to fit the purpose.
No big deal on this topic, feel free and confident to do some nice cuffs in jeans and wear them with cowboy boots. I hope our information can really help you.
Good luck!
Howdy y'all! I'm Grace, a Western style enthusiast with over 5 years of experience. From cowboy boots to western gear, I'm passionate about all things Western and dedicated to helping you find the perfect style to suit your taste. Join me and my fiancé Jay Gatz as we explore the rich history and timeless appeal of Western fashion together!