You can see people wearing cowboy boots with jeans all over Texas, the most popular jeans are still bootcut jeans and straight-leg jeans.
One of the most popular styles when wearing cowboy boots is the jeans stacked on cowboy boots. It gives a very natural and attractive look, while complementing the wild style of the West.
Even so, this style may not be suitable for everyone. Some wonder if they should stack jeans with cowboy boots, who should and who shouldn't.
Today's article will clarify this matter for you, when you should stack jeans with cowboy boots and when not.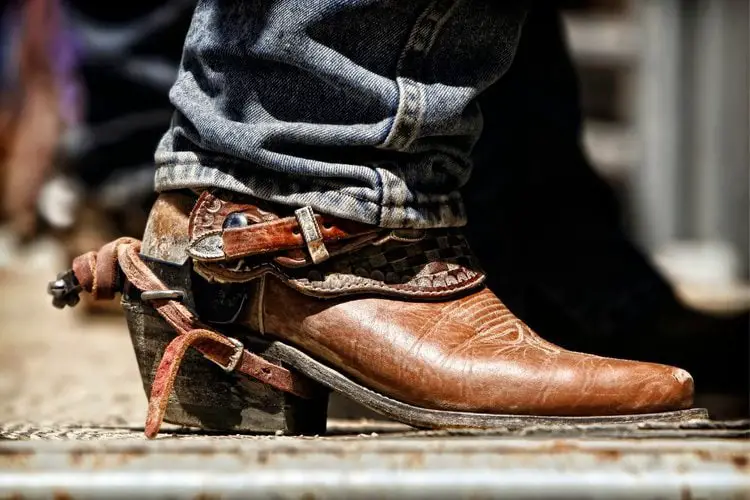 Is It Okay if Jeans Stack With Cowboy Boots?
In fact, stacking jeans on the vamp of cowboy boots is one of the most popular styles in the cowboy boot world, especially among men. Even so, some people still often reject this style because their height is not suitable for it.
In more detail, for one whose legs are not tall, stacking jeans with cowboy boots might not be suitable for them because it can make them look shorter.
Also, stacking jeans with cowboy boots is not a really good choice for those with big calves as it can make your legs look even bigger and possibly sloppy.
If you have these leg types like the above and still want to stack jeans, then you should consider letting jeans bunch up at the ankle, not at the top of the vamp of cowboy boots.
Also, you should have jeans stacked slightly, not too much, as that can cause an untidy appearance.
But in general, people with short legs often prefer pants (jeans) with a straight and flatter form to help them look taller.
Some types of jeans of this type can be mentioned as straight-cut jeans or simply regular jeans with just enough length that does not create many stacks.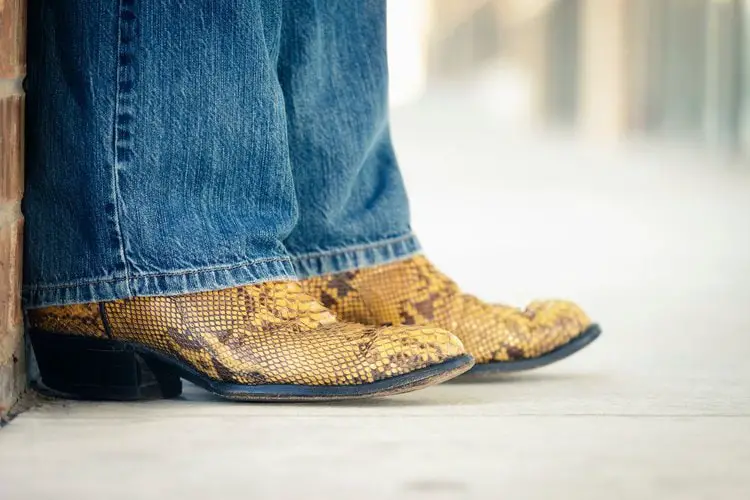 Stacking jeans with cowboy boots will actually be more suitable for people with a good leg length, not too short compared to the upper body.
Besides, this style will look best if the wearer has long and slim legs.
However, just like above, jeans with too many stacks will make you look sloppy and not create a good look. A small stack on the vamp of cowboy boots will be better.
Therefore, do not choose jeans that are too long and even touch the ground. They should be just a bit longer than your regular jeans.
When you're wearing jeans without boots, look at the back heel, your jeans should be 1/2 inch to 3/4 inch off the ground. As such, they can create a slight stack.
Or if you can try on jeans right at the store, your jeans should cover 1/4 or 1/5 of the vamp of cowboy boots to have a slight stack.
Some types of jeans you should look for can include boot-cut jeans or cowboy-cut jeans. Personally, I think cowboy-cut jeans would be the easier choice.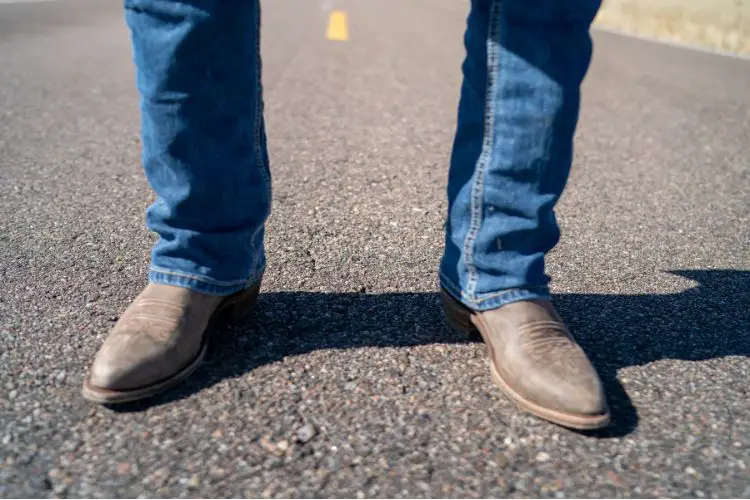 Cowboy cut jeans have legs that flare from knee to bottom to ensure you can tuck the boot shaft into your cowboy boots.
They are not as flared as bootcut jeans, which helps you stack jeans with cowboy boots for a cleaner look.
In addition, if you have a body that is standard or quite standard (slightly thin), you should wear a slim-fit bootcut or cowboy-cut jeans.
The reason is that these pants fit tight to your butt, thighs, and flare from below the knee to the end. This outfit will flatter your figure, ensuring that the style of stacked jeans with cowboy boots will be neat, smooth, clean and sharp.
For those who are overweight or have big thighs and big legs, jeans with a relaxed fit or maybe a regular fit will be a more reasonable choice.
They can hide the above blemishes and give you a good look. A little stack in the vamp of the boot will be a success with this style.
Conclusion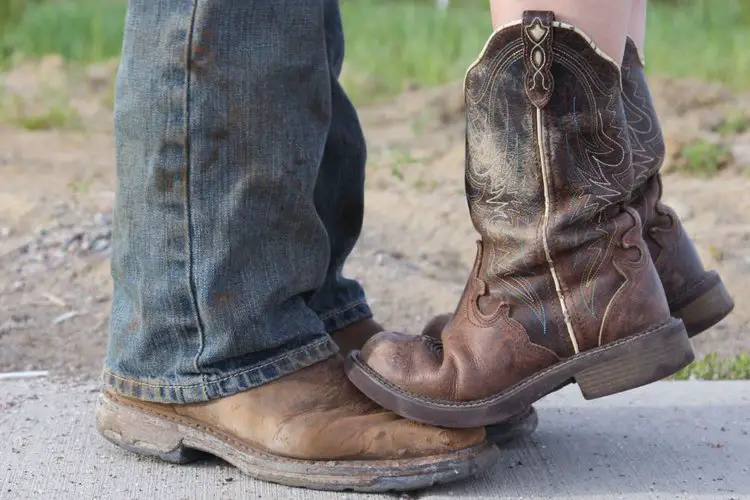 In general, whether to stack jeans with cowboy boots or not quite depends on your figure. But this style is not really suitable for people with short or too big legs.
For short legs, this style can make you look shorter. As for large legs, it can make you look untidy.
Those with long and slim legs will suit this style. A few natural stacks will bring a masculine and elegant image.
Some types of jeans that can be easily stacked are cowboy cut jeans or boot cut jeans. Regular or straight-leg jeans can also bunch up, but you'll need them a bit longer.
Jeans are also not too long because they can make the jeans stack too much, causing a messy feeling for the viewer. Instead, they should be just long enough to create a slight stack for a clean look.
That's all you need to know!
Howdy y'all, and welcome to From The Guest Room, your ultimate guide to all things Western! I'm Jay Gatz, a lifelong cowboy boot enthusiast with over 5 years of experience in the Western style world. I'm excited to share my knowledge with you and help you discover the perfect cowboy boots and western gear to elevate your style. Let's explore the rich history and timeless appeal of Western fashion together!