If cowboy boots were stars, the jeans to wear with cowboy boots was the night. A pair of cowboy boots will be even more beautiful and outstanding if combined with jeans. Like stars only shine in a night sky.
And the night mentioned here is Levi's, a brand owns a lot of beautiful jeans that are great companions to go with cowboy boots.
So what kind of Levi's jeans are right for you to wear with cowboy boots? Let's find out together!
Comparison Table
Do cowboys wear Levis?
In fact, when looking at history, Levi's jeans were not favored by cowboys. Back then, Levi's jeans were considered pants for the poor because only low-income people wore them (the low classes like peasants or gold miners).
However, things changed in the 1900s. Instead of wearing long pants made of wool, corduroy or tight pants, cowboys opted for rugged Levi's.
What Levis do cowboys wear?
Since the 1900s, Levi's jeans have become the familiar items to go with cowboy boots.
Most hardcore fans of cowboy boots choose rugged Levi's, bootcut style or straight leg jeans. These types of pants often have a common feature that the leg opening is wider than that of other pants. This feature allows the wearer to tuck cowboy boots into the jeans easily.
On the other hand, things are much easier for cowgirls, they can wear skinny jeans and tuck jeans into the boot shafts.
Some jeans are very popular to go with cowboy boots such as Levi's 527, 501's, 517s, vintage 505, 513s, 541's…
Above all, choosing jeans depends on what type of cowboy boots you are wearing. But it's important to note that the leg opening should be wide enough to let the boots shaft in.
Read more: Best Jeans to Wear with Cowboy Boots Mens
The 10 Best Levis for Cowboy Boots
Still wondering which Levis are suitable for your cowboy boots? Follow us, we will present you the 10 best Levis for cowboy boots!
1/ Levi's Men's 517 Bootcut Jean
Sale
When choosing jeans to wear with cowboy boots, you should pick dark blue jeans.
The Levi's Men's 517 Bootcut Jean is a sleek pair with the prominent feature that it hugs hips better than the 501's (early 70's).
Plus, these jeans flare out the bottom so you can easily tuck the cowboy shafts into them. Besides, the pants are skinnier (tighter) at the knees to give you a youthful and neat look without looking sloppy.
Levi's 517 jeans are such a great pair to go with cowboy boots, right?
2/ Levi's 527 Slim Bootcut Fit Men's Jeans
Another product line catching the hearts of many cowboys is Levi's 527.
With various designs and colors, you have many options to choose yourself a pair of jeans that match your cowboy boots.
Made from 100% cotton, these pants have relatively good stretch, which makes you feel absolutely comfortable.
For those who often do outdoor work or work that requires high flexibility, this is the right pair for you.
3/ Levi's Women's 715 Vintage Bootcut Jeans
Bootcut jeans are not only for cowboys, but they are also for beautiful cowgirls, typically Levi's Women's 715 Vintage Bootcut Jeans.
If you are fed up with skinny jeans that make you feel like your calves are being choked, then a pair of Levi's slim bootcut is the solution.
These jeans are designed with a perfect fit, no sagging, extremely comfortable fabric, smooth and especially not tight in the calves.
These are great pants to match with traditional cowboy boots or ankle cowboy boots.
4/ Levi's Men's 559 Relaxed Straight Jean
Sale
Not only bootcut, relaxed straight jean pants are also an interesting choice.
The Levi's Men's 559 has good stretch for wearing and sitting comfortably even if you have a bit of a belly. What I love is that they get big pockets to hold your phone neatly.
Notably, Levi's Men's 559 provides adequate safety and protection for the wearer. These jeans can protect you from high temperatures and keep you warm in cold weather.
Lastly, they have the stretch and non-stretch versions depending on the color you choose, so pay attention to this!
5/ Levi's Men's 569 Loose Straight Fit Jean
Levi's Men's 569 is a pair of jeans for the big guys. This pair is the solution for big guys struggling to find their suitable pants.
Not only fit well, but these jeans are also great products. The plenty of legroom brings comfort and flexibility for your legs and allows your cowboy boots to fit in.
Besides, the fit is a bit relaxed in the butt and thighs, you won't feel any constraint when sitting in these jeans.
6/ Levi's Men's 501 Original Fit Jeans
Sale
If you ask 10 cowboys to pick a Levis jeans, I am sure more than 5 of them would choose Levis 501s.
As one of the best selling products of Levis, the 501s is made from 98.9% cotton, giving you great comfort and coolness.
You won't get upset at the waist because the 501s jeans are well-designed.
In addition, with the variety of colors, you'll have dozens of choices to match with cowboy boots and different types of tops (I've always loved rinse).
Aside from the sleek look and comfort the Levis 501s offers, there's no need to worry about its durability, they're incredibly powerful.
If you don't like the Levis jeans above, how about give this 501 a chance?
7/ Levi's Women's Classic Bootcut Jeans
Sale
Levi's Women's Classic Bootcut Jeans is made of stretchy and soft fabric with stretch denim gives you extra comfort and easy fitting. Also, it has a bootcut leg for you to easily tuck cowboy boots inside.
Besides, these jeans have a relaxed design at the hips and thighs to provide comfort while sitting. Don't worry when the waist is below the waistline, they fit well so you don't have to yank to pull them up every time you stand up.
These jeans are suitable for those who regularly wear jeans all day. The highlight of these jeans is that they don't lose shape at the end of the day.
Regarding washing, these bootcut pants don't shrink in warm water and you can easily dry them with the dryer.
You won't feel like you're wearing bell-bottoms because this is the subtle, light bootcut jeans!
Read more: Best Wedding Dresses to Wear with Cowboy Boots
8/ Signature by Levi Strauss & Co. Gold Label Men's Relaxed Fit Jeans
Sale
People with big thighs and hips often encounter a lot of difficulties when choosing suitable jeans. Don't worry, relaxed fit jeans can tackle your problems!
Featuring designs for multiple rooms at the hips and thighs, this Signature relaxed fit jeans gives you incredible comfort with thin and comfortable fabric.
Besides, the end of these pants has plenty of room for you to tuck the cowboy boots inside them easily.
Notably, they get an affordable price tag!
9/ Levi's Women's 721 High Rise Skinny Jeans
Sale
Levi's Women's 721 High Rise Skinny Jeans is the perfect choice to wear with cowboy boots. With the high waist jean fit, you'll get a modern pin-up style look.
If you are a girl who loves fashionable and modern jeans, then Levi's Women's 721 are just great options for you ladies.
What are you waiting for?
10/ Levi's Women's 720 High Rise Super Skinny Jeans
Sale
Another option for girls is super skinny jeans. Levi's Super skinny jean is a good match with short cowboy boots (and even traditional cowboy boots).
Levi's Women's 720 is a mix of jeggings and jeans. These pants will bring you a neat shape because they are a bit stretchy but flat and tight on the lower stomach. This feature is great, isn't it?
These jeans have competitive prices with excellent quality, what more could you expect from such a product?
FAQ
Can you wear slim jeans with cowboy boots?
We don't think slim jeans are suitable for wearing cowboy boots. The simplest reason is that the leg opening isn't wide enough for you to put the cowboy shaft inside (if you're a man) and you'll still have trouble if you want to slip your jeans into your cowboy boots (if you're a woman).
Slim jeans should only be worn with casual shoes, and they are not suitable to wear with boots. Most importantly, jeans need room on the legs so you can shove the shaft in cowboy boots. That's why slim jeans are not the right options to go with them.
Besides, for girls who have a habit of tucking jeans into the shaft of cowboy boots, wearing slim jeans won't make you look neat and feminine like when wearing skinny jeans. Not to mention that the leg opening of these jeans has a limited width that is a constraint to tuck jeans into the boot shafts.
Read more: Best Cowboy Boots for Riding Horses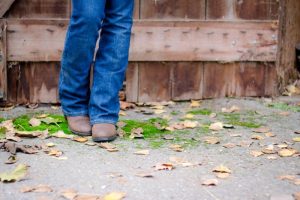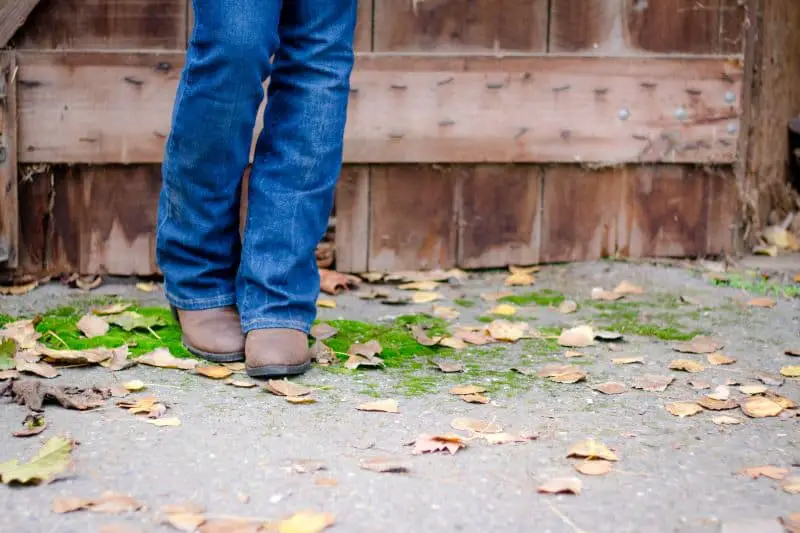 Why do cowboys wear tight jeans?
It's for safety reasons. Baggy jeans are sloppy and not neat enough for the cowboys to ride horses, so this type of pants is not approved for working. On the other hand, fitting clothing is much preferred by workers.
Moreover, many jobs require workers (including cowboys) to have fitting clothing to ensure safety.
Cowboys often tuck jeans into cowboy boots neatly. This way, jeans don't get caught in the stirrup or anything else when they ride horses.
Overall, cowboys wear tight jeans due to job requirements. If you wear cowboy boots for fashion, you can wear bootcut jeans and tuck the boot shafts into jeans. That is a classic combination for cowboys!
Read more: Best Cowboy Boots for Line Dancing
Conclusion
Did you find the Levi's that match your cowboy boots?
Choose beautiful jeans (preferably dark blue) and partner it with a pair of cowboy boots to get the western look.
Remember that a pair of cowboy boots won't promote complete beauty if you don't know how to choose a pair of jeans correctly.
Hope the above information was useful to you, any more questions? Please comment to us, we are happy to answer any questions from you.