When looking at the world of footwear, you will find that it is very little or no footwear made from leather as much as cowboy boots.
That said, if you want to be part of a large cowboy boot community, in addition to knowing how to style them, you also need to be equipped with knowledge of the way to care for leather.
Leather conditioners are one of the most important products in the leather world. As cowboy boots are made of 100% leather, is leather conditioner useful and necessary for them?
Today's post will tell you the answer! Let's check it out!
Key takeaways
Leather conditioner is an extremely popular and widely used product in the cowboy boot world.
Leather conditioners can repair the damage to cowboy boots, inside and out, increase the boot lifespan, help them stay new and keep their original beauty longer.
Leather conditioner is a must-have accessory and should be used regularly for cowboy boots.
However, using leather conditioners still has certain risks (which we can avoid). And not all leather needs a leather conditioner.
Using Leather Conditioner on Cowboy Boots: Is it Okay?
As mentioned above, cowboy boots are made of 100% leather and have a 12-inch tall construction. Owning a pair of cowboy boots also means that you have to learn about leather care.
Leather conditioner is a very popular product for leather care such as car seats, sofas, leather wallets, etc. It is very safe and effective in nourishing and repairing damaged leather stuff.
So, the answer is yes, you can absolutely use a leather conditioner on most cowboy boots made from smooth leather. You can say it is born for leather cowboy boots.
The feature of leather bringing headaches for many is that it is easy to dry out over time.
Dryness leads to cracks on the surface of the leather, which severely affects the look of cowboy boots. This will make them rough, uncomfortable, prone to damage or dry rot. Your boots can also lose their shape and fade colors over time.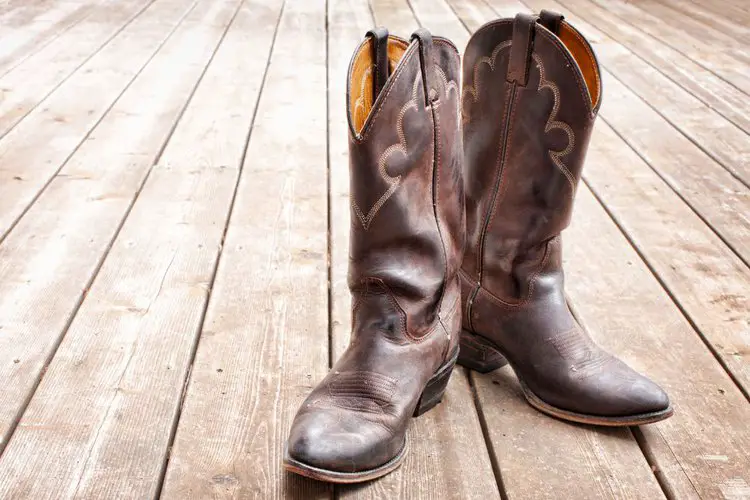 That explains the existence of natural oils and waxes in leather, especially full-grain leather (high-grade leather that is less prone to change after tanning). However, those natural oils and waxes will dry out and lead to the above consequences.
Every bottle of leather conditioner contains oils and waxes (lanolin, mink oil or neatsfoot oil, etc.) to prevent dryness. Leather conditioners can penetrate deeply into the leather through the pores, providing the leather with the necessary oils and waxes. As a result, cowboy boots are moisturized and can avoid the above risks.
Leather conditioner is also effective with old boots. It can restore the dry leather, making your old boots soft again, the color richer, and the boots more durable and beautiful.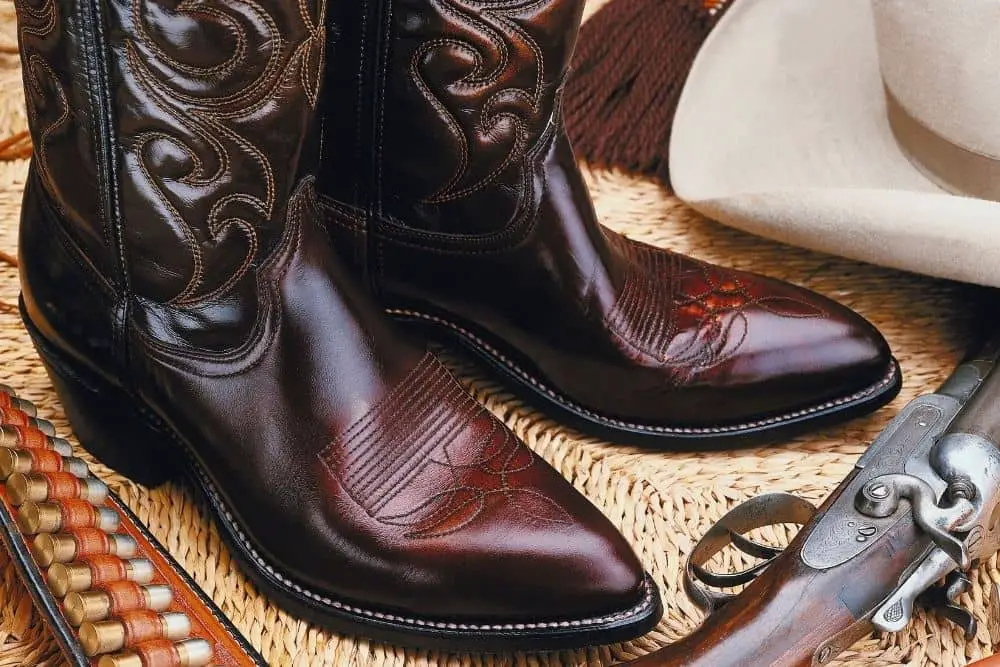 Some types of leather conditioners also can protect the leather against dust and dirt, others even can make boots waterproof.
Overall, this product is a must-have if you want your cowboy boots to last longer.
However, despite being an important accessory that any cowboy boot fan should own, leather conditioner still requires you to pay attention to a few things.
Some notes when using leather conditioner for cowboy boots
There are a few things that you should keep in mind. The first note is that some leather conditioners will darken cowboy boots. Some might like it, but others don't, especially those who own light-colored boots.
To limit that, you should research carefully before buying, such as reading reviews, asking the manufacturer, etc. To be on the safe side, test a small amount on a household leather object before applying it to your boots.
Using leather conditioner periodically for cowboy boots is necessary. As cowboy boots are made from many different types of leather such as bovine, bull hide, goat, or exotic leather, they will need different conditioning periods.
For example, ostrich leather dries very quickly, so you will need to condition it more often than bovine. Ostrich leather needs to be moisturized every 2 to 3 months, while it is 4 to 6 months for bovine leather depending on your usage conditions.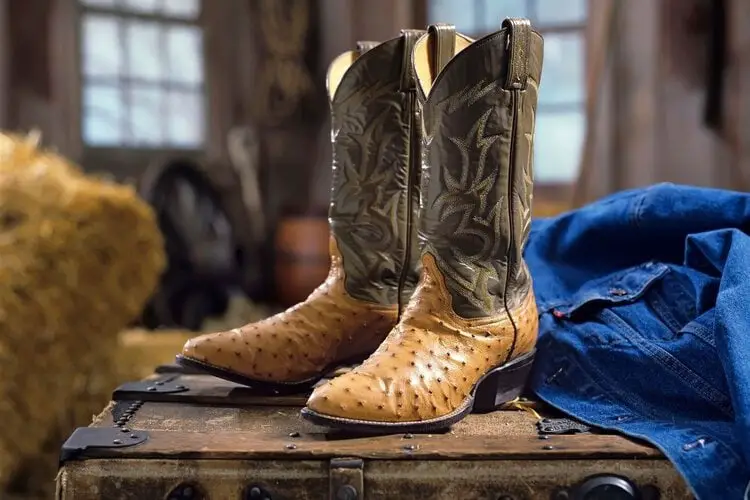 Leather conditioners for bovines may not be suitable for caiman belly or python leather. You need to use more specialized ones.
Therefore, you should study the leather of your cowboy boots to have the right care.
I have a post about how often to condition each cowboy boot based on its specific leather here! I think it's an important article to check out.
Not all types of leather need to be conditioned. Hairy leathers such as suede, nubuck, or rough-out leather are examples.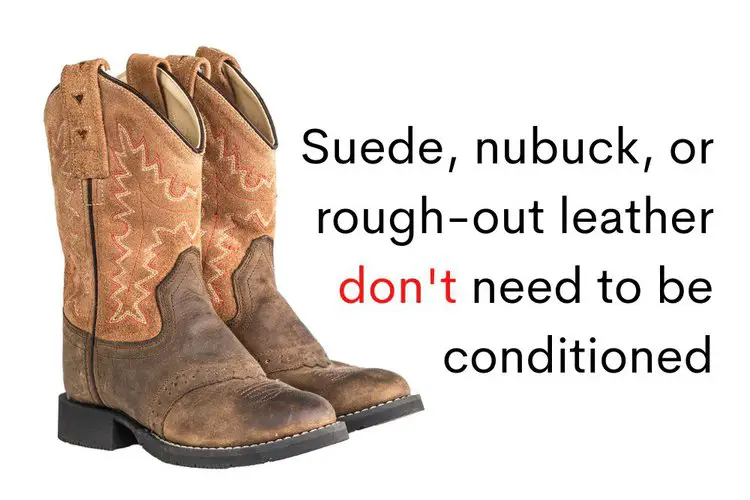 These types of leather are naturally quite dry, but still durable and soft after many processing stages and changes in their properties. So they don't really need to be conditioned. You just need to use a suede cleaner in combination with a suede brush to make the suede surface smooth and soft.
You can still find suede conditioners on the market, but it is usually quite a few and comes in spray form.
Meanwhile, using normal leather conditioners can leave residue on suede, rough out, or nubuck surfaces. Or worse, it causes the hairs of suede to break, making the surface flat like smooth leather.
In general, most leather conditioners on the market are for smooth leather, and you should read the instructions carefully.
Next, don't use leather conditioners that contain wax (usually beeswax) if the purpose is to make the boot soft rather than resistant to dirt or water.
Because wax can create a protective film that makes leather pores difficult to breathe. From there, the leather will be less flexible and supple.
To ensure the leather conditioner is most effective, you should make sure cowboy boots are clean. This will help the leather conditioner penetrate deeply and nourish the leather better.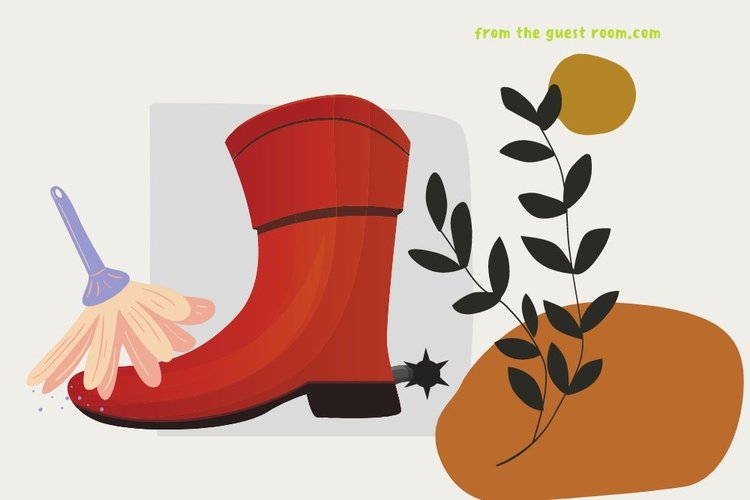 Apply an amount of leather conditioner to the leather brush. Then thoroughly buff the surface of cowboy boots in 2 to 3 coats to get the best results, this also leaves no residue.
You can see more methods and products to help condition boots effectively here!
Before you leave
It must be emphasized once again that leather conditioner is absolutely essential for cowboy boots, as leather (mostly smooth leather) will surely have problems with drying out over time.
Leather conditioner is a product that restores and prevents damage to the leather. Just like our skin, leather needs periodic protection and nourishment to stay healthy.
A pair of cowboy boots, when cleaned and conditioned properly and regularly, can completely follow you for more than 15 years.
So, don't be lazy, get your dear boots a bottle of leather conditioner now!
Howdy y'all! I'm Grace, a Western style enthusiast with over 5 years of experience. From cowboy boots to western gear, I'm passionate about all things Western and dedicated to helping you find the perfect style to suit your taste. Join me and my fiancé Jay Gatz as we explore the rich history and timeless appeal of Western fashion together!