Although jeans and cowboy boots combination is one of the perfections of the times, you need to know how to choose the right jeans.
People often wonder what type of jeans are suitable for cowboy boots. Besides the width of the bottom of jeans, they are also concerned about whether jeans should be longer to wear with cowboy boots.
Well, that's a good question, and today's article will explain this matter in detail.
Let's check it out!
Are Longer Jeans Better For Cowboy Boots?
There are many different styles to match cowboy boots. Many girls love the style of tucking jeans into cowboy boots, well, that's a pretty style.
However, with that style, the length of jeans doesn't matter, because they are hidden inside the shaft of the boots.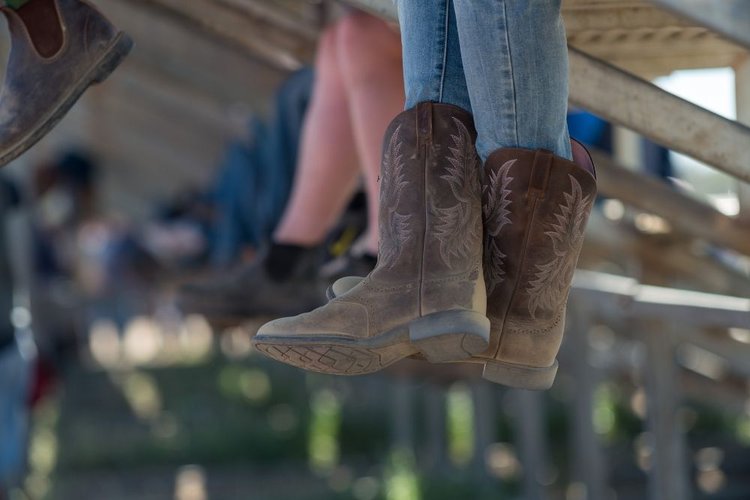 So, we will only need to discuss the other style, which is tucking the shaft of cowboy boots into jeans. Usually, boot cut jeans, straight leg jeans, or cowboy cut jeans.
In fact, when choosing jeans to wear for this style, what you need to care about is the width at the bottom of the jeans. The legs need to be wide enough to fit the shaft of cowboy boots without leaving the V shape of the collar printed on the surface.
And besides, the length of the jeans to wear should be a little longer than that of your regular jeans.
If your other jeans are just a bit below your ankle, this time, you should choose jeans that extend to the back heel. At the back heel, the jeans should almost touch the ground (about 1/2 inch to 3/4 inch off the ground). This applies when you are wearing jeans without cowboy boots.
It means that when wearing cowboy boots with a heel of about 1 1/2 inches, the bottom of the jeans should be about 2 inches off the ground.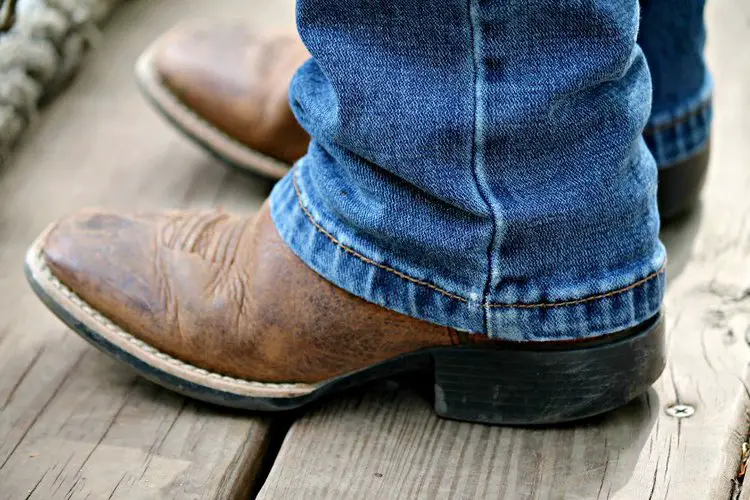 When wearing cowboy boots with jeans, the shaft of cowboy boots will cause your jeans to stack a little at the ankle. And jeans that are just a little above the ankle will become even shorter.
That doesn't make a great look for jeans since you expose your ankles (the shaft of cowboy boots) too much.
Longer jeans bring a better look when going with cowboy boots as they cover the entire shaft of the boot and stack slightly on your foot, resulting in creases in jeans.
My favorite thing about wearing jeans is when they stack a little bit on the foot. And I believe this is also the look that many people love.
Also, a rule when wearing men's cowboy boots with bootcut or straight-leg jeans is not to show the shaft. The shafts can be hidden behind jeans, but not reveal too much. That can cause a contrast in style and create a bad impression on the viewers' eyes.
Longer jeans like my suggestion above will ensure you won't make that mistake.
I generally recommend that jeans cover about 1/4 to 1/5 of the vamp of cowboy boots. You should try it too!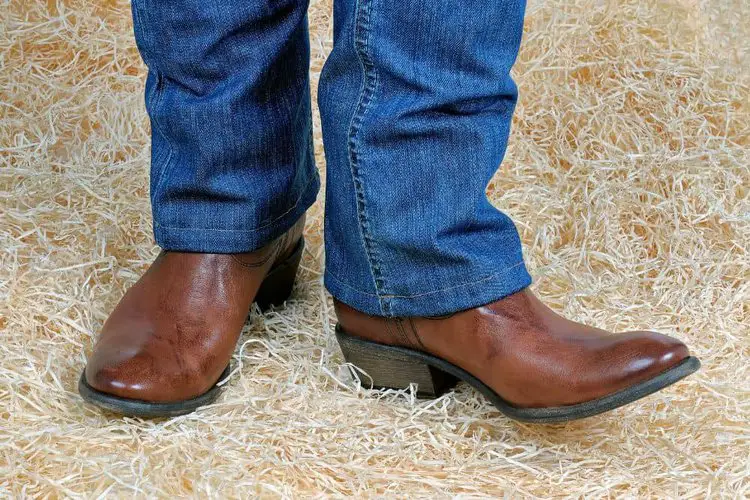 But be careful not to let your jeans be too long and drag their bottom on the ground causing damage. Every time you buy jeans for cowboy boots, please measure and adjust them carefully.
Besides, don't choose jeans that are too wide at the calves and bottom legs. Because that can make you look untidy and a bit of an old man (if you're young and don't want that).
Conclusion
Buying a pair of jeans that are a bit longer than usual to wear with cowboy boots is a necessity.
You should choose jeans that reach the back of the heel and are about 1/2 to 3/4 inches off the ground (when you're not wearing cowboy boots).
Also, it's common practice for jeans to be long and cover 1/4 to 1/5 inch of the vamp of cowboy boots.
That will make sure the shaft of cowboy boots is not revealed too much. The jeans also stack and have a few slight folds on your foot for a nice look.
Good luck, don't forget to take a picture and send it to me after buying the jeans successfully.
Howdy y'all! I'm Grace, a Western style enthusiast with over 5 years of experience. From cowboy boots to western gear, I'm passionate about all things Western and dedicated to helping you find the perfect style to suit your taste. Join me and my fiancé Jay Gatz as we explore the rich history and timeless appeal of Western fashion together!