Nowadays, cowboy boots have become very diverse in structure and style. For some newbies, this is truly troublesome when they first get into this world.
Hold on, we are here for you. This article will provide solutions to choosing the type of cowboy boots you want.
Either way, a pair of cowboy boots is never cheap, it is essential to avoid any mistakes when buying them. In this article, we will focus on some basic types of cowboy boots for your choice.
We will try to keep it simple and straight to the point. Let's check it out!
There are 2 main types of cowboy boots: outdoor work and casual wear
As mentioned above, cowboy boots today come in a huge variety of construction and style. This is understandable since cowboy boots brands now not only cater to ranchers riding horses but also to those who frequently move and work on their feet.
Scroll through many forums or communities and you will find people mentioning dozens of different types of cowboy boots including traditional, stockman, roper, buckaroo style, etc. Well, if you're new, you don't really need to know that much to pick the right cowboy boots.
In general, classic cowboy boots have the construction of a high shaft and no laces along with the stitching on the shaft and foot that define their overall look.
I usually divide cowboy boots into 2 main categories, which are cowboy boots for outdoor work and for casual wear. These two types of boots will greatly influence your choice because of their quite different construction.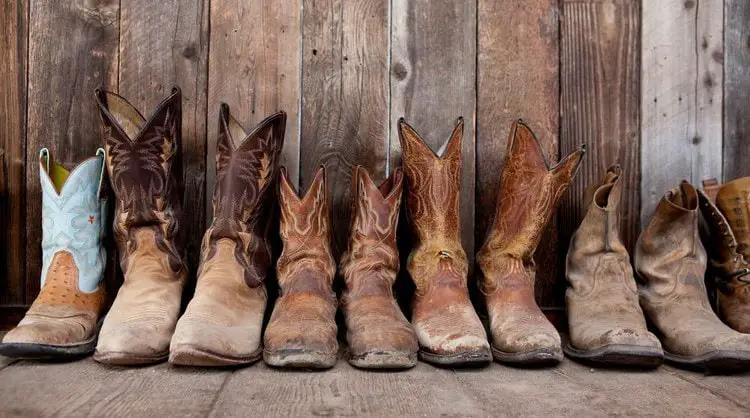 It is important that you determine the purpose of using cowboy boots. Identify the right type of boots for the right purpose, you will promote their strength.
1. Cowboy boots for outdoor work
Cowboy boots for outdoor work are often the choice of the majority today. Because in general, the essence of cowboy boots is still working boots.
These types of cowboy boots share some features in common such as good balance, stability, comfort, and good protection.
You will find cowboy boots for outdoor work possessing features such as:
Low heel: Ensures good balance for the worker, and at the same time does not cause stress to skeletal muscles such as the ankle, heel, back, etc. These types of heels are usually the roper heel and the stockman heel.
Wide toe box (round toe or square toe): This ensures the toes can wiggle and are comfortable. You don't want your toes to go numb while doing heavy work.
Wide bottom sole and good grip: The outsole of outdoor cowboy boots is usually made of rubber with many grooves to increase grip. In addition, it is often wide and flat to help you balance on all types of terrain.
Shank: Some cowboy boots also have a shank, this is a way for bookmakers to increase the stability of the boots.
Foot support: Many cowboy boots today have arch and heel support. These are things that are usually only found in running shoes. Some cowboy boots also have shock absorption to ensure your all-day comfort.
Good protection: Cowboy boots for outdoor work often have a sturdy construction and are quite rugged because of the thick leather layer, and durable, strong rubber sole. Some boots also have steel toes for construction sites.
Lining: Cowboy boots for work have linings (mesh or leather) that wick moisture well to ensure you're comfortable working all day.
That's all you need to know about the first cowboy boots, the ones for heavy work. If you are searching for work boots with western style, choose them.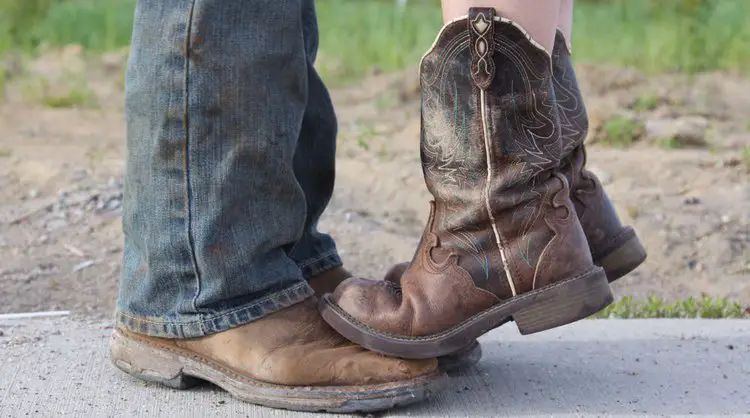 2. Cowboy boots for casual wear or fashion
Obviously, cowboy boots for casual wear or fashion are superior to outdoor cowboy boots in terms of aesthetics. But on horseback, comfort and protection may not be equal.
Today, cowboy boots crept into many different styles of dress in life. You can find regular types for daily wear, elegant style for weddings, or sophisticated design for office work.
Compared to outdoor cowboy boots, the ones for casual wear often have higher heels and a more tapered toe shape.
This combination makes the wearer look taller and more confident. But higher heels mean you will be slightly more uncomfortable while wearing them. Usually, if not purely for fashion purposes, I'd just go for a 1 1/2-inch heel (classic cowboy heel or roper heel), it looks good and is comfortable at the same time.
Many girls may prefer snip-toed or pointed-toed boots because of their femininity, while the round-toed ones are often the top choice for both men and women for casual wear as they both retain a classic look and feel comfortable.
In addition to rubber soles, many people prefer to wear cowboy boots with leather soles for casual wear because they have a sharp and traditional look. In addition, they are also breathable and absorb sweat better, which is why they are often used in the summer.
You should also consider the materials used to make boots different natural properties give them distinct advantages.
For example, people often prefer cowhide or bull hide boots because they are durable and have a nice look when well polished.
Personally, I like to use goat leather cowboy boots for summer because goat leather is very breathable with many large pores in its structure. In addition, this leather possesses very sharp natural wrinkles and colors.
Many cowboy boots for daily wear also have features such as lining, and arch support to ensure good comfort for the wearer. However, they are not as reinforced thoroughly as outdoor ones, so it is difficult for them to protect you well.
If you look at cowboy boots for casual wear or fashion purposes, let's feel the beauty and style of their construction.
These cowboy boots usually do not have a rough or rugged look but are more eye-catching. They often have a well-polished surface like a pair of dress shoes.
Boots for casual wear are easier to coordinate with any outfit. What you need to do is improve your fashion sense to coordinate your boots with the right pants, dresses, or skirts.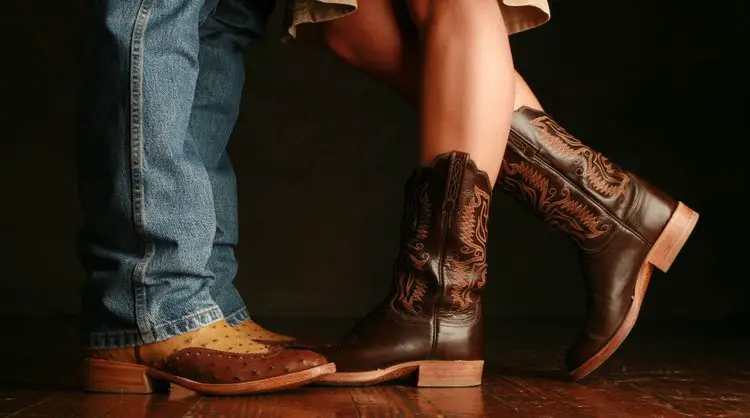 Pay attention to the exotic cowboy boots
Maybe many people do not notice, but exotic leather is always present in the world of cowboy boots. Nowadays, they are becoming more and more popular.
Each type of exotic leather has different characteristics and styles that are suitable for both outdoor work and casual wear.
For example, ostrich leather cowboy boots are a good choice for casual wear because they are extremely soft and durable. The ostrich's bumpy surface is very unique. Ostrich boots are one of the most popular choices in cowboy boots.
On the occasion of wearing cowboy boots with suits for business, I usually choose caiman boots. Caiman leather has beautiful scales and gives a classy and luxurious look.
Leathers like lizards are suitable for both casual wear and business casual because they have beautiful colors with uniforms and elegant textures.
In general, you should spend more time researching the strengths and weaknesses of exotic leather. You will find ones that are even better than traditional cowhide cowboy boots.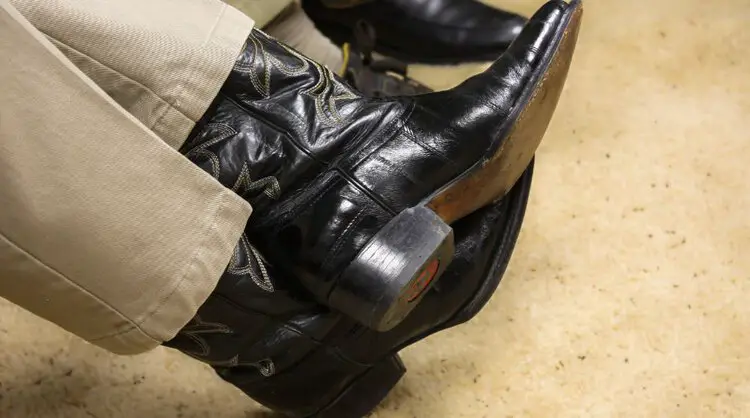 Conclusion
Simply put, you just have to remember that cowboy boots come in two types, one for heavy work and one for casual wear (fashion).
Each type of cowboy boot represents differences in construction, style, etc.
Heavy work boots are comfortable, provide good protection, and have sturdy construction yet a rugged and rough look.
Meanwhile, cowboy boots for casual wear look slimmer and more beautiful, but may not offer the same comfort or safety as outdoor cowboy boots in various conditions.
The boots are also often made from exotic leather, which should interest you because they offer different great advantages.
You need to determine what are your purposes and needs, then choose the right kind of cowboy boots.
Is that enough for you?
Howdy y'all, and welcome to From The Guest Room, your ultimate guide to all things Western! I'm Jay Gatz, a lifelong cowboy boot enthusiast with over 5 years of experience in the Western style world. I'm excited to share my knowledge with you and help you discover the perfect cowboy boots and western gear to elevate your style. Let's explore the rich history and timeless appeal of Western fashion together!