If you've ever been to any place in northern Mexico, the closest area to the USA, it's interesting that most of the men, from young to old, here dress up in cowboy style more often than any other Texian in America.
Their favorite outfits are straight jeans, patterned shirts, and cowboy hats. This can lead many to have doubts as to whether cowboy culture is really of American or Mexican origin.
Mexicans also wear cowboy boots, and this footwear seems not too different from any other regular cowboy boots.
Since regular cowboy boots are somewhat of an American icon, this can be quite a sensitive issue when we discuss the true origins of these types of traditional boots, which refer to two cultures.
There was already a lot of debate between Americans and Mexicans about where the Mexican and American cowboy boots originated.
In this article, I will skip stating my personal views about the debate issues. It's meaningless to spark any war here where we prefer peace and sharing much better.
I would rather go with the comparison of 2 types of boots: Mexican cowboy boots and American cowboy boots.
Let's dive in!
Are cowboys Mexican or American?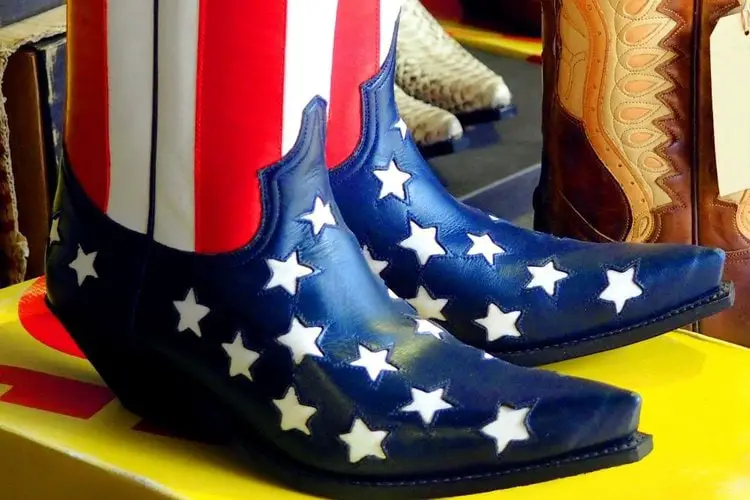 If the US has western cowboys, then Mexico also has vaqueros and charros.
Basically, cowboys are proper names used in America. The word "cowboys" in Mexican would be called "Vaqueros" or "Charros".
Cowboys and vaqueros have a lot in common because these two concepts have had cultural interference thanks to geography. Cowboys are from the United States, and vaqueros are basically found in the northern regions of Mexico, closest to the United States.
You will also see more similarities in the costumes of Mexican vaqueros and American cowboys. Belts and straps tend to be made of pure leather, with or without some decorative embossing.
Cowboy hats and vaquero hats will be essentially the same, with the sides of the brim raised. In fact, Mexican vaqueros outfits from head to toe can be decorated with distinct motifs that reflect Mexican culture while American outfits are often inspired by the West.
Dresses in both cultures tend to stem from the need to work around cattle and herd animals. However, charros usually don't work around cattle and livestock. They have excellent equestrian skills and as a result, they can look more elegant.
American cowboys have learned to ride and breed from the Mexicans. You will likely see American cowboys at events in Mexico, and the two respect each other.
Most American cowboy boots understand where their culture comes from, and Mexicans respect that American cowboys have developed them to be unique and have their own character.
Mexican vs American cowboy boots
American cowboy boots are greatly influenced by our neighbors, including Mexico and Spain. Our ancestors modified a lot of things that go with wearing cowboy boots, like fashion and usage, to better suit wearing cowboy boots in everyday life.
Cowboy hats in the 19th century used to be called "sombrero" and the word "buckaroo" in Buckaroo Boots is a name given directly from the Spanish word for cowboy, "vaquero".
Let's figure out how different the two boots are.
Mexican vs American cowboy boots in construction
I will come up with a description of each type of boot separately.
Design of Mexican cowboy boots
The word "Mexican cowboy boots" is not generally used, although the origin of the boots is actually for Mexican cowboys (known as "vaqueros" or "charros") to wear while riding or grazing.
To this day, people still call Mexican cowboy boots "Mexican boots" to define their origin.
The reason is that when it comes to Mexican cowboy boots, people tend to believe that these boots also have high shaft construction, deep scallop, pulling straps, and pointed toes.
This is because it's common to misunderstand that vaqueros and cowboys are the same. However, the traditional Mexican cowboy boots (also known as Vaquero boots) do not appear to have all the same characteristics.
So basically, Mexican cowboy boots are indeed Vaquero boots.
Boot shaft
The traditional Vaquero boot design is usually low to the ankle or slightly higher but will not usually reach mid-calf or higher like traditional cowboy boots.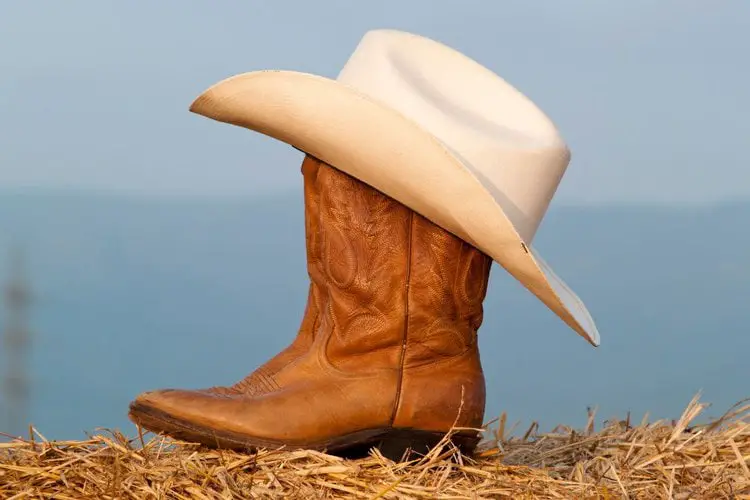 The boot shaft can be made of leather or split leather as long as the wearer's feet can function properly for all-day riding.
Today, there are several lines of Vaquero boots that are now inspired by regular cowboy boots. They are calf-length or below, but won't reach below the knee like Buckaroo boots.
Heels
Vaquero boots have a signature square-off heel design. Some traditional designs feature thick welts with high square heels. This helps to secure the wearer's foot in stirrups while riding.
But as modern people use horses less and less as a means of daily transportation in life, the design of heels and welt is minimalist to become thinner and lighter, reducing discomfort when putting on the boots and working all day long.
These boots traditionally use leather as the main manufacturing material for the outsole and heels, while modern boots can use rubber outsoles and heels to increase slip resistance when walking.
Most traditional Vaquero boots are fitted with spurs to correct the horse's turn while riding. Modern vaquero boot designs also reduce this detail in their overall construction.
Pulling straps
The similarity that both Vaquero boots and cowboy boots have is the presence of pulling straps at the top of the two opposite sides of the boot. Even so, the height of the boot shaft of vaquero boots is usually lower than that of cowboy boots.
Toes
The traditional Vaquero boots have since appeared with a pointed toe design, but not so extreme.
I was surprised and kind of amused when I searched for the keyword "Mexican cowboy boots" on Google. The results that appear are all images of extremely pointy cowboy boots, named Mexican pointy boots.
After asking a girlfriend of mine named Mara about the origin of these bizarre boots, she is of Mexican descent. She laughed for 3 minutes and then said that these pointy cowboy boots were invented as a joke (or I mean, just to have fun).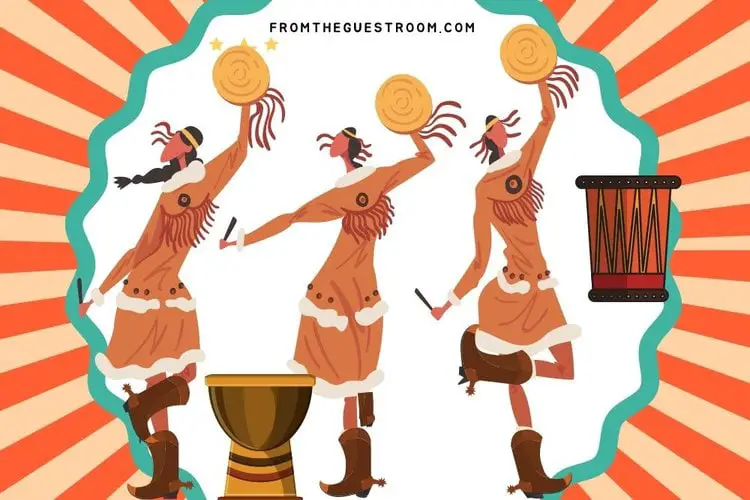 This was considered a fashion trend among young people in Mexico in 2009 and a few years later. These unique and quirky designs were first introduced in Matehuala, San Luis Potosi—a town in central Mexico and a 4-hour drive north of Mexico City.
When young people were wearing Mexican pointy boots and dancing to tribal music, the music and the boots suddenly became popular (even some of my Italian friends knew about this fashion fad at that time).
These unique dance moves and these boots were also performed by the dancers at the Vice Mexico Anniversary 2014 and it was kind of amazing.
In fact, these boots weren't born with super pointy toes in the first place. They are modern vaquero boots (or cowboy boots) with special long toes attached. These toes can reach 1.5m in length and curve upwards towards the wearer.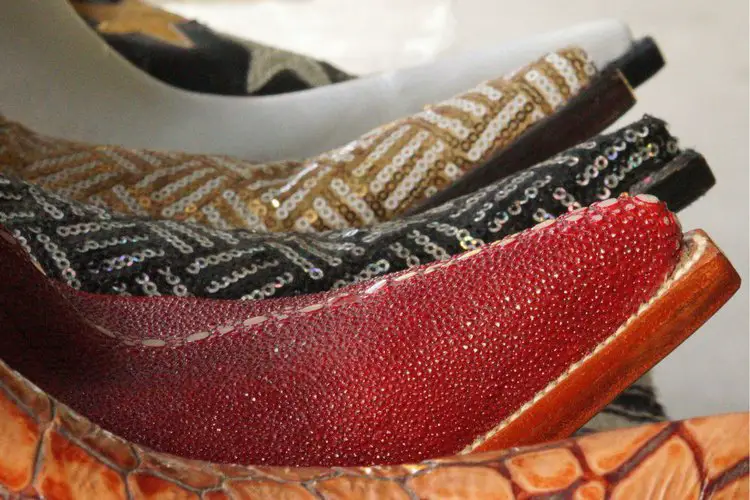 Some toe designs even curl up multiple rounds. These toes are made of plastic hose and are painted in decorative colors with sequins or glitter. Some of the designs are even inspired by Halloween gore.
Most designs have flashy colors to capture as much of the spotlight as possible. They can be worn to dance to tribal music in the middle of an equestrian field or in disco-style bars and catwalks.
Overall, these boots are only made for show. They are completely useless to wear in your daily life.
Design of American cowboy boots
During the colonial period around the 19th century, vaqueros and cowboys shared the same labor areas and ideas. After the Mexican War in 1946, large numbers of vaqueros began working on American farms.
Here, the vaqueros taught American cowboys a lot of hunting and weapon-making skills. However, they don't say much about their traditional Vaqueros boots.
It's interesting that American cowboy boots have learned very quickly. They quickly noticed Vaquero's footwear. American settlers did not feel that these boots really fit their lives.
That's why Americans have modified Vaquero boots and that's why the two types of boots are slightly different. No one knows that cowboy boots are made by German or European shoemakers. Some details have already been modified as follows:
Boot shaft
Traditional cowboy boots are a few inches taller than vaquero boots. This height will usually reach the calves or even reach 16 inches (knee height).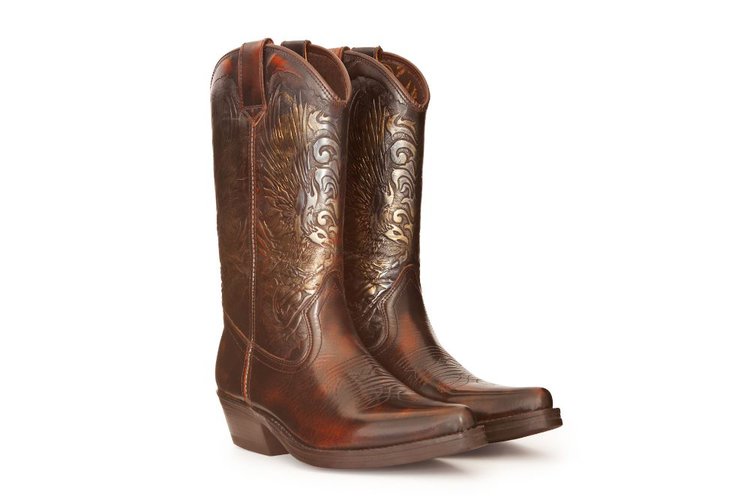 This helps the wearer better avoid snake and insect bites. They also protect their feet from scratches when stepping through grass or wheat fields.
Although inspired by the traditional Mexican vaquero boots, the Americans seem to have developed more features and increased foot protection than the original version of the boots.
Materials
Traditional cowboy boots attach importance to the production material of the boots. This is an important cultural feature of the community of cowboy boots enthusiasts.
Genuine leather is the top rated leather line. Meanwhile, traditional vaquero boots are often made from split leather and leather as well.
Most cowboy boot lovers would stick to sleek leather instead of nubuck or split leather. This may be because the material is naturally water-resistant and does not require frequent cleaning.
They are made from original leather panels, and therefore, the durability of the material can reach more than 10 years of use if properly maintained.
Traditional cowboy boots use leather and use the stitching method to connect the components of the boots together. This allows cowboy boots to hold up the feet and legs pretty well regardless of whether they are riding or working on the ground.
Leather outsoles are also breathable and keep feet cool in the summer. But they are also very slippery when walking on wet surfaces. Today, modern cowboy boots utilize rubber to make outsoles, reducing the risk of slipping in the winter or walking in the snow.
Regardless of whether it was a few centuries ago or now, Americans love exotic leather cowboy boots made from crocodile, ostrich, elephant, or other exotic leathers.
They portray a powerful and eye-catching look that makes others admire them. Today, a pair of exotic leather cowboy boots can cost an arm and a leg.
Heels & Toes
You will have a wide range of options in terms of heels and toes for cowboy boots. This is the biggest difference between vaquero boots and cowboy boots, and it represents the inheritance and development of Americans when making cowboy boots from vaquero boots.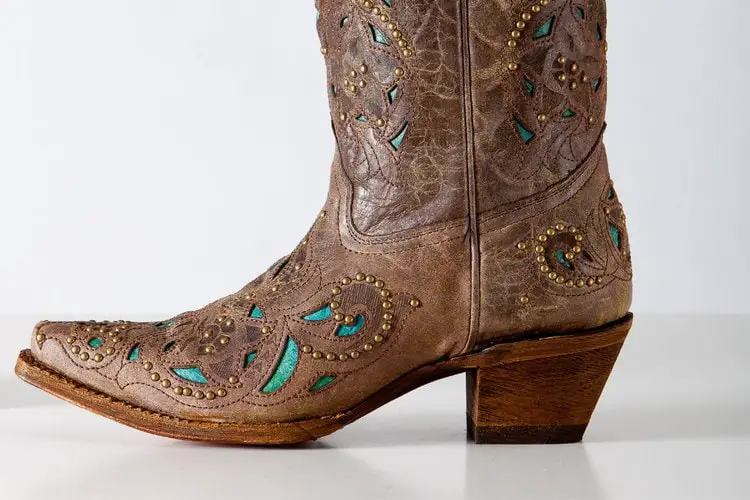 The heels of cowboy boots can be shaped like:
Cowboy heels: traditional design, small and high, often facing inward for riding.
Roper heels/Stockman heels: similar to Vaquero boots' heels, this design is flatter, lower, and square in shape. The wearer will feel solid in every step. They can still ride efficiently with this design. But these heels are used more for working on the ground.
These are the two main heel designs. There are also several variations of these two depending on the height of the heel.
The toes of cowboy boots can have the following options: 
Snip toes or pointed toes: This classic and traditional design comes with narrow toes on the sides and a pointed tip at the top of the toes. S-toes and A-toes are the narrowest shapes. They can put a lot of pressure on the toes.
Round toes: When Roper boots (a variation of cowboy boots) were born, round toes (or Roper toes) were featured in this design. They provide very roomy toe boxes for the wearer. Therefore, they are preferred by manual laborers on the ground to wear while working. Today, broad round toes are designed specifically for extra wide feet.
Square toes: This is a more modern design of cowboy boots' toes. They came after snip toes and round toes. They represent a blend of classic looks and comfort. Therefore, square toes are very popular with young people today. This is a snip-toe inspired design with a cut across the tip of the toes. You can also opt for broad square toes if you have extra wide feet.
Characteristic features
The deep Scallop (the deep V-cut in the front of the top) and the trim on the boot shaft are distinctive identifying features of American cowboy boots. Some traditional vaquero boots may not have scallops in their construction.
Therefore, this is probably what Americans do best when it comes to developing cowboy boots that carry their own spirit.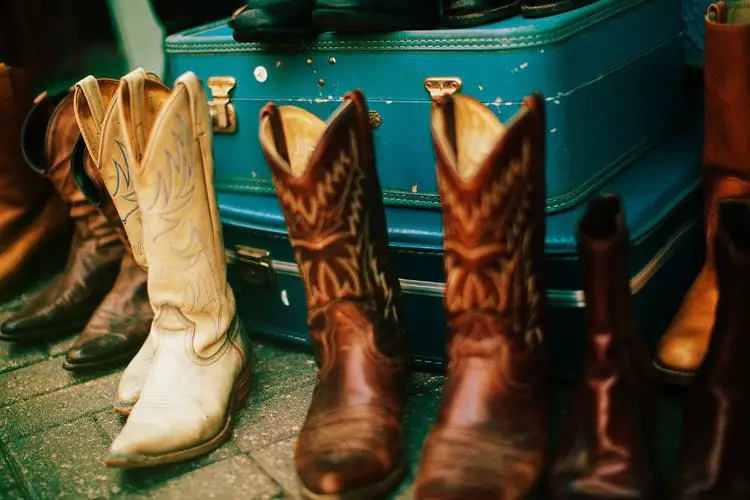 Today, some modern vaquero boot designs also adapt the scallop details and trim on the boot shaft (but with some Mexican-styled touches). This is probably the reason why many people are confused about the origin of each type of boot.
 Summary of the design of western work boots compared to cowboy boots
Overall, traditional cowboy boots are said to be inspired by the design and construction of traditional vaquero boots. However, Americans have developed designs to better suit their lives, such as taller boot shafts and a wider choice of heels and toes.
Nowadays, modern vaquero boots are also influenced by cowboy boots Some scallops and decorative details on the boot shaft that are also added in their designs.
Mexican vs American cowboy boots in functionality
So how do Americans and Mexicans wear their own cowboy or vaquero boots? Which one is better?
The design of American cowboy boots is heavily influenced by Mexican vaquero boots. However, most of them still stick with square and low heels and slightly pointed toes so far, although some have already adopted the square toes of cowboy boots.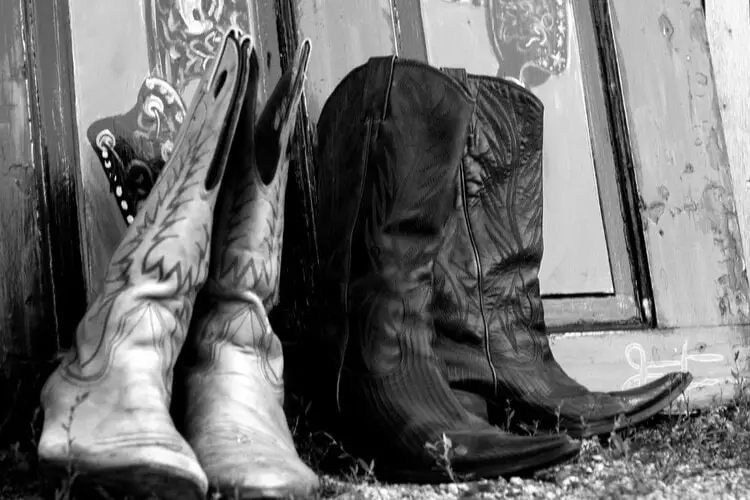 However, Mexicans don't usually wear American cowboy boots or Mexican vaquero boots in their daily lives.
Even so, the majority of men (including kids, teenagers, or adults) here dress up like real cowboys rather than any one Texian or American, with cowboy hats, colored shirts, and straight jeans.
Meanwhile, a lot of Americans wear cowboy boots out of habit. In fact, we wear cowboy boots for any occasion in life, from home to work, to doing manual work or even as part of bridal outfits.
Durability
Both types of boots share the same idea of how they are made. Therefore, I would say they can have equivalent durability. However, vaquero boots often use split leather or nubuck for their boots as much as real leather.
Meanwhile, cowboy boots use real leather in most of the nooks and crannies of their construction, using a sturdy stitch method. This may lead to the assumption that cowboy boots have the upper hand in terms of footwear durability.
Besides, due to the high demand for cowboy boots by Americans for almost all activities in life, this motivates boot manufacturers to constantly improve and innovate their technology to make these boots way more tough and stubborn in heavy-abused environments.
Style
I would go for cowboy boots in this regard.
Exotic cowboy boots are one of the greatest things about cowboy boot culture. They are made from exclusively natural crocodile, shark, elephant, or ostrich leather. These pieces of footwear are excellent in quality and lavishness.
Regardless of the great number of exotic cowboy boots, just the sheer number of variations of heels and toes that outnumber the heels and toes of vaquero boots, you can already draw your own conclusions.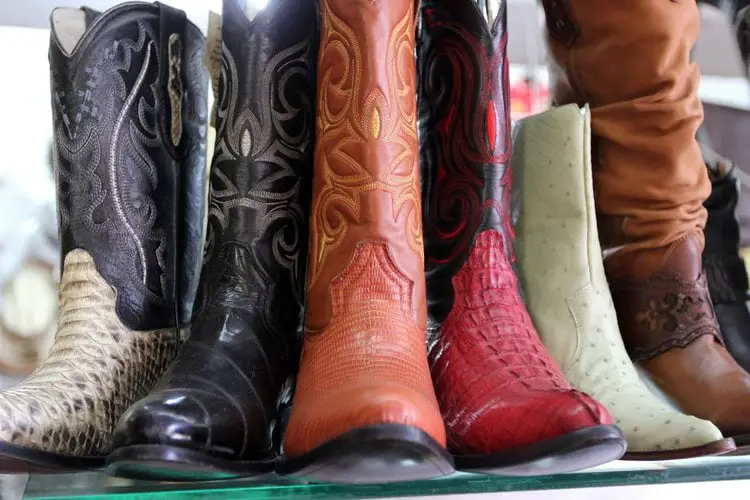 You'll also find cowboy boots made of split leather or nubuck, like the Vaquero boots. However, it is not always welcomed too warmly (this is likely because most men prefer the masculine look of sleek leather).
Besides, the decorative details on the cowboy boot shaft make them look much more flattering and impressive—something that most traditional vaquero boots don't have.
Americans love cowboy boots and they are also widely used by Hollywood stars. As a result, more and more one-of-a-kind, even monstrous, cowboy boot designs emerge.
Protection
As noted above, traditional cowboy boots are enhanced with a higher boot shaft. This ensures better protection of the wearer from the risk of external injury. Traditional buckaroo boots have also been improved to become some modern snake boots for hunters today.
The sturdy real leather construction of cowboy boots is also resistant to the bite of most snakes in the US (this does not apply to some dangerous snakes in Africa).
At least when you wear cowboy boots to the garden, you can be completely assured of the safety of your feet.
Besides, if you've been working around hot metal or fire all day long, the real leather upper is great to help protect you from fire and extreme heat that will touch your skin while working since real leather is naturally fire resistant.
It's good that both types of boots have adopted rubber outsoles to provide better safety for the wearer.
Comfortability
I would go for vaquero boots since I feel like lower boot shafts in supple materials like nubuck or split leather are by far more comfortable.
These materials don't take a super long time to break in as leather always does. You can wear the boots right out of the box without encountering blisters or serious calluses.
In addition, traditional vaquero boots also incorporate square heels in their designs, which allows the wearer to move more quickly and comfortably on the ground.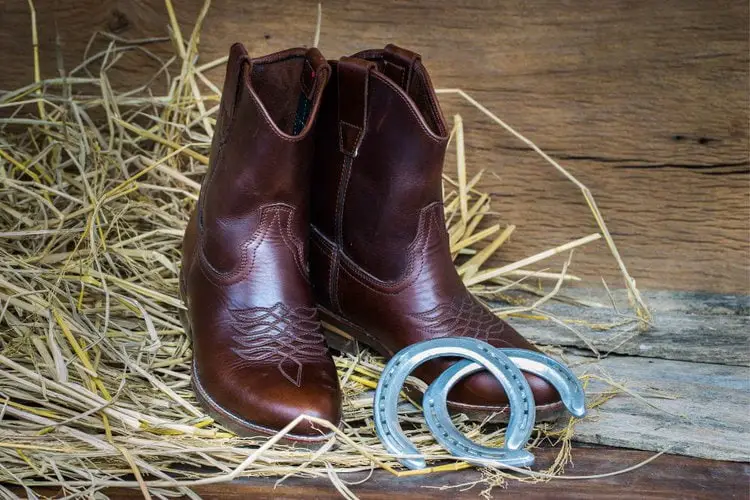 This heel design also doesn't put pressure on the heels and arches like cowboy heels or walking heels.
Today, modern vaquero boots come with thinner welts and soles, reducing the overall weight of the boot. When on their feet all day, the wearer will be able to function their feet more flexibly.
Convenience
I would still go for modern vaquero boots this time. Thanks to the comfort these boots bring to the wearer, they become more convenient and user-friendly for any newbie in this field.
Some vaquero boots have a lower shaft height. You can wear them the way you often wear a pair of slip-on shoes. Just put your feet on the boots and wait for the "pop" sound. In my own opinion, nothing is easier than taking off ankle-high vaquero boots.
Meanwhile, wearing cowboy boots may take a little more time, and also, taking them off is way more annoying. You may need the boot jack to handle the process more smoothly.
Comparison table
Let's take a look at the comparison table that summarizes the conclusions of all the ideas above.
| | | |
| --- | --- | --- |
| Features | American cowboy boots | Mexican cowboy boots (Vaquero boots) |
| Durability | ⭐⭐⭐⭐⭐ | ⭐⭐⭐ |
| Style | ⭐⭐⭐⭐ | ⭐⭐⭐ |
| Protection | ⭐⭐⭐⭐ | ⭐⭐⭐ |
| Comfort | ⭐⭐⭐ | ⭐⭐⭐⭐⭐ |
| Convenience | ⭐⭐⭐⭐ | ⭐⭐⭐⭐⭐ |
Final thoughts
It's okay to go with either American cowboy boots or Mexican cowboy boots (Vaquero boots or Mexican boots). It doesn't matter whether you're Mexican or American or whatever you're coming from. If the boots work best for you, it's all worth it.
Howdy y'all, and welcome to From The Guest Room, your ultimate guide to all things Western! I'm Jay Gatz, a lifelong cowboy boot enthusiast with over 5 years of experience in the Western style world. I'm excited to share my knowledge with you and help you discover the perfect cowboy boots and western gear to elevate your style. Let's explore the rich history and timeless appeal of Western fashion together!