In the fashion world, you can't know or predict anything about the trend. The taste of the world keeps changing and changing over time.
However, sometimes we don't need to follow the trends, just use our creativity, match anything in your closet, and you will find many interesting styles that can be great options.
And one of my favorite choice when I do that is the combination of a cowboy hat and dress shoes. They work perfectly, at least for my taste.
In this article, I will tell you why I love this coordination, and why they perfectly make sense for classic-style people.
Let's check it out!
Key Takeaways
In most cases, you will satisfy with the classic style that dress shoes and cowboy hats give.
Nowadays, many cowboy boots have a very modern style that looks like dress shoes, and they work great with cowboy hats. Nothing can stop us from trying this combination.
Though cowboy hats and dress shoes can match, you still need to pay attention to a few other things such as the fit, overall look, your outfit (top and pants) and attitude.
Why cowboy hats can be a great choice to go with dress shoes?
In fact, if you know about the western style in the 21st century, you will understand why cowboy hats can pair with dress shoes.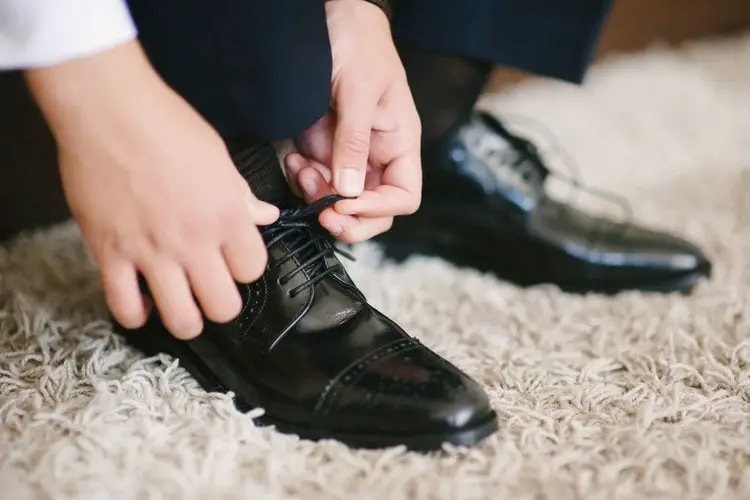 First, you need to change your mind. The western style nowadays is not only about the distressed and wild style but also about the clean and formal look.
Just go to Tecovas' site, and you can find a ton of western accessories that can create a great formal look along with the traditional style. These include cowboy boots, jeans, cowboy hats, etc.
Dress shoes are always well-known for their formal style, so many people still can't believe that western accessories can go with them. But as I said, everything is changed now!
Many modern cowboy boots have great polished or unique exotic surfaces (caiman, lizard, snakeskin, etc.) that make everyone feel like wearing expensive dress shoes. From there, many western styles were born.
Come to Texas, you will find many people wearing a pair of cowboy boots with dress pants or a suit to go to work with a cowboy hat.
So, it perfectly makes sense if you wear a pair of dress shoes with chinos and a cowboy hat for walking in the city. All of them can harmonize the style and maintain a clean look.
How to choose the right cowboy hat?
Overall, we are looking forward to the formal and classic style. To top it up, you should choose a suitable cowboy hat to complete a clean look.
Cowboy hats made from straw may not be a good choice, it's too "traditional" and only good for the wild ranch. Instead, leather or felt cowboy hats with a classic design and simple in color or texture will be a great choice, they contain a smooth or napped surface to bring a modern feel.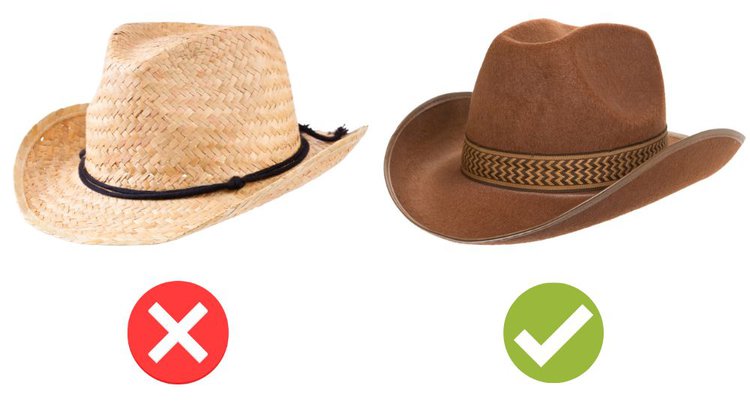 Try to retain the harmony of the outfit, in color and style. Besides matching a cowboy hat and dress shoes, your pants, top, or belt also play a critical role. I often wear a shirt, chinos, dress pants or just put on a fine suit.
Use your sense, taste, and creativity, and try, try, try to make the best match! Don't worry, people nowadays will accept cowboy hats as they do with cowboy boots. Let's ignore any complaints or comments from others if they don't know about the western style.
The cowboy hat needs to have a good fit, too! Don't use the oversized hat just because you want to add more inches to your height. Keep it natural, don't make yourself look like a magician with a rabbit in your hat.
However, just the look is not enough
The next thing to know when putting on western clothing, your attitude also plays an important role in addition to your appearance.
The point is you should keep calm, and take things slowly and smoothly to have a gentlemanly style. Don't rush, make it slow. This combination is not for a young boy!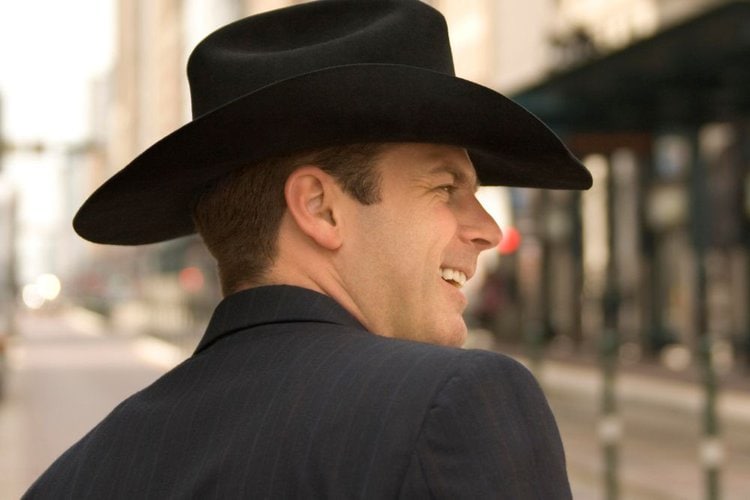 One thing I love about cowboy boots and cowboy hats is they make us look taller and more confident. And anything you should do is match your style and have a good attitude to match your look.
Keep your head up, look straight, and walk slowly and confidently (apply heel-to-toe techniques). That will work!
Before you leave
Don't worry about whether the cowboy hat will work with dress shoes or not! It works fine in most cases. Just follow the above instructions, and pay attention to the fit, look and attitude.
As a longtime fan of western style, I also tried this combination multiple times, so I can stand for what I say!
That's it! Good luck!
Howdy y'all! I'm Grace, a Western style enthusiast with over 5 years of experience. From cowboy boots to western gear, I'm passionate about all things Western and dedicated to helping you find the perfect style to suit your taste. Join me and my fiancé Jay Gatz as we explore the rich history and timeless appeal of Western fashion together!