In history, cowboy hats and cowboy boots are good friends when they always go side by side on the large field of the Western. They were born to serve the ranch work as well as protect ranchers.
And you know what? Cowboy boots are a type of work boots! So the answer is very clear, cowboy hats can be completely worn with work boots in most cases. Besides cowboy boots, I firmly believe cowboy hats can also match most types of work boots.
However, to match the style, cowboy hats and work boots should have the same color tone. And you should consider the requirement of your jobs before using this coordination.
Today, we will show you how cowboy hats are a great choice for any type of work boots.
Let's check it out!
Key Takeaways
Cowboy hats and work boots can go together to make a great style and support your jobs well when used for the right purpose.
However, you still need to know how to style them properly, and for some heavy work types like on construction sites, this duo may not be a good pick.
With a long history, cowboy hats and work boots have proven their style and function! They are stylish, tough, long-lasting, etc.
A cowboy hat and work boots will be a big win for your style
There is nothing to complain about the style, function, or unwritten rules that can stop you from wearing a cowboy hat with work boots. They just work well unless you style them in a weird way!
Aesthetically, most cowboy hats often come in a simple and classic color, and so do the work boots.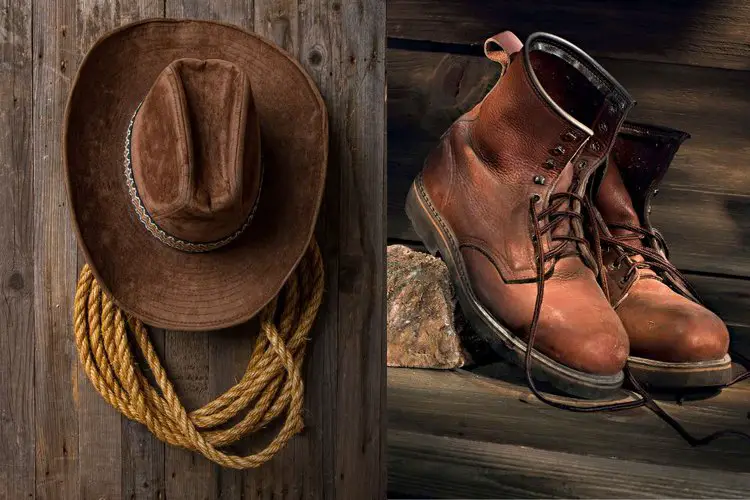 For example, cowboy hats with brown, gray, or black colors should go with work boots with the same tone. Don't choose the cowboy hat and work boots that look fussy and colorful with too many details. It's not suitable for a clean look!
Don't expect cowboy hats and work boots to give you an elegant appearance, it's not the style of this combo. In contrast, they can offer you a classic, clean, arrogant, and cool style!
A cowboy hat and work boots can go with a pearl snap and jeans for a classic look. Or you can match them with cargo pants, T-shirts, and a trucker jacket for a liberal and cool fashion!
My favorite choice is a canvas vest, T-shirt, brown leather belt and bootcut jeans to go with a cowboy hat and work boots.
Just make sure all the above accessories have harmony in color, none of them has any weird colors like a pink-green T-shirt.
And the last thing: A cowboy hat with a tall crown and work boots with thick outsoles can add some inches for you, I bet you will gain some confidence when putting them on. I just love it!
Besides being stylish, cowboy hats and work boots are very functional
A cowboy hat combined with work boots can be good in both style and function for working outside like yard work, ranching, farming, or doing some type of outdoor activities like short hiking, fishing, camping, etc.
They are neat, clean, durable and have good protection!
Talking about function, you need to make sure your work nature does not require a helmet because a cowboy hat cannot compare with it. Some places like construction sites may require the helmet!
A cowboy hat can be a good choice for outdoor jobs because of its wide brim and tough material (straw, leather or felt) that can protect you from the harsh sun and UV rays. But it cannot defend against the force produced by a hammer falling from a height of 16 feet.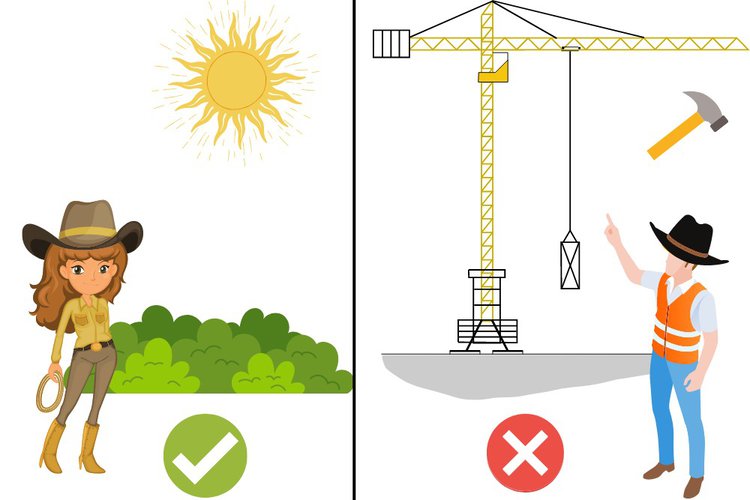 Work boots with safety toes made from steel or composite that meet the required safety standards can be good for the sites. Cowboy hats, on the other hand, are not good enough when it comes to safety.
For some heavy outdoor activities such as long-day hiking, a cowboy hat and work boots may not a good choice. They are quite heavy and bulky and may annoy you.
So, be careful before making your decision!
On the other hand, in my experience, I love wearing a cowboy hat with any type of work boots for everyday work. They are comfortable, and durable, and provide enough protection for almost all activities.
In addition, they last very long (I used this duo for more than 4 years)! I can proud that these items are a wise investment in my house!
Don't forget that your manner is the highlight
A cowboy hat and work boots can make you look taller and more confident, but they cannot make up a real man! Your manner decides it!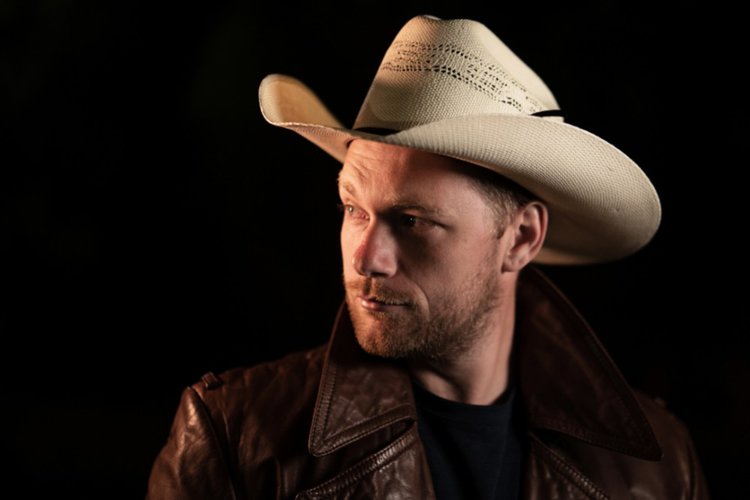 Keep your head up, look straight, talk, walk, and take things slow – these make up a gentleman! Cowboy hats and boots are only accessories, not magic! Please remember!
Before you leave
There is no doubt that a cowboy hat and work boots are very functional and can go together to bring great style for you. Over time, both of them have proved themselves in that regard!
However, they can't be used for all purposes. You should consider this before using this combination.
Hope the above guide and my experience can be a good direction for your choice!
Howdy y'all! I'm Grace, a Western style enthusiast with over 5 years of experience. From cowboy boots to western gear, I'm passionate about all things Western and dedicated to helping you find the perfect style to suit your taste. Join me and my fiancé Jay Gatz as we explore the rich history and timeless appeal of Western fashion together!