Have you ever seen the movie "Once upon a time in … Hollywood"?
In the movie, actor Leonardo Dicaprio had an excellent incarnation as the cowboy Rick Dalton. And this cowboy Rick Dalton wore a nice pair of cowboy boots. He had a wild, masculine and arrogant appearance of a true cowboy.
Do you fancy that style? The fact is that not everyone knows how to dress properly with cowboy boots. Hence, let us show you some ways for wearing cowboy boots in this cold winter.
Let's find out with us and enjoy your fashionable styles!
How to wear cowboy boots FOR MEN in the winter ?
Cowboy boots are a great accessory for you to wear and go outside because they are rugged, water resistant and especially the high shaft will keep you warm.
However, the clothes to accompany these beautiful and wonderful cowboy boots in the winter are important, check it out with us!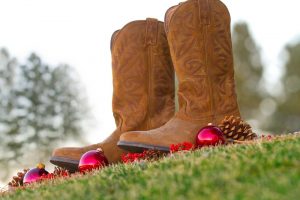 1/ Bootcut jeans
Like many of our previous articles, bootcut jeans are born to serve cowboy boots and cowboy boots are the reason God created bootcut jeans.
The design of bootcut jeans is extremely suitable to wear with cowboy boots. Bootcut jeans are designed to fit snugly on the leg and then flare out to the end.
It is great to wear bootcut jeans with cowboy boots. The bottom of the bootcut jeans is enough room for you to tuck the cowboy boot shaft into it. The middle of the bootcut jeans is tight so that you look neat and polite.
Besides, the color of jeans is also ideal when paired with cowboy boots. Jeans are desolate, dusty and full of masculinity.
Jeans bootcut with cowboy boots can serve a variety of purposes: going out, working on the farm, horseback riding, shopping…
The bootcut jeans are just the right thickness to keep you cozy throughout the cold winter.
Sale
Wrangler Men's Retro Slim Fit Boot Cut Jean, Bearcreek, 29W x 30L
SLIM FIT. This slim boot cut jean is designed with fashion-forward style. Built with a slim fit...
RETRO STYLING. Designed with Retro style in mind, this boot cut jean provides a vintage look for the...
QUALITY MATERIALS. Made from high-quality material, this slim fit boot cut jean is constructed for...
2/ Khaki Pants
Another type of pants is also very popular among cowboy boots fans. It is Khaki pants.
The most striking feature of Khaki pants that suits cowboy boots is their color and style.  The design of Khaki pants is also very suitable when wearing cowboy boots.
Not to mention the material and color of khaki pants are very diverse.
You can combine items in many styles you want, from youthful, sophisticated to luxurious, or old and wild style of the western United States.
Very durable and long-lasting, old Khaki pants work great with cowboy boots.
Like bootcuts jeans, Khaki pants are well thick to keep your feet warm in the cold winter.
3/ Office trousers
You didn't hear it wrong, there are many people who have coordinated cowboy boots with trousers, and the results are very good.
You look elegant and mature when trying this combo. Just like Bootcut jeans, Office trousers have a tight design on the leg and slightly wider at the end, enough room for you to insert the cowboy boot shaft into the pants.
A black office work trousers pants would be great with a pair of cowboy boots of the same color. (But don't make it a cliché, let your imagination decide your fashion style)
Try and feel the miracle.
Sale
I have a lot of colleagues wearing elegant cowboy boots with a suit to work this winter, and what about you?
Pants for men that should not be worn with cowboy boots in the winter
1/ Shorts
This is the most taboo when wearing cowboy boots. It is a fashion disaster to match shorts with cowboy boots since you are men. No real cowboy wears cowboy boots and shorts for horseback riding.
Of course, you don't want to be like 1978's Superman wearing underwear outside instead of inside.
Wearing shorts to hit the road in the winter huh, impossible !!!
2/ Skinny pants/jean
First, these types of pants will reduce your masculinity.
Second: When the end of the pants hug your feet tightly , there will not be enough room to tuck the cowboy boots shaft into the pants.
If you try to tuck them into your pants, the V of the scallop will show up on your pants, which will look very bad.
Tips:
Cowboy boots lovers usually don't tuck their end of pants into the traditional cowboy boot shaft, they do the opposite. If your job does not force you to tuck the pants into the boots, then you don't need to do that.
However, there exists an exception that if you use boots like Work boots, Stockman… you can tuck jeans into cowboy boots.
When you choose pants to go with cowboy boots, it would base on the design of bootcut jeans. (Pants is tighter up on the leg and gradually wider to the end)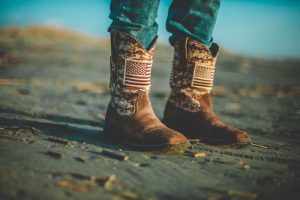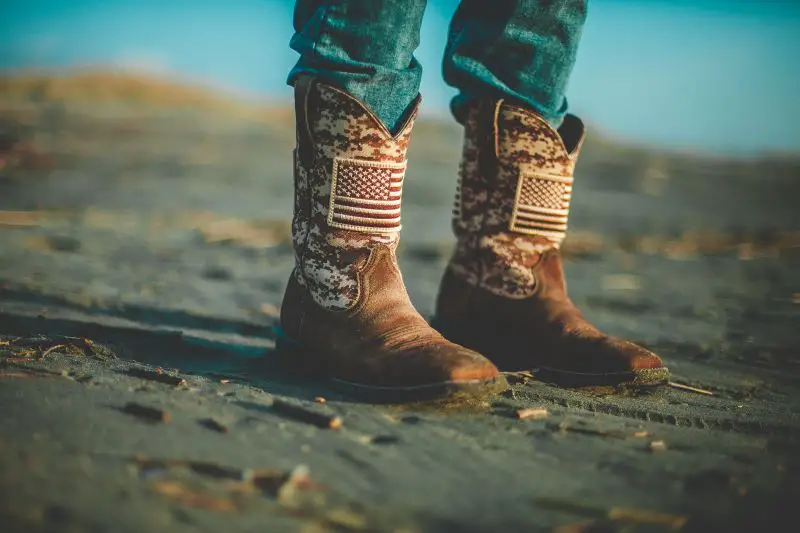 What shirts go with cowboy boots for men in the winter?
1/ T-shirt:
T-shirts and jeans is a familiar couple in street clothes for men who love dust and dynamic fashion – the style for young people.
The combination of T-shirts and jeans is probably ranked among the most used clothing sets in contemporary fashion styles. Even youthful or office style, T-shirts and jeans are always the best choice for you.
And it will be extremely creative when you combine them with a pair of cowboy boots with low or standard heels. This combo will attract every glance for sure.
2/ Shirts have collars
This is the most common style among cowboys. This style includes a striped shirt with jeans or Khaki, and a pair of high-heeled cowboy boots. It is a true cowboy style of the 21st century.
Tips: A white dress shirt can be a good suggestion for you.
3/ Suit
That's right, it's the vest.
Do you remember that we can combine cowboy boots with office trousers?
And that combo along with suit is what many Americans have been wearing to work every day.
You will never know the result it brings – a completely elegant look.
Which jacket should go with cowboy boots for men?
On the winter days, the jacket suddenly becomes more important than ever. But what kind of classic jacket can serve cowboys on winter days?
They should be comfortable, warm and beautiful!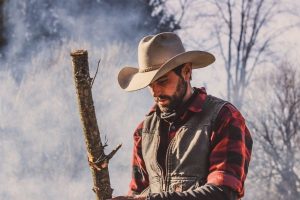 1/ Denim Jackets
This is also an extremely popular style of cowboys. They wear denim jackets, jeans, collared shirts and cowboy boots. This is the best combo of a masculine cowboy.
And we appreciate this accessory, we've never left home with cowboy boots without taking our denim jacket.
Tips: You should choose the dark blue or dark jacket, not the bright blue. You will look cool with these jackets.
Wrangler mens Western Style Lined denim jackets, Denim/Blanket, Small US
WESTERN STYLE. A classic denim jacket with western styling. This lined denim jacket is perfect for...
ADDED WARMTH. Choose from the sherpa or blanket lining for added warmth and comfort. A twist on a...
QUICK-ACCESS STORAGE: (2) front pockets and (2) side pockets to provide maximum storage and easy...
2/ Leather jacket
An opposite to a Denim jacket is the leather jacket. It is completely wild and distressed and very suitable for older men. Leather jackets, however, show the maturity of the wearer.
A leather jacket combined with Khaki pants and cowboy boots and a collar shirt is a good choice for mature men.
Tips: Do not worry if your leather products are worn out. Old frayed leather items have their own demeanor that is what new things can't have.
3/ Sports coats
A Sports coat may not give you a cowboy fashion like a denim jacket. But it will bring you youthfulness, dynamism and freshness.
Let's combine sports coats with khaki pants and a T-shirt. New things will surpass the traditional style. This combo will bring creativity and innovation for the wearer.
How to wear cowboy boots FOR WOMEN in the winter ?
1/ Skinny jean + trench coat
The first winter combination of skinny jean and trench coat will give you elegant look and warmth inside. And it would be great if you wear cowboy boots with the heels about 2.5 inches high!
2/ Skinny jean + Denim Jacket
Riders by Lee Indigo Women's Denim Jacket
CLASSIC FIT. Constructed with comfort in mind, this women's denim jacket has a classic fit and...
ALL DAY COMFORT. Crafted from a premium mix of materials to create a classic denim jacket with a...
FUNCTIONAL STYLE. Made with a polyester blend, this stretch denim jacket is designed with style and...
If you do not like the trench coat because it is a bit cumbersome, maybe a denim jacket is a good choice for you.
Neat, feminine, warm in winter is what this combo possesses.
3/ Dress
Umgee Boho Bliss!
60% Cotton and 40% Poly Hand Wash Hang to Dry
Fully Lined Contemporary Sizing Meant to hang a Little Loosely
Small-36" Bust 33" Long
I always love the dresses when wearing cowboy boots, femininity and liberal are expressed in this style of coordination.
If you feel cold, you can use boot cuffs along with a denim trucker jacket, this combo creates an impressive appearance!
4/ Bootcut jean + denim trucker jacket
If you do not like the elegant style on winter days but prefer the wild and free style, then try to combine bootcut jeans with denim trucker jacket, surely this outfit won't disappoint you.
Sale
FAQ: Which accessories should go with cowboy boots?
What to Wear with Cowboy Boots: BELT BUCKLES!
1/ Spurs
In fact, we don't appreciate this accessory. Unless you really want to be a wild cowboy riding a stock horse on the pasture, don't use them.
They are no longer the fashion trend of the 21st century.
2/ Belt
In contrast to spur, the belt is a wonderful accessory for cowboy boot fans whether it is winter or summer. A belt made from leather (preferably exotic leather) with simple patterns and silver buckles will highlight your Western style.
You don't need a fussy belt. It is best to choose one with a simple yet delicate beauty and Western-inspired style.
Sale
3/ Hats
It would be flawed if we don't mention cowboy hats – another symbol of western cowboys. However, the tastes of fashion have changed a lot over time.
Although cowboy hats have their own advantages, they are no longer as popular as they used to be.
You should consider using cowboy hats for occasions such as traveling in town, working in the fields, farms, attending rodeos, or going to country concerts… except take them to the bar.
The most important thing
We see that there are many ways of coordinating with cowboy boots. Bring your imagination to the best of your ability to create your own style – the style you like best.
A lot of styles can be created from cowboy boots, from old to young style or distressed to elegant style.
But do you know what is important when wearing cowboy boots?
That's your attitude when wearing cowboy boots, show the attitude of a true cowboy: confidence and swagger.
Cowboy boots cannot help you with that, they might help you look taller, have more mettle, but it will be useless if you keep your head to the ground.
So, keep your head up, keep your confidence at the highest level, that's when you truly harmonize with your beautiful cowboy boots.
Don't let cowboy boots or any accessories define you, they're merely accessories. You are the one who defines them.
Be confident, be swagger!