Cowboy boots are a fall and winter fashion. No, that was an old concept. Nowadays, cowboy boots can be worn in all seasons, including summer.
"But how can I wear high boots in the summer? That is crazy".
Calm down, we're here to help. Today, we're going to show you how to wear cowboy boots in the summer!
Let's start!
How to Wear Cowboy Boots in the Summer?
To enjoy the summer, choosing the right outfit and a pair of cowboy boots is extremely important.
We'll show you how to pick the right combo!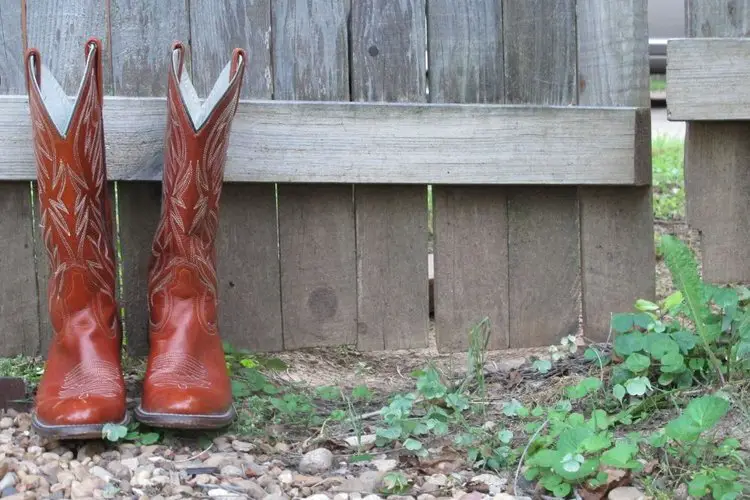 What kind of cowboy boots should be used in the summer?
People often hesitate to wear cowboy boots in the summer because they think that they may feel hot in these tall cowboy boots.
There is a favorite item in every girl's closet that can solve this problem: short cowboy boots.
Also known as Ankle western boots, this is a new line of cowboy boots appearing recently.
Ankle boots aren't as tall as traditional cowboy boots, but they captivate girls' hearts with their wild and distressed style.
Ankle western boots only differ from traditional cowboy boots in the shaft that is not too high, just slightly above the ankle. The remaining features (such as toe shape, heel, sole and appearance) are not much different.
Short cowboy boots will prevent your feet from getting hot in the summer. They are easy on / off. These ankle boots also bring you flexibility and dynamism to show your youthful and liberal style.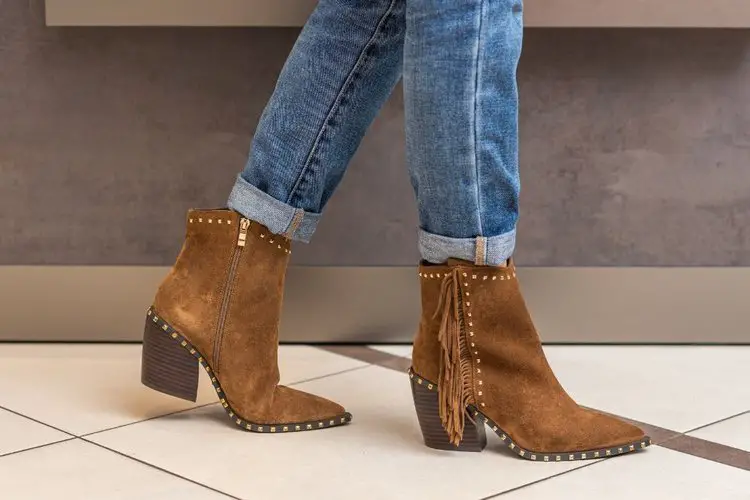 What to wear with short cowboy boots in the summer?
Pull out clothes from your wardrobe and choose the most comfortable ensembles with bright, cool colors to match your lovely short cowboy boots.
Midi dress
You can wear western ankle boots with a midi dress. This is great coordination for walking on the street or going to work every day.
With this combination, you should go with low-heeled cowboy boots instead of high heels! Because the high heels will take away the elegance and gentleness of your dress.
Angashion Women's Dresses-Summer Floral Bohemian Spaghetti Strap Button Down Swing Midi Dress 035 Red S
Material: 85% Polyester+15% Cotton. This women's dress is made of high quality material which is...
Style: Sexy, Floral, V Neck, Backless, A Line, Adjustable Spaghetti Strap, Midi Length, Flowy
Occasion: Spring, Summer, Fall, Date, Party, Beach, Daily Casual, At Home
Last update on 2023-03-16 / Affiliate links / Images from Amazon Product Advertising API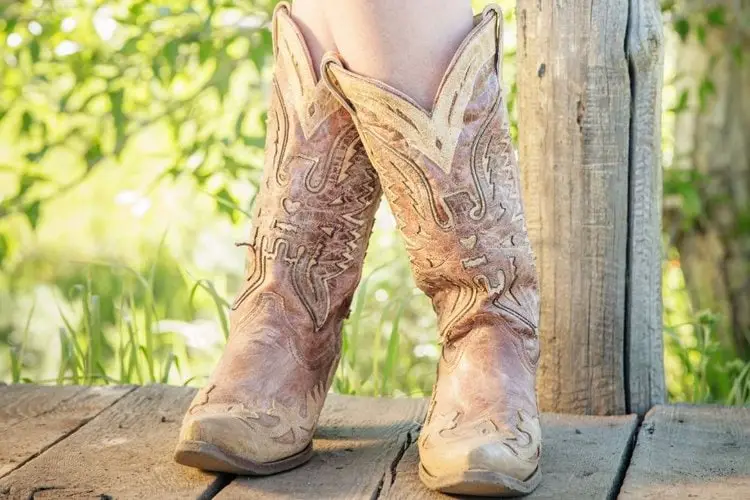 Skirt
Mix ankle western boots and a skirt, why not?
This is a very suitable combination for petite girls.
Depending on the color of your outfit, you can choose ankle western boots in dark or light colors.
There are two ways to match:
Ton Sur Ton: pick the skirt and the boots that are ton sur ton. This outfit gives you a delicate, feminine and gentle look.
Contrast color: choose boots with outstanding colors that are completely different from your attire. You will get a strong and bold look with this impressive coordination.
If you know how to match and mix your outfit properly, your outfit can show your personality and dynamic style.
What will you choose for your style? Do you love a gentle or bold look?
Sale
Last update on 2023-03-16 / Affiliate links / Images from Amazon Product Advertising API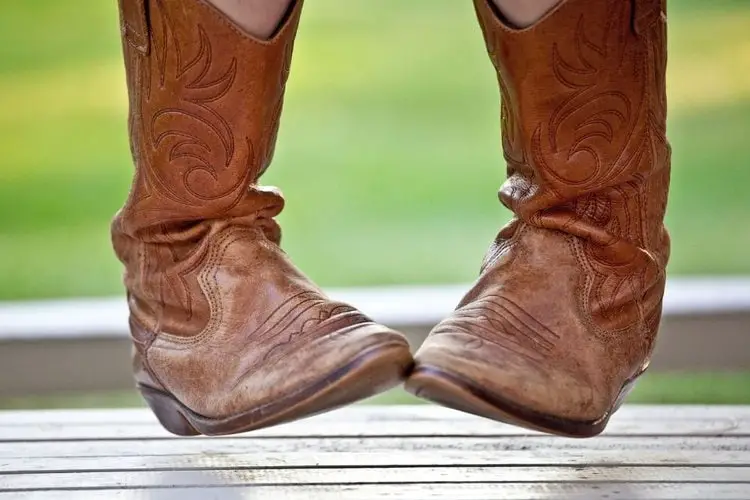 Jeans or khaki pants
Can't find a dress or skirt in your closet? But if it's jeans or khaki pants, I guess you own one.
Jeans or khaki pants with cowboy boots are such a classic combination. You can't miss this mix and match for formal and casual use.
Now, take out your jeans or khaki pants and match them with your western ankle boots.
This is the favorite style of many girls since it offers a polite, youthful and easy-going fashion.
Add a simple T-shirt, you are ready for an active summer!
Ariat Women's R.E.A.L. Mid Rise Bootcut Jean, Spitfire, 25 Short
MADE FOR COMFORT: These denim boot cut jeans are rider tested and thoughtfully engineered; The slim...
SUBTLE AND PRACTICAL FASHION: The dark wash design with fashion back pocket add a classic western...
PERFORMANCE FABRIC: These ladies jeans are made a performance-oriented blend of cotton, polyester...
Last update on 2023-03-16 / Affiliate links / Images from Amazon Product Advertising API
Denim shorts
Another combination that will show your personality is matching denim shorts with western ankle boots. Denim shorts are such great pants for girls!
Denim shorts with short boots offer you a cool, flexible, and dynamic fashion.
In addition, you can combine these two accessories with a long-sleeved T-shirt for a more youthful look.
Last update on 2023-03-16 / Affiliate links / Images from Amazon Product Advertising API
Short skirt
In addition to denim shorts, a mini skirt is such a great choice to go with short cowboy boots during hot summer days.
This mix will keep you cool and comfortable, and challenge the hot weather.
A short skirt with a crop top will give you a sexy and attractive look.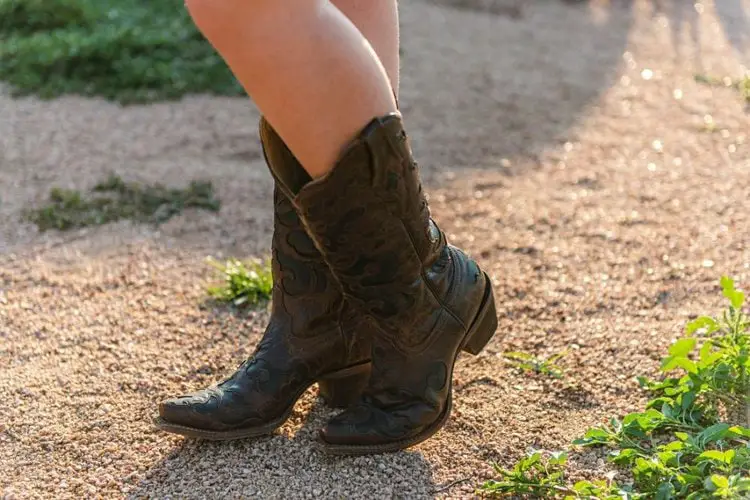 Midi skirt
Another skirt for you is a midi skirt. A midi skirt comes with a crop top (or long sleeve t-shirt) and a pair of short cowboy boots will help you look mature, beautiful and noble without looking country.
Obviously, cowboy boots are very easy to coordinate with different types of skirts.
For girls with large thighs and calves, midi skirts are the perfect choice to hide that blemish.
Vintage floral dress
A bold vintage style is a mix of a vintage floral dress and vintage floral boots.
Why not? I'm sure this combination will give you a beautiful summer. You will become the focus of every party.
Soto cowboy boots are very famous for feminine style, this is a worth-considering boot brand for girls.
Cowboy boots have fringe and feathers as accents
If you love the classic wild beauty of cowboy boots, then you'll love cowboy boots with fringe and feather trim.
Choose tan cowboy boots with fringe around and match them with denim shorts, mini skirt or skinny jeans.
Cowboy boots with fringe are not a bad choice to make your summer more colorful.
Read More: How to Wear Ankle Cowboy Boots?
Some notes when wearing cowboy boots in the summer
Don't mix ankle western boots with prom dresses because they make you less delicate, overall not harmonious.
For short legs, avoid choosing over-knee boots. This will make you look shorter and lose the balance of your outfit. Besides, it will cause heat and discomfort in the summer.
Avoid cowboy boots without heels, because heels are a specialty of cowboy boots. Without heels, you can't tell you're wearing true cowboy boots.
You should choose cowboy boots with pointed toes, they will make your legs look longer and slimmer.
Read more: How to Wear Cowboy Boots in the Winter?
Conclusion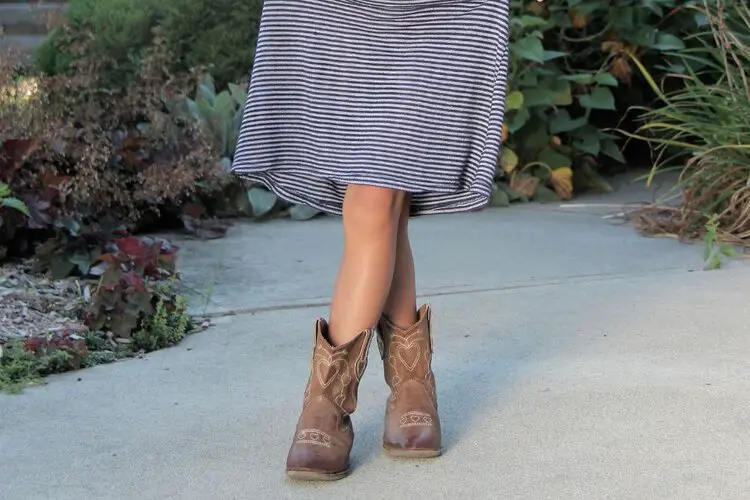 Have you come up with any fashion ideas for this summer? I'm sure you have got many things on your mind.
If you have any creative ideas, please comment below to let us know.
We hope that you already know how to wear cowboy boots beautifully in the summer after this article.
Good luck!