Western boots today are more diverse in style and function than they were years ago. This is largely due to the development and rise of many western boot brands.
The variety of styles, constructions, and materials that bootmakers put into their products creates a market full of surprises. Since then, western boots have come closer and closer to the masses.
Besides bringing many choices to consumers, this development also causes a lot of confusion for newbies. They won't know who makes the best western boots.
It is not easy to make this assessment, each bootmaker has its advantages. For example, they may focus on style, structure, function, etc.
Overall, today's article will give you an overview to help you make the best choice.
Let's check it out!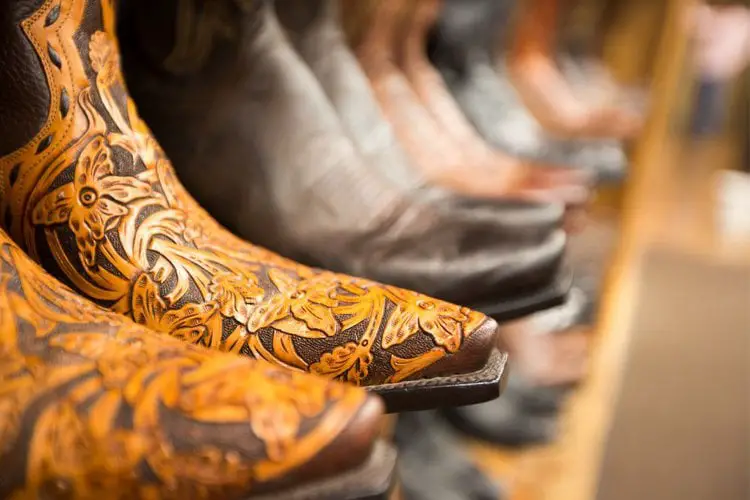 Some things you should know about western boots then and now
Western boots, commonly known as cowboy boots, are commonly worn by farmers in the west., mostly for ranch jobs.
This type of boot is very durable to help farmers do hard work on the ranch and protect them from external factors such as weather or harsh environments. From there, it offers a comfortable feeling to the ranchers.
The construction of western boots is commonly known for having a high shaft, high heel and narrow toe shape (round toe or pointed toe). This structure could protect farmers from their feet to more than half a calf, while also making it convenient for them to ride horses.
For example, the high shafts ensure that farmers' legs are not scratched by thorns, small snakes or dangerous scorpions.
Western boots are also called cowboy boots because farmers often wear these boots to ride horses to raise livestock such as cows.
Western boots with a narrow toe shape will help wearers easily slide in or out of the saddle stirrup. Meanwhile, the high heel of cowboy boots ensures that the boots can hook onto the saddle stirrup when necessary so that the feet don't slide forward too much and cause a loss of balance when riding.
However, with this structure, the western boots in the past were not very friendly to those who liked to walk in them. You will quickly experience numbness in your toes and pains in your heels while wearing them.
Today, bootmakers with their creativity have created many different types of western boots, thereby offering more choices for the wearers.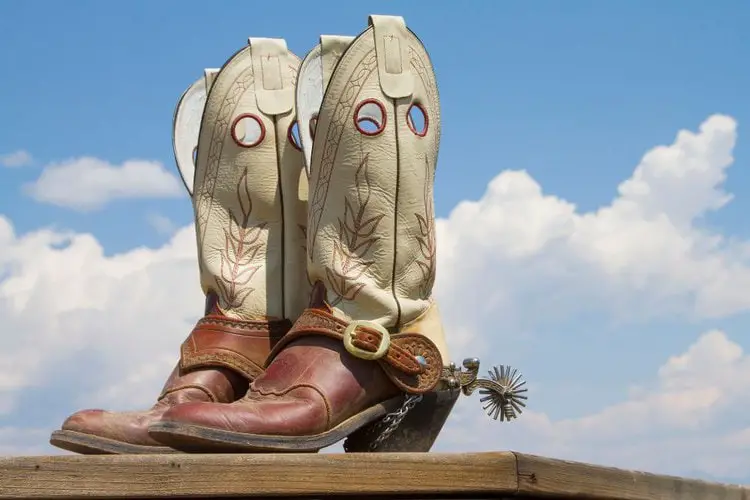 Today's modern western boots often have a wider toe shape, lower heel, and arch support. At the same time, the appearance of western boots also becomes more diverse. Therefore, they have been trusted and used more by the masses.
Nowadays, you won't see western boots just on the ranch in the west anymore. They now spread across the United States and are used for many different purposes.
Some people like to use western boots for construction sites because many of them now have met ASTM standards. Meanwhile, some people prefer to wear exotic western boots for office work because of their elegant look.
For girls, western boots today are not only working boots, they are also fashionable accessories thanks to the diversity and creativity in style. Girls can use western boots to go with many different outfits.
The difference in western boots of the past and present is largely due to the creation of bootmakers.
Each boot maker will have its own advantages and disadvantages, in general, the variety of bootmakers today gives you more choices for western boots.
However, because of that diversity, many people are confused because they cannot choose what western boot brands to trust.
Our idea originates from that confusion. We're going to find the answer to the question of who makes the best western boots.
Who Makes The Best Western Boots?
It is difficult to give an accurate assessment of which brand can make the best western boots.
Because each brand has its own characteristics, what they do is try to do better than the rest of the industry.
But I can list some really excellent boot brands based on subjective assessment for you.
If you like western boots made from exotic leather such as shark, ostrich, caiman belly, python, then Tecovas is the best way to go.
Tecovas has really well-made boots, from the look with the unique exotic finish to the foot support construction. In addition, the customer service of Tecovas is really different.
Or, Lucchese is also a giant in the western boot industry. They offer exotic boots with a luxurious and classy design.
Meanwhile, if you are a newbie and do not really have a standard for western boots, you can go to the Ariat stores, they own a huge treasure of western boots which vary in styles, structure, etc.
In addition, Ariat also applies many advanced technologies of today's modern footwear to western boots. So your feet will be pampered and comfortable.
Ariat western boots are very popular in the western boot world, especially among those who like to use boots for outdoor work. Their western work boots come in many ATSM-certified pairs with sturdy and comfortable construction.
Referring to western boots for work, it is really necessary to mention Durango. This brand offers a wide range of western boots that offer great stability (thanks to the shank), comfort, and safety.
Justin Boots is also a popular brand of boots. Their products are also very diverse but are mainly known for the western boots for work.
Justin's boots don't have diverse materials such as exotic leather like Tecovas or Lucchese, but they create western boots with very creative structure and style. Ariat and Justin have a lot in common in this respect!
Justin boots are also often affordable and well-suited to the mass market.
Nowadays, some new western boot brands like Chisos appear and are loved by the western boots community!
The characteristic of this brand, according to Will Roman – founder of Chisos, is to overcome many weaknesses of the old western boot brands. When these old brands want to follow the profits by producing cowboy boots with low cost and quality.
But in fact, Will Roman is right. The current western boots community is very fond of Chisos because they are extremely comfortable!
Dan Post boots company is also notable in the western boots industry, as they own names that were once giants like Dan Post, Laredo and Dingo. Or Tony Lama and Anderson Bean were also big names.
However, to my shallow understanding, brands like Dan Post, Tony Lama or Anderson Bean are slowly falling behind in the race with the brands mentioned above.
If you want to learn more about famous cowboy boot brands, then we have this piece for you!
What do you think? Who makes the best western boots? Do you have any other options?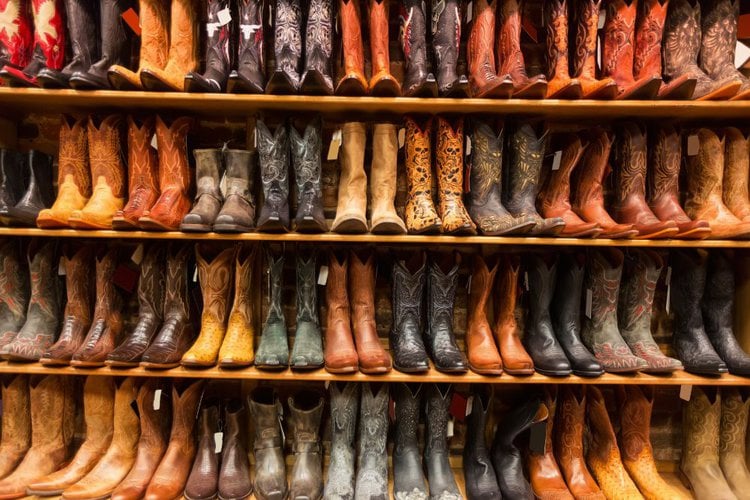 Before you leave
Western boots are one of the products of history and the present. They are also an indispensable thing in the west.
The development of western boots is thanks to the great work of the bootmakers. They make these boots more diverse, beautiful, and comfortable; and become closer to the mass market.
While it's not easy to find who makes the best western boots, brands like Tecovas, Ariat, Chisos, etc. are really making a big difference, and they have their own best points.
Howdy y'all, and welcome to From The Guest Room, your ultimate guide to all things western! I'm Jay Gatz, a lifelong cowboy boot enthusiast with over 15 years of experience in the western style world. I'm excited to share my knowledge with you and help you discover the perfect cowboy boots and western gear to elevate your style. Let's explore the rich history and timeless appeal of western fashion together!