Cowboy boots can last for more than 10 years – very long compared to other shoes or boots.
However, this does not mean that they cannot get old no matter how well you take care of them. Time will ruin everything.
However, one thing is that old cowboy boots can still be regenerated or used for many other things.
With a very interesting topic today, we will tell you what to do with old cowboy boots!
What to do with old cowboy boots?
If you don't want to give up your old cowboy boots yet, then we have two options for you: give them other functions or restore them. Just pick one of these two options.
And now let's start to find out:
Use cowboy boots for other purposes
We get here some creative and crazy ideas for your old cowboy boots…
1. Use old cowboy boots to make flower pots
Yes, using an old cowboy boot to make a flower pot is not a bad idea.
As long as you pour a little soil inside the cowboy boot and fill it with brilliant flowers, that's it.
Using a cowboy boot as a flower pot is more beautiful than any other vase.
The cowboy boot shaft is very tall with no shoelaces, this is a great characteristic for you to plant flowers without fear of soil or water spilling.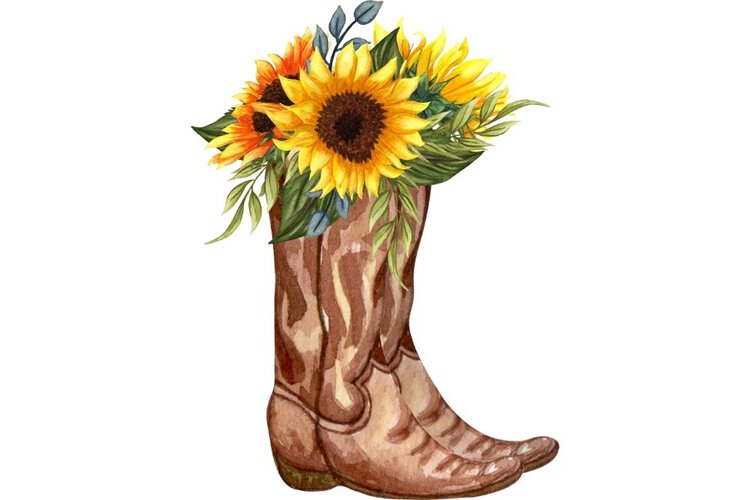 Are you interested in cowboy boot flower pots? We have a very detailed how-to article here!
2. Use old cowboy boots as a decoration
If your cowboy boots can't be worn anymore, why not make them a decoration item? To decorate a Christmas tree for example!
Or simply put some dried flowers on cowboy boots and hang them on your door, so you have a classic decoration that many people are envious of.
3. Use old cowboy boots to make boot birdhouse
No joke, this is a crazy idea but completely creative for many people!
Let's make a small roof on top of cowboy boots, and cut one or two small holes for the birds to fly in, it's interesting, isn't it? To make it more beautiful, you can decorate a little for your birdhouse!
It is no doubt that many other birds will be jealous of your bird's home!
4. Use old cowboy boots to make a cross
Why not? Cowboy boots are made of high-quality leather, let's make use of it and make a beautiful, big and meaningful cross!
5. Use old cowboy boots to make nightlights
You can even put your night light into a cowboy boot to make a "cowboy night light".
Or you can cut lots of holes in a cowboy boot, put a light on and turn it into a unique night light.
6. Use old cowboy boots to make bags
One more, why not? An old leather bag made of old cowboy boots!
It may not look as glamorous as Gucci bags, but it gets a unique, distressed and wild look that no other Gucci bag has.
Cut them out, take advantage of your imagination and create a unique bag called… Ariat.
7. Use old cowboy boots for a… mirror
No no no no, you can't look at yourself in a cowboy boot.
You can use the leather of cowboy boots, cut it out and turn it into a new frame for your boring mirror.
This is crazy!!! Do you think it has a vintage look? 😉
8. Use old cowboy boots to store your wine bottles
Shh, quietly, do not let your wife know what we're going to show you.
In addition to putting bottles of wine in cowboy boots, you can also place an empty jar inside to store hot or cold water. Leather cowboy boots will retain heat very well!
9. Use old cowboy boots to cover the outside of the table legs (table base)
If you want to know just how crazy people are, read this article.
After doing all the crazy and creative things above, they want to use cowboy boots to cover the legs of their boring table.
Unbelievable!
10. Wear them
Why not? Don't be so surprised!
Old cowboy boots always have their charm, don't miss it!
Cowboy boots are not only the embodiment of outer beauty but also of timeless beauty. There's the beauty of both a vibrant and colorful culture in cowboy boots.
Don't underestimate old cowboy boots, you won't be able to find that beauty in any other cowboy boots! Trust me!
Restore cowboy boots
To restore cowboy boots, there are 3 main methods, which are:
Clean cowboy boots, condition cowboy boots and polish cowboy boots
Dye cowboy boots
Replace the sole for cowboy boots
The first method (clean, condition and polish) will make the slightly older cowboy boots become newer and shinier, restoring most of the original color.
This is the easiest method and is also highly effective.
But if your cowboy boots are too old, then maybe the above method is not very effective. In such a case, you should apply the second method which is to dye cowboy boots.
The dyeing method is for cowboy boots which are almost completely old and discolored. Just prepare a full set of dyeing kits and follow our instructions here. You will get a pair of cowboy boots with a new look!
Another method to restore cowboy boots is resoling. After many years of use, the cowboy boot sole can completely wear out.
The key to recognizing that cowboy boots need resole is that their heels appear nails and the half sole shows holes.
And fortunately, we have a resole tutorial here!
Before you leave
What do you want to turn your cowboy boots into? Have you made up your mind? Please let us know in the comments!
There are hundreds or thousands of crazy but creative ideas in people's minds. If you have a unique idea, don't forget to send us your photos!
A cowboy boot can serve you more than 10 years, so why not let them serve you another 10 years in one way or another?
Turn them into a bird's house, a brilliant flowerpot, a handbag or a night light… it's up to you!
Remember to take photos of them and send them to us!