Picking the wrong footwear is a real nightmare. It's especially worse when it's work boots which you stand/run/walk your feet on and put full body weight on for more than 10 hours a day.
As a result, you will experience ankle pains, arch pains and toe pains, then gradually spread to shin pains, thigh pains, and worse, lower back pains.
According to the ACA, a large number of workers with back pains often come from using the wrong work boots/shoes.
This is due to wearing the wrong footwear will strain the nerves of the feet, obstructing blood circulation and gradually spreading to the back, causing severe back pains.
Over time it can lead to neuropathic pain, insomnia, and pain spreading to the head, shoulders, and neck and affecting your emotions and moods every day.
Any kind of footwear can cause several foot fatigue, knee pains and back pains if you don't pay attention enough to get the right choice.
Wonder if cowboy boots can hurt your back? Yes, they are no exception but that's not as bad as you may think.
You can still feel the most comfortable and supportive of cowboy boots if you choose and use them properly. Wondering how? Continue reading our article below!
Back Pain while wearing Cowboy Boots: 4 Main Causes
Just like any other work boots, there are many different types of cowboy boots.
The only thing in common is the high collar with dramatic V-shaped cutouts that are completely different from the others.
Classic cowboy boot designs with a high base and less cushioning will often make the foot more painful to move on the ground, especially on uneven terrains.
Because they are mostly designed to sit on the horse saddle and slouch the legs passively.
The chances that you may experience some back pains after long periods of wearing high-heel cowboy boots are inevitable.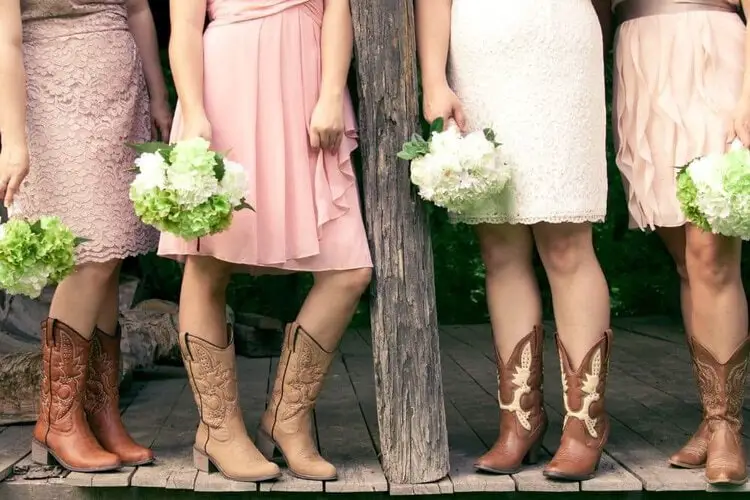 Can wearing cowboy boots cause back pain? The answer is Yes, any kind of footwear can cause back pain.
But before going on to analyze what types of cowboy boots cause this symptom, which doesn't and how to pick and wear them correctly, you should also figure out what causes back pain if wearing the wrong footwear.
1. Cowboy boots with heels
The heel is the first thing that affects directly the ankle and arch of the foot. It is the highest point that your foot is on and it will also adjust the position of your arch and toe according to it.
The material and the shape of heel caps will determine how stable, neutral, and safe your moves/steps are.
Fashion cowboy boots with too heightened heels can cause unnatural walking or even twisted legs and fall on the ground.
High-heel boots are devils to high-arched and low-arched people as well.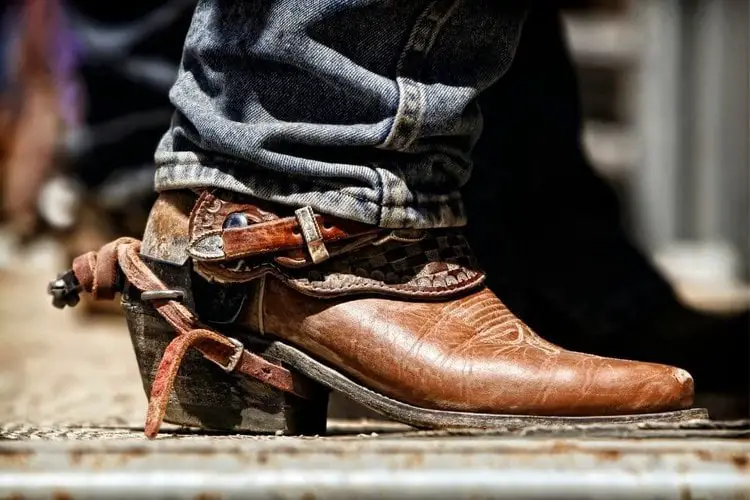 If you have had arch and ankle pains causing lower back pains for a long time, your remedy is to choose heels that are no more than 1.5″ in height and have a squared-off shape.
That way, your ankle gets enough support to walk neutrally while feeling rested on the boots.
In addition, some types of heel caps of cowboy boots are made of wood or hard materials that do not provide certain elasticity.
Your heel will start to feel some pain after just a few hours of wearing. It is one of the major reasons causing lower back pains as they are closely related.
Your right choice is picking rubber caps that can deliver better stability and anti-slip on water-based surfaces.
Besides, it would be a big plus if your cowboy boots are provided with a proper heel pad inside.
If not, you can insert a soft and cushioned liner yourself to make your feet more comfortable.
Some types of cowboy boots like western work boots, roper boots or stockman boots often have fairly low heels that are made of rubber and can support your feet very well.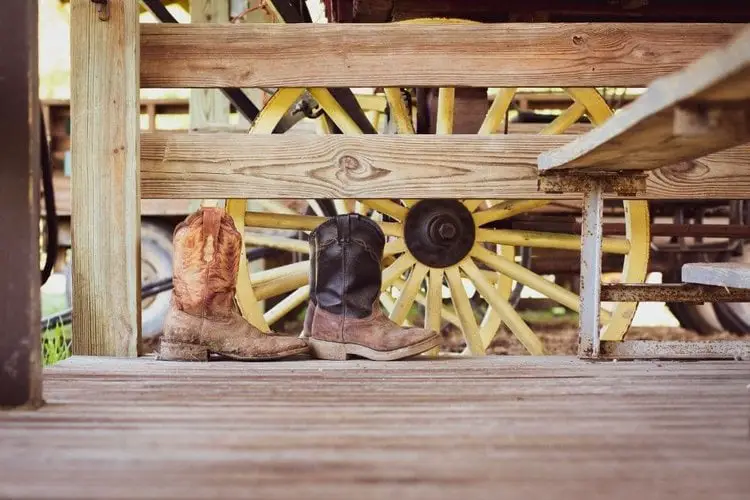 2. Cowboy boots with improperly cushioned insoles
The insole is placed inside the boots and is the transitional point between the foot and the sole.
This element is even more important in case you have flat arches or high arches.
Properly cushioned insoles act as a soft base that absorbs the pressure the whole body weight puts on to the feet as well as helps to reduce external impacts on the feet during constant movements on different types of terrains.
Your feet tend to come in closer contact with a hard and flat sole and the ground and get hurt if your footwear has zero cushioned insoles.
In contrast, if your cowboy boots are provided with an excellent cushioned insole that is fit and supportive enough, your posture can improve significantly.
It leads to numerous benefits for the rest of your body, including your old back pains.
So the point is finding the right type of cushioned insoles for your foot.
Most types of cowboy boots are provided with a general cushioned insole that works best for normal arches.
If you have flat feet or high arches, we recommend using an extra orthopedic cushioned insole to give better adjustment to your feet.
That way, your feet feel good and your back can stay safe.
From my experience, I like to use western work boots for farms and ranches, they can provide good foot support in the arch, heel and toe. And I have no problem with my back.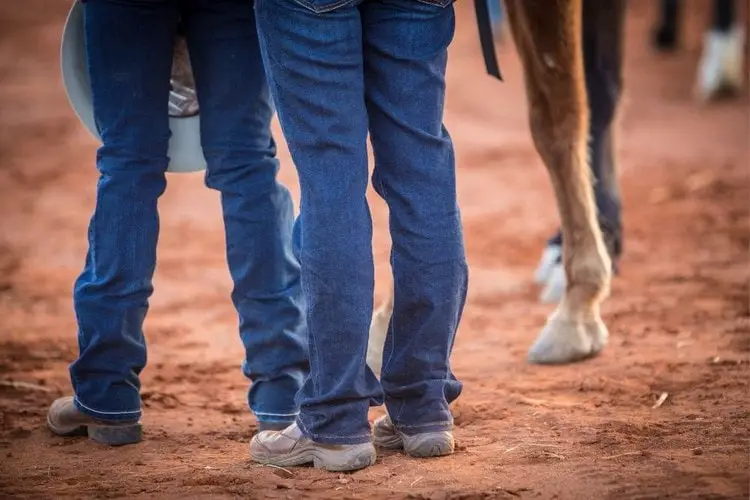 3. Not enough arch support
Arch support is an essential part of any footwear, especially for those who have low arches or high arches.
You shouldn't pick something without arch support. That way, your feet will continue to suffer a lot of foot pains that lead to lower back pains.
The good thing is cowboy boots do have added shanks in their construction, so you get better arch support when wearing them.
The shank can be made from synthetic, plastic, or other materials but steel is better as it lasts longer and provides stable support to the arch and entire foot over time.
The shank is a flexible (or stable) strip that is placed between the footbed and the outsole. It shapes the way your arch naturally looks.
That way, when you stand on your boots, your feet walk more stable and supportive to feel better all day long. Furthermore, this device also helps stabilize your moves on uneven surfaces.
However, a steel shank is not a good pick to go through metal detectors at the airport or factory entrances.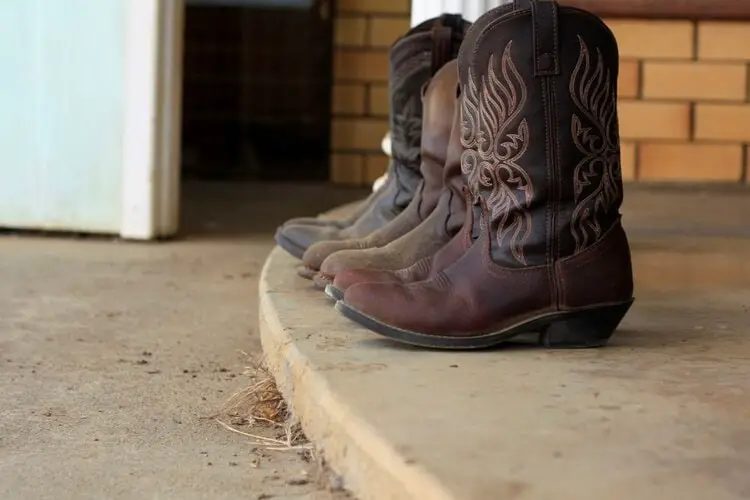 4. Wearing the wrong size and unfitted cowboy boots
Last and the worst ever is wearing wrong-sized and unfitted footwear.
The consequences of this not only come from wearing the wrong-sized cowboy boots but regardless of the type of footwear you go wrong will make your feet feel aching immediately.
In addition, cowboy boots with a typical laceless design usually won't allow for as much adjustment as sneakers.
Therefore, if you wear a wide size relative to your feet, your feet will have to walk unnaturally, causing wrong postures and your back pains will soon occur.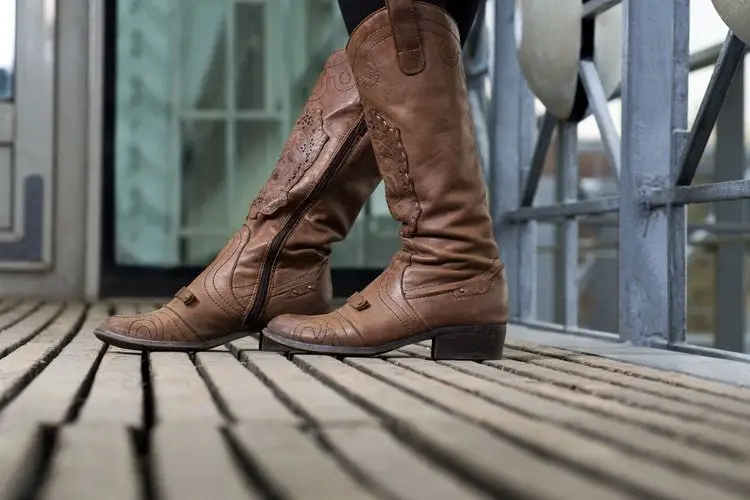 Some cowboy boots have a relatively wide collar even when the sole fits the size of your foot.
This may still make you feel a bit entangled (or loose) in some way. So if you are not familiar with this line of cowboy boots, choose for yourself the type with a narrower collar that holds your legs better.
This makes your steps more confident and stable when you have to stand for a long time and move continuously on uneven terrains.
Some cowboy boots come with a side zipper which is very helpful in tightening the boots with your legs too.
Are Cowboy Boots Good for Your Back?
As mentioned above, back pain is caused by unsteady steps and somewhat incorrect walking posture.
This comes in large part from the footwear you don't feel comfortable standing on without fitting properly and providing the most arch and ankle support.
Though cowboy boots seem not to be the best supportive footwear for heavy-abused workers, they still deliver proper arch and ankle support as long as you pick the right thing for your context.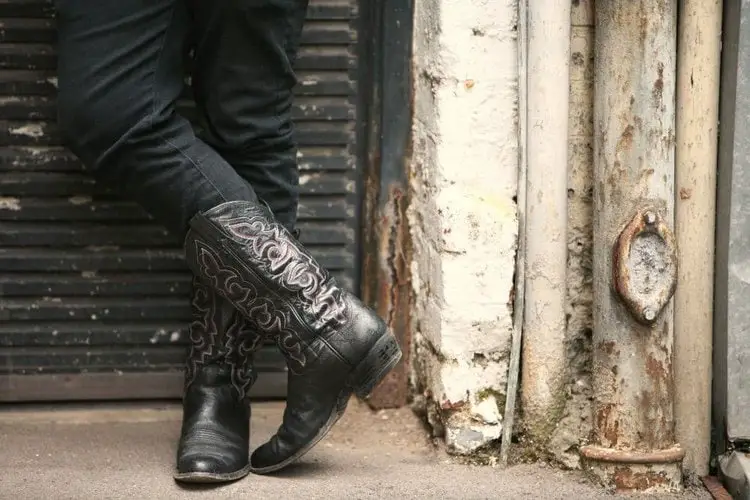 For example, if you must wear high heel cowboy boots for an hourly performance, you need a pair with an added side zipper for better holding up.
In addition, an appropriate thick cushioned insole also helps to ease the feeling of tension in the leg/ankle/arch muscles when standing for long periods on the boots.
If you need to walk or run a lot on cowboy boots on a gravel surface or a regular plain, you need proper outsoles and heels that are no more than 1.5″ in height and have a squared-off shape.
The rubber outsole with anti-shock and anti-slip tread patterns is another big plus to stabilize your step to produce more natural and safer walking gaits.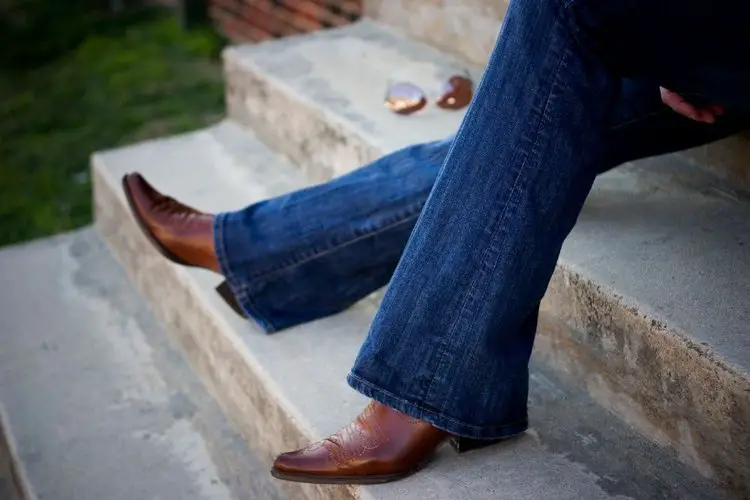 One more thing to keep in mind is wearing cowboy boots that have the instep fit comfortably around your foot.
If it is too loose, it means you are wearing a bigger size than your usual experience causing unnatural walking. The instep will also rub against the skin causing scratches.
On the contrary, if it's too tight, you again pick the wrong size and your walk has to adjust according to the boots.
As a result, you will suffer a lot of foot pains, knee pains and back pains eventually.
So, the answer to the question is: Yes, cowboy boots can be good for the back, as long as you pick and wear them the right way.
Do Cowboy Boots Help with Back Pain?
We have to say, not really! Although cowboy boots can be good for the back of the average person, that doesn't mean they can cure long-standing back pains by wearing this footwear.
First, cowboy boots are generally heavier than other sneakers or tactical boots.
This means that your legs will have to bear a greater amount of weight and, like it or not, your feet will get tired significantly faster.
Next, they may not hold up and fit around the ankle as well as sneakers due to the inflexible lace-less design.
This is a common problem that many people wearing cowboy boots have to deal with.
If this thing is a really big matter to you, the best solution is to go with a side zipper that makes the boot fit tighter around your legs.
Yet, most cowboy boots come with a proper shank that is greatly helpful to support the arch and correct your walking gaits better. This can help with back pain in some ways.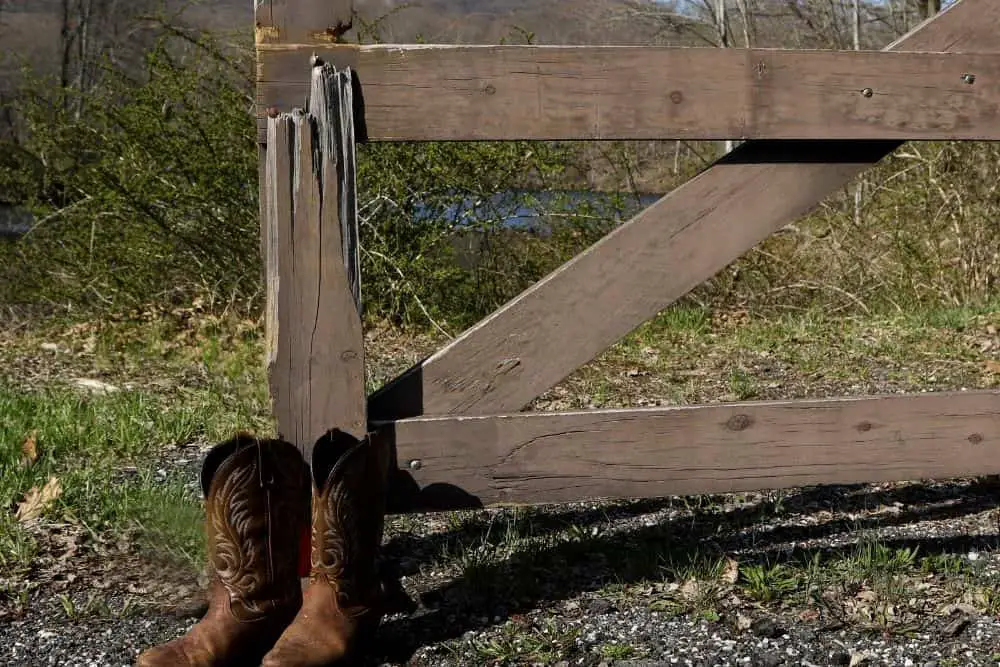 Before you leave
Though cowboy boots seem not to be too ideal to be hourly daily work boots under heavy abuse conditions.
But for sure, the sense of style and eye-catching look will add great inspiration, creativity, and motivation to your every step while working.
If you have normal foot health and foot shape, then wearing cowboy boots every day will not have a big effect on your gait, causing you to feel leg pain and back pain.
But if you have ankle problems and lower back pain for a long time or you possess a low arch or high arch, you'll need special orthopedic devices to correct your gait when wearing cowboy boots.
Howdy y'all, and welcome to From The Guest Room, your ultimate guide to all things Western! I'm Jay Gatz, a lifelong cowboy boot enthusiast with over 5 years of experience in the Western style world. I'm excited to share my knowledge with you and help you discover the perfect cowboy boots and western gear to elevate your style. Let's explore the rich history and timeless appeal of Western fashion together!