One of the most popular ways of wearing a pearl snap shirt is to roll up the sleeves. It's not only practical but also brings a great style for both men and women.
I really love that style and have done it almost every day for more than 15 years. During that time, I found out that we can roll the sleeves in several ways to create a different look to go with many outfits. These creative ways make it possible for us to wear our favorite pearl snap shirts to different places. It's so amazing, isn't it?
Rolling up the sleeves is so simple, but if you do it incorrectly, you cannot achieve a clean look. That's why I will guide you to roll up your sleeves from the basic to advanced ways. You can choose the way that suits your purpose.
And equally important, there are some mistakes you should avoid to achieve a neat look.
Sounds good? If yes, then unbutton the cuff and placket button (the placket buttons should still be fastened if you have a thin arm).
And let's check out all the methods below!
Key Takeaways
Pull the cuff up, roll the cuff over itself many times, or do the J Crew Roll method.
Don't make the cuff right in the elbow joint, twist it, or create a too-narrow cuff. Instead, let's choose the right fitted pearl snap shirt in the beginning.
You should create a flat and smooth surface (with the least creases) with a suitable width for the cuff to achieve a clean look.
The easiest and most convenient way: Just pull the cuff up!
This is one of the fastest ways to roll up the sleeves of the shirts, I often do that while the outside is so hot when I want some fresh air to cool down my arm.
Here is the step-by-step instruction:
Hold the cuff, turn it over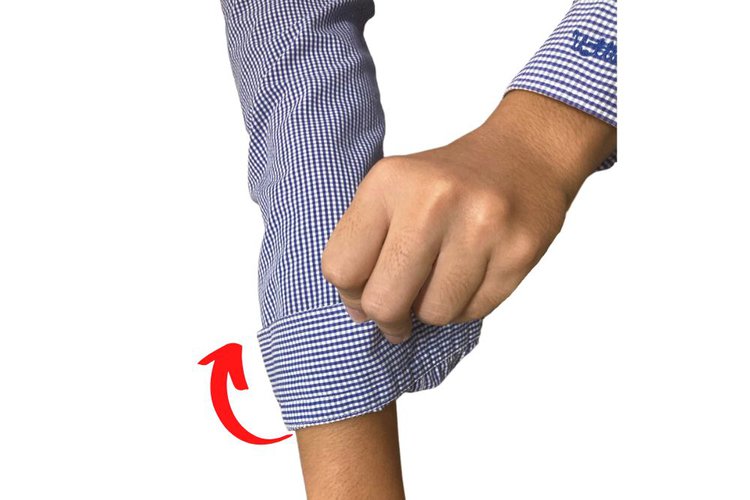 Pull it to below your elbow, or maybe above it if you want (one cuff only, just pull it up one time).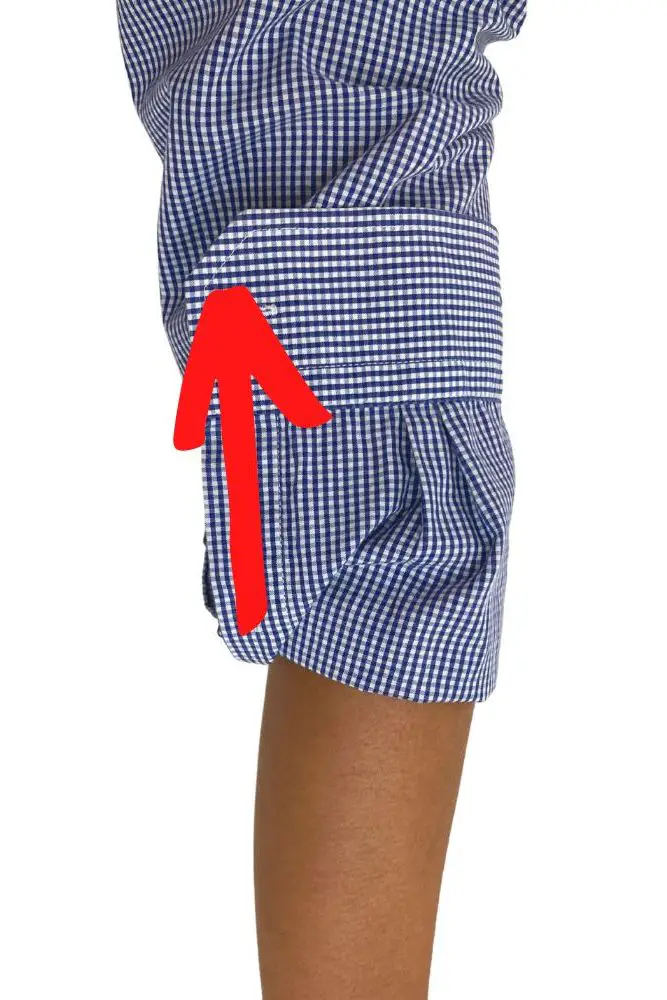 Adjust it to make as flat and smooth cuffs as possible. Don't let the creases appear too much.
Although this way cannot give you a clean look (quite sloppy), I think it's a cool style for both men and women. You can do it while wearing a pearl snap shirt with distressed jeans.
However, you should note that this method cannot hold the cuff for long. It is really easy to fall down. It's not recommended to roll up your cuff this way for work.
In addition, you should not apply this style when going to some formal places because it's so wild and freestyle.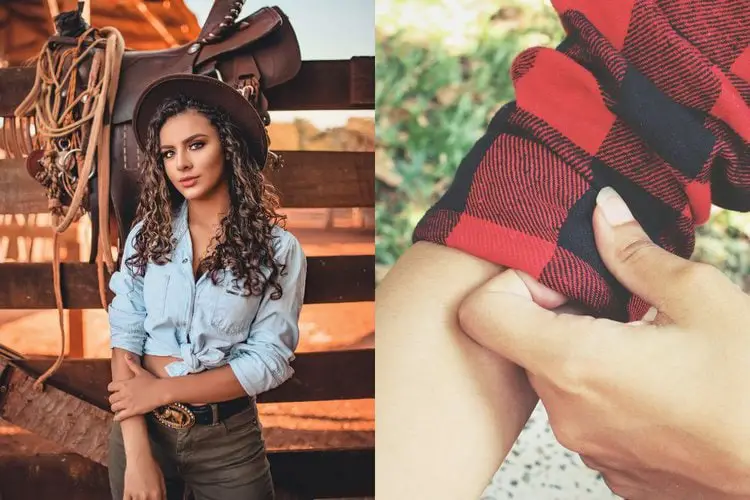 The basic way: Roll the cuff over itself two, three, or even four times
This is one of the most basic and popular ways to roll the pearl snap shirt sleeves or any other shirts out there. The reason behind this is that it's simple, effective and keeps the cuffs in place.
The cuff of this method if done properly will be neat, have a flat surface and bring a super clean look. It is super helpful for those with big forearms who always get stuck in rolling up their pearl snap shirt sleeves.
Here is the step-by-step guide:
Turn the first cuff over (the first time), and pull it up a little bit.
Roll the cuff over itself twice.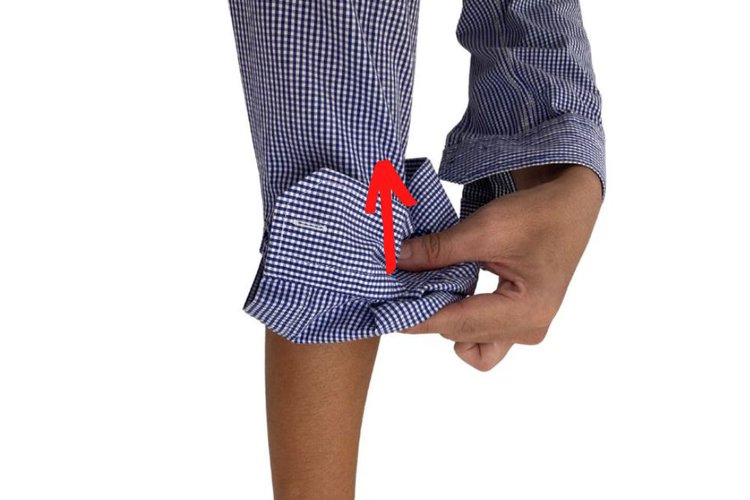 Adjust the cuff to have a good look, and avoid creases.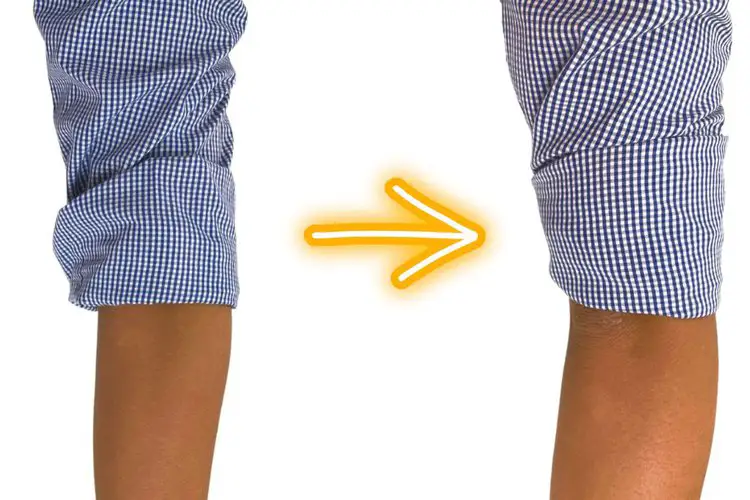 As each people has a different length and width arm, you should adjust the width of the cuff based on your preference. The cuff should be neat and in a horizontal rectangle shape with 2 roughly equal sides. I often make a cuff with about a 2-inch width.
And as you can see, this way is also super easy to do or undo the cuff. However, the sleeves should have a slightly tight fit on the arm to make sure the cuffs do not fall off easily.
Or else, you can roll the cuff over itself one more time (or just fold it in half). This will make a tighter cuff and can go above the elbow.
If you notice, pearl snap shirts come in very diverse designs. They can have a distressed style or bring a formal look. However, it's actually not a good choice for a formal style if the cuff goes above the elbow.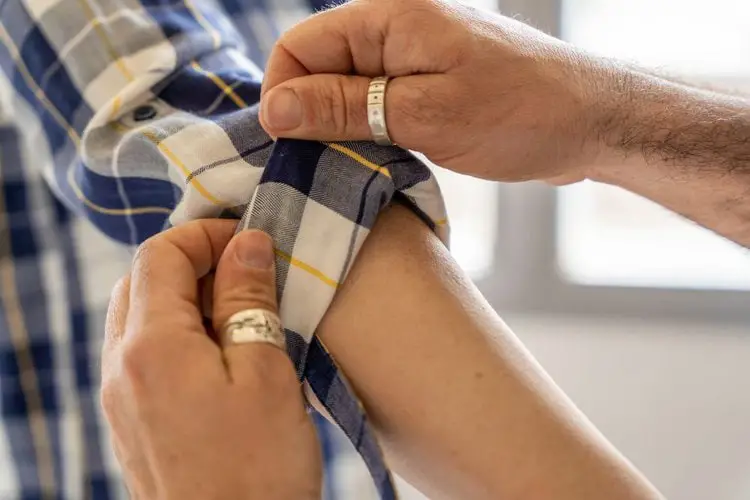 In case you have short arms and the sleeves are a bit longer, you can roll the sleeves four times (or just fold them in half). It will create a super strong and thick roll.
I often don't do this because I don't like this thickness. Some of my friends still use this method, so I bring it here to recommend it to you.
A good way to make a tight, fit, and secure cuff: The J Crew Roll Method
This is one of the best ways for hard-working people because the cuff fits tight and cannot be removed easily. Besides, using this method gives the cuff a clean look with a flat surface.
I can say this is my favorite way to roll up the pearl snap shirt. I do it all the time for outdoor and indoor work or just to make the sleeves shorter to feel more comfortable.
Here is the step-by-step process:
Turn the first cuff over, and pull it up to ⅔ (below the elbow) of your forearm or above the elbow a bit.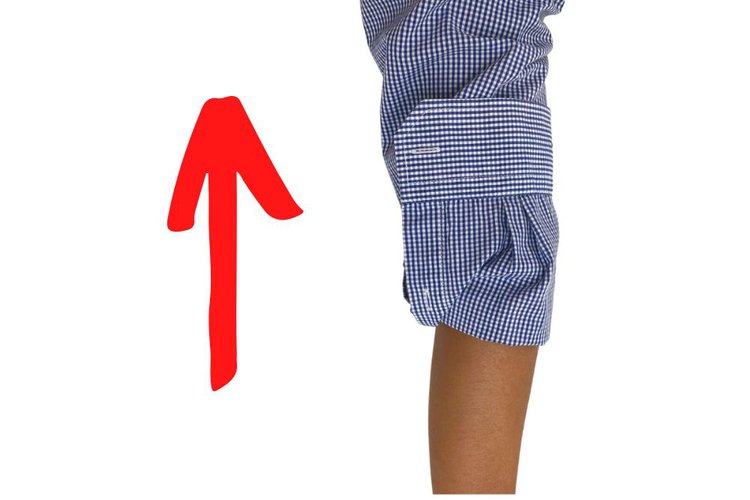 Flip the inside fabric over the cuff to cover it or leave a small sliver poking out of the top.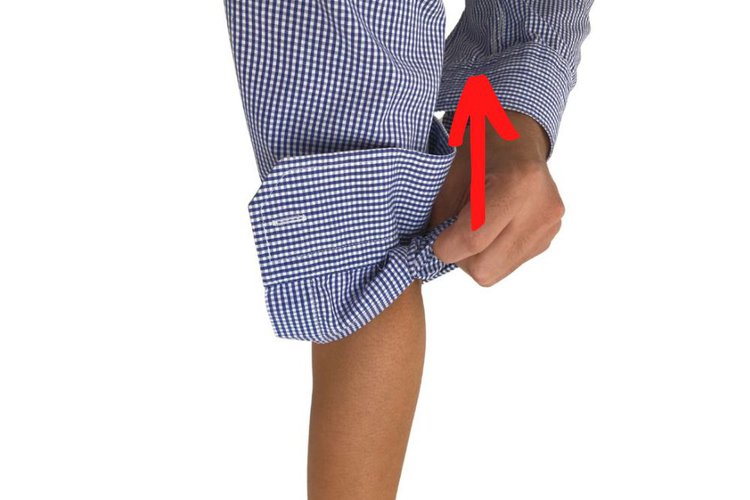 Adjust the cuff to make it smooth, creating a clean look.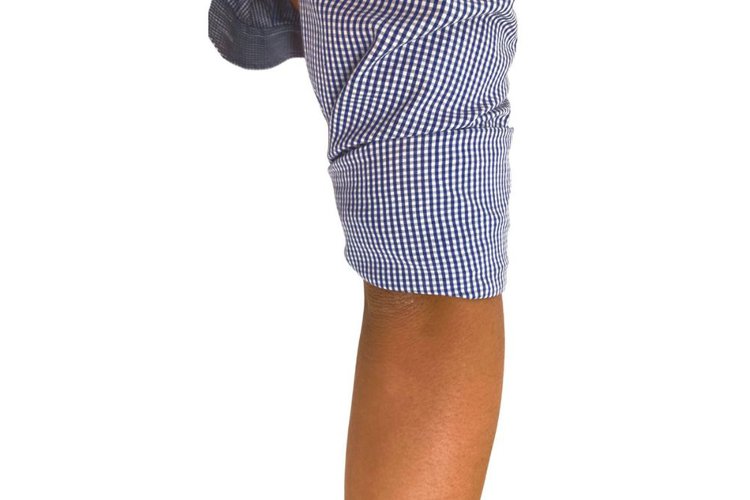 This method will give a look that is quite similar to the method above, you can do it for both formal or distressed styles. Plus, it can cover all the button parts of the cuff.
However, it is challenging to do if the sleeves are quite tight, and it can make you feel slightly uncomfortable on a hot day. In contrast, you can do it easily with roomy sleeves.
In case of the cuff is right in your elbow, which makes you feel hard to move the forearm, you can continue to fold the cuff in half and pull it up to cover the top of the cuff.
But this action can cause a really tight roll. I don't do this often because it's quite hard, instead, I will remove the cuff and do it from the beginning to adjust it right.
Here are some notes before you leave
In fact, there are some mistakes that people often make while rolling up the pearl snap shirt sleeves, this can cause discomfort or create ugly creases.
Well, I just brainstormed to remember what mistakes I made in the past. Below are some of them.
Don't make the cuff right on your elbow joint
It's easy to imagine, right? You will get trouble when bending the elbow if the cuff gets stuck right in the joint.
Moreover, our arm movement will crease the cuff and sleeves. The pearl snap shirt will look old and get damaged faster.
Don't make the cuff too narrow or too wide
A cuff that is too narrow or too wide does not look good. It also depends on how large, thick or skinny your arm is.
But I have an average body with an average arm, the cuff often runs from 1 ½ inches to 2 inches.
If you have a skinny arm, maybe an inch to 1 ¾ inches will be suitable. Otherwise, for a thick and big arm, the cuff may need to run from 1 ½ to 2 ½ inch width.
Stand in front of the mirror and make the best decision for your look. It should also suit your body well.
Get the pearl snap shirt that fits great, not too tight
If the pearl snap shirt sleeves are too tight, then a good chance that it will cause you much trouble while rolling up the sleeves. There's not enough room inside the cuff for your finger to run and pull the sleeves up.
If you try too much force to put your finger inside the cuff, it will stretch the sleeves and make the pearl snap shirt look bad sooner.
Don't twist
Don't try to twist the sleeves to make a cuff, that cuff looks really bad with many creases.
If you want to do the cuff properly, it needs to have a flat and smooth surface.
Above all, the cuff made by twisting cannot last long or give you a clean look.
Don't just turn the cuff over
Many people often do this cuff, but trust me, it gives you nothing except the complaint of your wife. It cannot last long or give you enough fresh air and it won't look good, either.
If the sleeve is too long which makes it difficult for you to write something, you can turn the cuff over real quick. Or else, roll it properly to have a nice and neat cuff on your arm.
Put the finger along the inside of the cuff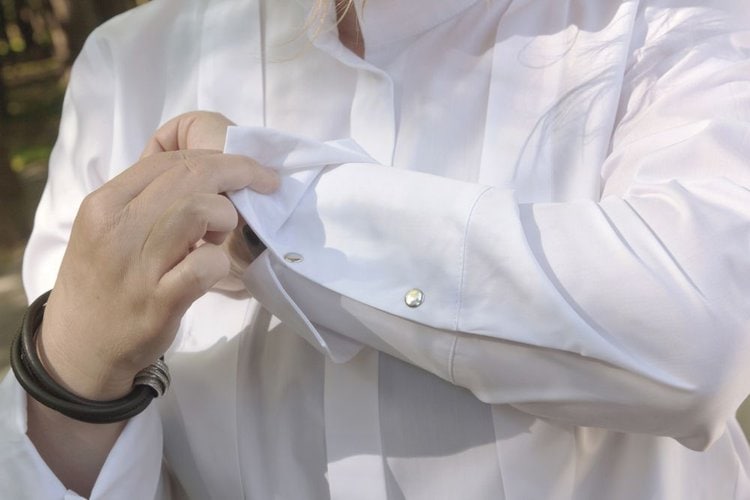 Running the finger properly inside the cuff will make it easier for you to roll the pearl snap shirt sleeves up.
This small action will reduce the chance that the scuff gets creased. And it can give you a great look!
That's all, good luck! If you have anything to worry about in this regard, just leave a comment right below. I will respond to you as soon as possible.
Howdy y'all, and welcome to From The Guest Room, your ultimate guide to all things Western! I'm Jay Gatz, a lifelong cowboy boot enthusiast with over 5 years of experience in the Western style world. I'm excited to share my knowledge with you and help you discover the perfect cowboy boots and western gear to elevate your style. Let's explore the rich history and timeless appeal of Western fashion together!