In addition to the famous Ariat brand, Lucchese, Dan Post, Laredo and Tony Lama are very familiar brands. Besides, there is an attractive destination for cowboy boot fans: Durango.
The Durango brand has its own cowboy boots with exclusive style and design.
What factors make cowboy boots unique? Today, let's find out together! A detailed review of Durango cowboy boots is waiting for you below!
Let's start!
History of Durango boots
Durango cowboy boots first appeared in 1966. Over a half-century of evolution and development, today's Durango is one of the symbols of the distinctive style of Western boots.
Durango released cowboy boots with an energetic and charismatic appearance inspired by the Old West's spirit and adventure.
The parent company of Durango is Georgia Boot. They did not initially produce cowboy boots, but their main line was work boots.
However, after taking endless inspiration from western boot collections, they produced western boots that are a hybrid of today's Durango cowboy boots and work boots.
In 1990, line dancing, country music and western fashion rebounded with a wave of love for large motorcycles. Durango launched Harness boots to keep up with the times and trends.
In 2002, Durango started to focus on traditional cowboy boots with ranch & farm footwear. They try to bring the lifestyle and breath of Western boots into every pair of boots.
In 2004, the parent company Georgia Boot was acquired by Rocky Brands. And of course, Durango became a member of Rocky Brands (Rocky is the parent company).
From 2004 up to now, Durango has continued to be a very successful brand because of its strong and innovative cowboy boots. And Rocky has become a global footwear brand.
Are Durango Boots any Good?
To determine whether Durango's boot is good or not, we need to consider the following factors:
Design
The design of Durango cowboy boots is not quite the same as that of traditional cowboy boots. Actually, it's a creative hybrid between cowboy boots and work boots.
You can see most Durango cowboy boots have low heels with thick soles made of rubber. Also, the shaft of Durango boots is usually quite low.
Durango cowboy boots are highly safe with steel toe and steel shank. Besides, the arch support is also a highlight of Durango boots.
You might be wondering if the above details make Durango like a pair of work boots. But no, apart from the aforementioned details, the Durango boots shaft and vamp motifs are purely western style, breath and inspiration.
With such designs, it can be recognized that the target customers of Durango are those who wear cowboy boots to do heavy work, outdoor work…
Because the design of Durango boots offers ease of use with flexibility and durability.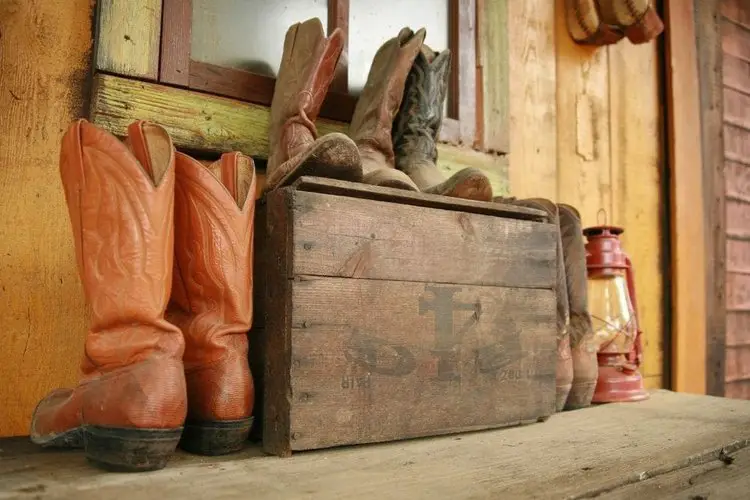 Comfort
Comfort is a big plus of Durango cowboy boots, Durango takes the comfort of boots to a new level.
Regarding famous brands, Ariat is best known for ATS Technology, whereas Dan Post has a long history of cowboy boots.
However, in terms of comfort, these two brands cannot compare to Durango
Durango has great arch support and thick soles for the wearers to feel comfortable all day. Their slogan is "ALL-DAY COMFORT + SUPPORT".
In addition, Durango cowboy boots can support people with flat feet or high arches – because their arch support is very good.
To prove that I'm not lying, I will tell you a story.
A friend of mine owned more than 10 pairs of cowboy boots in his house and he often wore 7 of them to work. He said that Durango was the most comfortable boots he had ever worn.
He also tried to wear Nocona, Ariat, Dan Post, Laredo, Tony Lama, but Durango provided the most comfort that he couldn't find in any other boots.
Durango's padding is what sets this brand apart from its competitors! It is super smooth and comfortable to wear all day long.
So, whenever you want to find a pair of cowboy boots that are perfect for everyday wear and work, Durango is the cowboy boot brand you should think of first.
Safety
With steel toe and steel shank, most Durango boots are invincible on construction sites.
As stated earlier, Durango cowboy boots tend to resemble work boots in many ways, one of them being a safe design.
It is possible that being similar to work boots will make many fans of traditional western cowboy boots dissatisfied, but you cannot deny that Durango is outstanding and distinctive when combining the strengths of cowboy boots and work boots.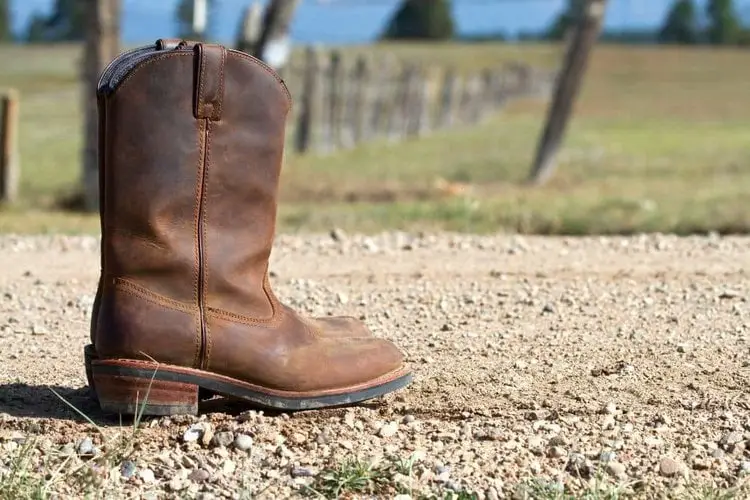 Durability
Though Durango is not too prominent as other cowboy boot brands, their boots still satisfy you with exceptional durability.
Usually, a good pair of Durango boots if well preserved with proper care can last more than 10 years.
10 years is quite long, and it's hard for other types of shoes to surpass this record, especially when cowboy boots are used to do physically demanding tasks.
Are Durango boots fit true to size?
Yes, "fit true to size" gains another point for Durango. As we said, no other boot brands can beat the comfort of Durango boots and comfort also means fitting true to size.
And Durango cowboy boots provide the ultimate comfort that many other brands dream of.
There are very few bad reviews about the size of the Durango boots. Arguably, their boots fit true to size!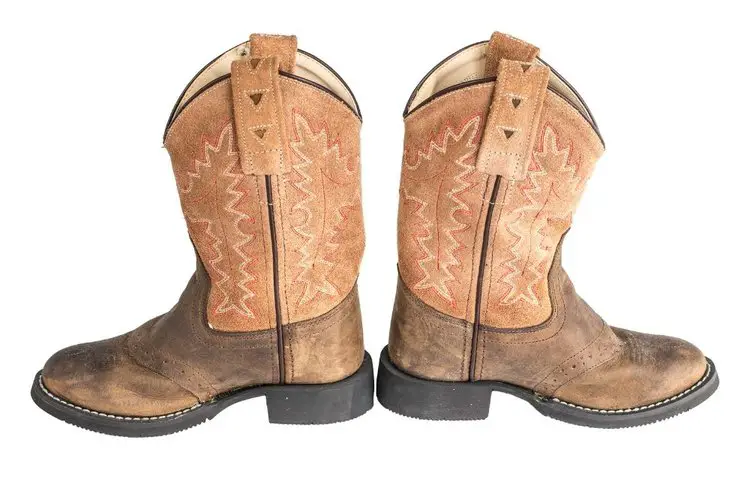 Are Durango boots real leather?
Sure. Durango boots are well-known for their comfort compared to other famous boot brands. This is evidence that they cannot be made from fake leather.
Besides, you should note that only genuine leather provides flexibility, comfort and durability.
Thus, Durango cowboy boots are very comfortable, safe and long-lasting because they are entirely made of real leather.
Are Durango boots made in China?
Yes, most Durango cowboy boots are made in China.
Many American cowboy boot brands have moved their factories to China to take advantage of low costs (low labor and factory costs). What a pity!
However, the quality of cowboy boots is not where it is made, but it's the brand's censorship standards.
A high standard of moderation will give wearers high-quality cowboy boots. No poor-quality product can enter the United States without passing the standards of censorship.
Durango passed that, arguably.
Read more: Where are Ariat cowboy boots made?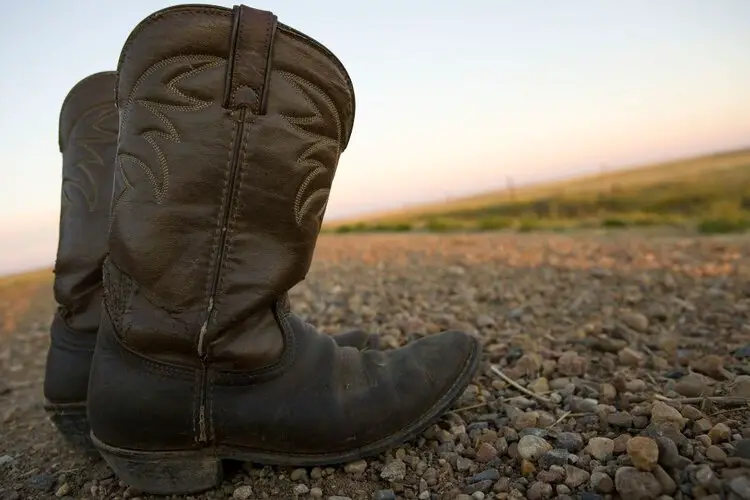 Who owns Durango boots?
Rocky Brands is Durango's parent company.
Before 2004, the Durango brand belonged to another parent company called Georgia Boot.
But in 2004, an M&A took place and Rocky Brands acquired both Georgia Boot and Durango.
Today Durango is a trademark owned by Rocky Brand!
Are Durango boots made in the USA?
Yes, they are. However, just a few Durango cowboy boots are made in America.
Like many other brands, Durango boots still have many products made in the US. Most of them are exclusive products with fairly high prices.
Some Durango cowboy boots are partly made in America while others are imported.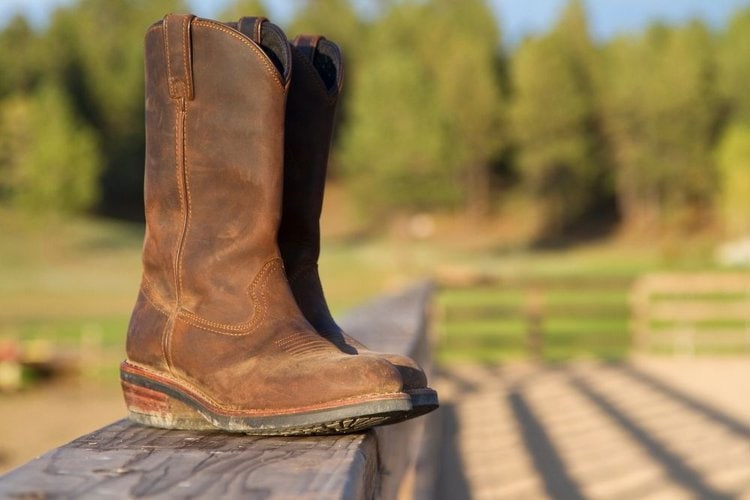 Are Durango boots waterproof?
Yes, but not all Durango cowboy boots are waterproof.
You should carefully read the product description before buying so that you can choose the right boots for your needs.
Here are some waterproof Durango boots:
Durango Men's 11 Inch Pull-On Steel Toe DB4343 Western Boot
Durango® Maverick XP™ Steel Toe Waterproof Western Work Boot Size 7(M)
Durango Men's 11 Inch Pull-On Steel Toe DB4343 Western Boot
Durango® Maverick XP™ Steel Toe Waterproof Western Work Boot Size 7(M)
Last update on 2023-09-22 / Affiliate links / Images from Amazon Product Advertising API
Conclusion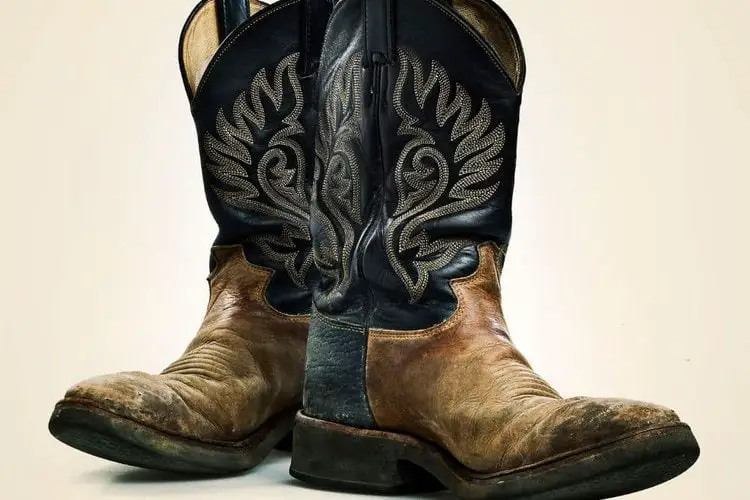 There are 5 features of Durango cowboy boots that you will enjoy: Design, Comfort, Safety, Durability and Fit.
Design: Durango's design is flexible and comfortable to wear all day.
However, Durango boots are more similar to work boots than cowboy boots. They are usually called western work boots.
Also, the beauty of Durango boots may surprise you. They have very few pairs featuring gentle beauty. Instead, Durango cowboy boots are cool, strong and masculine.
Comfort: Durango boots take the cake when it comes to comfort. You won't be able to find any brands with such comfort like Durango boots.
Safety: One of Durango's advantages is the high safety due to the inherited features of work boots. You can count on them.
Durability: Like other cowboy boots, Durango cowboy boots last longer. This durability might not be outstanding compared to other brands, but enough for you to be satisfied.
Fit: Compared to many other brands of cowboy boots, Durango's cowboy boots have received very few complaints about not fitting true to size.
Final Thoughts: It's a good decision to own a pair of Durango cowboy boots.
Howdy y'all, and welcome to From The Guest Room, your ultimate guide to all things Western! I'm Jay Gatz, a lifelong cowboy boot enthusiast with over 5 years of experience in the Western style world. I'm excited to share my knowledge with you and help you discover the perfect cowboy boots and western gear to elevate your style. Let's explore the rich history and timeless appeal of Western fashion together!