When thinking of cowboys, every often thinks of cowboy boots first as they are one of the most stunning accessories in this world. But not many really know about pearl snap shirts.
In fact, pearl snap shirts appeared a long time ago (in the early 1900s). They are one of the best friends of cowboys along with boots. But over time, their glory has been dimmed by the excellent style and functionality of cowboy boots.
However, if you go to Texas, you will know that many people here still choose pearl snap shirts for their casual wear and work. From my experience of wearing pearl snap shirts for more than a decade, I believe this type of shirt should be your choice as they will always be in style.
Like other fashion accessories, pearl snap shirts evolve with time! When looking at the modern pearl snap shirts nowadays, you will find they are extremely stylish and practical.
Modern pearl snap shirts possess a wild and distressed look and offer a strong impression. Nowadays, you easily find ones with a clean look to match different formal pants.
To have a better understanding of this shirt, this article will tell you what pearl snap shirts are, their origin, pros and cons, and why should you try them once in your life.
Key Takeaways
Pearl snap shirts were born to support cowboys in horseback riding. These shirts are durable (reinforced at chest and shoulder), affordable, not easily untucked from the pants, don't get tucked with the fence, and easy to get items in the pocket.
In the past, pearl snap shirts were extremely useful and came in a distressed style. More than that, they are now closer to the mass with a more creative style. You can wear them with any other outfits to do different activities.
The unique and most impressive feature of pearl snap shirts is their long length, snap closure that looks like a pearl, and signature pointed yoke.
Pear snap shirts were born to assist cowboys in riding and they are super practical
As mentioned above, pearl snap shirts were born in the early 1900s. In the beginning, this type of shirt was often made of leather because it is cheap, super durable, protective and easy to find in the West.
If you notice, pearl snap shirts are reinforced with signature pointed yoke at the chest and shoulder to make them more durable for heavy work.
The nature of cowboys' work is very challenging. They have to deal with the weather changing frequently (harsh sun, sudden rain, etc.), bushes, dangerous animals (snakes, scorpions, etc.), etc. So, pearl snap shirts with such designs and materials were born to support them.
Over time, when the aesthetic value is set to a higher level and tailors gradually became more knowledgeable, pearl snap shirts are made of more materials such as cotton, denim, wool, etc. These materials are not only durable and affordable, but also more stylish and comfortable. That is why I said they involve.
The style of the original pearl snap shirt is a hybrid between the traditional Native American garbs and the popular European dress.
But if you notice, one of the greatest features that make the unique look of the pearl snap shirts is its long length. The purpose of this length is to keep the shirt from being untucked while the cowboy is on the horseback. And over time, people love that look.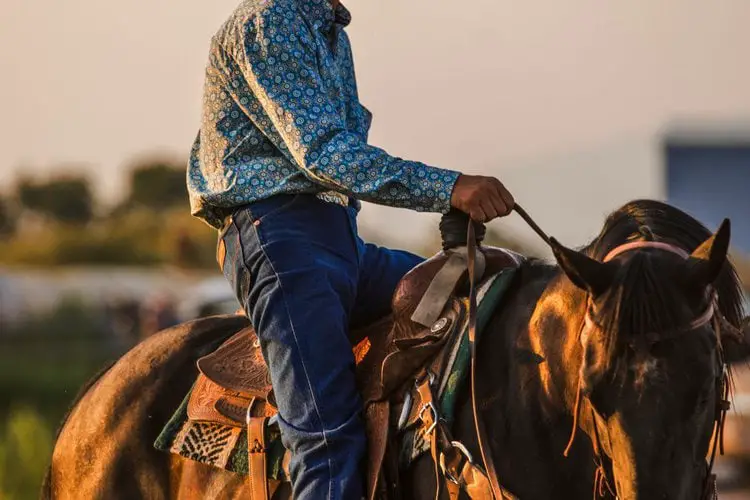 The first impression about this shirt is surely its "pearl snap". The reason behind this is that Jack A. Weil thinks the snap closure will be better for cowboys.
Most true cowboys have experienced the feeling that the shirt's button gets tucked in the fence (or maybe something else) once in their life. Besides, it's not easy for ranchers to take the items from their pockets easily with the traditional buttons.
Jack A. Weil had a logic that snap closure could solve this problem, and turn out, he was right.
It seems Jack A. Weil is also a good businessman (he is the owner of Rockmount Ranch Wear). The proof is the increased popularity of pearl snap shirts because they can solve a seemingly small problem.
The snap closure looks like a pearl, and that is why people call it a pearl snap (shirt). These snap buttons are small, smooth, and flat to avoid being stuck to the fence. They are very helpful when it comes to buttoning/unbuttoning your shirt.
Again, the unique look of the snap closures becomes the signature of this shirt. Many people love it, especially after Hollywood films began to rise and exploit the themes of western culture, fashion, and lifestyle. This makes pearl snap shirts gradually become more and more popular.
Nowadays, pearl snap shirts become closer to the mass thanks to the modern stylish look
In the past, the combination of cowboy boots, jeans, cowboy hats, and pearl snap shirts was one of the best and most popular outfits for ranchers. This coordination is durable, easy to find, protects them well and comes at affordable prices.
However, the truth is this style is so distressed and wild that not anyone can wear it.
Just after Hollywood films bring them closer to the masses, this ensemble got more attention, and more hybrid designs start to appear. The variety of styles also rises from here!
The creativity of many tailors begins to take over and the pearl snap shirt's beauty gradually becomes more beautiful and modern.
Nowadays, pearl snap shirts have a diverse look, from distressed to formal. Not only can you wear them with distressed jeans, but also with dress pants, chinos, slacks, etc. When choosing pearl snap shirts, people favor multi-color plaid ones. Their next choice would be those with more simple but elegant striped details, or maybe no texture at all.
Overall, nowadays, as long as you have a good aesthetic sense, then pearl snap shirts can perfectly serve you in many different styles, not necessarily just distressed for the ranch.
Before you leave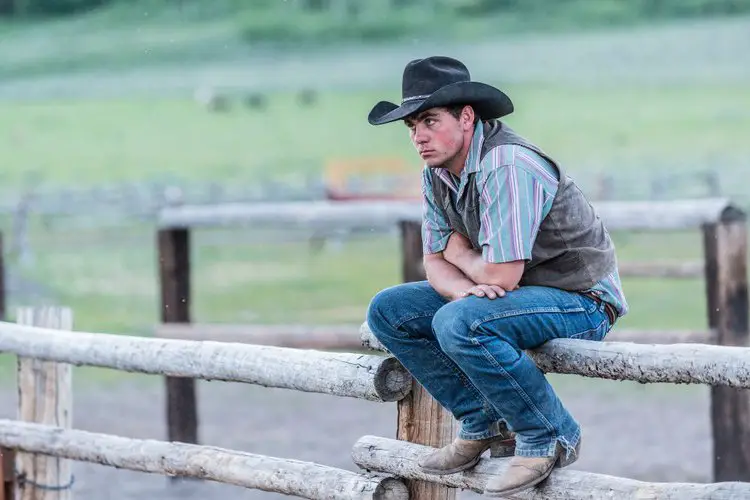 You can easy to find pearl snap shirts with a modern look on many e-commerce sites or some famous brands of cowboy boots such as Tecovas (my go-to choice).
Just try to use your sense and creativity to combine with other outfits and create a suitable style for yourself.
I wear pearl snap shirts for more than 14 years for almost all my casual activities and work. I'm always surprised by their changing speed in style and function. Give it a try, I'm sure you will never regret it!
Good luck!
Howdy y'all, and welcome to From The Guest Room, your ultimate guide to all things Western! I'm Jay Gatz, a lifelong cowboy boot enthusiast with over 5 years of experience in the Western style world. I'm excited to share my knowledge with you and help you discover the perfect cowboy boots and western gear to elevate your style. Let's explore the rich history and timeless appeal of Western fashion together!