In recent years, one of the things I love most about Western style is its evolution. It changes a lot in style and becomes closer to the mass.
If you looking for some pairs of Tecovas cowboy boots, you will get me! Their style is so sweet and sharp. It not only brings a distressed and rugged look but also a luxurious and delicate feel with great polished surfaces and unique exotic finishes.
Pearl snap shirts also experience the same change as cowboy boots, at least in some brands.
It's hard to say the western style (pearl snap) is suitable for anyone or any purpose. But I can say when you style it properly, you can have the best and most unique look ever.
If you wonder whether pearl snap shirts are in style or not? I would say it depends on your style and your usage.
This article will tell you about the style of pearl snap shirts nowadays. I will also let you know why pearl snap shirts are still a great choice!
Let's check it out!
Key Takeaways
A pearl snap shirt still is a very good choice for your style. It has evolved a lot from the first time released, especially being more stylish!
You need to make sure they fit well and have sharp details. Nowadays, choosing the modern style pearl snap shirts is not so difficult. Just style it properly and you will look great.
There are so many ways to wear a pearl snap shirt. This item does not go out of fashion if you know how to style it properly. Pearl snap shirts can go with both distressed or formal outfits.
The evolution of pearl snap shirts keeps them in style
In the first days, pearl snap shirts appear with a practical mission. They help cowboys ride in the rodeo safely so that you can put aside the worry of the shirt getting caught in the fence (shirt makers believe these snaps play a big role). The long length of this shirt keeps it from being untucked while cowboys are riding.
More than that, cowboys can take items from the shirt pockets easier without having as much trouble as other shirts with buttons. The pearl snap buttons are so smooth to open.
Over time, people love that style of shirt with the unique "pearl" snap. And from there, it becomes more popular for everyone from other fields. Nowadays, you can easily see truckers wearing pearl snap shirts all day.
In terms of usage, pearl snap shirts still are a great accessory, no doubt. Regarding style, although you cannot wear a pearl snap shirt all the time, it's still a good choice for your wardrobe.
If you look at some cowboy boot brands (they release pearl snap shirts also), you will find many types of pearl snap shirts with a very soft, sharp, and modern look. Those pearl snap shirts are not only a good choice to go with jeans for a rugged style but also a great match to wear with some dress pants, chinos, etc.
The key point is that the beauty of this shirt does not just lie in the pearl snap, but in the texture, stitching, yoke seams, snap cuff, material, longer length, etc.
The fit of pearl snap shirts today is also suitable for many types of bodies than in the past, you can easily find a good one for your skinny, standard, or big form. The fit, in addition to the details of the shirts, also has a big effect on your style.
A pearl snap shirt will look great on you if you choose a quality and well-fitted one!
I don't say this evolution will make pearl snap shirts lose their original style, not at all!
The point is these shirts remain pearl snaps or classic western yoke seams, while their nice plaid patterns, bright colors and modern style make them a lot more accessible than in the past. So to think that they go out of style is a mistake. Look at Tecovas Brushed Cotton Pearl Snap shirt, you will know what I mean.
Pearl snaps of these shirts also highlight the shirt, this special button makes the shirt stand out from other types. These buttons are smooth, luxurious, and easy on the eyes.
How do I wear a pearl snap shirt in recent years?
I already wear a cotton pearl snap shirt with a pair of blue alligator cowboy boots and dress pants to attend a nice city wedding. This combination works very well! And I firmly believe these styles are also suitable for office work.
For outdoor work (yard, ranch, etc.) or casual wear, I choose a simple T-shirt, slightly worn jeans, and goat cowboy boots and use a denim pearl snap shirt to wrap around.
I think it's cool (really love the unique long back length), and good enough for comfort and sun protection. And more importantly, my wife thinks so too.
In some country weddings, you can wear a pearl snap shirt with dress pants, a brown leather belt, and a pair of lizard boots. It's decent coordination – simple but elegant and not too fancy.
Additionally, there are many ways to wear pearl snap shirts such as rolling up your sleeves close to your elbows, making some gorgeous cuff, or taking it off and tightening the sleeves around your waist while working, etc. I believe there are no rules that can stop you from mixing and matching your shirt, except the limit of your fashion sense and imagination.
Try to choose a good style and fitted shirt, wear it to the right place, and style it properly. You will shine!
Overall, western styles, especially pearl snap shirts have evolved a lot and come closer to the mass. These shirts are more modern with more delicate detail to give the wearer a clean look. You can match them with many types of outfits for different occasions.
Given the good fit, sharp details and proper matching, the shirt will make you confident and satisfied!
Before you leave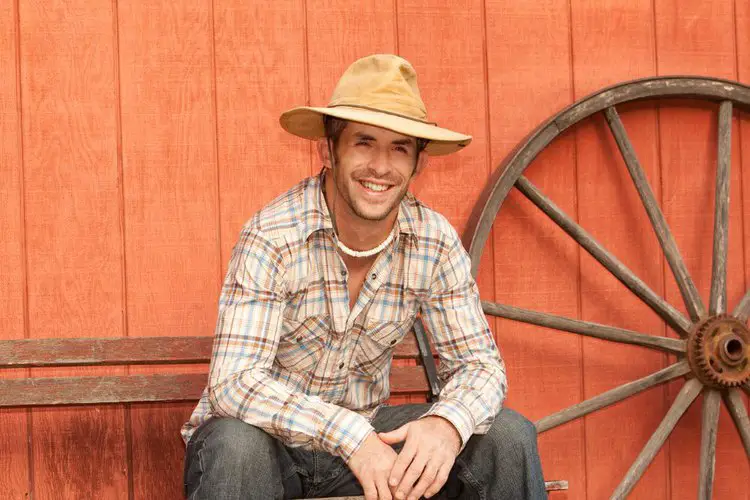 Besides cowboy boots, pearl snap shirts are also proof of the evolution of the western style. Don't ever think that this type of shirt goes out of style!
In fact, people in the west still wear this type of shirt very often for different types of jobs. I can assure once you put it on, you will know what I mean.
So, stop asking some silly questions, try and feel it yourself!
Howdy y'all, and welcome to From The Guest Room, your ultimate guide to all things Western! I'm Jay Gatz, a lifelong cowboy boot enthusiast with over 5 years of experience in the Western style world. I'm excited to share my knowledge with you and help you discover the perfect cowboy boots and western gear to elevate your style. Let's explore the rich history and timeless appeal of Western fashion together!