One of Tecovas' extremely beloved product lines is ostrich cowboy boots.
In contrast to many cowboy boots made from ostrich which are often quite boring in color, Tecovas shoes have a bold and attractive look.
Prominent among them, The Wyatt is one of the best-selling and most beloved products in the Tecovas family.
However, in addition to the beautiful and eye-catching appearance, is there anything else good about The Wyatt cowboy boots? Today's article will be an overview and detailed assessment for you.
Let's check it out!
Key takeaways
The Wyatt is one of the best-selling cowboy boots from the very famous brand, Tecovas.
The Wyatt can satisfy you with their look and feel.
They have a classic style that is still modern and accessible in the new age, they offer extreme comfort thanks to the craftsmanship and nature of ostrich materials.
They have rich color and leave a good impression. They are easy to match with any outfit.
Their exterior structure is classic but not rustic. It is modern somehow.
The internal construction of The Wyatt retains traditional features such as lemonwood pegs, or leather lining, while bringing modern construction and good foot support like EVA strips, arch support, shanks, and midsoles.
The customer service is excellent and fast so you don't have to worry about fitting, just pick up the phone and ask them if you're unsure. Most customers rate The Wyatt fit true to size.
Because of the high craftsmanship and the very soft nature of the ostrich leather, The Wyatt has a very very short break in time.
The price is very affordable compared to other brands in the same segment.
The return policy is very generous with free shipping, exchange, and return.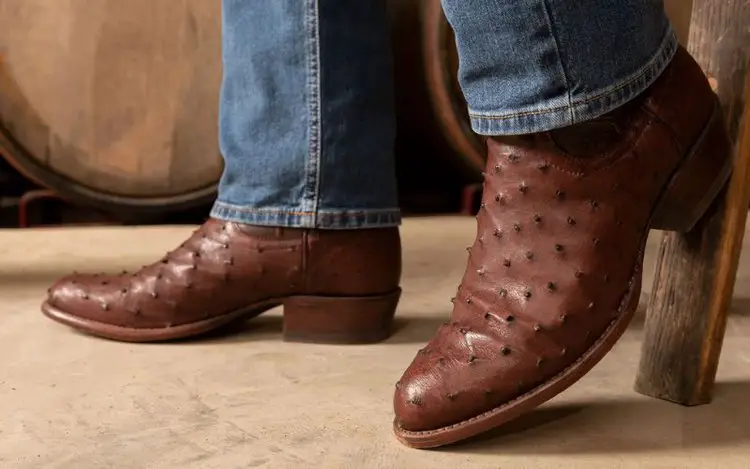 The Wyatt Full-Quill Ostrich Cowboy Boots: Are They Any Good?
In fact, ostrich boots have always been a very popular choice in the world of cowboy boots ever since, not since Tecovas appeared and brought that success.
The outstanding features of ostrich boots come from the natural properties of ostrich leather. It possesses many pores and a lot of natural oils and waxes. That's why ostrich boots are very breathable, soft, durable and won't dry out.
In addition, the look of ostrich boots is also very unique as their bumpy surface feature is unmistakable.
It is these outstanding features that make Ostrich cowboy boots trusted by many people for casual wear, outdoor work, etc.
It can be said that with the popularity of ostrich boots, there are many brands of cowboy boots competing for this lucrative piece of cake. Though, above all, The Wyatt Full Quill Ostrich cowboy boots by Tecovas still emerge as the top choice.
What are the reasons?
Impressive, stylish, and modern look
One of the things that make The Wyatt Cowboy Boots so successful is their good look, which brings a very good first impression.
If you have noticed, most cowboy boots are made from full quill ostrich leather of traditional bootmakers and are often quite faded in color. They won't impress you much!
This happens very often because despite possessing a lot of natural oils and waxes, ostrich boots are very prone to drying and fading. This happens even more easily with poor-quality ostrich leather.
If the bootmakers are not really good at polishing, ostrich boots will look very boring. No matter how unique the bumpy surface is, it's hard to save the overall look of the boots.
That won't happen with The Wyatt cowboy boots when they possess a very bold color. This proves that the craftsmanship of Tecovas artisans is very good.
Not to mention, this bold and attractive color often stays for a long time, which means the quality of the leather is very good.
You should condition these boots periodically (2 to 3 months for ostrich boots). But overall, based on my experience, the original color and beauty of Tecovas The Wyatt last for a long time compared to other pairs on the market.
In addition to the rich colors and unique bumpy surfaces, it is also necessary to say more about the structure that makes The Wyatt successful.
As for The Wyatt ostrich boots, although they have a classic style with a traditional structure, you see that they do not look rustic or too wild.
On the contrary, they possess a very sophisticated and modern look, which I believe suits the taste of most customers today. This is also the reason why Tecovas is so famous and successful on the market.
Tecovas has turned cowboy boots that seemed country-only style into a mass product. You can see The Wyatt in PECAN color that looks like a pair of elegant dress shoes.
The Wyatt's round toe shape is tapered towards the end, so it's not too wide, giving the foot a slim and sharp look.
In addition, the stacked leather angled heel is also a beautiful style and has a harmonious color with the overall boot. It has an ideal height of 1 1/2 inches. Not only will you walk comfortably in them, but you will also look confident with this heel height.
The thin and delicate leather sole flowing from front to back also contributes to the beauty of these boots.
Other details, like the signature hand-laid cording pattern on the shaft or the scallop and pull straps, are meticulously structured. These details are not usually visible when we're wearing the boots (as we usually tuck boots into our pants), but are well made. This always makes them so appealing that you want to put them on every day.
All in all, The Wyatt's harmony between traditional and modern styles makes this boot a success! Success comes from great style!
Suitable for many customer files, and many work purposes
As we mentioned, ostrich leather is extremely soft, comfortable, and durable leather. Therefore, ostrich boots are often seen in outdoor jobs such as ranching, farming, yard work, etc.
But more than that, due to their great style, The Wyatt boots' customer file is even wider. You will find a lot of people favor The Wyatt for both casual wear and business casual.
With great comfort and elegant, appealing style, you can totally wear The Wyatt with jeans, khakis, chinos, or even suits for casual wear or business.
Overall, thanks to the combination of all the best qualities, The Wyatt has become one of the most trusted and popular products in the cowboy boot world today.
Can go well with many different outfits
Interestingly, you can wear The Wyatt Ostrich Boots with a variety of pants, in addition to jeans as a pure choice, you can even choose dress pants, cargo pants, or tactical pants.
The reason is that Tecovas often adds new The Wyatt versions, offering more than just a choice. Despite having different tastes, users can still choose a pair of The Wyatt boots with the right style for them.
The development team of Tecovas is really dynamic and creative. You will have a lot of interesting choices of styles of boots due to their creativity.
Pecan, grain, mahogany, or midnight are all very pleasant colors and can be combined with many different types of outfits. If you're sophisticated enough, you can completely style them with a pair of dusty ripped jeans to a luxurious suit.
The perfect internal structure
In fact, most of what makes The Wyatt cowboy boots so successful is also what makes most Tecovas boots so successful.
What you should know is that The Wyatt is a harmonious and ingenious blend of tradition and modernity.
The Wyatt retains the beneficial traditional structures and omits the weaknesses. This is really a huge plus in Tecovas boots.
1. Traditional characteristics that The Wyatt cowboy boots retain
The prominent traditional features that The Wyatt retains include lemonwood pegs and leather lining.
Lemonwood pegs are the connection between the insole and outsole. They are often preferred by the cowboy boot world over metal ones simply because they create harmony with the overall boots.
Normally, under the influence of the environment, weather and temperature, your cowboy boots will shrink or stretch, and so will the insole and outsole.
Lemonwood pegs also have the same elasticity when reacting with environmental agents. They make cowboy boots stronger, more flexible and more comfortable.
In addition, lemonwood pegs can also absorb sweat well, so they are cooler.
All of those things are what metal pegs don't have.
Meanwhile, leather lining, a well-loved traditional feature, is also said to be cooler, more durable, and more comfortable than mesh ones.
And it's great that The Wyatt cowboy boots retain both of those characteristics. Today, to maximize profits and reduce costs, many brands of cowboy boots use metal pegs and mesh lining.
2. Modern features that The Wyatt cowboy boots possess
In fact, traditional cowboy boots lack the necessary support so they are not friendly at all to those who often walk on their feet.
It is understandable because the origin of cowboy boots is to support cowboys riding horses, not walking.
However, to win the love of the masses – those who are no longer on horseback but walk on their feet, The Wyatt is equipped with extremely quality improvements.
The Wyatt has good arch support, EVA strips, insoles, midsoles, and shanks. These are all fairly common features in sneakers these days, but I'm pretty sure they're pretty far-fetched in the traditional cowboy boot world.
These characteristics set The Wyatt apart from many other ostrich boots.
The Wyatt boots are not only comfortable thanks to the softness with an ostrich upper but also thanks to the very supportive foot structure.
Trust me, these modern features (good arch support, EVA strips, insoles, midsoles, and shanks) support your feet well while walking or wearing them all day long.
These features are also a great help for people with special foot types such as flat feet or high arches.
And thanks to all of that, The Wyatt once again proves why they are so popular and loved by many people.
Fit true to size, a short break in period, great customer service
Overall, based on user reviews, you can see that these boots fit true to size.
In addition, The Wyatt also has size support if you have wide feet, you should choose boots with a width of EE.
In fact, very few people have a sizing mistake when buying Tecovas cowboy boots over the internet, and so is The Wyatt. This is largely thanks to the excellent customer service of Tecovas.
You can count on Tecovas' generous customer service, if you're not sure about your boot size, just give them a call at 833-832-6827 or email [email protected] You can even message them via live chat.
Tecovas support and the way they show their support makes me feel like working with a large e-commerce site. They offer a super fast response.
In general, you don't need to worry about the fit of The Wyatt cowboy boots, just ask a question and you will get the answer. And don't be afraid to return, because Tecovas' exchange, return and delivery policy is very generous when it comes to free of charge (when your order is more than 100$).
The break-in process is always a concern when it comes to wearing cowboy boots. In fact, due to ostrich leather, The Wyatt is already very soft.
Because of that softness, the break time in cowboy boots of The Wyatt is quite short or even none.
Just put them on and walk a few miles and everything will be in place, your cowboy boots will be comfortable without using any tips or hacks.
Don't worry about this problem!
In short, the two problems of fitting and break-in, while not new but always annoying for cowboy boots fans, are not a big problem for The Wyatt thanks to good customer service and extremely good product quality.
This is the next plus!
Price
When first looking at Tecovas cowboy boots and making some comparisons with other brands such as Ariat, Durango, or Dan Post. You may feel they are very expensive.
However, that is an incorrect comparison, Tecovas is a handmade cowboy boot brand with a mainstream product line made up of exotic leather. Therefore, when compared with brands like Lucchese, and J.B Hill ( they are in the same market and the same segment), you will find investing in Tecovas boots is a bargain! The boots of Lucchese or J.B Hill are many times more expensive than those of Tecovas, but the quality is really better, no doubt.
Click on the website of Lucchese or J.B. Hill and search for some ostrich cowboy boots and you'll see what I mean.
Tecovas sells their products with no middleman, so a large number of costs have been eliminated.
According to Tecovas, even with the same manufacturing process, other brands can push the price of boots 2 to 3 times higher than that of Tecovas.
Not to mention, cowboy boots made from ostrich leather are extremely durable because they are less prone to drying and cracking than other types of leather. So I believe (based on personal experience) that The Wyatt boots can last more than 12 years (if well taken care of).
Therefore, even if the price of The Wyatt Boots is 3 or 4 times more than a pair of sneakers or running shoes, they are still a bargain when the lifespan of cowboy boots lasts 5 to 7 times longer than sneakers and running shoes.
So, based on personal experience and knowledge about cowboy boots and logic (I'm also a businessman), here's the price conclusion:
I believe Tecovas The Wyatt boots are priced higher than other footwear, but they are cheap in their class. They are also a good investment as they last extremely long and the value they offer is great.
Are there any things not good about The Wyatt Ostrich Cowboy Boots?
It's hard to come up with the weak points of a pair of boots when you've fallen in love with them and had a great experience with them.
However, the reality is that no boots are perfect.
Because Tecovas cowboy boots are handmade, no matter how thoroughly tested or how great the craftsmanship of the artisans, they can't be totally flawless.
Some of the errors that I have synthesized are mainly around the fit of the boots. Some complained about cowboy boots having wrinkles in the beginning, and others complained that the boots were sloppy at the instep.
Well, to be honest, there's no such thing as a defect that so many people complain about Tecovas boots, and so I'd say it's not a systematic error. These low-star ratings are also very few compared to the total number of buyers and reviews. It can be seen that these errors appear singly and it is hard to say that they are inherent weaknesses of The Wyatt.
However, best of all, under the reviews of every unsatisfied person, Tecovas offers solutions. This is still the best part about their customer service. As I said, they really satisfy their customers in these matters.
Hopefully, you'll be more patient with these boots, if you're one of the unlucky few.
Before you leave
In general, The Wyatt Full Quill Ostrich Boots is one of the best sellers of the Tecovas house.
They achieve high-quality standards and offer beautiful style and comfort to wear. The classic and modern styles together work perfectly in these boots.
These are complemented by excellent, generous, and prompt customer service. You will not have to worry about silly matters like the fit of the boots.
The Wyatt is also suitable for many types of work and outfits thanks to the variety of styles and colors. They are soft, beautiful, and durable.
All of that makes The Wyatt a success!