Most of us often come across cowboy boots made from full grain leather, this is the main type of leather that makes great cowboy boots. But in recent years, the presence of suede leather has brought a breath of fresh air to cowboy boots.
Personally, I love cowboy boots made from suede, they have a soft and sophisticated look with a furry finish along with the wild and alluring color.
In addition to the romantic look, suede cowboy boots also possess many respectable properties such as good scratch resistance, comfort (breathable and soft), etc. That's why they are very popular among cowboy boots for outdoor work.
Today's gift to you is a list of the best suede cowboy boots we've put together.
Let's check it out!
The Best Suede Cowboy Boots in 2023
Cowboy boots made from suede are very durable and resistant to external forces. The main reason is that suede is heavily processed by humans. It doesn't hold as many natural properties as full grain leather anymore.
Suede is also often rated as softer and more breathable than full grain leather because it is thinner. Therefore, the comfort of suede boots is undisputed.
The combination of durability and good comfort makes suede cowboy boots really great for those who stand on their feet all day.
In addition to excellent use, the appearance of suede cowboy boots is also very romantic and delicate. You'll feel it through the soft fur covering the boot's surface, a unique beauty that only suede has.
Because of the excellence in use and appearance, suede cowboy boots appear not only on the ranch, farm or outdoor work but also in formal places such as the office.
Our selection today will revolve around those two categories. Suede cowboy boots for outdoor work and for fashion.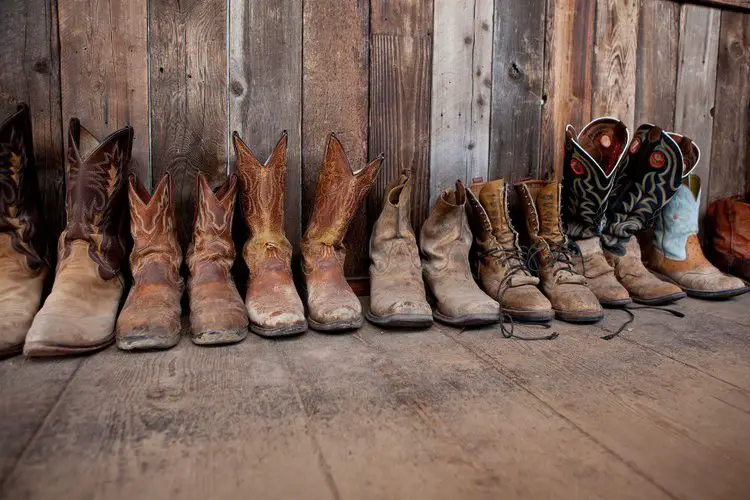 Men's Suede Cowboy Boots
Suede cowboy boots for men often have a distressed and wild look. Most of them are for work because of their durability and comfort.
However, men's suede boots are great to go with jeans or khakis pants for a masculine and attractive look. This combo is also a great style for casual wear.
Men's suede boots seem not suitable when going with dress pants, so you need to consider.
1. The Prescott Boots from Tecovas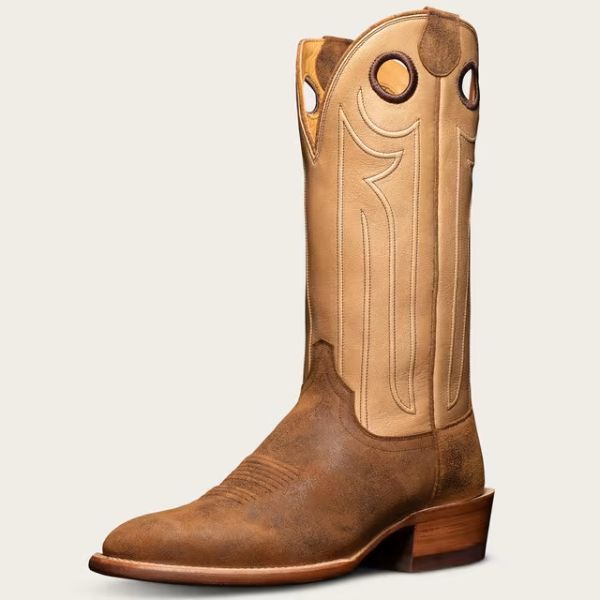 The Prescott is one of the most popular cowboy boots for working. At first sight, you will be impressed by their very beautiful shape.
With roughout suede as the main material, The Prescott boots by Tecovas are extremely durable and comfortable.
The Prescott boots have double welt stitching, so you don't have to worry about the upper coming out of the sole during work.
Besides, reinforced pull holes also ensure that the boots do not tear every time you put them on. This is a big plus for me. As I'm always an impatient person, now I can hold these holes and pull the boots up as hard as I can to get into work quickly.
Tecovas has a flair for recognizing comfort as a trait of boots that needs special attention, because no ranchers want to work in a lack of comfort.
Therefore, The Prescott boots have a round toe shape with plenty of room to ensure your toes can wiggle and breathe well.
These boots have 2-inch heels, which is quite high for a pair of work boots but these heels have a wide bottom. In general. they still ensure good balance for the wearer throughout the long working day.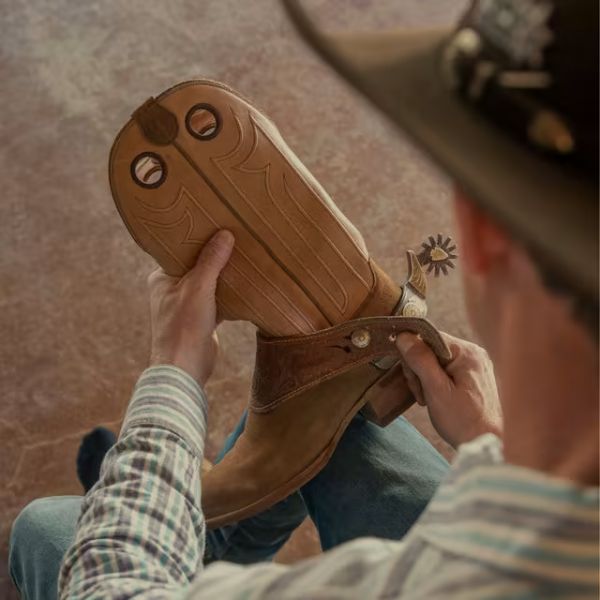 Along with that, the removable polyurethane insole also takes a lot of pressure off your feet. This is essential for the whole working day, you won't want your whole body aching due to the lack of shock-absorbing support in your boots.
In addition, the construction of The Prescott 13 1/2 inch cowboy boots is also quite tall compared to other cowboy boots so they can keep you warm in the winter and withstand the summer heat very well.
Many people are afraid to use leather soles for work because they are less durable than rubber ones. However, The Prescott's leather soles have been butyl-treated so their endurance is guaranteed.
Overall, The Prescott is a good shoe for work with a nice style. What about limitations? Well, the heels of these boots are still a bit high in my opinion. I prefer boots with a 1 1/2 inch or 1 inch heel.
That is my opinion, what about yours?
2. The Doc Boots from Tecovas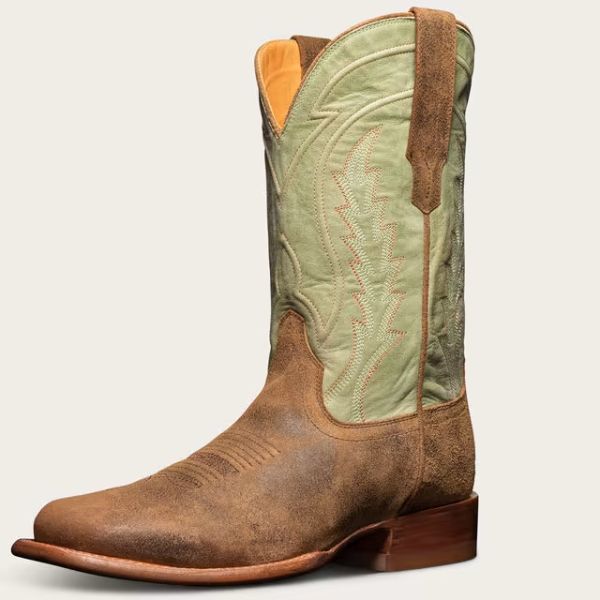 In mid-2022, Tecovas launched a line of cowboy boots made from roughout suede that is great for outdoor work – The Doc. These boots provide excellent comfort and smoothness for all seasons.
The things that make these boots successful are their extremely durable yet soft suede. Plus, a super roomy broad square toe can keep your feet extremely comfortable as if you're walking barefoot.
If you are a wide-foot person like me, cowboy boots like these are highly recommended for you.
In addition, double-stitched welts ensure better durability for The Doc boots, along with good balance and stability when they have a wide and flat base.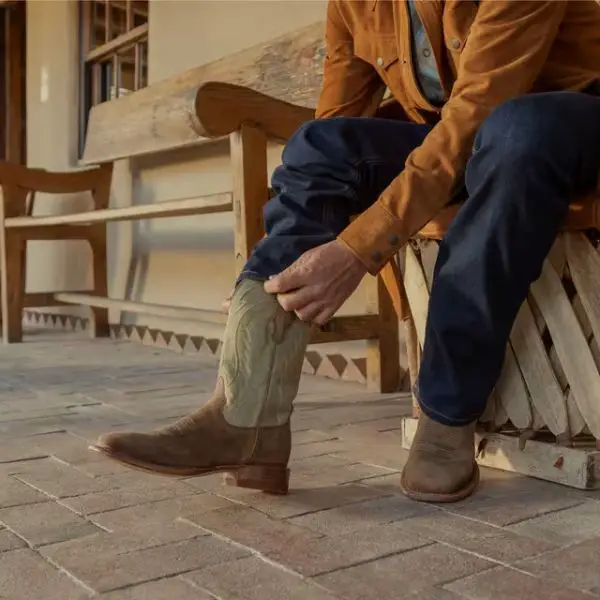 In fact, in addition to working, The Doc boots of Tecovas are also very suitable for everyday wear or for fashion purposes.
In general, the classic western profile has never disappointed the wearer, typically their breakthrough in style in the toe shape. The Doc's square toe is a collection of very strong and sharp edges.
In addition, the contrasting stitch pattern with unique patterns on the shaft exclusive to Tecovas also makes this boot creative and eye-catching.
All in all, these boots are sure to please you both in terms of durability, comfort, and possibly style (if you're not a die-hard fan of the traditional style).
3. The Knox Boots from Tecovas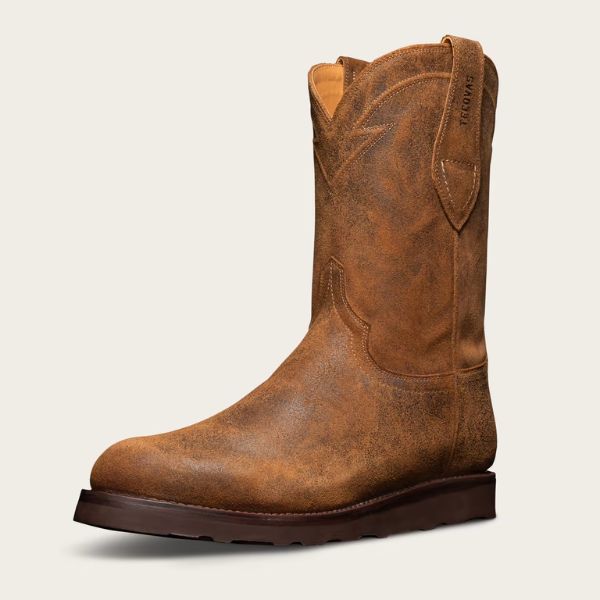 There is a cowboy boot line that is extremely good for all-day walking from Tecovas, The Knox. These boots have a very breakthrough innovation and creativity in the sole structure.
The entire upper is not really different from other Tecovas boots. However, the most prominent feature is still the light, soft and stylish furry surface of the roughout suede. I love the color of these boots, they are rich and not boring.
But besides the upper, take a look at the "odd" soles of The Knox boots, they are thick, wide and flat. They are wedge outsoles that can improve your stability in every step very well.
These outsoles have a 1-inch thickness with shallow lugs. Therefore, they can guarantee a great grip to help you work on hard and flat floors all day without fatigue, shock or loss of balance.
That's why Tecovas confidently declares these boots for people who are on their feet all day!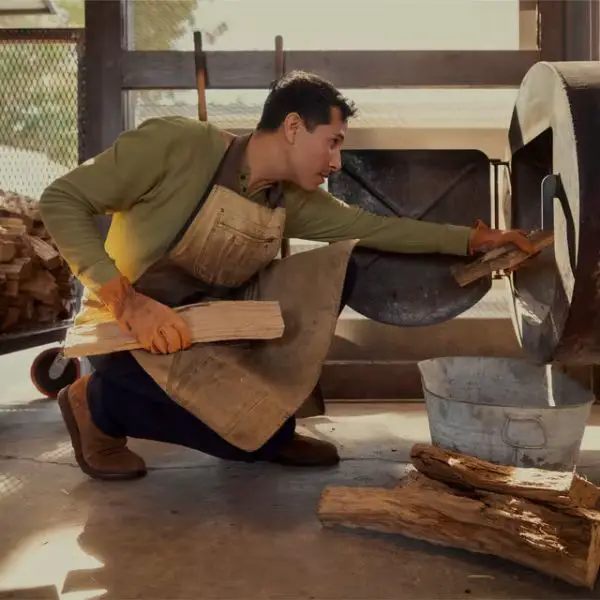 In addition, this boot is also equipped with a dual footbed with good shock absorption. The leather lining is very cool and moisture absorbent! In general, you will feel like walking in a pair of sneakers.
If you look at it from a different, more youthful perspective, you will see that these boots have a great style.
Try it out?
4. The Johnny from Tecovas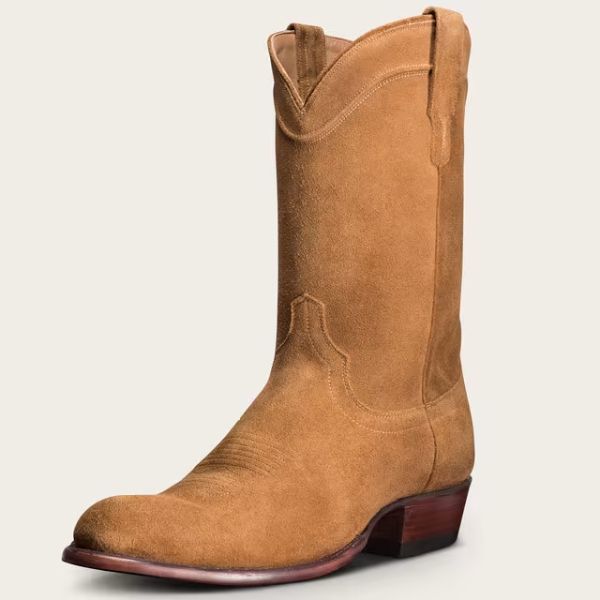 As one of the most beloved suede cowboy boots, The Johnny boots by Tecovas have established their class over time.
The first feature is the classic cowboy profile standard structure. Everyone loves this structure! Besides, the uniform furry layer of suede makes this boot stand out with a sharp look.
The overall look of The Johnny boots gives a rather contrasting look, they look rugged, yet sophisticated. The rugged feeling comes from the suede material and its color, but the boot structure is delicate. This is such a great contrast!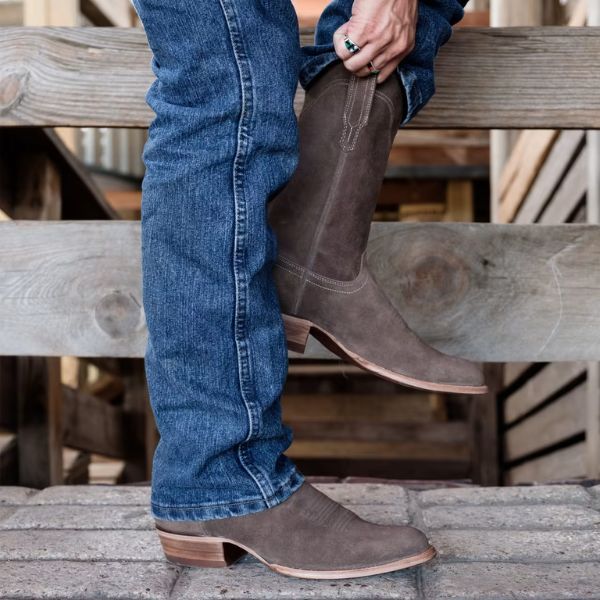 Not only outstanding with timeless beauty, but The Johnny boots also have very impressive properties.
Tecovas has equipped The Johnny with water resistance, which ensures this boot can defeat suede's biggest enemy.
Next, The Johnny's soft lining will ensure all-day comfort, especially for casual wear. Tecovas cowboy boots always have good arch support, which ensures that your joints at the ankles, feet or back will not bear too much pressure. Thus, it will reduce ankle, knee and back pain.
Overall, The Johnny will make you feel satisfied both in terms of look and feel! This will definitely be a wise investment for your shoe cabinet!
Women's Suede Cowboy Boots
Unlike suede cowboy boots for men, the ones for women are more feminine and sexy with curves.
You can easily find many different types of cowboy boots made from suede, including traditional style, ankle boots and booties.
Suede cowboy boots made for women are often used for fashion rather than function.
Check out some of the offers below, you'll love them!
1. The Lucy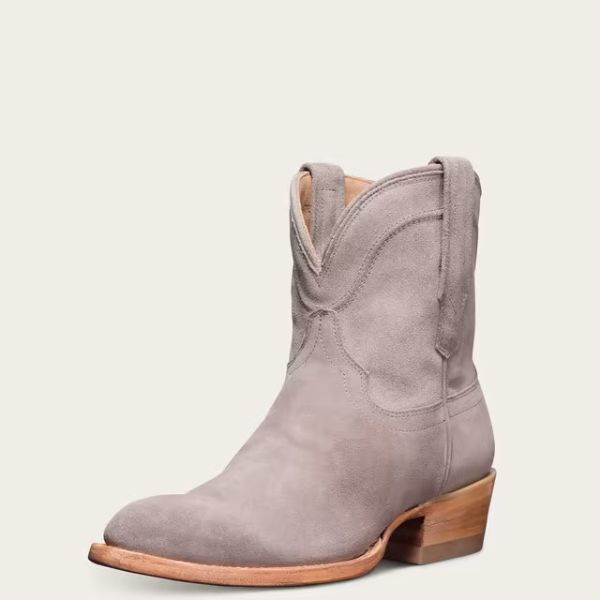 The Lucy Boots by Tecovas is one of Tecovas' hugely loved lines of suede western booties.
Each model of The Lucy boots has different colors, but the common point is the gentle style. This is largely thanks to the very gentle and feminine furry surface.
When you buy The Lucy boots, you are owning the standard western style with a traditional round toe and classic hand-stacked leather heel. These are the 2 most popular features!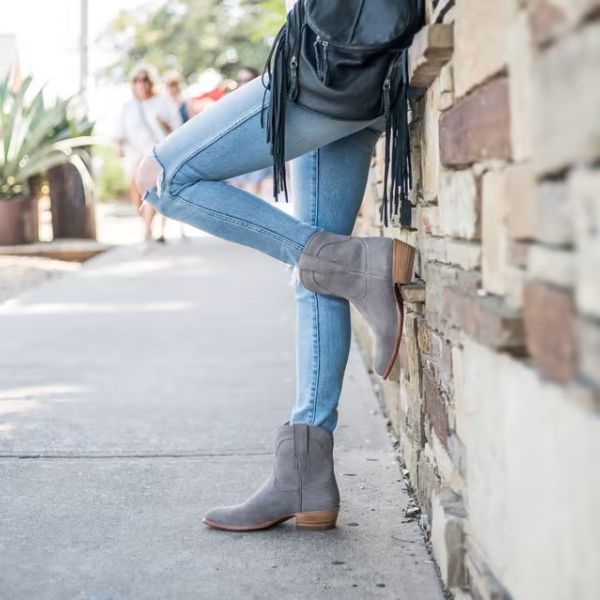 In addition to the beautiful toe shape and heel, these boots have the standard ankle height, which is both beautiful and comfortable. Besides, the 1 3/4 inch heel brings you a tall, confident image while still providing adequate balance for walking with its wide base.
Also, the prominent feature of these boots is the soft and feminine fur surface that covers them. The surface and wonderful colors make The Lucy better than ever.
2. The Josie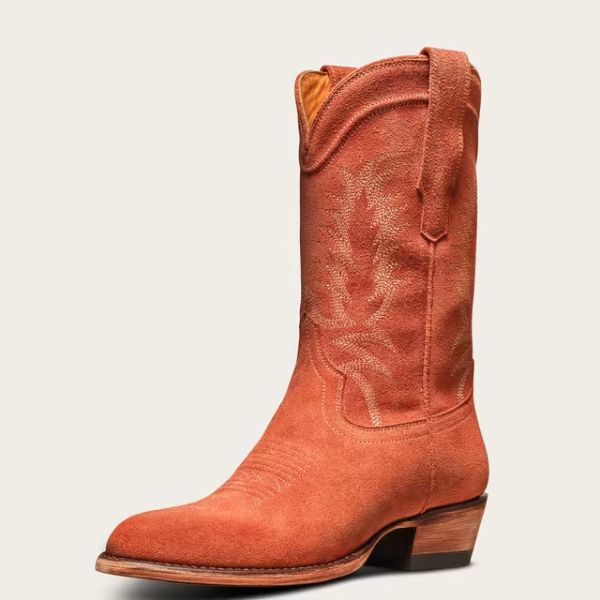 In addition to The Lucy, The Josie boots are also one of the favorite traditional style products of Tecovas.
Dressed in feminine and seductive suede, The Josie will captivate our gals. If you're a dress lover, it's hard to refuse such a stunning item.
Featuring a timeless style with a classic round toe and 1 3/4 inch cowboy heel, these boots bring a smooth look on your feet and a confident proportion filled with cowgirl energy.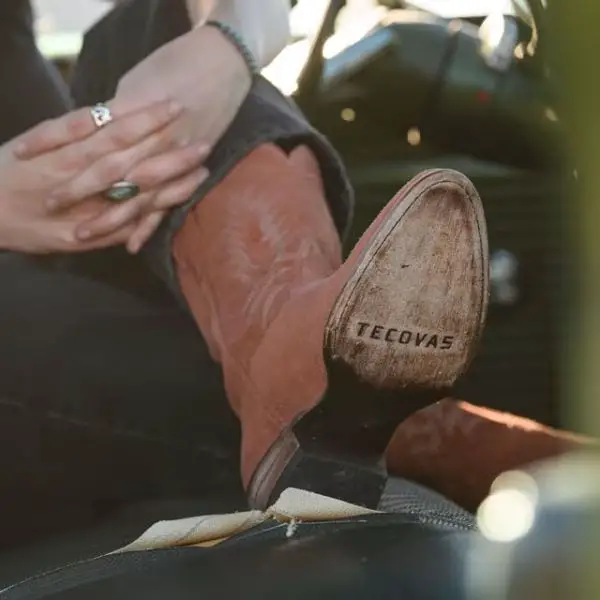 Adding to the beauty of The Josie's construction is the signature Tecovas stitching, which makes them unmistakable.
In addition to the great style, The Josie also possesses good water resistance thanks to the care of Tecovas. This is extremely important as the nature of suede is very afraid of water.
The Josie will be the perfect choice for both jeans, dresses or skirts. Their femininity and attractiveness are good to go with any glamorous outfit.
3. The Daisy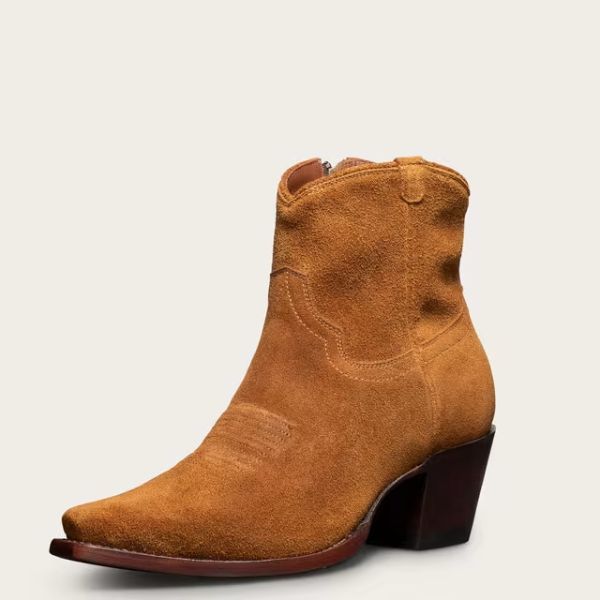 If I had to choose the best pair of suede cowboy boots to wear with a dress, The Daisy boots by Tecovas would be the number 1 choice.
Possessing a lovely appearance, you will fall in love with these boots at first sight. Their seductive curves on the vamp and the leather sole are highly attractive.
Next, the most important part that we care about, is the suede surface with classic colors bringing a romantic and soft style. I love this look!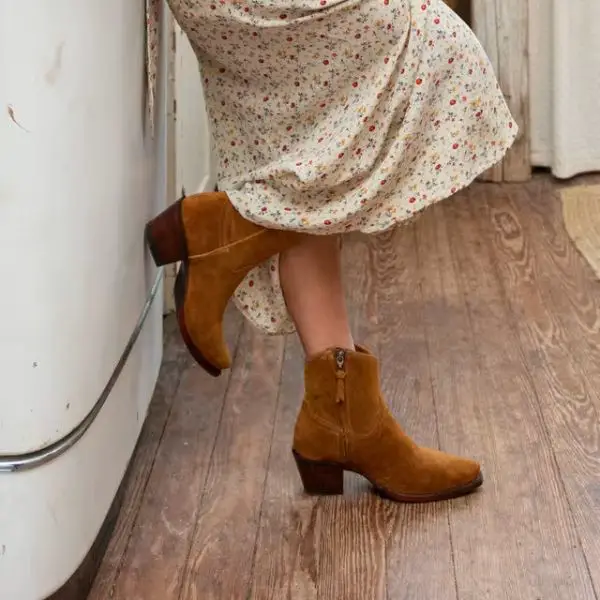 The heel height is 2 1/2 inches, which is sure to be a big win in terms of aesthetics when combined with the snip toe shape. This makes your feet appear slimmer and more elegant. You will also look tall like a muse. Are you ready to be a true muse?
Unlike the boots above, The Daisy has additional zippers to help you easily pull on / take off. But this doesn't give The Daisy boots a rough look because the zippers are delicately designed with leather fringe gently attached. Such a great detail!
Overall, in terms of style, I really like these boots, but the only downside is that the heels are too high. making it difficult to wear them for all-day walking.
What do you think about The Daisy boots?
4. The Annie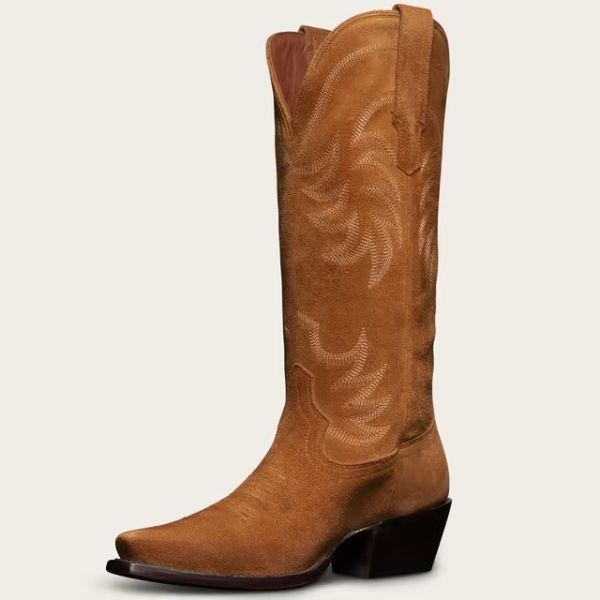 The Annie Boots is a gift for those with wide calves as they have a fairly wide boot opening.
As for the style, The Annie guarantees the wearer a western look as these boots are really tall (14 inches) so almost everyone's eyes are on your boots!
In addition, the 2-inch high heel construction and snip toe also help your legs look slimmer and longer. These cowboy boots are more gorgeous with a seductively lightweight suede surface embellished with signature Tecovas stitching!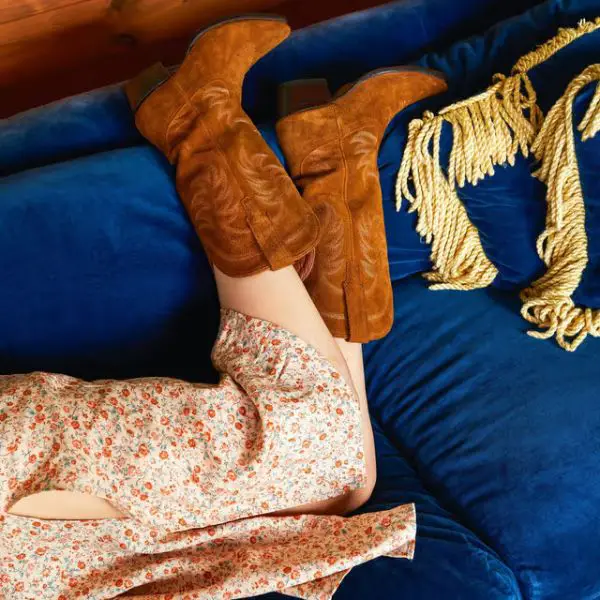 All of that, combined with the slim and impressively curved leather sole, creates timeless beauty.
Besides the appearance, these boots are also designed with good water resistance and deep scallop to ensure you stay comfortable all day long despite rain or snow.
The Annie boots look great with dresses or a pair of skinny jeans. Try it out!
Conclusion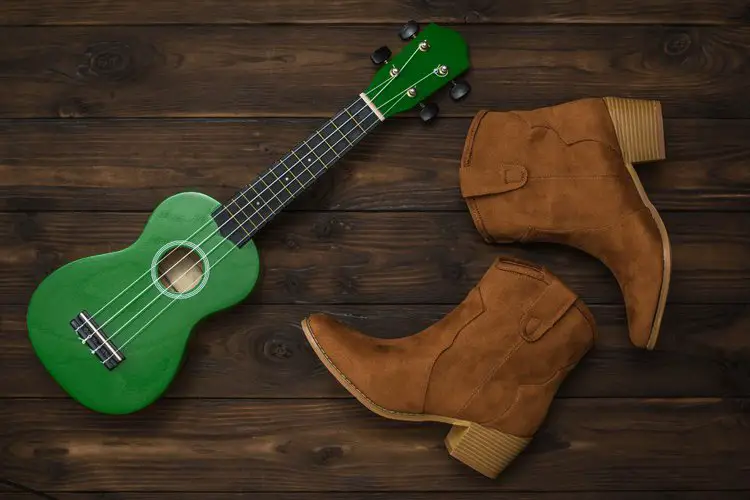 Suede cowboy boots always possess a quality look with softness and gentleness, and often bring many timeless classic shades.
For men, it's a classic from color, for women, it's impressive softness.
Cowboy boots made of suede are a fashionable accessory that can satisfy you both in look and feel.
Suede cowboy boots are not only great in appearance, but they are also very durable over time with good resistance.
This is definitely a good investment!