Cowboy boots always make you look so chic and high-fashion. But they are not monotonous or boring, you will have hundreds of choices from materials, decorations, colors to … the height of the boots.
These boots have a bold and distinctive appearance with the iconic V-collar slit along with pull holes or pull straps.
Regardless of the material and the heel's shape, boots with the V-collar symbol are still known as cowboy/cowgirl boots.
We've talked about the material of the boots in the previous post.
Now, let's dive deeper into the height of the boots and see how many cowboy boots you should buy with different heights (Just kidding!).
I mean what height should you own to best suit your intended use?
Traditional cowboy boots are usually 11-14 inches tall. Some lines are up to 16 inches.
But over time, with the changing needs and purposes of use, the appearance of ankle cowboy boots and mid-calf cowboy boots is understandable.
Low-height boots often have a greatly minimal construction without pull straps or pull holes since these accessories seem to be useless at all.
Meanwhile, tall cowboy boots tend to possess the full construction like traditional versions.
What are short cowboy boots?
Short cowboy boots are a type of cowboy boots that come with the lowest height falling around the ankle (or a little bit higher).
There are other options in the middle like mid-calf boots that are about 1-1.5 inches taller.
Not many men prefer this kind of boots due to their feminine and effeminate look.
So we often see lots of women wearing these lovely boots. Sometimes, people call them cowgirl boots.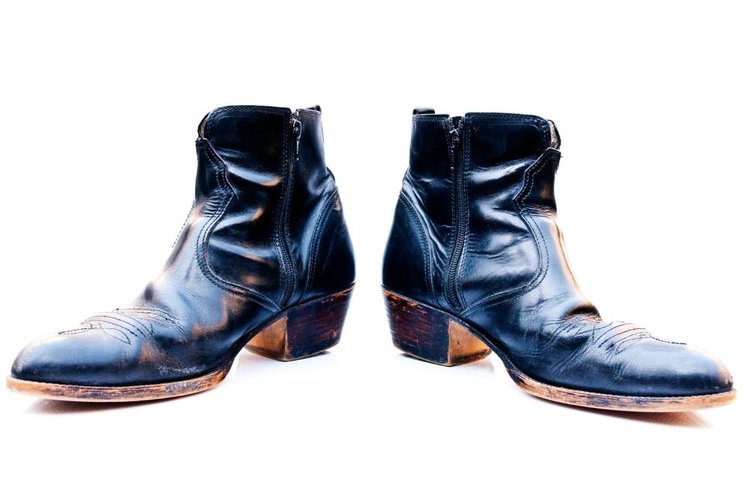 The structure of short cowboy boots is relatively simple and minimal.
It can also come with a side zipper to tighten the ankle gaps better as well as gives an easier on-and-off process, instead of pull straps or pull holes.
This makes these boots more convenient and fits better while wearing.
You can find lots of materials that build up these boots, ranging from suede, leather, or nubuck.
However, there will be a limit of decorations on the surface since marvelous embroidery tends to stay mostly on the shaft.
These short cowboy boots make you feel very active, easy to wear, and suitable for all seasons of the year.
If you're going to wear them in hot weather, you can pair them with thin, silky, and breathable socks.
If you use them in winter or cold weather, doubling the socks can be a great option.
Besides, short cowboy boots are the best pairing with open-leg pants/jeans rather than tall cowboy boots.
What are tall cowboy boots?
Tall classic cowboy boots usually have a shaft height of 11-14 inches, even some boots are up to 16 inches high called Buckaroo boots.
What is obvious to the eye with these high-collar boots are the colorful embellishments along with pull straps or pull holes that stand out.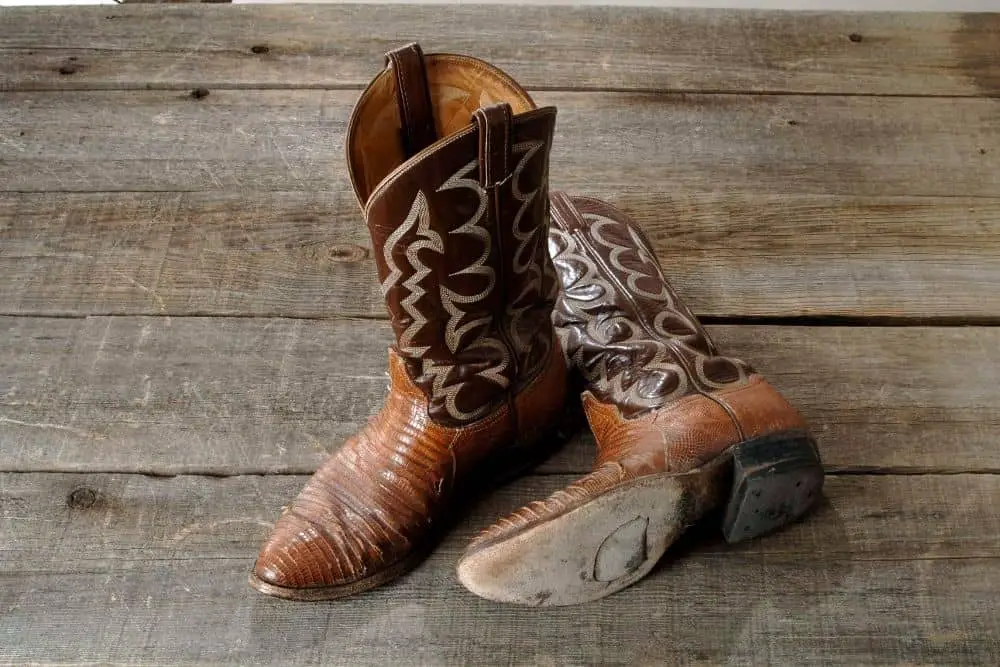 The main function of these accessories is to act as grips to pull the boots up more easily while being on the on-and-off process.
You imagine that the taller the height of the boots, the more difficult and time-consuming you get pulled up.
So, these pulling accessories are very thoughtful and useful features as well as a nice decoration to make up the footwear.
Usually, high-collar cowboy boots will cost more than low shaft boots. This is mainly due to 2 reasons.
One is because tall cowboy boots need a large amount of leather used to build the boots, requiring more production cost.
Another reason is that the decoration on the shaft of the tall cowboy boots is more emphasized, well-detailed, and sophisticated, making the footwear rather pricey.
Tall cowboy boots are more suitable for autumn, winter, and snow than for summer use.
Because even if you wear very thin and well-ventilated socks inside, the heat inside the footwear in the summer will still constantly increase and make you indeed hot, uncomfortable, and upset.
Tall vs short cowboy boots
Above, we have briefly given some information about what these tall and short boots are called.
Now, let's get to know their differences more clearly and visually with the comparison table.
Structure
Tall and short cowboy boots are 70% similar in structure, especially the heel, sole, and toe parts, and definitely, the biggest difference is in the height of the boot shaft.
Tall cowboy boots appear visibly with a long shaft along with pull holes or pull straps.
This can expand up to 16 inches. Meanwhile, short cowboy boots tend to have the shaft height around the ankle or a little bit over at the mid-calf.
Tall cowboy boots tend to extend upwards while short cowboy boots are generally more stable around the ankle.
Many people wear tall cowboy boots for working at construction sites or somewhere that proposes real dangers of heat or sparks.
This is due to a tall shaft that gives more protection of heat and electricity transmission over the legs, making the wearer safer.
However, tall boots often force you to decide whether to tuck them inside or to leave them over the pants. This is kind of a headache sometimes.
Short cowboy boots are rather suitable for working indoors with a lot of movement.
The flexible structure will not make you feel uncomfortable or entangled while running or walking.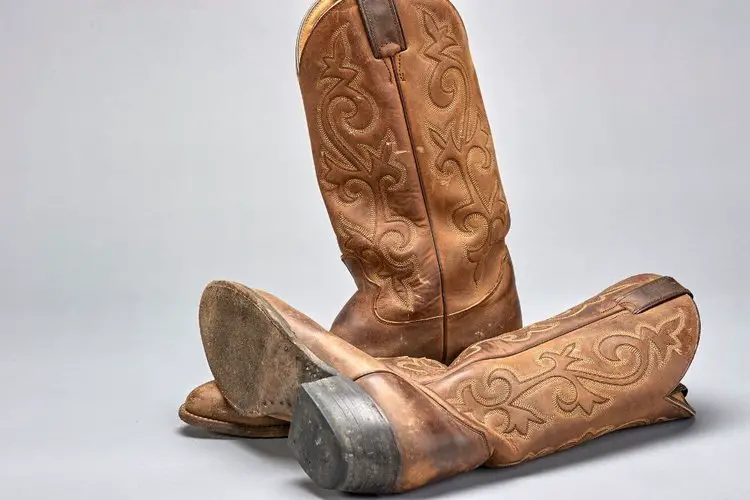 Safety/Protection
This is obvious, tall cowboy boots with a height shaft seem to be more protective over external objects that may splash on your ankles and legs.
This is very helpful if you are working around fires or electricity sparks.
Besides, full-grain leather is also good at heat resistance to a certain extent.
As a result, the chances that your ankles and legs will get burned when wearing tall cowboy boots are greatly reduced.
When you are entering horse riding, farming or ranching, tall leather cowboy boots will give your legs better protection over dense and thorny bushes, sharp cliffs, and thick vegetation.
In terms of toe and heel safety, both tall and short cowboy boots are capable of providing the same level of effectiveness.
Some cowboy work boots are equipped with steel toes or composite toes for better protection during work.
A square-off or block heel will provide a better level of grip and traction than a tempered or underslung heel. This is also suitable for people who have to walk or run frequently on footwear.
Comfortability
Well, the comfort of wearing a pair of footwear is determined by two factors, including emotionality and rationality.
Speaking of rationality, a cowboy boot that is capable of providing comfort to the wearer depends largely on its foot, arch, and ankle support.
And this is necessary with both tall and short cowboy boots.
Both types can provide good cushioning, proper shank, and comfortable toes but the relatively heavier weight of tall cowboy boots may increase the risk of rapid foot fatigue while wearing better than the short type.
In addition, the easier movement around the ankle when wearing short cowboy boots also makes the wearer spend less effort during operations.
However, tall cowboy boots have the ability to hold up better when the boot body embraces the legs tighter. This will reduce the risk of twisting or slipping your boots while running or climbing.
Besides, short cowboy boots tend to be technically more comfortable in hot conditions. Therefore, they are a great choice for summertime.
Tall cowboy boots, on the other hand, will keep you warm better in winter.
Emotionally, many people are fans of tall cowboy boots (or short cowboy boots). They wear them every time, everywhere all the way.
This also makes them always find ways to overcome the disadvantages of wearing this type of boots in all situations.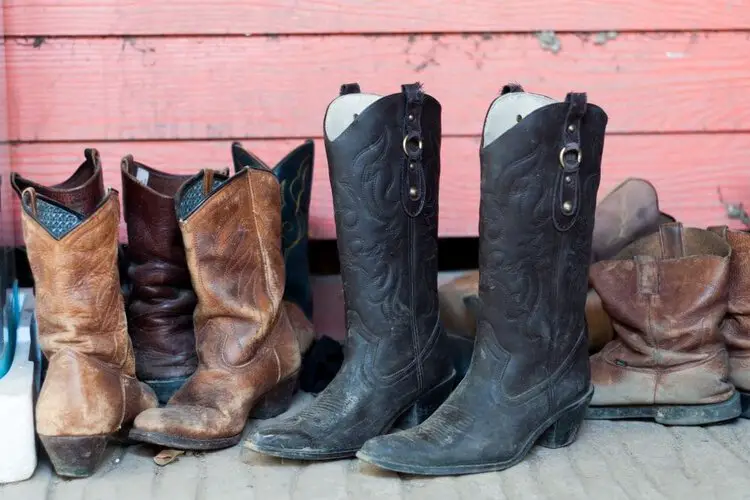 Usage
Both tall and short cowboy boots are useful in some ways.
If you plan to use cowboy boots as work boots for jobs on the construction sites then you should choose tall cowboy boots with rounded toes or a wide square.
The rounded toe section will create more roomy boxes to make your feet feel more relaxing and comfortable.
Besides, obviously tall cowboy boots are better protective options for working around heat and fire surfaces. Especially when they can protect your leg up to 16 inches from heel to calf.
If you need a pair of breathable and more convenient boots for a lot of movement indoors (and little outdoors), short cowboy boots are highly recommended.
Tall leather cowboy boots with a regular square or broad square toe will make your feet appear longer, creating a slimmer and more beautiful gait. So, they are suitable for weddings, outings, shows, or even working at the office.
Suede short cowboy boots are a perfect casual option for wearing at the office.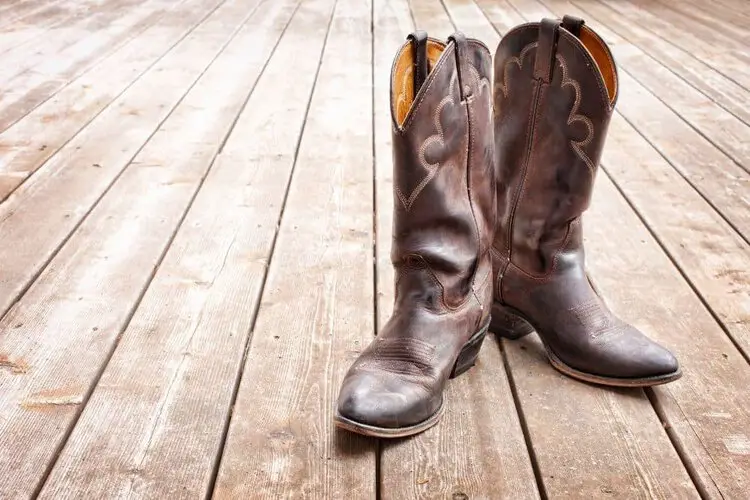 Durability/Maintenance
This feature is largely determined by the materials that make the boots and how often you wear and maintain tall or short cowboy boots.
In general, both types can give equal longevity and durability.
If you wear tall full-grain leather cowboy boots to work on the construction site with heavy abuse often, the chances of them wearing out and tearing will also be very high, even higher when compared to wearing suede ankle cowboy boots for working in normal office conditions.
But one thing to keep in mind is that, the more used leather area, the more maintenance is required to ensure the longevity and the durability of the boots as long as possible.
Therefore, tall cowboy boots need to pay more attention to care for the leather greater than short cowboy boots to increase durability.
Besides, leather is the most durable material that is able to withstand heavy-abused conditions very well.
It is almost water-resistant and heat resistant to survive on harsh working surfaces to both give good protection as well as last longer over the times.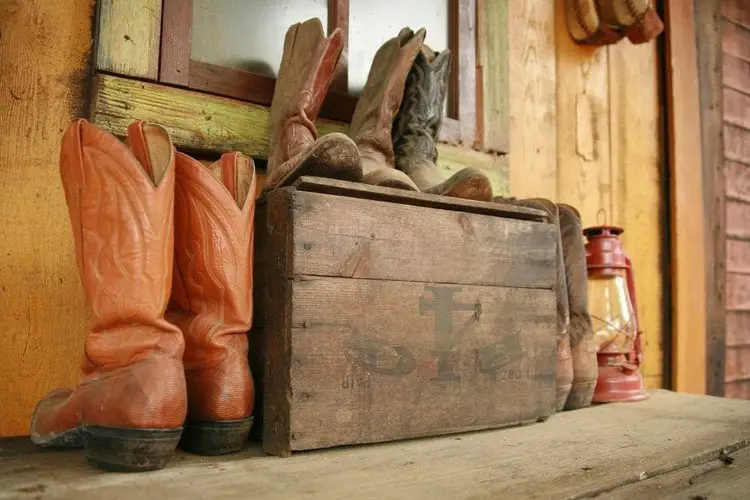 Flexibility/ Convenience
From my experience, I give short cowboy boots 1 point for this feature. First of all, the short type tends to be wearable in all seasons as well as weather.
They come in at ankle height or slightly a little higher, providing better comfort and convenience when needed to move around your ankle, especially when you're climbing or jumping.
Short boots are also easy to clean or even wash when needed. Less leather area used allows for less costly and time-consuming maintenance.
Besides, ankle cowboy boots are also less stitching, and you will spend less time cleaning them than tall cowboy boots.
The only downside is that ankle cowboy boots are often less able to hold up the legs than 11-16 inches boots.
To overcome this, you can choose boots that are mid-calf height or slightly above the ankle with the top not too wide ankle gaps.
Many short cowboy boots also have a side zipper, which is seen as an exotic feature but is really useful when you need to quickly get your boots on and move.
On the contrary, you will barely find this zipper on tall cowboy boots.
Tall cowboy boots with pull holes will sometimes allow raindrops or moisture to penetrate inside. This can lead to the risk of feet getting wet or damp insoles.
Even with pulling accessories, tall boots quite often give some trouble for doing a fast on-and-off process.
Not to mention, on long trips, you can easily put short cowboy boots in your suitcase without taking up too much space.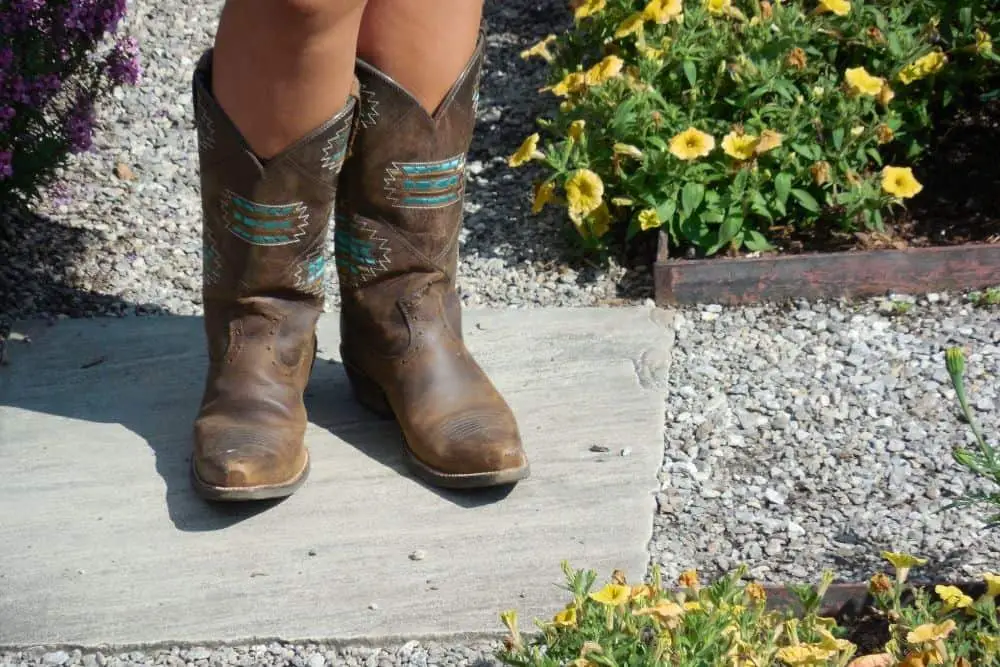 Fashion
Guess what we will discuss in this part. This is about how short and tall cowboy boots get their astonishing decoration on their shaft.
In this regard, tall cowboy boots seem to be more advantageous over the short type. Decorations, embroidery, and paintings stay mostly on the shaft.
So you know you get more room to make up the boots with the wider and higher shaft.
Tall boots give enough space to display the V-neck detail which represents the cowboy boot's symbol.
Many types of pants (jeans, cargo, dress pants or khaki/chinos pants) can go with tall boots that either are tucked under the pants (formal) or leave over the pants (casual and outings).
But I don't mean to say short cowboy boots have no decorations at all.
You definitely can find thousands of creative and mesmerizing decorative patterns on short boots. Yet, their looks are just not as diversified and the tall type.
So, the crown often goes to the tall cowboy boots.
However, short cowboy boots won't require tucking pants or out in the boots at all. Just let them be the way they are.
Suede, nubuck, and fabrics are less likely to give versatile embroidery or sewing.
Meanwhile, leather possessing natural patterns itself is already a great artwork, even without additional decorations.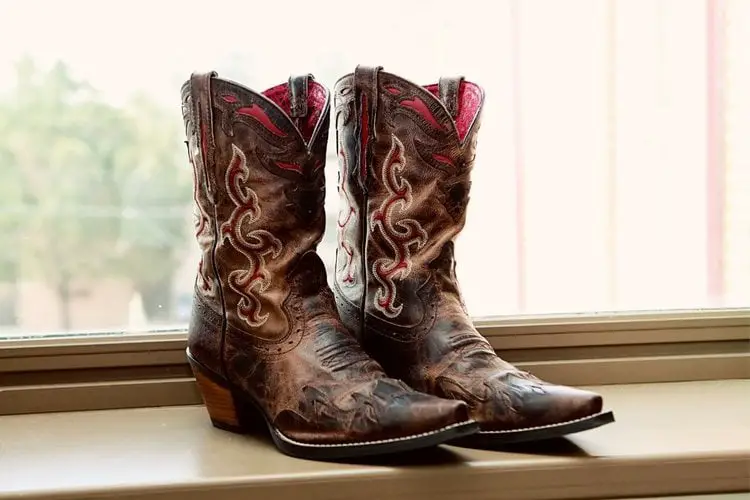 Price
The price of a pair of cowboy boots depends a lot on the quality of the leather, the type of leather, the special features, and the handcrafted level of the trim on the shaft.
If comparing the two types with the same condition in terms of these criteria, tall boots are likely to have a higher price.
Usually, the high shaft also consumes larger amounts of leather and attached accessories such as pull straps/holes or shaft belts.
Suede and nubuck boots tend to be less pricey than genuine leather as their longevity is shorter and they are hard to clean and maintain properly.
Comparison Table
Now, we come up with the visual comparison table between short and tall cowboy boots on all features we have stated above.
| | | |
| --- | --- | --- |
| Features | Short cowboy boots | Tall cowboy boots |
| Structure | Minimal, low-shaft, | Sophisticated, high-shaft, |
| Safety/Protection | Less protective | More protective |
| Comfortability | More breathable | Hold up better |
| Usage | Wear in all season but not recommend for heavy-abused usage | Recommend wearing in cool and cold weather, good for heavy-abused usage |
| Durability/Maintenance | Require easy and quicker maintenance | Require time-consuming and complicated maintenance |
| Flexibility/ Convenience | More convenient and flexible | Less convenient and flexible |
| Fashion | Give less rooms for decoration, need to adjust to tuck the pants under the boots or leaving over the boots | Give more rooms for decorations, no need to adjust where to put the pants |
| Price | Less pricey | More pricey |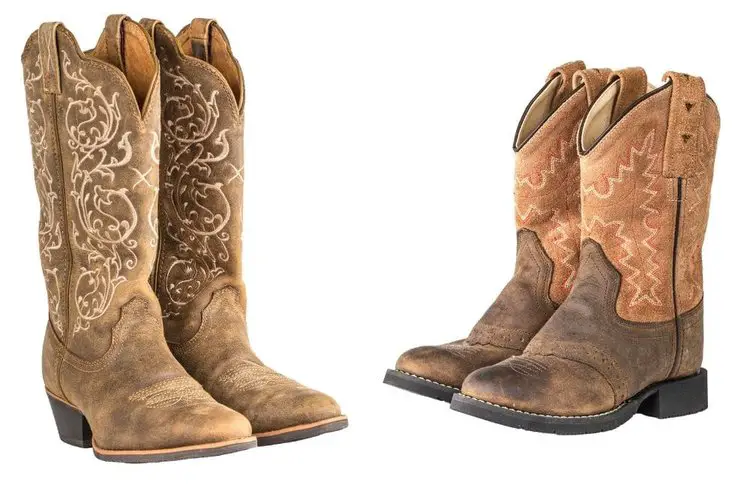 Wrapping it up
Regardless of the short or tall cowboy boots, you are allowing yourself to be immersed in the world of the most stylish, wide & free American-styled boots.
The creativity in decorating cowboy boots is limitless, even if you only have a small amount of space on the short shaft to do it.
In addition, tall cowboy boots will be a better choice to wear for jobs that require more protection for ankles and legs such as construction sites, fishing, or motorcycling.
Meanwhile, short cowboy boots will provide more convenience, fast on-and-off, and flexibility for constantly running, climbing, and walking.
Howdy y'all, and welcome to From The Guest Room, your ultimate guide to all things Western! I'm Jay Gatz, a lifelong cowboy boot enthusiast with over 5 years of experience in the Western style world. I'm excited to share my knowledge with you and help you discover the perfect cowboy boots and western gear to elevate your style. Let's explore the rich history and timeless appeal of Western fashion together!