As the leaves begin to change and the air turns crisp, there's a timeless fashion staple that seamlessly transitions with the season—cowboy boots.
While these iconic boots have a year-round appeal, there's something particularly enchanting about donning them in the midst of fall.
In this article, we'll explore why cowboy boots shine during this season and how they effortlessly complement a wide range of fall outfits.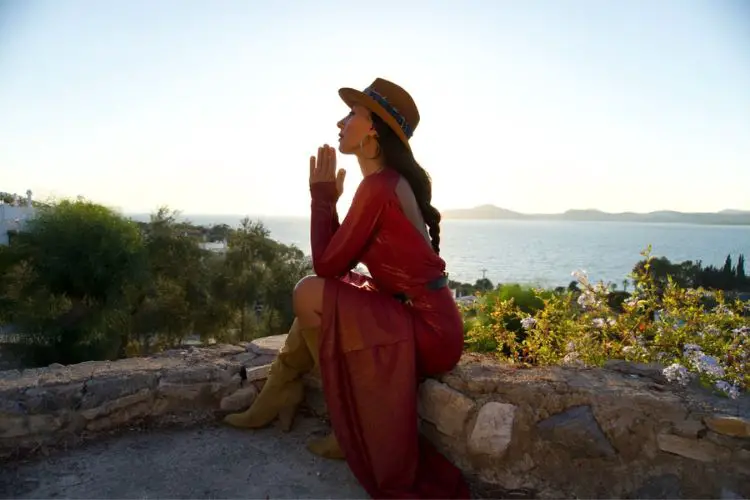 The allure of cowboy boots in the fall is undeniable. Their rugged charm and durability make them ideal companions for the changing weather.
Whether you're heading to a pumpkin patch, attending a bonfire, or simply strolling through colorful foliage, cowboy boots offer both style and practicality.
In the pages that follow, we'll delve deeper into the reasons why cowboy boots reign supreme in fall and provide you with a wealth of outfit ideas that showcase just how easy it is to incorporate these boots into your Autumn wardrobe.
So, step into the world of fall fashion with cowboy boots and discover the endless possibilities they bring to your seasonal style.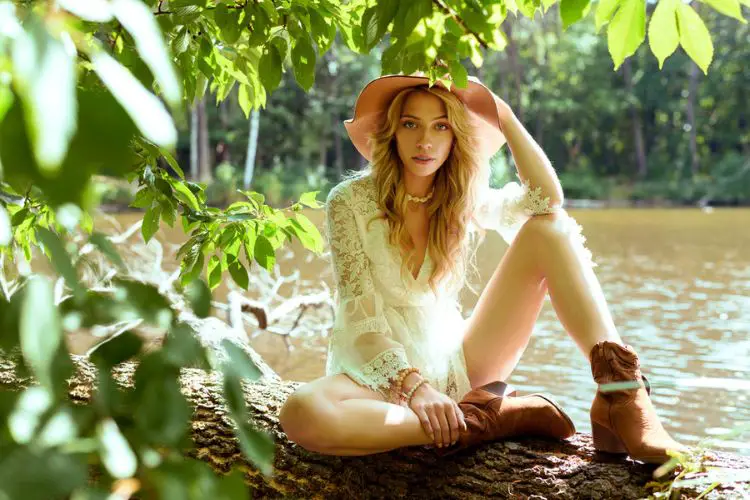 Why Cowboy Boots Are Your Fall Style Secret Weapon
Picture yourself strolling down the tree-lined streets on a crisp fall day. The leaves are swirling around, and there's a hint of romance in the air.
What could make this moment even more perfect? Your trusty cowboy boots. With their high shaft and rugged build, these boots were practically made for fall.
They keep your feet warm and comfy without overheating, ensuring you're ready for anything the season throws your way.
Cowboy boots aren't just a one-trick pony. They're the chameleons of your shoe collection, effortlessly adapting to any outfit.
Whether you're in the mood for classic jeans and flannel, a bohemian dress, or something urban and chic, cowboy boots slide right into your ensemble.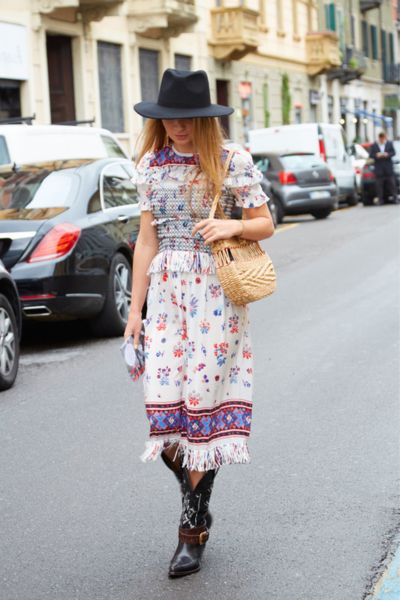 They're the versatile partners you've been looking for to navigate the ever-changing fall fashion landscape.
Fall is all about cozying up with loved ones and embracing the romance in the air. And what's more romantic than slipping into a pair of cowboy boots?
With intricate stitching, unique patterns, and a variety of leather options, you can choose a pair that's as unique as you are. It's like wearing your heart on your feet.
1. Cowboy Boots with Dresses or Skirts: The First Choice
Imagine walking through a park on a cool, fall day. The leaves rustle beneath your boots, and the air carries a hint of wood smoke.
Your dress or skirt gently brushes against your legs, creating an autumn embrace that keeps you feeling toasty while you revel in the season's romance.
Cowboy boots complete this enchanting ensemble, providing the perfect balance of style and comfort.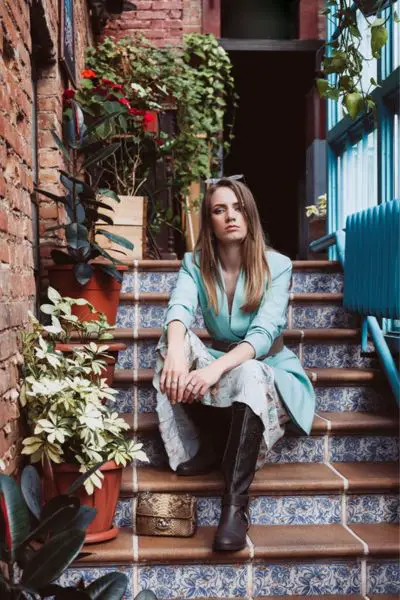 As autumn unfolds its tapestry of colors, there's a desire to stay warm while still basking in the season's beauty.
Dresses and skirts paired with cowboy boots offer a unique solution. The secret lies in the garments themselves.
Dresses often come with cozy fabrics and layered designs that keep you snug on those chilly days.
And when you slip into a skirt, you're wrapping yourself in warmth, making it the perfect companion for breezy fall adventures.
Maxi, Midi, Boho and Beyond:
Fall fashion is all about striking that balance between style and comfort. Maxi dresses with their flowing silhouettes and boho flair, or the midi dresses with their versatility, are like canvases for your autumn style masterpiece.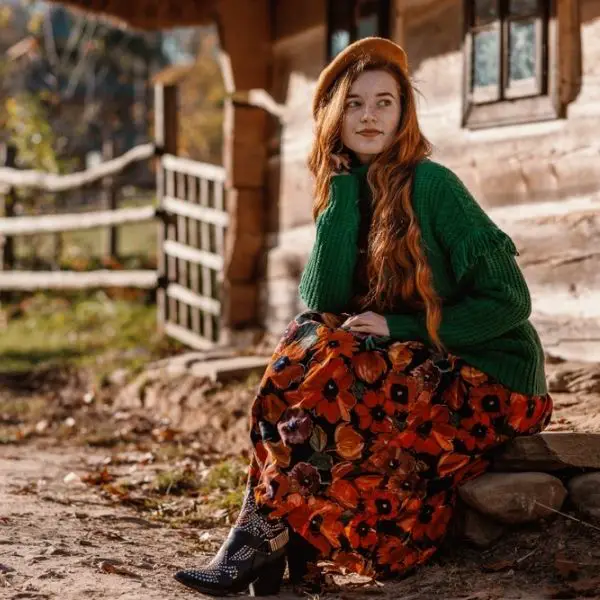 They effortlessly capture the essence of the season while providing the perfect canvas for showcasing your cowboy boots. It's a fusion of elegance and practicality that defines fall fashion.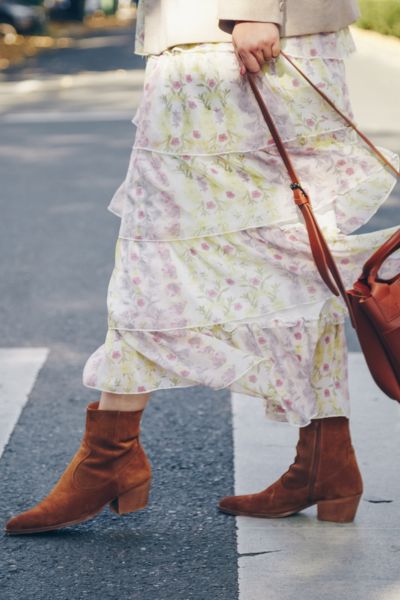 As you gracefully glide through the golden-hued parks and streets adorned with fallen leaves, you'll find that maxi and midi dresses with cowboy boots offer the perfect blend of classic femininity and cozy practicality.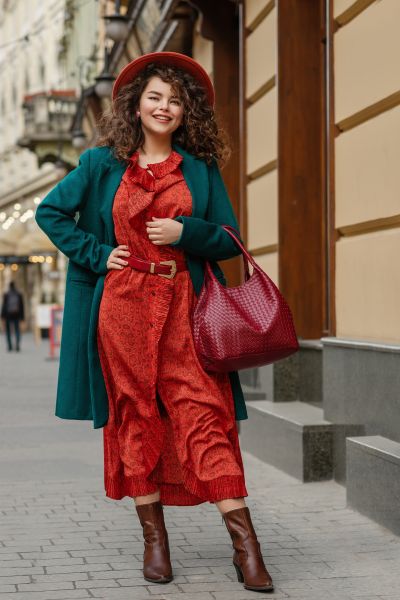 These dresses not only keep you warm with their longer lengths but also enhance your style with their timeless charm.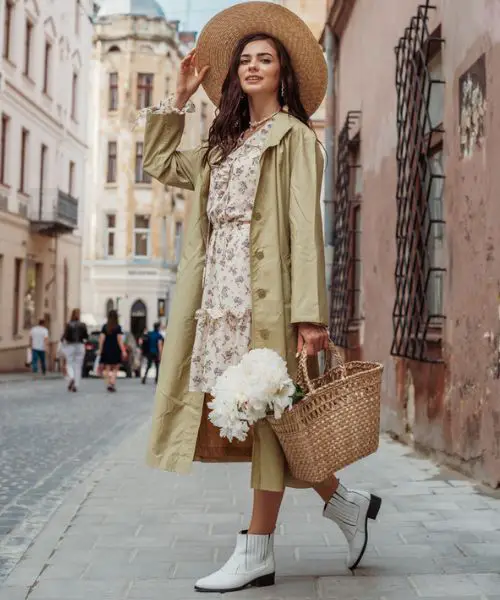 Cowboy boots, the rugged-yet-stylish accomplices, complete the look, allowing you to navigate cozy fall days with grace and flair.
The midi skirt, with its graceful hemline, offers just the right amount of coverage for the season.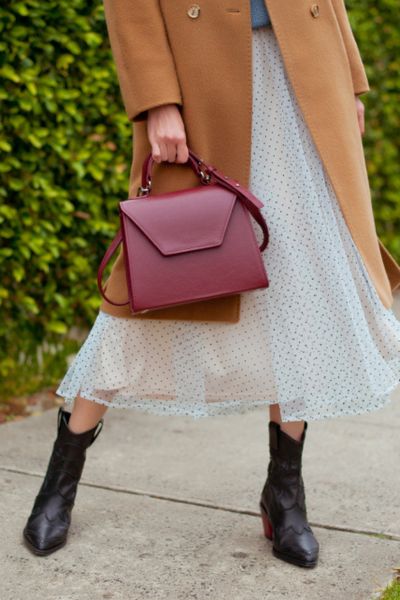 Paired with ankle cowboy boots, it's a harmonious blend of style and practicality, creating a visual masterpiece that resonates with the spirit of autumn.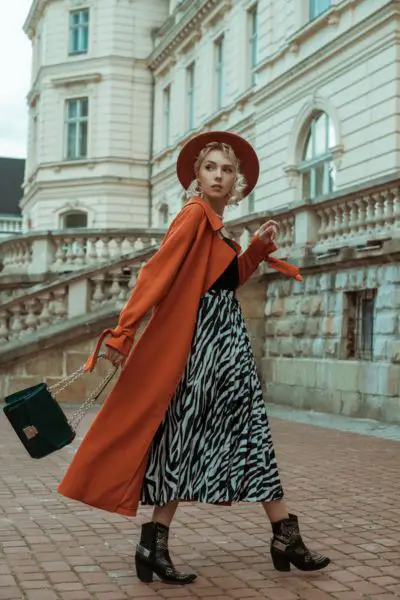 As you make your way through the seasonal transitions, the midi skirt flows with you, capturing the essence of fall's gentle sway.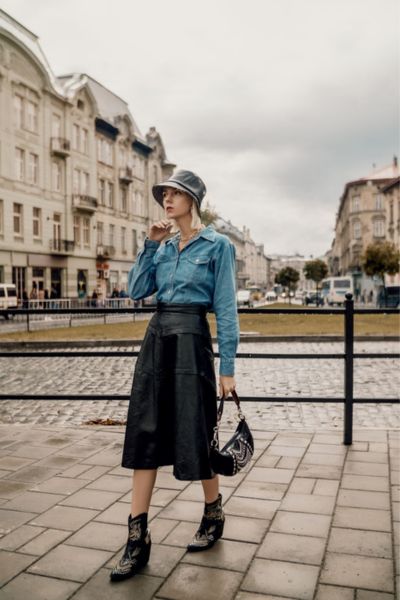 The ankle cowboy boots, standing tall yet unobtrusive, provide the support and warmth you need.
Together, they create an outfit that effortlessly navigates the shifting temperatures while exuding elegance at every step.
For those fall days when the weather is not too cold but still carries a hint of crispness, the 2-strap dress is your answer to effortless style. This delicate yet chic choice embraces the season with open arms.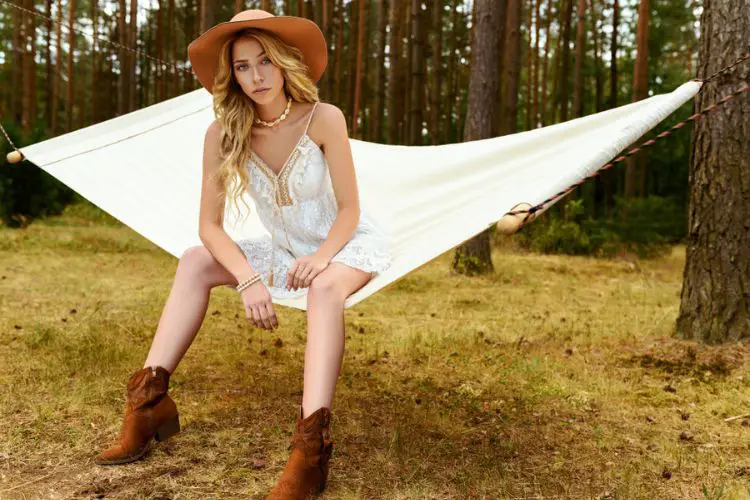 Its minimalistic design allows you to embrace the beauty of fall without feeling overly bundled up. When paired with a pair of suede boots, it's a pairing that balances comfort and sophistication.
2. Embracing Casual Fall Vibes with Jeans and Cowboy Boots
When it comes to casual fall wear, jeans are the true champions of versatility.
Whether you're planning a spontaneous hike through the woods, a cozy bonfire with friends, or simply a leisurely walk through the park, jeans seamlessly adapt to any occasion.
Their adaptability is a testament to their enduring popularity in fall fashion.
As the temperature starts to drop, comfort becomes paramount. Jeans, crafted from durable denim, provide a reliable shield against the chill.
They offer that perfect balance between warmth and breathability, making them an ideal choice for those cool, crisp fall days.
The cozy embrace of jeans keeps you feeling snug without stifling you, ensuring you stay comfortable throughout your seasonal adventures.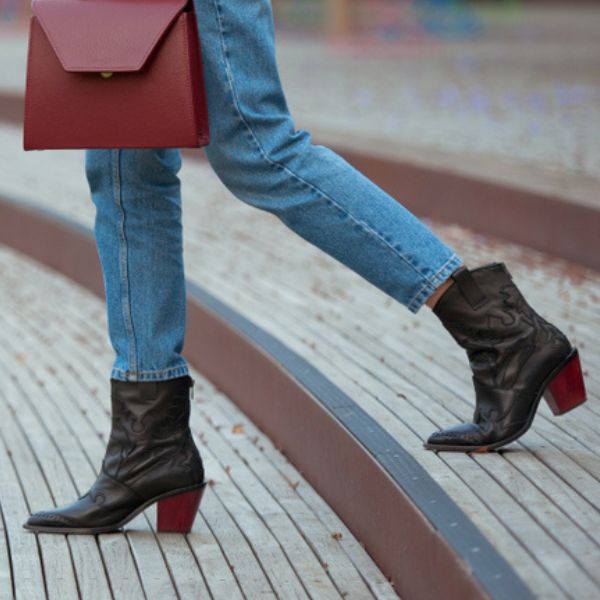 Jeans are the canvas upon which you can paint your personal style.
Whether you prefer the classic look of straight-cut jeans, the tailored appearance of slim-fit jeans, or the contemporary edge of skinny jeans, there's a denim style that resonates with your fashion sensibilities.
This adaptability extends to color choices as well, allowing you to embrace the fall color palette with ease.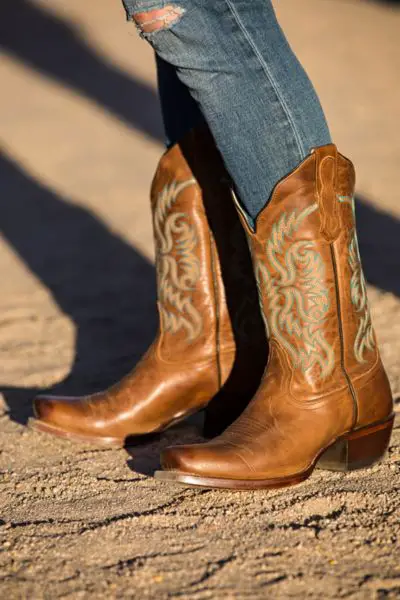 Jeans have stood the test of time in the fashion world. They are not merely a trend but a timeless symbol of casual comfort and style.
In fall, when the landscape transforms into a tapestry of warm hues, jeans seamlessly blend into the natural surroundings. Their earthy tones and rugged durability mirror the beauty of the season.
For those who want to infuse a touch of Western charm into their fall attire, jeans are the ideal companions for cowboy boots.
This pairing effortlessly marries practicality and style, making it suitable for a wide range of fall activities.
Straight-Cut, Slim-Fit, and Skinny Jeans
In the realm of Fall fashion, the choice of jeans becomes pivotal, and straight-cut, slim-fit, or skinny jeans are your secret weapons.
These jeans are more than just practical; they're the embodiment of style and an enhancer of your silhouette.
As you slip into them, they hug your curves in all the right places, creating a sleek and flattering look that's perfect for the season.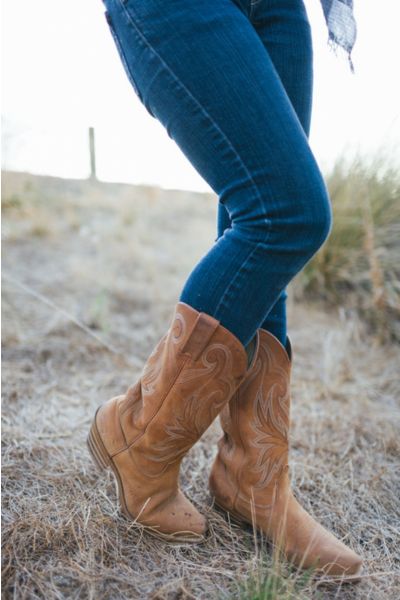 Straight-cut jeans are the epitome of classic style. Their timeless design makes them a versatile choice for fall. They provide a relaxed fit that's both comfortable and practical.
The straight silhouette of the jeans complements the boots' ruggedness, creating a look that's perfect for casual outings and outdoor adventures during the season.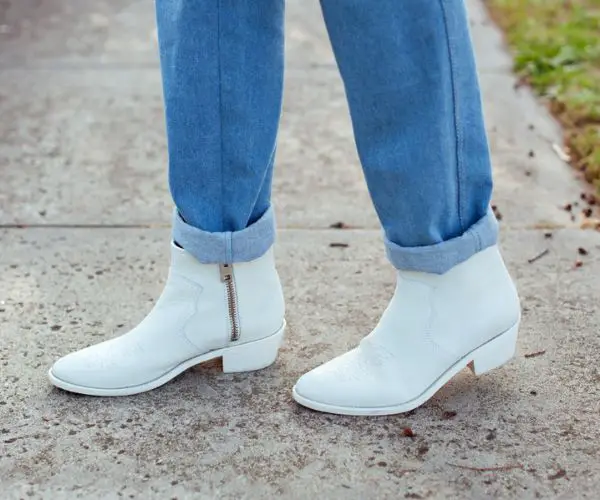 Slim-fit jeans offer a sleeker and more tailored appearance. They hug your legs without being overly tight, creating a refined silhouette.
The slim-fit jeans allow your boots to take center stage, showcasing their unique design and adding a touch of urban chic to your fall wardrobe.
This look is ideal for slightly dressier occasions during the season.
Skinny jeans offer a contemporary and edgy take on fall fashion. They fit snugly from waist to ankle, providing a streamlined and elongated look.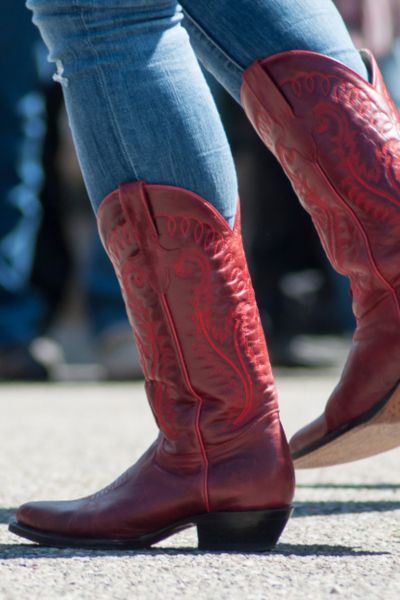 Pairing skinny jeans with cowboy boots creates a striking contrast between the sleekness of the jeans and the ruggedness of the boots.
This combination is perfect for those who want to make a bold fashion statement while embracing the Western lifestyle.
It's a fusion of urban chic and cowboy coolness that's sure to turn heads.
3. Unique Fall Look: Shorts and Cowboy Boots
Fall fashion doesn't always have to follow the traditional path. Shorts, when paired with cowboy boots, bring a breath of fresh air to your ensemble.
It's a daring and unconventional choice that adds a unique twist to your fall wardrobe, making a statement that says you're ready to embrace the unexpected.
While shorts exude a carefree vibe, fall's chill often calls for extra warmth. Enter accessories like scarves and blazers, the unsung heroes of this fashion equation.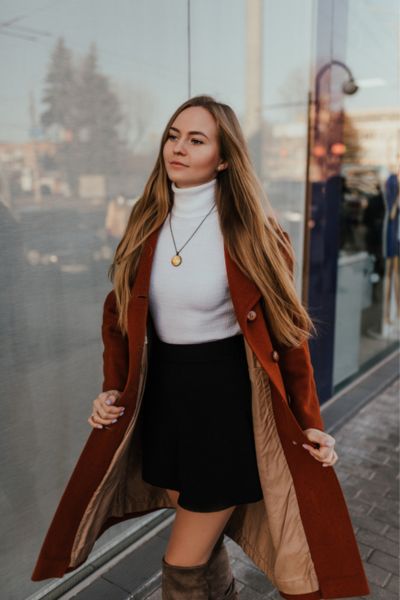 A well-chosen scarf not only keeps you cozy but also adds a pop of color or texture, enhancing your overall look.
A perfectly tailored blazer adds a touch of sophistication to your outfit, elevating the shorts and cowboy boots combo to a new level of style and practicality.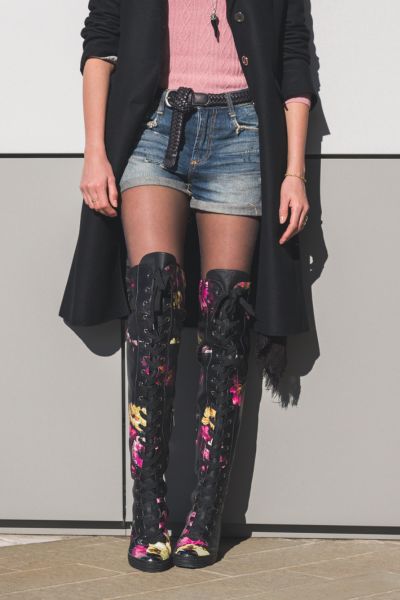 For those who crave a bit of drama and flair, over-the-knee cowboy boots are your ticket to fall fashion stardom.
These boots offer both warmth and leg-lengthening magic, taking your outfit from ordinary to extraordinary.
It's a bold choice that confidently embraces the season's challenges while making a fierce fashion statement.
4. Sweaters and Turtleneck: The Perfect Top Wear for Fall's Stylish Warmth
As fall unfolds its cool embrace, it signals the perfect time to welcome sweaters into your wardrobe. These knitted marvels are the embodiment of comfort and style.
With their plush textures and snug fits, sweaters become your go-to choice for top wear during the season.
They easily capture the feeling of fall, keeping you warm and adding a touch of elegance to your appearance.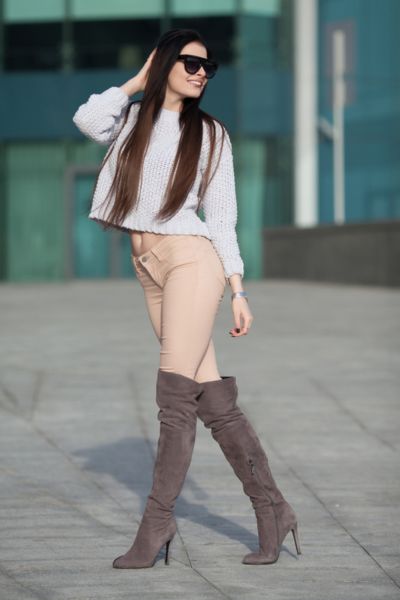 Sweaters offer more than just practicality; they're a statement of timeless chic.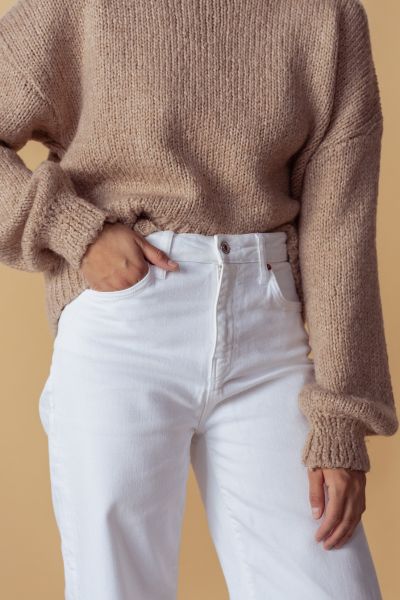 Whether you prefer the intricate patterns of cable-knit classics, the relaxed allure of oversized designs, or the sleek elegance of fitted styles, sweaters become a medium for expressing your unique fashion sensibilities.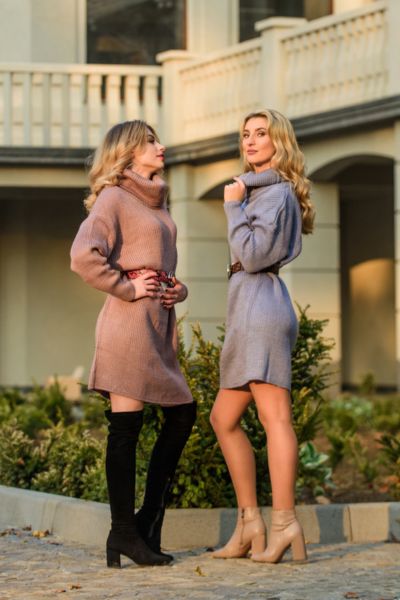 Paired with cowboy boots, they seamlessly blend rugged allure with casual sophistication, creating an ensemble that resonates with the season's spirit.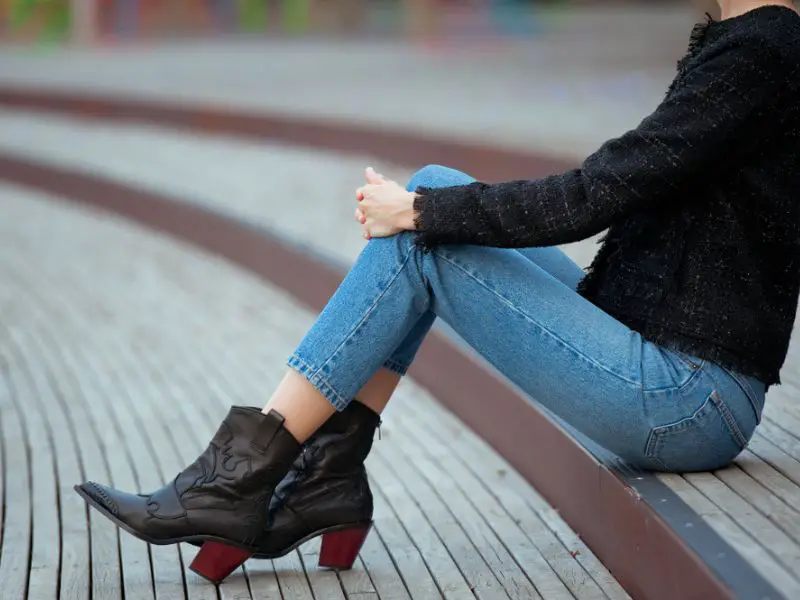 Turtleneck sweaters are like a warm hug from your wardrobe. They keep the chill at bay while allowing you to step out in style.
Whether you opt for a fitted turtleneck to accentuate your silhouette or choose an oversized one for that cozy, relaxed vibe, these sweaters are a versatile choice.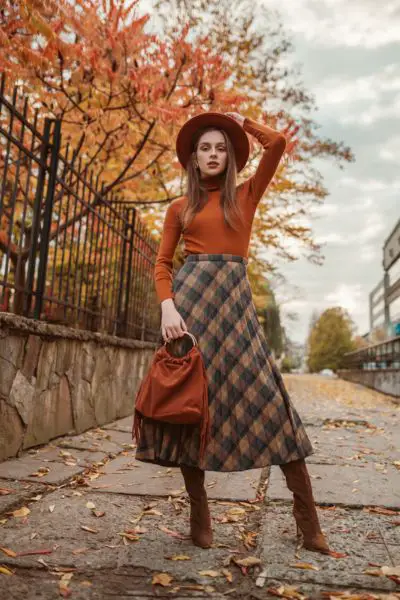 They effortlessly pair with jeans, skirts, or even layered under blazers or coats for added warmth and sophistication.
5. Mix and Match Mastery: Blazers or Light Coats
Fall fashion is all about flexibility, and the introduction of blazers or light coats into your wardrobe is like unlocking a treasure trove of style options.
These pieces serve as the cornerstone of mix-and-match fashion, allowing you to create a myriad of stylish looks for the season.
The beauty lies in their versatility, as they effortlessly transition from casual to semi-formal, offering a world of possibilities for your fall outfits.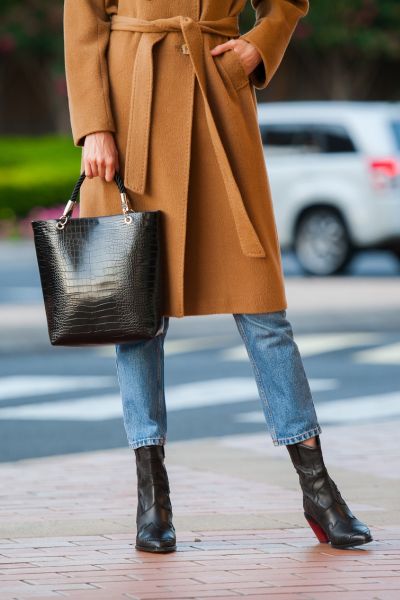 A well-fitted blazer instantly elevates your outfit. Pair it with a simple tee, jeans, and cowboy boots for an effortlessly chic look that's perfect for a casual day out.
The blazer's structured silhouette adds a touch of sophistication, while the jeans and cowboy boots keep the ensemble grounded in comfort and style.
It's a combination that seamlessly combines classic elegance with the rugged charm.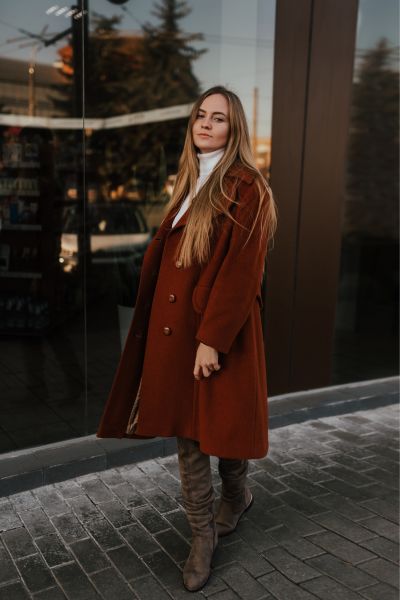 As the days grow cooler, a light coat becomes your trusted companion.
Whether it's a trench coat, a denim jacket, or a stylish parka, these outer layers not only provide essential warmth but also serve as statement pieces in your wardrobe.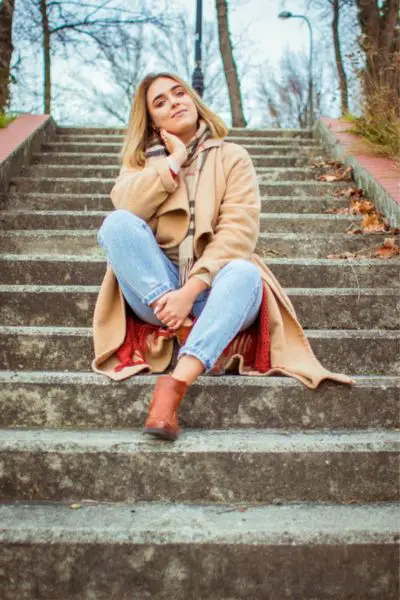 Draped over a maxi dress with cowboy boots or paired with slim-fit jeans and a sweater, light coats are the epitome of practical fashion.
They're the final touch that adds flair and functionality to your fall ensemble.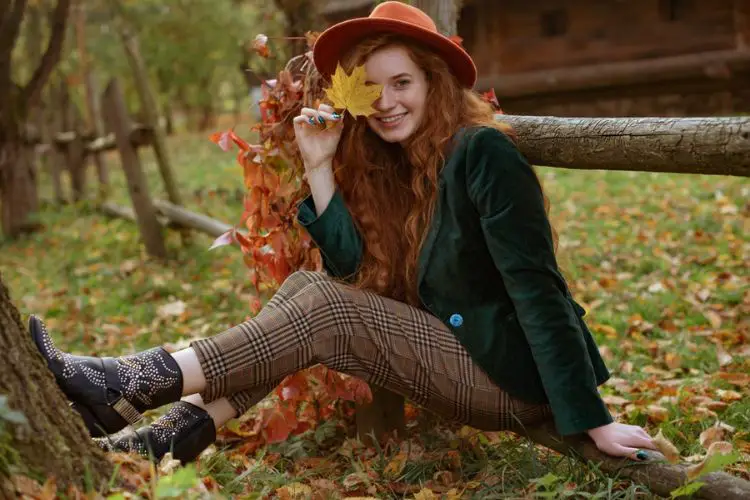 With blazers or light coats at your disposal, your wardrobe becomes a playground for creativity.
Whether you're layering for extra warmth, adding a dash of elegance, or making a fashion statement, these pieces empower you to mix and match with ease.
The result is a fall fashion repertoire that's as dynamic as the season itself.
6. Accessorizing for Fall Perfection: Completing Cowboy Boot Outfits
With scarves, hats, or berets as your trusted companions, your cowboy boot outfits for fall are elevated to a whole new level.
These accessories not only provide warmth and practicality but also allow you to express your unique style, creating a complete and memorable fashion statement.
When fall's chill settles in, scarves become your trusty allies. They wrap your neck in warmth while adding a splash of color or texture to your outfit.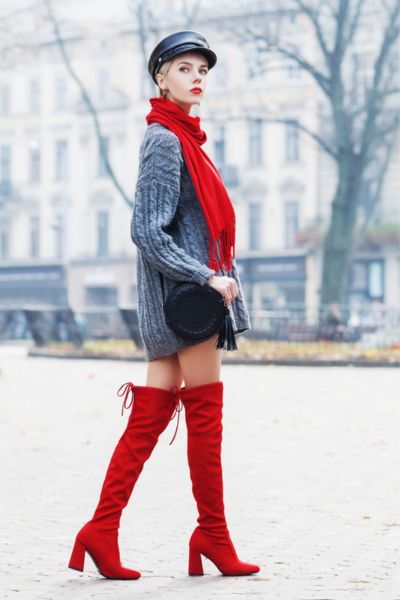 Whether it's a chunky knit scarf, a silky patterned one, or a classic woolen piece, scarves are the finishing touch that not only keeps you snug but also elevates your cowboy boot ensemble.
As you layer up with a scarf, you're not just staying cozy; you're making a fashion statement.
Cowboy boots deserve a partner in style, and hats are the perfect choice. A classic cowboy hat adds an undeniable Western flair to your outfit, creating a cohesive and adventurous look.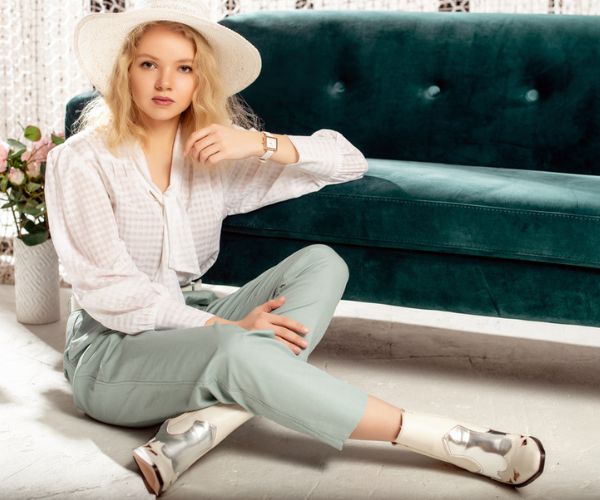 If you prefer a touch of vintage charm, a wide-brimmed felt hat is a timeless choice. Hats not only shield you from the elements but also complete your fall ensemble with a dash of rugged sophistication.
For those who adore the fusion of styles, berets are a delightful addition to your Fall fashion arsenal.
These French-inspired accessories bring a touch of Parisian chic to your cowboy boot outfit.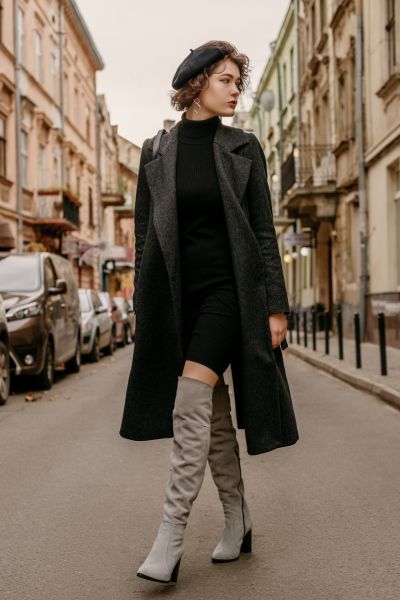 Whether you choose a classic black beret or opt for a vibrant color, it's a playful way to infuse your ensemble with personality and charm.
Berets are the whimsical finishing touch that transforms your look into a captivating fall fashion story.
Small bags are perfect for those fall days when you need to carry a bit more with you.
Whether it's a cozy blanket for a picnic, a book for leisurely reading, or just the everyday essentials, a small bag offers the room you need without sacrificing style.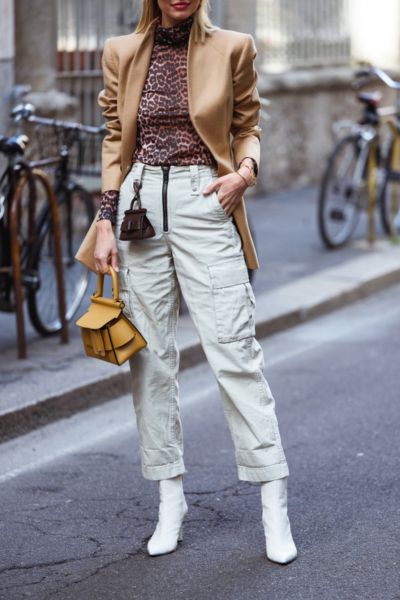 Opt for one in a rich hue, and you've got a functional fashion statement that completes your cowboy boot ensemble.
Crossbody bags are the epitome of hands-free chic. They keep your essentials close while allowing you to move with ease.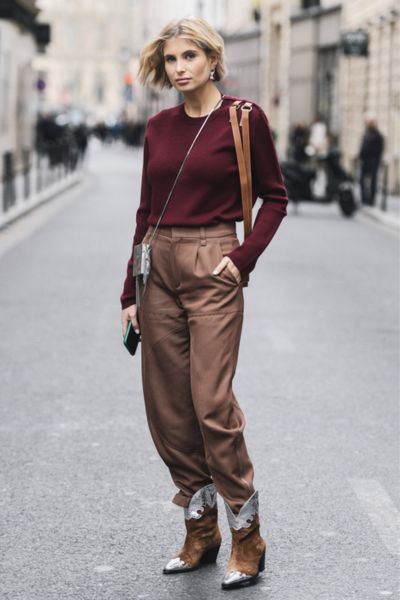 Whether you're exploring the city, strolling through the park, or embarking on a shopping spree in the fall, a crossbody bag is the perfect companion for your cowboy boots.
Choose one with unique details or textures to add a touch of personality to your look.
7. Consider Over-the-knee Cowboy Boots
Over-the-knee cowboy boots are the perfect transitional footwear as fall gives way to winter.
They bridge the gap between seasons seamlessly, allowing you to continue wearing your favorite cowboy boot style while gearing up for the colder months.
With their added coverage and warmth, they're a valuable addition to your fall and winter wardrobe.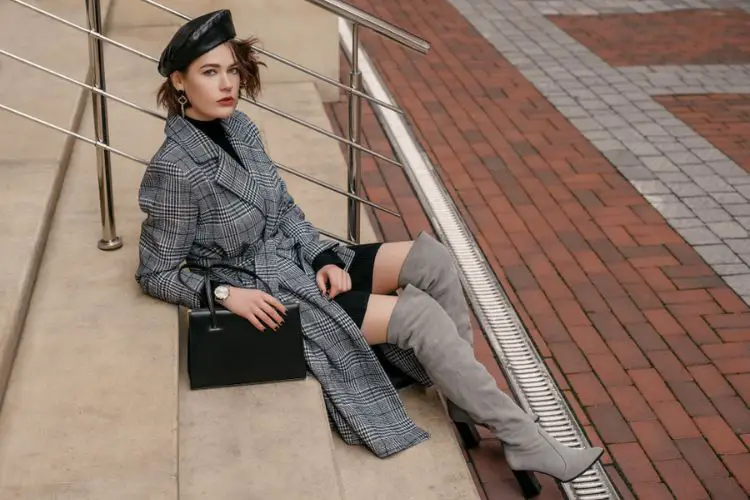 Whether you're aiming to make a bold fashion statement, stay warm and cozy, or simply prepare for the Winter season ahead, over-the-knee cowboy boots are the versatile and stylish choice to elevate your fall and winter fashion game.
These boots are not just an accessory; they're a fashion investment that keeps you looking fabulous and feeling comfortable throughout the changing seasons.
8. Exploring Your Wardrobe: Unleash Creativity for Beautiful and Warm Outfits
Your wardrobe is more than just an assortment of clothes; it's a canvas for your creativity and style.
As fall arrives and winter approaches, it's the perfect time to embark on a fashion journey within your own closet.
Take a moment to rediscover the treasures you already own. Try on different combinations, experiment with layering, and let your imagination run wild.
You'll be amazed at the beautiful and warm outfits waiting to be uncovered.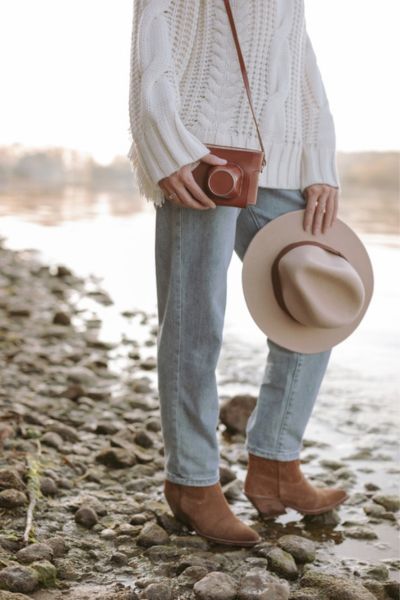 Sometimes, the most stunning outfits emerge from unexpected pairings. Combine items you might not have thought of before.
Pair your favorite maxi dress with over-the-knee cowboy boots for a blend of elegance and warmth.
Try a chunky sweater with slim-fit jeans and a wide-brimmed hat for a chic fall look.
Mixing and matching items from your wardrobe not only expands your fashion options but also allows you to infuse your personal style into every outfit.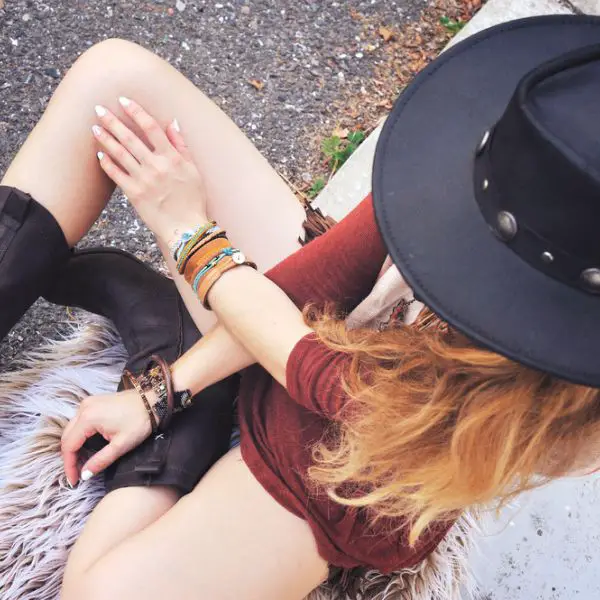 Fashion is a form of self-expression, and your wardrobe is a reflection of your unique personality.
Embrace your individuality and use your clothing as a means to express yourself.
Whether you're feeling adventurous, elegant, cozy, or playful, there's an outfit in your wardrobe that can capture your mood and make you feel beautiful and warm.
Howdy y'all, and welcome to From The Guest Room, your ultimate guide to all things Western! I'm Jay Gatz, a lifelong cowboy boot enthusiast with over 5 years of experience in the Western style world. I'm excited to share my knowledge with you and help you discover the perfect cowboy boots and western gear to elevate your style. Let's explore the rich history and timeless appeal of Western fashion together!