Back a few centuries ago, when cowboy boots first appeared and quickly became the national boots used for everyday riding, people at that time hardly had time to wonder if cowboy boots were really good for their feet.
At least for them, these pieces of real leather are excellently protective and durable work boots. They shelter the wearer's feet from snake bites, insects, and other minor injuries in the middle of the working trip.
However, the need to protect the feet of people today has evolved much further than it was a few centuries ago. At least 10 different footwear choices, whether sandals, shoes or boots, allow us to seek protection, comfort, style, and health for our feet all at the same time; that's what we deserve.
A few years ago, when I first wore cowboy boots, I had no choice but to knock on the doctor's
door for plantar fasciitis treatment for 3 months. I used to have such a firm belief in the beauty and elegance of a traditional cowboy boot that I forgot what my heels had to suffer to support this 160-pound body in these pointed-toe cowboy boots with cowboy heels.
Then I figured it out, and with the love of cowboy boots still burning in my heart, I knew I should stick to some better and more comfortable cowboy boot designs for the sake of my plantar fascia.
Here is all you need to know about: "Are cowboy boots good for plantar fasciitis?"
Are Cowboy Boots Good For Plantar Fasciitis?
Not really much. Cowboy boots don't really help those who are suffering from plantar fasciitis every time they walk.
In some cases, wearing poorly constructed cowboy boots regularly can cost you a living with plantar fasciitis syndrome for a very long time. So, why does wearing cowboy boots make plantar fasciitis worse?
Non-padded design of traditional cowboy boots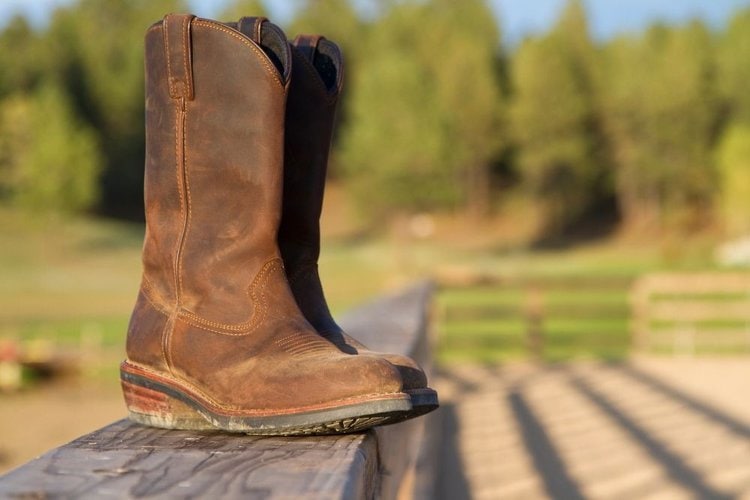 We all love the originality and style of traditional cowboy boots. But if you are a newbie in this field, you may be disillusioned the first time you try on cowboy boots.
The truth is that there isn't any significant padding in the construction of a traditional cowboy boot. They don't even have midsoles that are placed between the outsoles and insoles.
The main cause of plantar fasciitis is heavy pressure on the heel and plantar fascia.
The non-cushioned insole design plays an important role in the formation and stimulation of these lesions in the heel and arches. The insoles of traditional cowboy boots are made of pure animal skin. They are breathable and cool the feet in the summer.
But these insoles are quite thin and are not lined with any cushions or fabrics to ensure shock absorption for the foot. As a result, the heel will be under extra pressure if you run on these insoles.
Pointed toes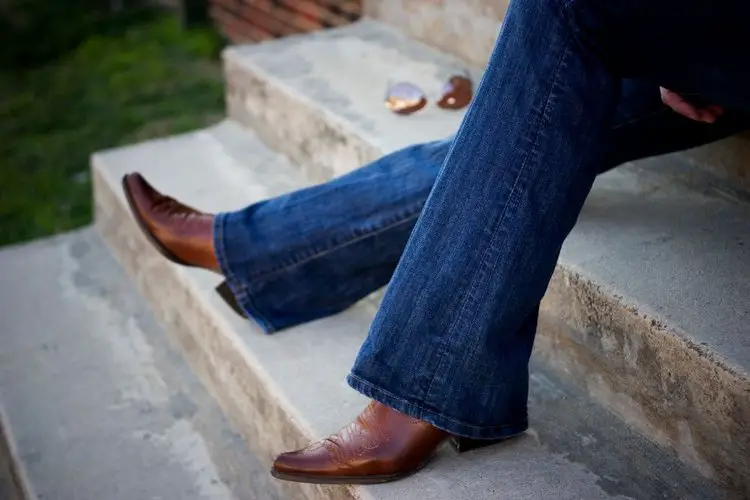 You may be wondering why pointed toes can put pressure on the heel while the heel and plantar fascia are on opposite sides and there seems to be no visible connection between them.
The point is, there's something called the fibrous band plantar fascia, which is a long, thin ligament that connects directly from the heel to the front of the foot, the toes.
Therefore, if the toes are compressed and there are not enough roomy toes in a pointed-toe design, they also press on the fibrous band of the plantar fascia, causing heel pain and creating a potential risk of plantar fasciitis formation.
Cowboy heels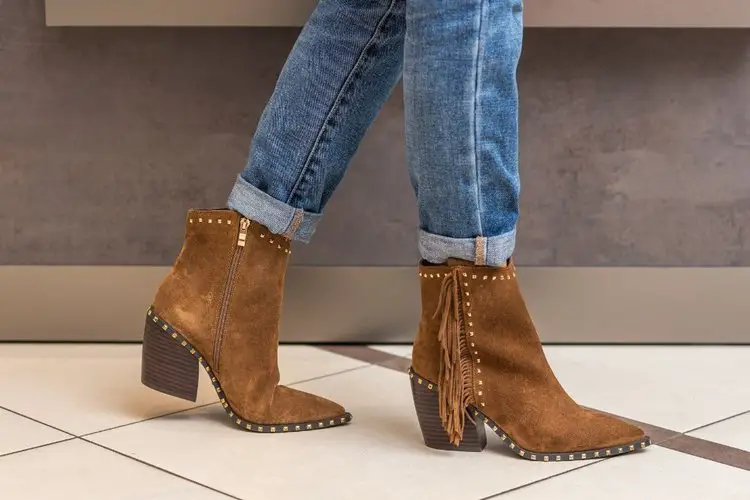 In fact, the wider the heel of the boot has contact with the ground, the better it will support the foot. They contribute to the rapid release of forces from the feet to the ground when we run, jump or are on our feet all day long.
However, cowboy heels are usually slim and point inward (which is great for keeping the stirrup firmly in place), so they don't do much to help reduce force from the foot. Many of my friends have twisted their legs more than once while wearing these 2-inch cowboy heels.
Poor arch support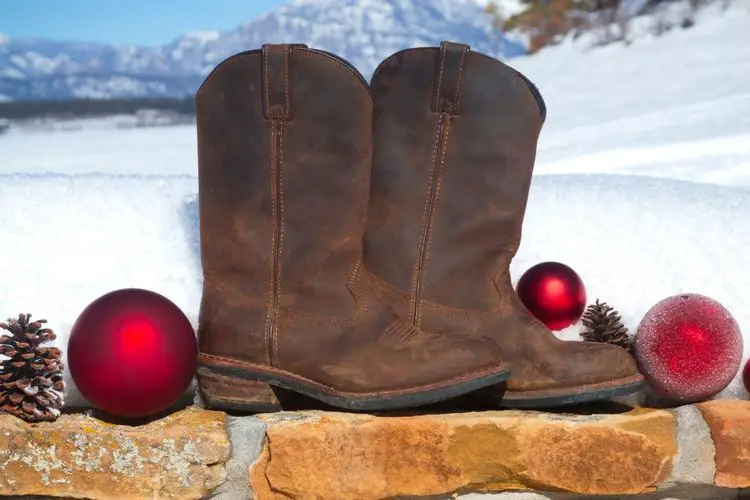 High arch types have a higher risk of plantar fasciitis than other groups.
This is due to the fact that they need special arch support that takes the pressure off these areas when running or standing all day long. Unfortunately, cowboy boots aren't really made for high arches. 
Their poor cushion structure is not helpful in filling the gaps of high arches. Most high-arched people often seek the solution of extra orthopedic insoles whenever deciding to put their feet in cowboy boots.
Loosen boots distract your attention from the way you walk
Most cowboy boots have an open design that extends from the bottom of the ankles to the top of the scallops. This sometimes makes you forget that you have to focus on how you walk properly and rightly.
Wide boot shafts often make my walking more miserable, although these boots make all my outfits look stylish. You also tend to emphasize the weight of the body on the heels more when wearing this cowboy boot design.
This puts pressure on the plantar fascia, causing inflammation or painful swelling in the area. I often twist my legs when wearing wide-shaft cowboy boots. It's really not something that should happen to me too many times.
Cramped heels and vamps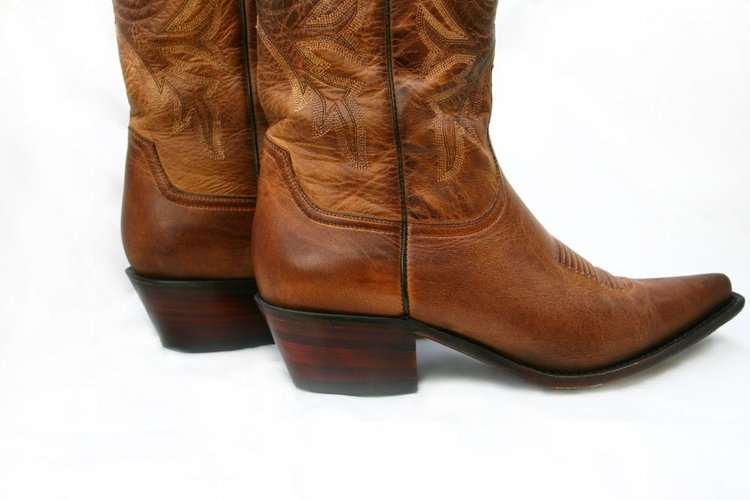 Despite the spacious boot shaft, the majority of cowboy boots fit snugly around the heels, vamps, and insteps. When you are suffering from plantar fasciitis, the pain and inflammation can swell, causing a stinging sensation in the heel when walking.
As a result, the cramped heels and vamps that cowboy boots give your feet can make inflammation worse. Also, the heat inside the boots can swell the inflammation while all you need to do is ice the bumps or let the bumps rest without any additional pressure.
Laceless systems allow no adjustment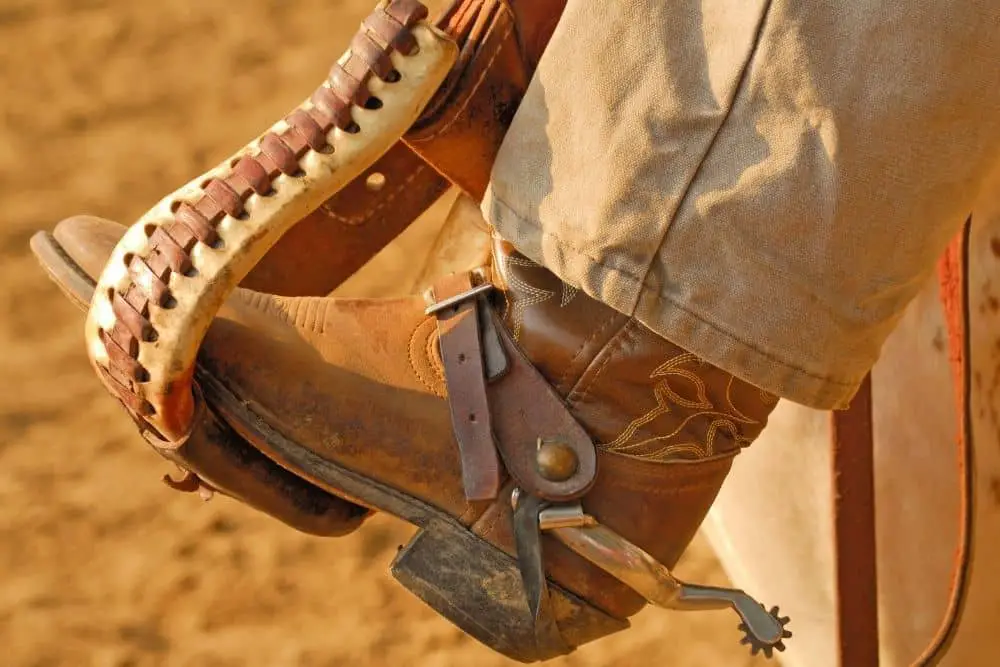 Everything is working fine with laceless cowboy boots until your feet are swollen due to plantar fasciitis. Sometimes you'll need to loosen up the space between your boots and your feet in the morning and evening when feet tend to expand.
Other times, you also want to tighten around your ankles or calves when you need to run or walk continuously. Unfortunately, you can not freely adjust these modes when wearing cowboy boots.
They force you to find other ways to soothe the inflammation of plantar fasciitis when wearing cowboy boots.
What types of cowboy boots are good for plantar fasciitis?
Yet, not all cowboy boots behave badly for your plantar fasciitis or cause this syndrome. While traditional cowboy boots are usually pretty lousy, modern cowboy boots have been greatly improved to provide effective foot support features.
Here are the must-have characteristics of good cowboy boots for plantar fasciitis.
Exceptional cushion in the midsole
Ariat Mens Groundbreaker Wide Square Toe Work Boot Brown 11 Wide
WORKS AS HARD AS YOU DO: The Groundbreaker by Ariat are made for the long haul: strong, sturdy and...
THE SUPPORT YOU NEED: The Duratread outsole is both oil and slip resistant and the 90-degree heel...
GREAT GIFTS: EVERYDAY COMFORT: Along with the 4LR (Four Layer Rebound) technology for added comfort,...
Last update on 2023-09-22 / Affiliate links / Images from Amazon Product Advertising API
First and foremost, an extra cushion midsole around heels and arches is what's best for the feet of people who suffer from this syndrome on a daily basis.
Some reputable brands, like Ariat or Durango, offer many versions of great foot support technology with effective upgrades to shocks and energy return systems. Lightweight shanks with extra cushion and/or gel pads padded below the heel, the ball of the feet, and arches.
This also reduces the pressure on the high arches when standing continuously all day long. Thanks to this design, the swelling in the heel can be controlled more intensely, supporting the treatment of plantar fasciitis without leaving work at home.
Stockman heels or Roper heels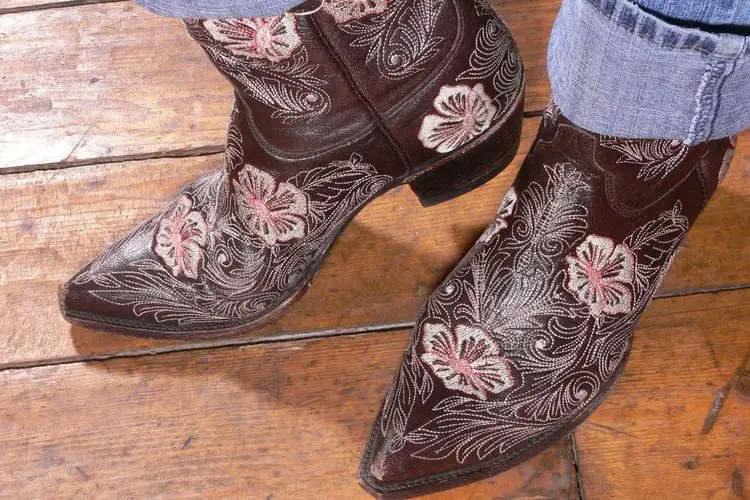 The Stockman heels and Roper heels feature a square off shape with wide ground contact. This helps spread the force from the foot to the ground faster while also helping to absorb shocks better.
Also, even if you do get stinging in your heels due to plantar fasciitis, you won't have the chance of twisting your foot when you wear cowboy boots with low and square heels. This minimizes the risk of an accident in the joint of the foot.
Fitted ankles and calves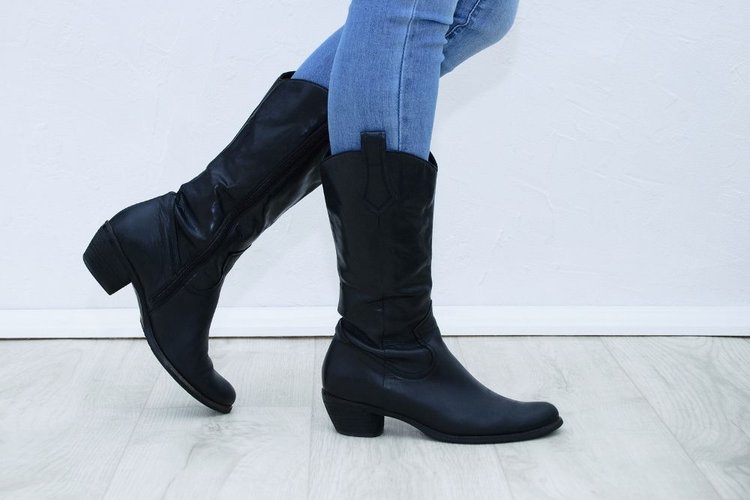 This design ensures you can feel your feet better, therefore functioning well. You also don't need to use leather straps or double socks to tighten cowboy boots around your ankles and calves, which cause inner heat and blisters in these areas.
When your feet can walk properly, it ensures you don't press on your heels too much, reducing the risk of irritating the plantar fascia.
1.5 heel high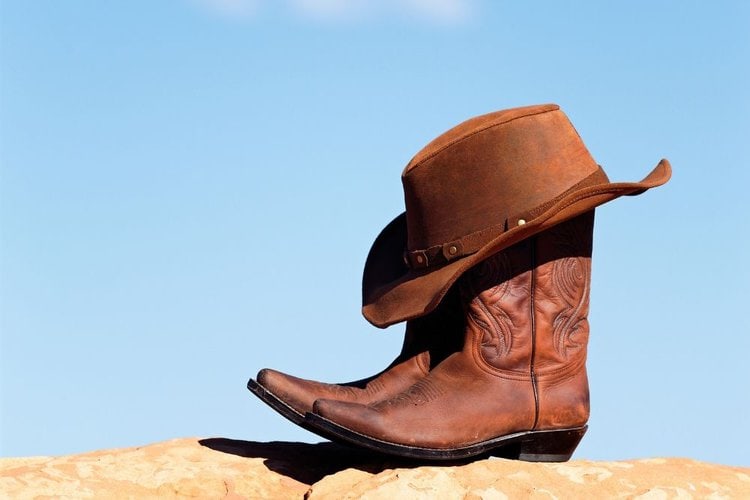 This is the best heel height, which is all good for foot support. Anything lower or much higher will cause a high risk of swollen heels and soreness.
Round toes with comfortable spaces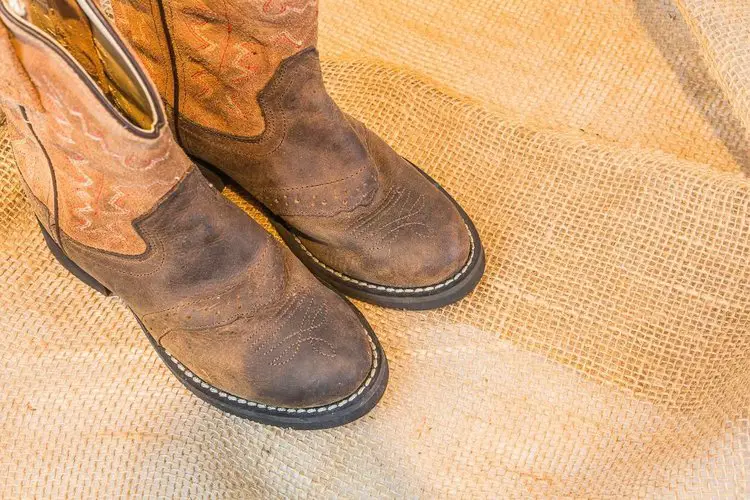 Balancing comfort for the entire foot contributes greatly to letting your feet walk properly, reducing pressure on the heel and plantar fascia.
As a result, round toes with comfortable, roomy toe boxes allow for the most comfortable toe wiggle when on your feet all day.
When the toes are provided with enough and ideal space, the blood circulation all over the feet is promoted to be more flexible and abundant. Your toes will not feel numb or cramped, affecting the function of the plantar fascia.
Before you leave…
Traditional cowboy boots may not be the ideal footwear for plantar fasciitis or any other foot syndrome. But if wearing cowboy boots is your endless passion, we've got your back! I hope this article is helpful to you!
Howdy y'all, and welcome to From The Guest Room, your ultimate guide to all things Western! I'm Jay Gatz, a lifelong cowboy boot enthusiast with over 5 years of experience in the Western style world. I'm excited to share my knowledge with you and help you discover the perfect cowboy boots and western gear to elevate your style. Let's explore the rich history and timeless appeal of Western fashion together!