When winter's chill sets in, the quest for the perfect blend of warmth and style becomes a priority.
In the realm of fashion, there's a duo that stands as a stalwart symbol of this harmonious balance: jeans and cowboy boots.
This pairing isn't just practical; it's an iconic fusion of form and function. As you venture through the frosty landscapes of winter, the structure and construction of jeans and cowboy boots become your trusty allies.
They're not only designed to keep you cozy in the harshest of cold, but they also offer an enduring and timeless style that effortlessly transitions from casual to chic and elegant.
This article will be your guide to unlocking the potential of this classic combination.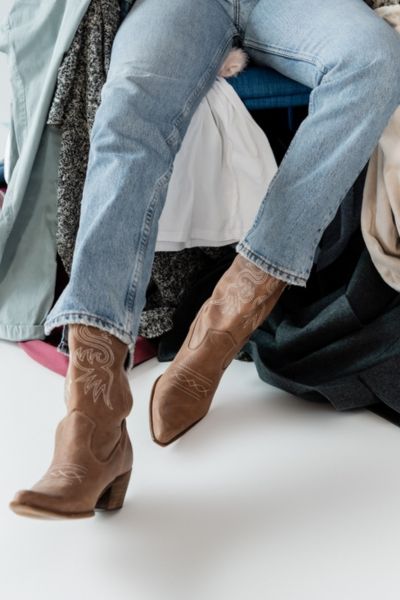 We'll explore the art of selecting the perfect pair of jeans, the ideal cowboy boots, and how to layer them effectively for winter.
Whether you're a seasoned Western fashion enthusiast or someone looking to infuse a touch of rugged charm into your winter wardrobe, you'll discover that the versatility of jeans and cowboy boots is boundless.
So, let's delve into the heart of this winter wonder – a world where warmth meets style, and where jeans and cowboy boots reign supreme.
Idea 1: The Classic Style – Leather and Denim
When the winter winds howl and you seek a blend of warmth and style, there's nothing quite like the classic pairing of leather and denim.
This enduring combination effortlessly walks the line between rugged and refined, making it a top choice for cold-weather casual wear.
For a laid-back yet undeniably chic look, consider going all-in with denim on denim. It's a choice that exudes timeless coolness and promises comfort on chilly days. You have a couple of avenues to explore:
1. Natural Color Ensemble:
Opt for jeans and a denim jacket in their natural, unadulterated hue. The synergy of these earthy tones creates a sense of understated elegance.
Complement this look with a pair of rich, brown cowboy boots. The contrast in color is sure to make heads turn and evoke that classic Western charm.
2. Different Shades of Blue:
If you're a fan of the traditional blue denim, experiment with jeans and jackets in different shades of blue.
To keep things fresh and interesting, ensure that the top (jacket) is a shade lighter than the bottom (jeans).
Pair this with straight-cut jeans, and don't forget to tuck your boot shaft into the jeans for a clean, streamlined look.
This approach keeps the classic style from feeling mundane.
3. Brown Suede Jacket with Fringe:
Elevate your casual winter style by incorporating a brown suede jacket with fringe details. Pair it with dark blue straight-leg jeans for a harmonious contrast.
A simple tee underneath completes the look. This ensemble screams traditional Western charm, making it the perfect choice for those chilly days when you want to showcase your love for the frontier lifestyle.
Whether you opt for natural colors, different shades of blue, or leather accents, these choices will undoubtedly infuse your winter wardrobe with a touch of the timeless Western spirit.
Idea 2: Classic Jeans and Brown/Beige Blazers
To achieve an effortlessly chic urban look, start with a pair of classic blue jeans in a regular fit. These jeans work seamlessly with ankle cowboy boots featuring round toes.
Create stylish gaps between the jeans and the tops of your boots for a cute and contemporary vibe. This not only shows off your boots but also adds a playful element to your outfit.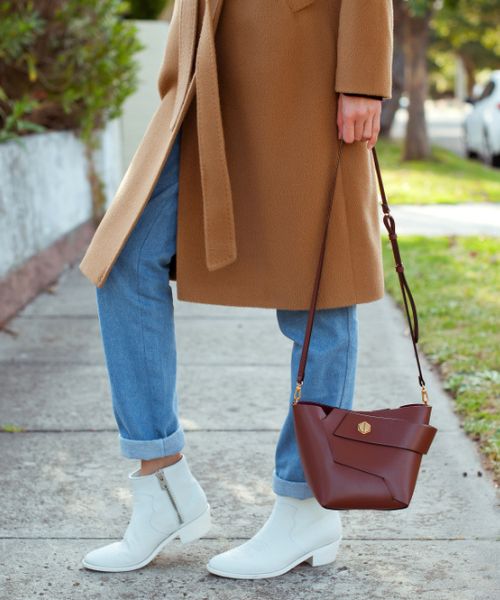 Elevate the ensemble with a blazer or trench coat in either brown or beige. These neutral tones complement the jeans and boots beautifully, adding a touch of sophistication to your look.
Don't forget to accessorize with a tote or handbag to complete the overall urban-chic appearance.
This combination strikes a balance between casual and refined, making it suitable for a wide range of occasions.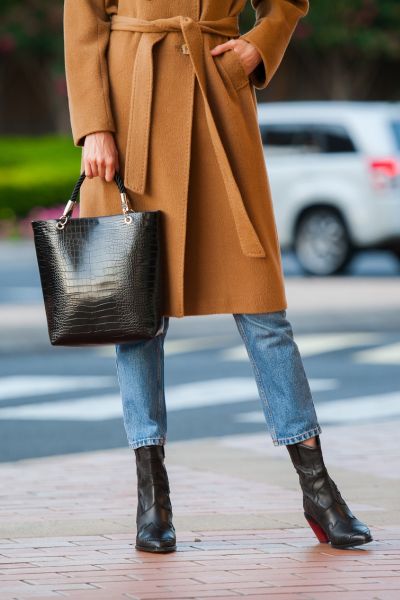 If you're looking to express your individuality and exude a young, active energy, opt for black skinny jeans with stylish knee rips.
This edgy choice adds a bold, modern touch to your outfit, perfect for those who want to stand out in the crowd.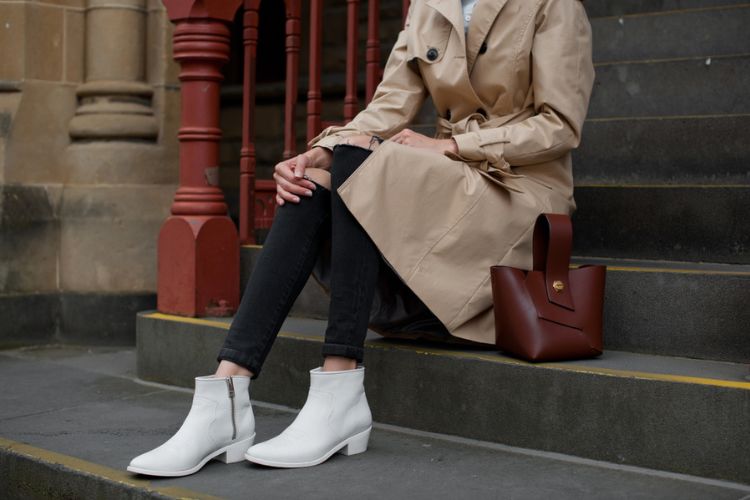 Pair the black skinny jeans with ankle cowboy boots. These boots, with their distinctive Western flair, add character to your overall appearance.
The combination of black jeans and white cowboy boots creates a striking contrast that's sure to turn heads.
Idea 3: Sweater Weather – Cozy and Stylish with Jeans and Cowboy Boots
Sweaters are often hailed as winter's wardrobe heroes, providing not only warmth but also a canvas for endless style possibilities.
When you pair them with classic jeans and iconic cowboy boots, you unlock a winning combination that seamlessly blends fashion and comfort.
1. Wide-Leg Jeans and Sweater Combo:
For a stylish look that exudes both warmth and elegance, consider wide-leg jeans. These jeans provide ample insulation while allowing for breathability.
Pair them with a cozy sweater and a classic pair of cowboy boots. The result is a cute and elegant style that ensures you stay warm without sacrificing fashion.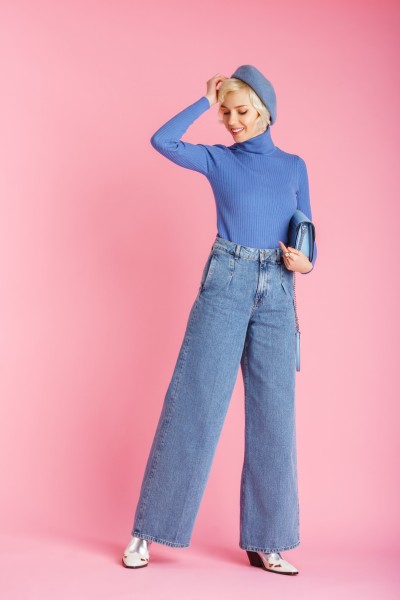 2. Layering with Wool, Blazer or Parachute Coat:
When the cold is particularly biting, consider adding a layer of warmth with a wool coat, a blazer or a stylish parachute coat.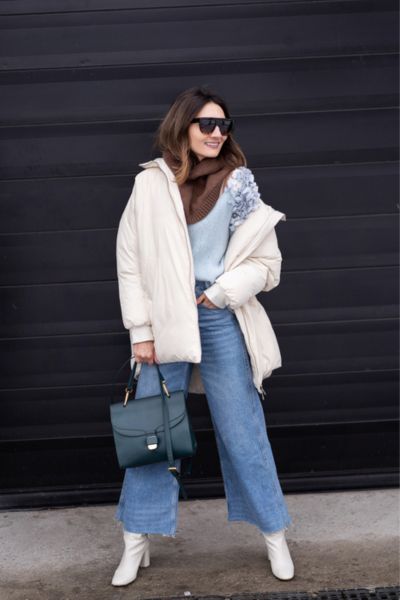 Top it off with a beret to exude confidence as you walk down the street. This combination not only keeps you snug but also adds a touch of sophistication to your winter attire.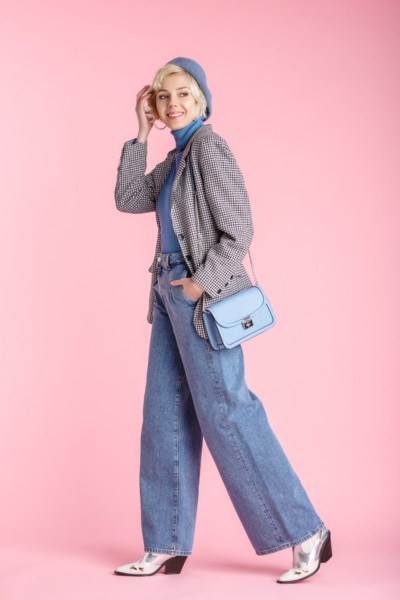 3. Skinny Jeans for Windy Days:
If the wind is relentless, and you want to minimize the airflow through your jeans, opt for skinny jeans. This choice provides a sleek and snug fit.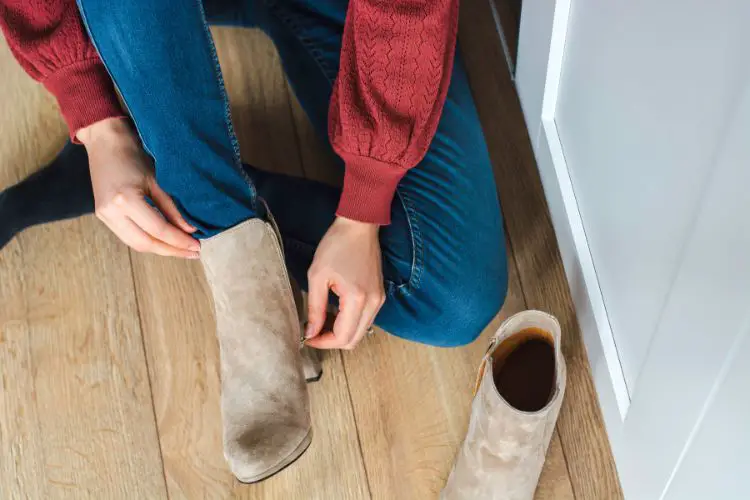 Pair these jeans with traditional cowboy boots designed to snugly fit around the calf.
By tucking your jeans into the boots, you create a fashionable and warm look that's ideal for braving the coldest of winter days.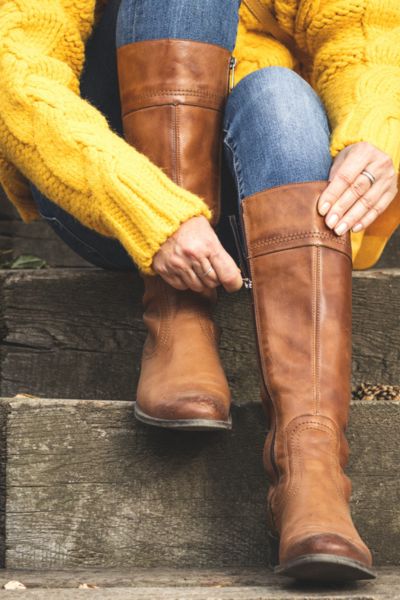 By exploring these options, you can embrace the versatility of sweaters, jeans, and cowboy boots during the cold season.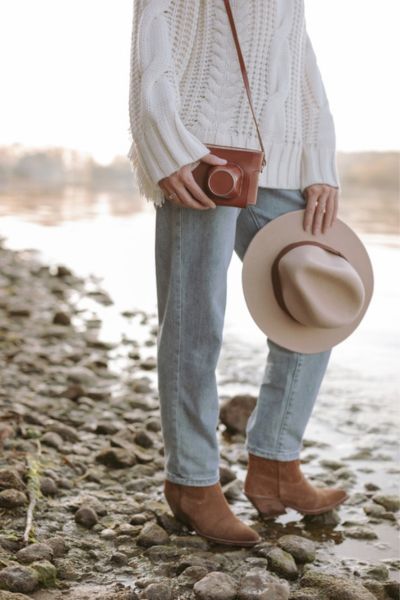 Whether you prefer wide-leg jeans for an elegant and cozy style, or you opt for skinny jeans and traditional cowboy boots for a sleek and snug look, these combinations ensure you stay fashionable and warm, no matter the weather.
Idea 4: Over-the-knee Cowboy Boots and Jeans
If you're looking to make a bold and fashion-forward statement during the winter, consider adding a pair of suede over-the-knee cowboy boots to your wardrobe.
When styled with jeans and sweaters, these boots create a stunning and unique outfit that's perfect for those looking to stand out.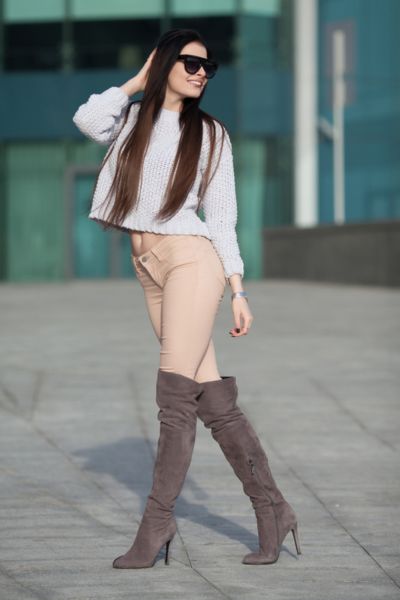 The suede over-the-knee cowboy boots take center stage in this ensemble. Their striking height makes them a bold and sophisticated choice. These boots not only make a style statement but also provide an extra layer of warmth.
Jeans provide a reliable foundation for this look. The contrast between sleek jeans and tall boots adds a dynamic element to your style. They ensure comfort and versatility in your winter wardrobe.
Idea 5: Jeans, Cowboy Boots, and Hoodies
Winter fashion is about being unexpected. Think of combining ripped jeans, cowboy boots, and hoodies for a look that's bold and unique.
Start with ripped jeans, they set the tone with their edgy, rebellious style.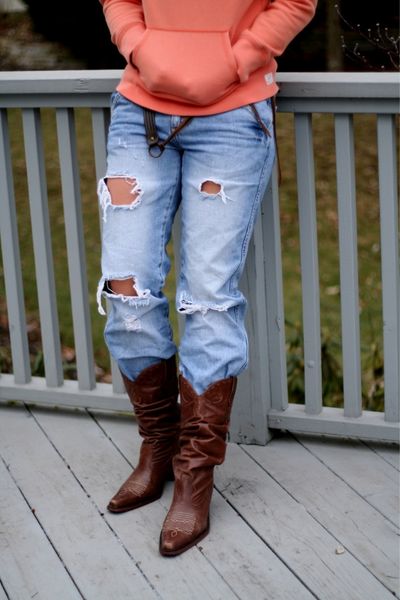 Add cowboy boots with their Western charm, distinctive stitching, and rugged character.
Hoodies bring comfort and warmth, contrasting the formality of the boots, creating a captivating mix of casual and sophistication.
By combining these elements, you get a look that's all about embracing your uniqueness.
Ripped jeans, cowboy boots, and hoodies create a style that's bold and comfortable, perfect for making a statement in winter.
Fashion is about creating your own story, so this season, be confident, break the rules, and express your style with ripped jeans, cowboy boots, and hoodies.
Idea 6: The Art of Layering – Essential for Fashion and Warmth
When it comes to facing the winter chill, the art of layering is indispensable for both fashion and warmth.
Alongside jeans, these additional layers, such as a wool trench coat, leather coat, scarf, or cardigan, play a crucial role in creating a stylish and cozy ensemble.
Layering is not just about bundling up for the cold; it's a style statement. It allows you to add depth and dimension to your outfit, showcasing your fashion sensibilities.
Layering can turn a simple jeans-and-sweater combination into a multifaceted and chic ensemble.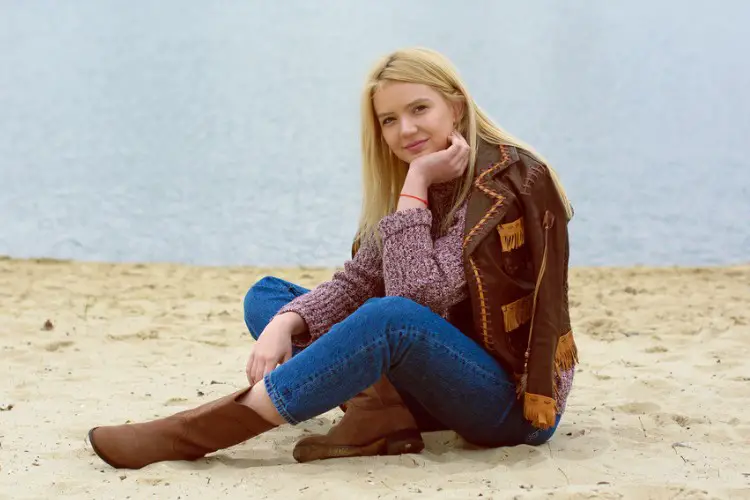 1. Wool Trench Coat:
A wool trench coat is a classic choice for both fashion and warmth. Its timeless elegance adds sophistication to your look while its insulating properties keep you cozy during chilly days.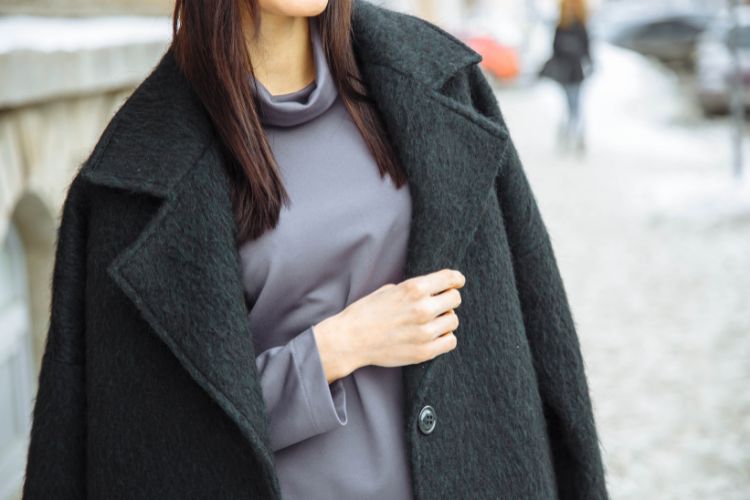 2. Blazer:
A blazer brings a touch of formality to your ensemble. It's a versatile piece that can easily elevate your look.
Whether you're heading to the office or a winter event, the blazer adds a tailored and stylish element to your layering.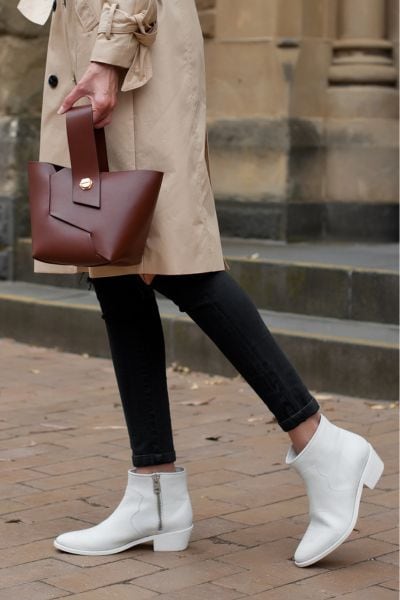 3. Leather Coat:
Leather coats are synonymous with rugged charm. Their durability and style make them an excellent choice for staying warm and adding a touch of edge to your outfit.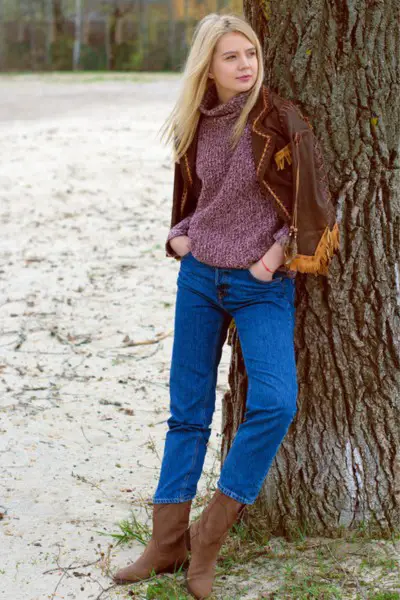 4. Scarf:
A scarf is a versatile accessory that not only keeps your neck warm but also adds a pop of color and texture to your ensemble.
It's a simple yet impactful addition to your winter look.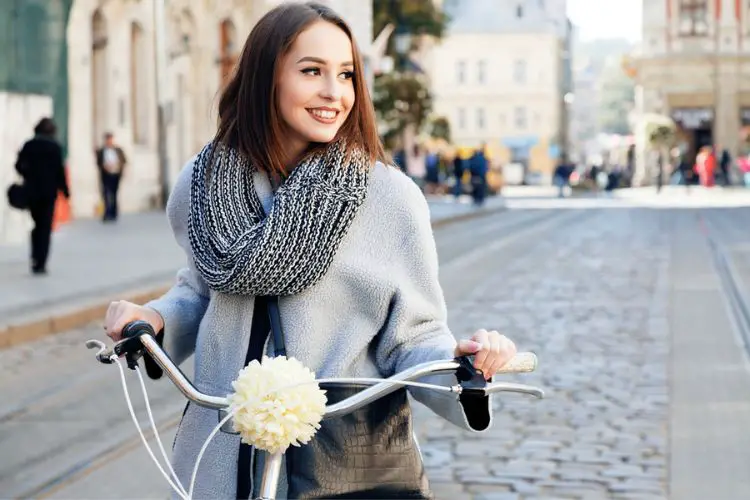 5. Cardigan:
Cardigans provide an extra layer of warmth and comfort. They are perfect for adding a cozy and laid-back element to your outfit, ensuring that you stay snug throughout the day.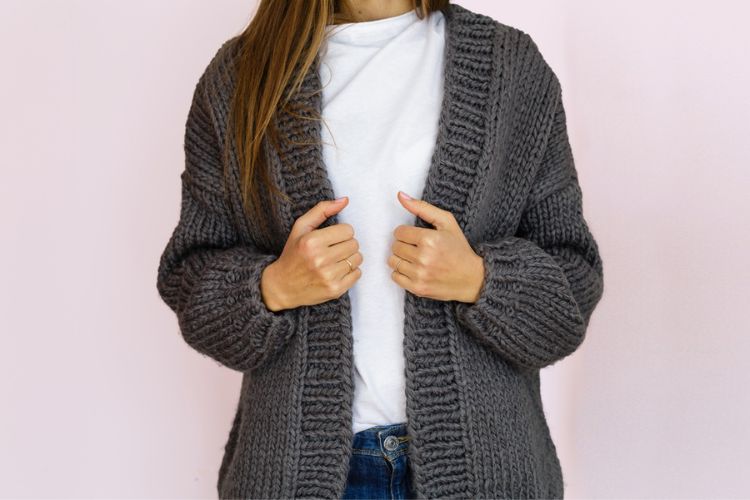 By mastering the art of layering alongside your trusty pair of jeans, you'll create a winter look that's not only fashion-forward but also exceptionally warm and comfortable.
These layers offer both style and practicality, allowing you to navigate the cold season with confidence and flair.
Conclusion
From classic combinations featuring jeans, cowboy boots, and cozy layers to bold and unconventional ensembles with ripped jeans, cowboy boots, and hoodies, the key is to embrace the versatility of your wardrobe.
Jeans, as a timeless foundation, lend reliability and style to any winter look. Cowboy boots, with their distinctive charm, add character and flair.
Sweaters, coats, scarves, and cardigans provide warmth and depth. And, when the occasion calls for it, suede over-the-knee boots bring sophistication to the forefront.
Ultimately, fashion in the winter isn't solely about staying warm; it's a canvas for self-expression and confidence. Whether you opt for classic or unconventional, the power of your style is in your hands.
So, step into the winter season with the knowledge that jeans and cowboy boots are not just functional but also an opportunity to showcase your unique fashion narrative.
Stay warm, stay stylish, and, above all, stay true to yourself in the world of winter fashion.
Howdy y'all, and welcome to From The Guest Room, your ultimate guide to all things Western! I'm Jay Gatz, a lifelong cowboy boot enthusiast with over 5 years of experience in the Western style world. I'm excited to share my knowledge with you and help you discover the perfect cowboy boots and western gear to elevate your style. Let's explore the rich history and timeless appeal of Western fashion together!