Many hikers wear their boots and knot them in a hurry without pausing to think about the laces. In fact, not many people actually know that there are round laces and flat ones. We have a hunch that some of our readers will pause at this moment to check which type of lace is in their boots.
Sneakers mostly have flat laces but the difference is the case with hiking boots. Most hiking boots come with round laces. There doesn't seem to be a concrete reason why hiking boots have round laces but there are obvious advantages of round laces over flat ones.
While there are still leather hiking boots with flat laces, we believe that most manufacturers prefer using round laces because of the benefits. In other words, the best way to explain why hiking boots have round laces is by looking at the benefits of round laces over flat ones.
Why do hiking boots have round laces?
Just to add a little bit of emphasis on what we stated earlier, the choice of a bootlace is solely at the discretion of the manufacturer. The question you may be tempted to ask is, "So, why would a manufacturer choose a round lace over the flat one?"
Manufacturers will likely choose a round lace over a flat one for aesthetic or performance reasons. We have highlighted some of the factors that can influence the decision of a manufacturer in favor of round laces.
Have a look at them below.
1. Round hiking boots are more aesthetically appealing
Round laces look their best on leather boots. They easily go in and out of punched eyelets or around hooked or D-ring eyelets without a crease. When completely laced up, your boot looks neatly done without having to put any extra effort.
With flat laces, it is an entirely different ball game. While lacing up your boots with flat laces, you have to pay extra attention each time your lace goes through or around the eyelets to make sure you adjust it properly and remove the crease.
When you fail to do this, you will end up with lacing that looks tacky at the edges which robs your boot of glamor. Most hikers are always on the move and may not have time to invest in lacing which makes the round laces a better option for them.
Interestingly, some hiking boots have more than one type of eyelets combined in one boot. The way you tie your boots often differs with the type of eyelet and flat laces will only double your trouble. This is one of the reasons why the majority of hiking boots have round laces.
2. Round laces tend to be stronger
Hikers often have to go through extreme conditions—and will need gears designed to withstand the torture of such journeys. Round laces perform better when it comes to strength.
There are round laces (like Great Places Paracord steel tip shoelaces) with a break strength of up to 550 pounds.
Such laces have double crimped steel tips which are plated with nickel to make them rustproof. What this means is that when twigs get under your laces and tug or yank the knot loose, the risk of damage is always minimal.
Last update on 2021-09-09 / Affiliate links / Images from Amazon Product Advertising API
3. Useful in emergency situations
It is not a coincidence that military boots come with round laces. This is because round laces can be the difference between surviving and dying from an emergency situation—and good hikes always plan for the worst-case scenario.
There are so many uses of round laces that you probably don't know.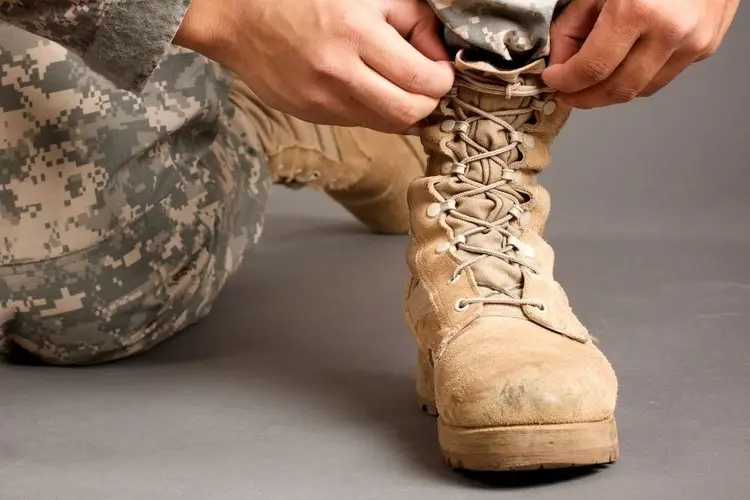 Since round laces are often designed to be useful for emergency situations, they are often way longer than flat laces. Paired with a hook, round laces can serve as a fishing line when you are running low on supplies.
You can also use round laces to tie sticks together to form a temporary shelter when the weather is not suitable or to piece sticks together to form a raft—maybe you have seen this one in a movie before.
Inasmuch as hikers are expected to be extra careful and hike only terrains that they are familiar with, accidents do happen. One of the common ones is when hikers get their leg between twigs or rocks and suffer a fracture or dislocation. Round laces can be used with twigs to create a splint that helps the victim to heal.
Round laces can go quickly and smoothly in and out of eyelets which will be valuable in situations where the hiker needs to pack quickly to escape impending danger. There is no limit to how creative and resourceful you can be with round laces.
Last update on 2021-09-09 / Affiliate links / Images from Amazon Product Advertising API
4. Round laces are more durable
Every brand wants to stand out in the market and one of the ways that hiking boots manufacturers often use to capture the heart of their customers is to promise them durability. Flat laces are often made of mostly cloth while round laces often have intertwined metals that make them sturdier.
No buyer would want to be changing their laces every few weeks. So, the use of round laces is often a marketing strategy for manufacturers to make their products more appealing to potential buyers.
5. Round laces makes tying and untying easy
During hikes, there may be times when you will need to tie or untie your laces to get in or out of your shoes. Round laces do a better job in this regard. This necessity is also the reason why punched eyelets are often replaced with speed eyelets.
6. Round laces spread out the tension
With round laces, the tension at the sides where the laces from a loop with the eyelet tend to be more constant and spread out. The case is different with flat laces. The tension is not spread out. If one loop is tighter than the other, you will feel it.
Other questions
When it comes to boots and choice of laces, there are a whole lot of other questions that come to the mind of hikers. We will try to answer some of these questions below
1. Are flat or round laces better?
The best shoelace will depend on your choice of outfit. Flat shoelaces are often better suited for casual wear. It is not surprising that they have become the choice for sneakers and running shoes.
Round laces are better as fashion accessories to give the wearer a smart look. This explains why they are often the choice for men's shoes.
Last update on 2021-09-09 / Affiliate links / Images from Amazon Product Advertising API
2. Why do round laces not stay tied?
There are two factors that make it hard for the laces of boots to stay tied according to the findings of Professor Oliver O'Reilly of the University of California, Berkeley. During a study, the professor of mechanical engineering discovered that there are two factors that act to keep boot laces untied.
Firstly, the stomping of feet as you walk loosens the knots. Eventually, the back and forth swinging of the feet leads to the whipping of the aglets which causes the loose knots to slip free. Tying your knot in the opposite direction of what you are used to can help to resolve this inconvenience.
Moreover, all types of laces will untie if the stumping and swinging forces are applied sufficiently. That is why you need to invest more in learning how to tie your boot properly. Search through our website for the right guide on how to do that. 
How to Tie a Shoe so it Never Comes Untied or Undone
Conclusion
In addition to the aforementioned benefits, we will add that round laces are easier to wash compared to flat laces—and this has something to do with the material used in their manufacture.
While flat laces are made of cloth and stain easily, round laces are sturdier and made of materials that don't easily get stained.
Obviously, no lace is better than the other and the choice of round laces for hiking boots is to boost the performance of hikers.
In a way that is hard to explain, round laces look cool on boots—guess that is enough.