Heel, is one of the troublesome places when people wear cowboy boots.
Why do I say that?
Because cowboy boots with a heel construction of 2 inches or more tend to put more pressure on your heels than other footwear like hiking boots or running shoes.
Besides, all good cowboy boots are usually made from 100% leather, which can be good when you have them broken in well. But with boots that are too new, you can easily experience blisters caused by heel slippage.
Usually, many people will choose to put an insole on the boot to increase the fit at the heel, or to reduce the pressure at the heel when working. This is a smart choice!
However, as someone who has used cowboy boots since childhood, I often have the problem that insoles will make my feet hot, uncomfortable and cramped. Thus, what I need in this case is just heel inserts.
And luckily, today it is not difficult for you to find such products on the market. You'll be able to make cowboy boots fit tighter, avoiding heel slippage and blisters, and these products can cushion and protect your feet from pressure pretty well.
All of their best features are highlighted below!
How do heel inserts work?
Let's take a look at how heel inserts can help your feet and cowboy boots!
1. Fix heel slippage
Heel slippage happens quite commonly in cowboy boots or shoes. This is because your cowboy boot is loose on the heel, instep or the tip of a cowboy boot is too far from your toe.
To solve this problem, just using heel cushion inserts for the Achilles heel.
The heel cushions inserts make the cowboy boots' heels fit your heels, or heel cushions inserts reduce the distance from your toes to the tip of cowboy boots.
Since then you can overcome the heel slippage.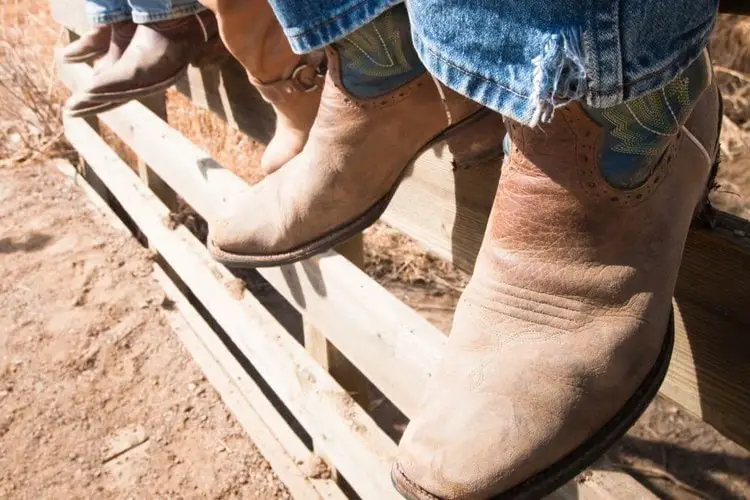 2. Protect your heel from rubbing or blistering
There are cowboy boots with very uncomfortable heels. This can lead to scratch or blister your heels.
Using a heel insert is a good way to fix that. Heel cushions inserts usually are very soft and smooth, which will help your heels to be comfortable without the fear of being scratched if they encounter a "bad" cowboy boot.
3. Heel pain relief
Many of us have problems with heel health. Many people have cracked heels that cause heel pain, while others suffer from heel pain due to wearing high heels for long!
That's when you need heel inserts for cushioning and arch-supporting. They reduce heel pain, bring comfort and flexibility to you.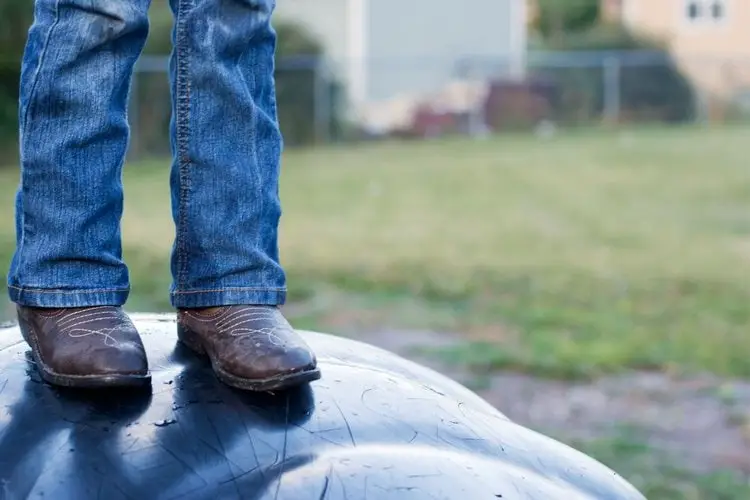 4. Makes cowboy boots fit tighter
In some situations, when you buy cowboy boots, they can be loose at the heels, or loose at the toe and instep. A heel insert can solve that problem.
To make a cowboy fit tighter with your foot, you can use the heel insert to raise your foot to fit the instep, or push your foot closer to the toe of the boot.
5. Bring comfort for outdoorsmen working all day long
If you work outdoors all day, besides arch support, it's important to support your heels as well.
Therefore, there are many types of heel inserts that protect and massage your heels, keep your feet comfortable and flexible as well as prevent heel pain to work all day long.
Cowboy boots are always very durable, sturdy for protecting your feet. However, not all boots support your heels so you might consider using heel inserts.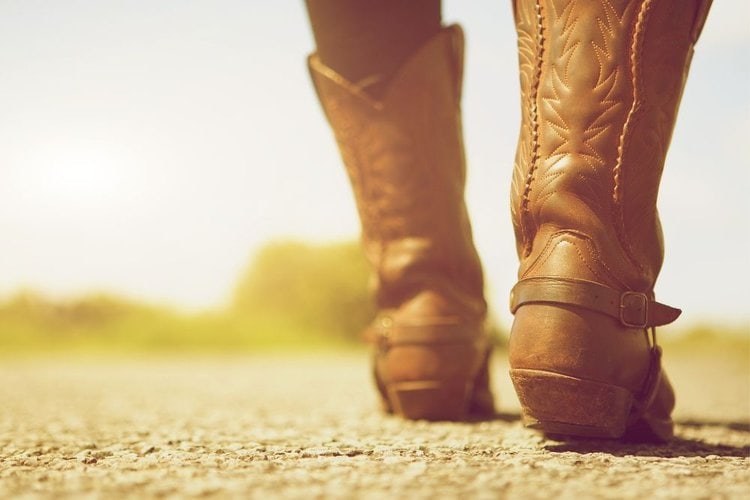 Top 7 Best Cowboy Boot Heel Inserts
Now that we come to the most important part of this article, we will introduce you to the top 7 best cowboy boot heel inserts.
Let's see it!
1. Heel Seats Foot Orthotic Inserts
Last update on 2023-03-16 / Affiliate links / Images from Amazon Product Advertising API
The first product that we want to introduce to you belongs to Heel That Pain store. It is a product that helps many different symptoms of heel problems thanks to the deep heel cup construction commonly found in insoles.
Also, these orthotic inserts can support both flat feet and high arches as they provide extra padding to support your arches.
In addition, they do not slip when you are active, you can also use them to fill the loose gap at the heel of cowboy boots.
According to many users, they are highly appreciated for reducing various heel pain symptoms in just 5 to 10 days.
What we like
Minimize heel pains in a short time
Pretty durable
Treat a variety of heel pain problems
Stick to cowboy boots well and don't fall off
Very easy to wash
2. Kefee Heel Inserts
Heel Grips, High Heel Pads, Heel Inserts, High Heel Forefoot Cushion, Blister Prevention High Heel Insoles, High Heel Liners, Anti Slip Heel Shoe Cushion Inserts, Heel Snugs for Women (Black)
HEEL PAIN KILLER - Designed for those who have a foot pain. Prevent shoes rubbing your feet,...
HIGH-QUALITY MATERIAL - Made of soft and safe silica gel, high elasticity and flexibility. The...
ONE SIZE FITS MOST - Moderate thickness, so it leaves room for your feet. But we still suggest you...
Last update on 2023-03-16 / Affiliate links / Images from Amazon Product Advertising API
I love using Kefee's heel inserts to prevent blisters when wearing cowboy boots. One of the very annoying problems!
Because they hold the shoe very well, they are soft and can almost fully embrace the heel and Achilles tendon.
In addition, these are also very effective heel slippage preventers, because they can make your heels fit better with your cowboy boots, mold the heels well and have a good grip.
They are very skin-friendly as they are made of premium materials, soft and very flexible.
Finally, they come in many different designs to suit each of your heel problems!
What we like
Different designs to suit different problems
Soft, good heel fit and can effectively prevent heel slip
Can support the foot, and make heel fit tighter with cowboy boots
Cover the entire heel and Achilles tendon to protect them
3. Foot Petals Fancy Feet Back of Heel Cushions
Sale
Last update on 2023-03-16 / Affiliate links / Images from Amazon Product Advertising API
Another product that can protect your back heel and Achilles tendon from blister risks is Foot Petals Women's Back Liner.
Made of good material, soft and breathable, you won't worry it will cause your feet heat.
In addition, it has a good thickness, so it can improve the fit of cowboy boots to your heel, thereby avoiding heel slippage and blisters. This is what I like the most.
Its use is just simple like that! But maybe that's just all you need to deal with a nasty pair of cowboy boots.
What we like
Soft, breathable and standard thickness
Creates soft cushioning for the backheel and Achilles tendon
Especially effective in preventing heel slippage and can make cowboy boots fit better
Very affordable, simple and effective
4. Self-Adhesive Heel Cushion Inserts Prevent Heel Slipping
Dr.Foot Heel Grips for Men and Women, Self-Adhesive Heel Cushion Inserts Prevent Heel Slipping, Rubbing, Blisters, Foot Pain, and Improve Shoe Fit - 2pairs+ Extra 1pair (Beige)
HEEL PAIN RELIEF: The heel grips protect and support your heels from pain, blisters, and rubbing,...
COMFORTABLE DESIGN: The soft, ergonomic design replicates the contour of your heels, cushioning them...
HIGH-QUALITY MATERIAL: Super sticky backing is made from CROWN #513 double-sided tape to prevent...
Last update on 2023-03-16 / Affiliate links / Images from Amazon Product Advertising API
Dr.Foot Heel Grips is another good product for preventing heel problems – includes heel slippage, blisters and even foot pains.
I like this product because it absorbs sweat well, doesn't hold odors and is durable.
In addition, it can fit very well with all different types of cowboy boots and almost does not fall off during use.
Quite similar to the product above, it has a simple design but can prevent your feet from the risks caused by the poor fit of the footwear.
What we like
Soft, durable, moisture-wicking and comfortable
Prevent heel slippage, rubbing and blister well
Fit many types of cowboy boots
Not fall off while walking, running or working
5. ProFoot Orthotic Insoles for Heel Pain
Sale
Last update on 2023-03-16 / Affiliate links / Images from Amazon Product Advertising API
Another pure health product is PROFOOT Orthotic Heel and Soles insert. I like it because it solves a very common problem among Americans, plantar fasciitis.
In addition, it also supports the arch of your foot, reducing foot pain symptoms, thereby making physical activities more comfortable.
This is a good product if you have bad foot symptoms but still want to participate in sports activities.
However, their durability is only average, not too high.
What we like
Reduce heel and foot pain effectively
Keep your feet comfortable for a long day of continuous activities
Support heel to get rid of blisters and have good shock resistance
6. Leather Heel Grips Liner Cushions Inserts
Last update on 2023-03-16 / Affiliate links / Images from Amazon Product Advertising API
I like to use leather heel inserts to tackle heel slippage, as they have a good thickness and mold the heel very well.
Although made of leather, this product has good softness and forms a smooth cushion.
It is very simple, mainly to solve the blister and poor fit problem of cowboy boots or leather footwear.
It has great durability, which is understandable since it is made from leather, and leather is usually more durable than fabric.
What we like
Very durable
Good thickness, fix poor-fitting heel cowboy boots very good
Mold your heel great, create a perfect feel
Soft and flexible
7. Heel Cushion Inserts
Sale
Last update on 2023-03-16 / Affiliate links / Images from Amazon Product Advertising API
Another option you can choose from is leather heel inserts from PACE LION Store.
This product has a very strong stickiness and molds the heel well, so you don't really have to worry much when you are doing high-intensity activities.
In terms of its use, it is quite simple, it can protect your heels from blisters and fix cowboy boots that have a bad fit at the heel.
Unlike the above product, this product is suede material, so it is softer and less irritating to the feet when you exercise.
What we like
Soft and mold heel well
Strongly self-adhesive
Fix poor fitting cowboy boots at heel
Prevent blisters effectively
What are the best heel inserts?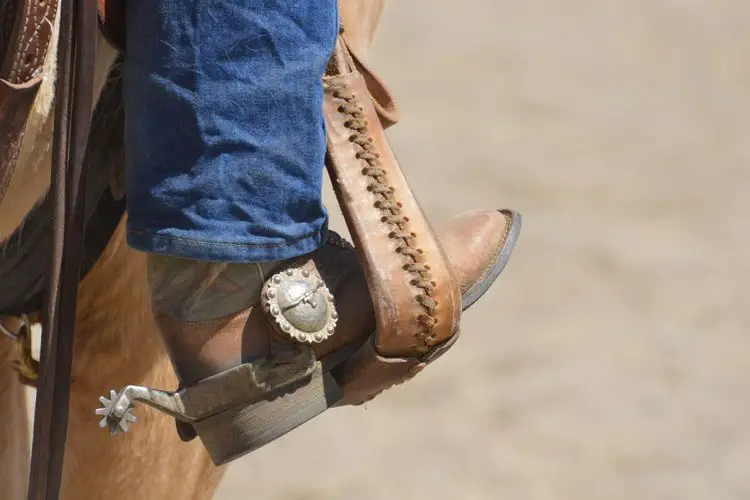 Most heel inserts are health products, they are often used to prevent pain related to the heel or Achilles tendon. You should consider carefully when purchasing them.
You should use products that have been used and appreciated by many people. Besides, you should clearly identify the problem of your foot before buying.
The products above that we recommend to you are all well-received and appreciated by many buyers.
For example, Heel That Pain's heel inserts are popular with many people, so it's a good product.
Silicone heel grips are also very good and very soft so your heels are comfortable and flexible. The heel grips are made from leather with good durability and cradling your heel very well, and they can make your heel fit better with cowboy boots due to their thickness.
Dr.Foot heel grips are good products that you should consider using. Dr. Foot is also a famous brand in foot health products.
In general, to determine the best heel inserts, it depends a lot on your intended use.
How do I get my heel inserts to stay in place?
Actually, this is a problem that happens quite often in normal shoes, but not in cowboy boots. Because cowboy boots feature a high shaft.
Conventional shoes without a shaft might make heel inserts slip off the shoe, but for cowboy boots, the high shaft of cowboy boots can keep heel inserts staying in place.
In case the heel inserts still slip out because the cowboy boots' heel is too loose, you can insert a cotton ball, soft cloth or toilet paper to help the cowboy boots' s heels fit snugly with your heels.
From there, the heel inserts will not slip off anymore. Or you can also use non-slip socks (yoga socks) which are also effective.
Besides, heel inserts often have glue to stick to cowboy boots. Unless they're old and their glue doesn't work, you should throw them away and buy a new one.
However, these are just for your reference. They are useless if you buy the wrong size (the size of the heel grips is too small for your cowboy boots)
Read more: Riding Heel vs Walking Heel
Cure your heel pain with the DR JK Fabric Heel Grips HeelPal! (BD04)
Why should you use heel inserts when wearing cowboy boots?
Cowboy boots have many different types, for those who love cowboy boots, one of the most favorite characteristics of cowboy boots is the heel.
Overall, cowboy boots heel is divided into three main categories: high, standard and low.
For standard or low heel boots (1″ to 1.5″), there is no problem with the foot or heel of the wearer. But you wear cowboy boots with 2.5″ or higher all day long, your heels may get hurt. So you should use heel inserts to bring the best comfort for your heels.
There are many types of heel inserts that have shock-absorbing, heel cupping, and anti-blistering functions. These will be good for your feet and heels during the day.
In addition, the heel insert also helps you get rid of the heel slippage, a very common situation in cowboy boots.
Finally, the heel insert can make cowboy boots fit tighter, making you more comfortable while walking.
Before you leave
There are many different types of heel inserts, so choose the one you need to solve your problem.
They can reduce heel pain, make cowboy boots fit tighter, shockproof, etc.
Hope this article can help you, even just a little!