From the late 18th century up to now, western boots have been symbols, identities of the people and culture of the American West.
The cowboys on the meadow always have a great charm that attract many girls.
Western boots not only bring beauty like other boots, they give the wearer the confidence, liberal style and arrogance of true cowboys.
You may not own a chelsea boot, you may not own a sneaker, but in your lifetime you definitely need a western boots.
In the western boots, there is a long history and the beauty of folk art and popular culture.
Are you persuasive enough to want a pair of western boots?
Let's start looking for the best western boots!
Are western boots comfortable?
You might wonder, this guy is trying to sell us a pair of western boots, how dare he say that western boots are uncomfortable?
I don't dare to deny that, but I will convince you why western boots are one of the most comfortable boots in the world:
Design:
At the end of the 18th century, farmers in Western America needed boots that were safe and comfortable for them to work on farms, western boots were born to serve that need.
To resist sun, rain, snow, cowboy boots must have a very durable design. Besides, the materials for making western boots are very strong (cowhide, snake skin, crocodile skin …) to protect your feet from snakes, scorpions … even bullets.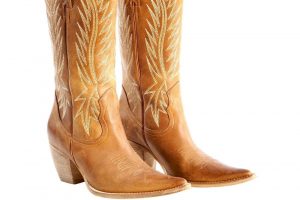 Along with that, western boots must have great comfort so cowboys can roam around their farms all day long.
To serve those things, cowboy boots were born with wide outsoles and inner soles with good arch support. Besides, the breathable inner lining of western boots is also highly appreciated.
To please today's discerning customers, besides traditional pointed toe and round toe, western boots manufacturers have developed western boots with square toe (and wide square toe). Western boots with square toes are one of the most amazing western boots in the 21st century.
Western boots with standard heels (1.5 inches to 2 inches), square toe, breathable lining, flat and wide outsole with good arch support will be a perfect combo to pamper all different types of feet.
Now, we're going to introduce to you top 15 western boots.
Let's go!
Top 15 most Comfortable Western Boot
1/ Dan Post Men's Alamosa
When it comes to the most diverse brand of western boots, we will recommend Ariat. But if you're looking for the beautiful and distressed western boot brand, we will not hesitate to call out Dan Post brand.
Dan Post Men's Alamosa is a testament to that, with the garter details and leather sockliner that create an unmistakable appearance.
What we like:
Full-grain leather shaft
Cushioning EVA layer
Handcrafted cushion comfort technology
Soft strike sole
No need break in period
What we don't like
A bit tight for people with high instep
2/ Dan Post Men's Bayou Western Boot
Dan Post Men's Bayou has a brass accent along with an exotic caiman foot that gives the wearer a masculine and strong style.
In addition to the wildness of the Dan Post brand, it's easy to find nice and sophisticated boots that are suitable to wear for work, and Dan Post Men's Bayou is such boots.
What we like
Leather sole
Full-Grain Leather
Shank stabilizer for extra support
Leather Lining
Simply exotic
3/ Dan Post Men's Cognac Pugh Ostrich Leather Boot
Smooth Ostrich brings luxurious beauty to today's cowboys who no longer work on farms.
Therefore, western boots made from ostrich skin are very popular with "cowboys" who work in the office.
The luxurious, masculine and distinctive look of Dan Post Men's Cognac Pugh will take your beauty to the next level.
What we like
Smooth ostrich
Fully leather lined
Comfortable, durable and stylish
Leather soles
4/CORRAL Unisex-Adult Cowboy Boots
If you don't like western boots made from inanimate machines, then Corral western boots are for you. They have the most skilled hands to turn western boots into a work of art.
CORRAL Unisex-Adult with vintage look and embroidery decorated toe. You can't go wrong with these boots.
What we like
Embroidered details
Leather soles
Handcrafting supreme leather
Soft leather interior
What we don't like
Slightly tight in the foot
5/ Dan Post Men's Denver Western Boot
We always love the caiman foot western boots, they are masculine, elegant and charismatic.
Dan Post Men's Denver features a caiman chocolate vamp that creates an undeniably elegant more than any other shoe or boots in the world.
What we like
100% Leather
Genuine caiman foot
Comfortable cushion
Leather and rubber sole
Fit: True to size
What we don't like
6/ Durango Rebel Frontier Black
Different western boots will give cowboy different styles.
If you love the masculine and wild style, the western boots with the rugged and strong appearance of the Durango brand can do it.
The Durango brand is always unique. Besides the beautiful appearance, determination and masculinity, Durango cowboy boots are especially comfortable and stable.
What we like
Full-grain leather
Air mesh lining
The outsole is slip, oil and abrasion resistant
Fit exactly as expected
Comfortable
7/ Durango Premium Exotic Full-Quill Ostrich
A western boot introduced by Durango: Durango Premium Exotic Full-Quill Ostrich, you will be overwhelmed by its appearance.
The full-quill ostrich foot and ostrich overlay on pull straps, along with the Sunset Wheat Ostrich color makes this couple gorgeous.
If you love outstanding look, choose Durango Premium Exotic.
What we like
Fully leather lined
Rubber sole
Strikingly beautiful
The heel base is leather stacked
Easy on/off
8/ ARIAT Men's Station Cherry Western Boot
ARIAT Men's Cherry Station with a stunning look will make you stand out of the crowd.
The ARIAT Men's Station Cherry boots are designed with a six-row stitch pattern along with a heavy-weight eagle pattern, you will be the center of the party.
Besides the beautiful motifs, these western boots also feature a foot made from cracked leather, which gives the masculine and wild look to the wearer.
What we like
Leather outsole
Full-grain leather foot and upper
Six-row stitch pattern
Leather lining
Fit great out of the box
9/ Durango Womens Crush By Durango
The boots of the Durango brand have their very own style.
Durango boots bring extremely masculine looks for men or even… women. It will be very attractive when girls wear a cool, dusty and masculine boot, right?
Put on this wonderful boot! Mix, Match, Make 'em your own! This boot has wild and distressed colors. In addition, the shaft is decorated with three ornate accessory straps. It is such a fashionable boot for… flirting, isn't it?
In addition to straps, they also have stylish antiqued metal hardware. The outsole of boots is rugged and non-slip. A cushion flex insole to massage your feet …
What we like
Cushion flex insole
Soft mesh lining
Dress very well with short pants like Denim shorts
Many decorative accessories on boots are very beautiful
What we don't like
It takes a lot of time when cleaning boots
Need break-in time
10/ Very Volatile Women's Markie Bootie
Seizing the latest fashion trends, elegant, aristocratic … that's what the Very Volatile brand has done very well in recent years.
Women's Markie Bootie gives people modern fashion on the basis of traditional cowboy boots. This boot is new and innovative bringing edgy and fresh style. It gets metallic embroidered details and comes with three colors for your choice.
What we like
Non-slip rubber sole
Comfortable all day long
Perfect for dancing
Cowgirl boots heel
Wear very nice when combined with dress, skirt, skinny jeans
What we don't like
Not durable and long-lasting like other cowboy boots
11/ Huiyuzhi Womens Ankle Boots
Huiyuzhi has a short heel design that makes it comfortable for you to wear all day. Still, it has a decent height for you, giving a standard cowboy style.
The luxurious white color with the brown leather strap wrapped around it creates the best point for these boots. It would be great to go with jeans, shorts and dress.
What we like
Long-lasting
Comfortable and flexible
Easy to mix and match
Striking colors, eye-catching
Made good for the low price
What we don't like
The boots are quite narrow so it will be uncomfortable for people with flat feet
12/ Soto Boots Women's Dahlia Vintage Flower Embroidery Cowgirl Boots
When you are a fan of vintage motifs, you cannot miss Dahlia Vintage Flower Embroidery Cowgirl Boots.
This accessory will give your outfit a bold look.
On the shaft and vamp, there are embroidered vintage floral patterns that contrast with the brown leather background, creating a highlight for this boot. You will catch a lot of attention when wearing this boot.
Crafted entirely by hand, Dahlia boots retain the beauty of Western culture.
What we like
Comfortable leather lining
Cushioned insoles, Leather soles
They fit like a glove
Suitable for dating, wedding …
What we don't like
13/ 100FIXEO Women Chunky
Are you fed up of old cowboy boot brands, the familiar brands that are repeated on many different websites you've viewed?
Let us introduce to you a new brand – it brings a new brand and new style for cowboys.
It is the 100FIXEO brand with Chunky cowboy boots.
The stacked heel design gives you absolute comfort all day long. The classic pattern design has a short shaft and a zipper for you to wear and remove easily.
Give Chunky boots a chance, you will not be disappointed!
What we like
Very comfortable and stylish
Fit: As expected
Comfortable to wear in the summer but still warm enough to wear in the winter
Easy to coordinate, diverse in colors
What we don't like
The color is slightly darker than the image
14/ Lucchese Classics Women's M5016 Boot
Let's see a pair of super cool boots from a familiar brand in handmade cowboy boots, Lucchese.
M5016 Cowboy boot gets a different appearance compared to other boots. As you can see, the design is quite bizarre with only black and white leather platforms as the mainstream.
This outlook gives a very distinct impression to the looker. If you are a fan of black-and-white themes, this is a perfect choice for you.
What we like
Leather sole
Colors and textures as a work of art
Low heels for comfortable feet
Good quality leather, flexible for your feet
What we don't like
The ball of the foot part is pretty tight for wide feet
15/ Roper Ladies Ingrid Snip Toe Black Boots
Do you love cute things and colorful floral patterns? Let's enjoy the lovely look of the Roper® Ingrid boot! It is such a boot with beautiful colorful flowers printed on a fanciful black leather background. The upper is made from faux-leather.
This is a great choice for lively and feminine girls who enjoy having fun in their lives. Young and energetic girls cannot miss this chance. Take this brilliant boot for your wardrobe!
What we like
Side pull straps for easy entry
Soft synthetic lining
Cushioned comfort insole
Boots give feet a comfortable and warm feel
What we don't like
Slightly tight near the toes
FAQ: What is the most comfortable western boot?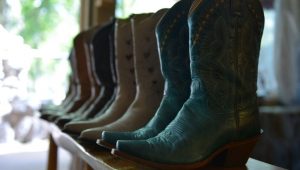 It is western work boot.
Western work boots are cowboy boots that are a hybrid of American western boots and British work boots.
Western work boots have a very solid and durable design. Their sole is usually made of rubber so it is very smooth and non-slip.
Western work boots have many advantages, including waterproof and cleaning easily.
Work boots easily get nasty stains due to their shoelaces. Western work boots, on the other hand, don't have these shoelaces, so it is a relief to clean them.
The shaft of western work boots usually reach to mid calf height, that's enough to protect the wearer and still easy on / off
The sole of western work boots is usually thick to provide comfort. Moreover, they are designed with a wide, flat outsole that offers good stability and balance.
In addition, the insole of western work boots also has very good arch support, which is great for people with high arches or flat feet.
The heels of western work boots are usually only about 1 inch high, because too high will affect the comfort of the wearer.
With such design, western work boots provide comfort for those who work outdoors or heavy work.
However, to comment on which type of western boots are most comfortable, it should be based on many factors such as: the size of western boots is appropriate or not, the purpose you use western boots and the time you use them.