In the street, we easily come across stylish and feminine girls in their eye-catching outfits and shoes. These costumes are diverse from dress to skirt, shorts to skinny jeans, … and they are very gorgeous and attractive.
Still, we might catch girls in very nice clothes but her shoes are not in harmony with the costumes, making the coordination a disaster.
How to avoid that disaster? Try cowboy boots, these boots are completely feminine and absolutely outstanding. They will make you happy with your wardrobe since it goes well with your clothes.
Today, we will introduce to you the 15 Best Cowboy Boots for Women 2021. These cowboy boots will make your wardrobe more vivid.
Feel free to use your great imagination to combine your clothes with these cowboy boots below.
Top 15 Best Cowboy Boots for Women 2021
1/ Lucchese Classics Women's Robyn
The first one to hit the list is an stylized cowboy boot from the Ankle Boots & Booties line of Lucchese brand: Lucchese Classics Women's Robyn.
We always appreciate Lucchese-made cowboy boots for women. They are strangely delicate, feminine and seductive.
This boot is decorated with fringe charm, feather and leather lace wrapped around the ankles. Also, it has an one-side zipper.
Besides, it is made from fashionable suede and leather soles and handcrafted in Mexico.
What we like
Fit: As expected
Comfortable leather sole
The accents are decorated with feathers and leather laces wrapped around the ankles
Built-in arch support
What we don't like
This boot is a bit narrow if you have a high instep
2/ Volatile Women's Denver
You want an feminine and unique cowboy boot, try the boot brand Volatile Denver.
Glamorous curves and unique, formal and elegant colors are the focus of this pair of boots.
Although the heels of these cowboy boots are high, they still bring comfort unlike other boots.
This boot has bright colors so it is easy to coordinate with your clothes. A big plus of this boot is that you can wear it for dancing.
The heel of the boots create sharp and happy sounds on the music you dance.
What we like
No breaking in period, very comfortable
Flexible sole
Good price
Very nice to wear boots with dress or jeans
Fashionable heels
What we don't like
Easy to see stains when sticking dirty
3/ ARIAT Women's Fatbaby Heritage Trio Western Boot

You need completely wild style boots, choose this one. The boot comes with classic leopard print.
This wild and distressed style of this boot impresses your eyes at first sight.
It is best for girls whose lifestyle is outside the lines and love going outdoors.
This is a wonderful gift for "every untamed spirit" as this brand introduced. Also, its short shaft creates a sense of comfort and flexibility.
What we like
Fit as expected
Leather foot and upper
Durable and long-lasting
Unique colors and designs
What we don't like
Not suitable for people with narrow feet
4/ Laredo Women's No More Drama Underlay Cowgirl Boot
The Laredo Women's No More Drama cowboy boots received a lot of praise from customers right from the first day of debut.
Obviously, this proves the quality and aesthetics of this product.
Laredo boots are designed with gorgeous red color and blue one. Either of them are attractive to the eye giving you stunning looks.
The motifs are impressive and bring the traditional style of western boots – the irresistible beauty.
What we like
Distressed leather
White stitching for contrast
Cushion comfort insole
They fit like a glove
What we don't like
5/ Dan Post Women's Bed of Roses
Dan Post brand has long been famous for western boots. Once again, they have confirmed their skills with the product Bed of Roses.
We always like boots decorated with fringes, rose-embossed detailing. They look like the wind and breath of the western United States
The design is completely unique and the mysterious black color creates gorgeous boots.
What we like
Long-lasting leather outsole
Pull tabs for an easy on and off
The removable inserts are a nice addition
Smooth leather lining
No need to break-in
What we don't like
Apart from black there are no other colors to choose from
6/ Roper Ladies Kennedy
For western fashion cowboy boots that are easy to use and easy to wear, Roper is the brand you should consider.
Roper Ladies Kennedy boot is also the product that brings a breath of fresh air to this brand.
The product retains its quality and outstanding properties such as easy to wear, comfortable with all feet, suitable for many purposes … Also, Ladies Kennedy has a special feminine outlook.
This is quite hard to find in other Roper boots.
If you're looking for an easy-to-use, affordable, good quality boot, Roper is a trusted brand. Don't miss the feminine and Western classic of Ladies Kennedy!
What we like
Fits true to size and are very comfortable!
3 colors suitable for many different styles
Padded Comfort Lining
Super cute with shorts and dresses
What we don't like
A little slippery on the bottom
7/ Cambridge Select Women's Pull-On Country Western Style
A gift from the Cambridge Select brand for Western country style lovers: Cambridge Select Women's Cowboy Boots.
This boot is entirely made of high quality leather, glossy and smooth, creating a solemn style.
Also, the color of the skin enhances the beauty of the western American country style.
Design has accents with a concho strap on wrinkled leather background with no decorative patterns. Simple as it is, you still get a gorgeous look wearing this boot.
What we like
Suitable for people with wide calves
Good price
Easy on/off with pull tabs
Soft, flexible and breathable leather
Very nice to wear with skirt, dress and skinny jeans
What we don't like
 The sole is quite thin so it does not achieve absolute comfort
8/ Soto Boots Women's Wedding
Are you looking for something stunning for a special occasion? Or looking for a pair of western boots that are handmade and affordable?
That places all in Soto Boots Women's Wedding. This boot is handmade with delicate and elegant designs. It reflects the cowgirl's personality.
The cross is surrounded by classic Western patterns in gold embroidery by the hand of skilled craftsmen.
This boot creates great beauty when combined with denim shorts, denim jeans and skinny jeans… Do not miss this undeniable charm.
What we like
Leather sole creates softness
Luxurious color, noble
These boots are great for a country themed wedding.
Very good price for a handmade boot
Great to go dancing
What we don't like
Usually out of stock soon
9/ Corral Women's Turquoise/Brown Embroidery & Studs
Corral brand has brought to customers who love vintage beauty a unique boot: Women's Turquoise / Brown Embroidery & Studs boots.
This boot emphasizes vintage style: the Thunderbird embroidery, ethnic patterns and fringes.
It gets a striking look with meticulous stitches by the hands of experienced workers from Mexico.
To accentuate the cowgirl spirit of the wild western region inside you, this boot features brass metal stud details on chevron patterns.
Also, it has full leather for a comfortable fit and feel.
Trust me, at this price, you can't find a better pair of handmade boots!
THESE SHOULD BE DOUBLE THE LISTED PRICE!
What we like
Gorgeous handmade boots, colorful and eye-catching
Fit: As expected
Durable and rugged
Unique design, colors, textures
The detail on the boots is amazing
What we don't like
Slightly tight with people with big calves
10/ Dan Post Women's T-Bird Western Boot
Dan Post Women's T-Bird cowboy boots will take your western style to the next level, like a true cowgirl.
The upper boot is made from genuine leather.
The shaft is designed with eye-catching, beaded fringe accents and concho-braiding in back, along with a colorful Thunderbird designed at a scalloped topline.
You will be surprised to say why there is a unique pair of cowboy boots like this.
What we like
Removable Soft Strike footbed
Rubber, durable and smooth outsole
Great for a Western wedding!
Fully leather lined
Cowgirl heel
What we don't like
Limit use in the rainy or winter season
11/ Dingo Women's Adobe Rose
For those who love cowboy boots but do not want to be obsolete and too traditional to affect their youthful fashion style, here comes Dingo cowboy boot: Adobe Rose
The design is youthful, bold and innovative but retains its classic tradition.
The vibrant red attracts every guy's eye. It has beautiful and sophisticated stitching.
The curve of the boot creates a completely feminine feeling.
What we like
Side zipper for easy to on / off
Hinged cushion insole
Easy to break-in it
Great for wide calves
Very nice to wear with dress
What we don't like
12/ ARIAT Women's Western Boot
This cool boot offers elegant design. It is extremely easy to mix and match. It blends well with anything you got, it's ARIAT Women's Western Boot!
Coming with a simple design, the boot features extremely easy-to-wear colors.
The curve from the instep of the boot to the tip of the boot creates a noble tone.
It is the simplicity that definites the fashion level of this boot.
What we like
ATS footbed
These boots challenge the weather
The boots look nice fresh shine
Wear-resistant Duratread outsole
What we don't like
This is the best color, other colors are not as good as this one
13/ GLOBALWIN Women's Cowboy Boots
We have other cowboy boots with less textures and a key accent located in the concho strap, but this time it's more wild, more distressed, and more liberal.
You do not need the fussy to assert yourself, you only need the wild style and the zeal of personality to assert your cowgirl attitude.
What we like
Pointed toes makes you feel more confident, more cowgirl style
Very nice combination with pretty floral dresses and denim skirts or.
Fits as expected
Suitable for wide feet
Reasonable price
What we don't like
Insole is not really comfortable
14/ CORRAL A3758 Blue Jean Stripes and Stars Inlay
This is a pair of boots for patriots and traditional western lovers.
They are flag-shaped as the main decoration and are produced in two places with the oldest cowboy tradition in the world: Mexico and the US.
Cowboy boots with flag motifs are not new but probably never old. Because they represent a nation, a tradition, a human breath there.
The star accents surround the shaft and on the instep, making people think of freedom and independence.
What we like
Textures are easy to impress
Full-Grain Leather
Special: glow in the dark
Especially comfortable with low heels and square toes
What we don't like
You may order a half size bigger
15/ Dingo Women's Willie
You don't want a pair of boots that are simply beautiful but useless!
You love cowboy boots for both their looks and their uses!
That is alluding to the Dingo Women's Willie boots. A great pair of boots will satisfy the most demanding customers.
Willie has a variety of designs to use. Certainly Willie will please the motorcycle and western crowds.
What we like
Cushion insole
All leather upper
Long-lasting
Low heels, wide flat soles make it very comfortable for the feet
What we don't like
[FAQ] Is Laredo a good brand of cowboy boots?
Travas' review of Laredo brand boots
When talking about Laredo cowboy boots, you should think of the traditional western boots. It is the western boots that made the name of the Laredo brand.
We appreciate the true Western style of Laredo cowboy boots.
Laredo boots are very durable and long lasting. Their boots have many motifs, eye-catching decorations, and are easy to get attention.
The stitching lines are very delicate and detailed.
The heels of Laredo cowboy boots are usually quite low to the standard.
The tip of this cowboy boot is mostly pointed, snip toe and round toe, rarely square toe.
From the description of the Laredo brand, we can see the traditional value of western cowboy boots is highly appreciated.
This traditional value is also the most important criteria when they produce cowboy boots.
Based on the reviews from those who bought Laredo cowboy boots, this brand is highly appreciated by users.
Laredo's cowboy boots are very popular with women.
Their boot line for women are very diverse in colors and various patterns so it is very easy to mix,match and suitable for many purposes.
Besides, the price of Laredo boots is also very affordable – a big plus for this brand!
However, Laredo cowboy boots also have drawbacks: the design of the boots is not diverse, for example.
Unlike the variety of colors and patterns, the designs of Laredo boots are often quite monotonous.
They only focus on exploiting western cowboy boots, so there are no strange and unique designs.
Read more: Are Cowboy Boots Waterproof?
Are Laredo boots made by Dan Post?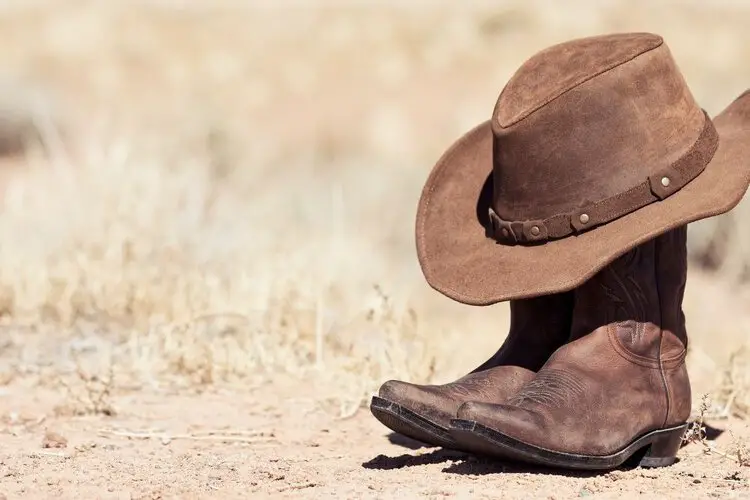 The Laredo brand is not made from the Dan Post brand.
The true answer is … both Laredo and Dan Post are developed by the same company. And this company was originally invented by Dan Post Boot Company
It was McRae Industries Brands. In addition to Laredo and Dan Post, the Dingo brand also belongs to this company.
Both the brands Laredo and Dan Post have one thing in common that their best cowboy boot line are western boots. What about the difference?
Let's scroll down.
Is Dan Post a good boot brand?
Dan Post Boots Review And Do they Run Big Or Small?
The answer is yes, the Dan Post brand is a very famous and long-standing brand. Along with Laredo, it is very famous for Western boots.
Because it was jointly developed by the parent company McRae Industries Brands, the superior features that the Laredo brand owns are also the preeminent features of the Dan Post brand.
So what are the differences between these two brands?
They are motifs and colors. Dan Post has a simpler color compared to the diverse and eye-catching colors and textures of Laredo.
Dan Post boots focus on wild, distressed and cool style. Their motifs are also much simpler than Laredo.
Because of the aforementioned traits, Dan Post's fans are mostly men.
The average price of Dan Post is higher than Laredo, but not much higher. For men's boots, the price of Dan Post is also affordable.
And just like Laredo's weakness, Dan Post Western cowboy boots are highly rated, but they don't have the same diversity in different cowboy boots categories.
In short, if you love Western cowboy boots, then Dan Post boots can completely satisfy your love and make you happy.
How do I choose a pair of cowboy boots that fit?
Normally, when you buy cowboy boots, choosing the size of cowboy boots is the most important. How to choose cowboy boots that fit your foot size?
Please note the following:
1/ The size of your feet and the size chart of the brand of cowboy boots you want to buy
Every cowboy brand has a different size chart, so don't get a single size chart and applies it to every cowboy brand you want to buy.
2/ Pay attention to the heel, instep, the ball of the feet and the tip of the cowboy boot
The heel of a cowboy boot is very important, it can determine whether you can wear cowboy boots all day and still be comfortable.
So pay attention to: Why cowboy boots have heels and Types of heels on cowboy boots
Also, the instep will decide the flexibility for your feet when wearing newly purchased cowboy boots.
The ball of the feet of a cowboy boot will determine whether the sole of the cowboy boot is soft and flexible enough for you to walk freely.
You also need to pay attention to the toe shape of cowboy boots, each different type of toe will have different uses.
From our experience, when choosing a cowboy boot, you should choose the size of cowboy boot that when you put it on, your longest toe will be 3/4 inch to 1 1/2 inch away from the tip of the cowboy boot.
For your information, this article has full guide to choose cowboy boots: What Size Cowboy Boots Do I Need ?
Besides, pay attention to the sole of the boots, different types of soles will have different uses.