Can you recall the first time you wore your new hiking boots? You might have used words like "discomfort" or "pain," followed by many question marks, to depict your ordeal.
One of the most irritating things in the world for hikers is wearing a pair of stiff hiking boots. But, here's the good news you need: not anymore.
What used to be a painful experience when you bought the boots can now easily become comfortable and easy to hike with. And there are now several methods to quickly and easily achieve this.
How To Soften Stiff Hiking Boots?
In most cases, the heavier the boot is, the longer it will take to soften, and the lighter the boot, the quicker it will loosen up. Firstly, examine the footwear to figure out the material used to make it.
If there is a label under the shoe or inside it, it might state the exact material used to make the boot. Nevertheless, leather (faux, full-grain, split-grain, nubuck), synthetics, and so on are some of the materials used in making hiking boots.
While a nice pair of hiking boots often provides softness and comfort, new ones tend to feel a bit stiff. Moreover, you can only get to completely enjoy the "softness" when your boots are fully broken in or softened.
So, how can you achieve this softness, even for new hiking boots?
Best Ways to Soften Leather Boots 
Let's scroll down to see what they are!
1.  Steaming  
Tools needed:
Home kettle or steam iron
Boot trees
Last update on 2021-12-23 / Affiliate links / Images from Amazon Product Advertising API
One of the most traditional techniques used by professional shoe repairers to make boots softer is steaming inside the footwear. You don't need a special appliance like what a shoe cobbler employs to make steam, just use your home kettle or steam iron.
Warm steam loosens up leather, which would allow you to feel more relaxed when you wear your boots for a hike. If you steam them for a while, the boots will become less tough, feel better and adjust to the shape of your feet.
Steps to follow:
Using a steam iron or a home kettle filled with boiling-hot water, direct the steam to the interior of the hiking boots towards the spot you want to expand for about 20-30 seconds.
Put the steamer away from your body and your boots, and squeeze the affected area with your finger. If it still feels tough and stiff, repeat the process for another 15 seconds.
Once the shoes get soft, warmed up, and adjustable (but not completely filled with moisture); put them on and try to walk around in them.
Keep the hiking footwear on your feet until it gets dry to confirm that it adapts to every nook and cranny of your feet. If wearing it is too painful, pull the boots off your feet once the material has cooled down and leave them to dry with natural air or sunshine.
Refrain from using an artificial source of heat to hasten the procedure as doing this will harm the leather. After the hiking boots get dry, use a leather conditioner on them to replenish the lost moisture from the steaming process.
It is also advisable to use boot trees after the steaming procedure. Boot trees will ensure that the shape of the hiking boots remains in good condition and consume the leftover steam.
2. Leather conditioners
Last update on 2021-10-23 / Affiliate links / Images from Amazon Product Advertising API
Tools needed:
Leather conditioner
A soft cloth
A hairdryer
Leather conditioners are good for retaining the color and quality of hiking boots both inside and outside, and for softening them as well. When hiking footwear gets old, they lose the moisture they need, and without that, they get rigid, cracked, and shapeless.
You need to maintain the boots by using a leather conditioner. This product will sustain the leather and make it softer by providing much-needed moisture.
Steps to follow:
Confirm that your boots are clean and dry.
Apply the leather conditioner with the soft cloth on the top of the hiking boots and then wait for it to soak into the leather.
Use a hairdryer to warm up the exterior of the footwear to ensure that the product is fully immersed.
3. Heat with a hairdryer 
Tools needed:
Another tool that can help you loosen up the leather is to utilize heat. One way of doing that is by using your hairdryer.
Steps to follow:
Fix the temperature of your hairdryer to a medium setting.
Pass the dryer along the interior of hiking boots.
After heating the shoes with the hairdryer, put on a pair of heavy socks under your hiking boots.
Pro tip: A light application of leather conditioner after heating the boots will replenish any lost moisture.
4. Heat with a warm damp cloth
Tools needed:
Using a warm damp cloth is another way to apply heat to the hiking boots. Though this procedure does not require gear, repeating it several times can be quite demanding.
Steps to follow:
Warm-up a damp cloth or towel, or put a towel into warm water, then squeeze out the water.
Put it inside your boots. The heat from the cloth will soften the leather.
For best results, you will have to repeat this procedure a few times.
5. The spoon method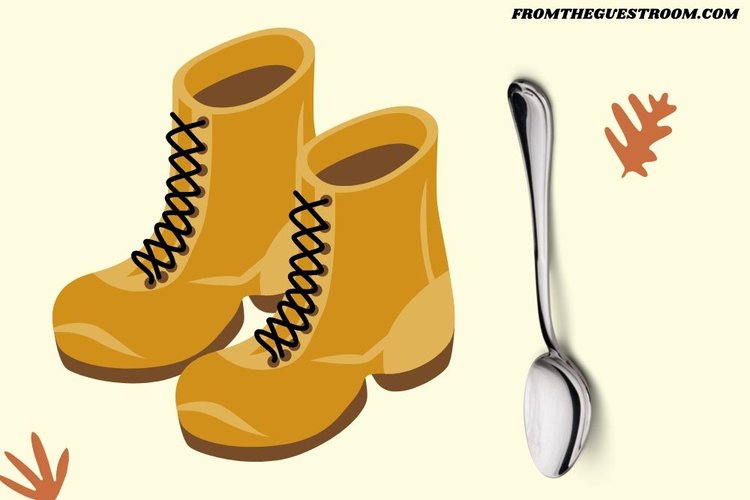 This strategy isn't conventional, but it works great when you are in a hurry. Just massage the round side of a spoon against the rear of the heel (inside the shoe) and any other stiff areas the spoon can touch.
Do not be scared to firmly use the spoon, but be cautious not to scrape the leather with the end of the spoon.
The rubbing movement should mimic the motion of your foot when walking. Doing this repeatedly will smooth and loosen up the hard leather.
6. Stretching with boot stretcher
Tools needed:
Last update on 2021-12-19 / Affiliate links / Images from Amazon Product Advertising API
You can soften your hiking boots by utilizing boot stretchers. This technique works well for breaking in any kind of hiking boot substance, including leather, nylon, synthetic, and more.
If you do not want to harm your feet because you want to make your boots comfortable, then you can try this treatment.
You only have to procure a boot stretcher and let it do its work. Get a boot stretcher, put it on your feet, and modify the equipment to your liking.
This is a quick and easy method, and it will keep you from stressing about breaking in your new hiking boots. This is by far the most prominent, respected, and advisable method of softening new leather boots.
7. Stretching with boot stretch spray
Tools needed:
Last update on 2021-09-15 / Affiliate links / Images from Amazon Product Advertising API
Boot stretch spray is a chemical product utilized to stretch leather hiking boots, by softening the leather. All you are required to do is apply boot stretch spray into your boots and it will loosen up your boots.
Make sure your boots are clean and dry before spraying them! Please note that the spray might darken your shoes.
8. Bend the leather
Leather loosens up as time goes on, and full-grain leather (often used to manufacture mountain boots) takes longer to do so. Grab hold of the boots and continuously bend them with both hands.
This will help soften the sole, too, which is vital because a tough sole can cause your heel to hurt. However, you might damage the hiking boots while bending.
9. Wax the leather
Tools needed:
Steps to follow:
Clean up the boots to remove any dirt residue.
Use a little brush or a soft-bristled, old toothbrush to apply Vaseline. Only a thin coating is needed to complete this procedure.
Let the Vaseline stay on the fresh boots for a few hours, then rub off the extra Vaseline using a piece of clean fabric.
Repeat the process if you are not yet satisfied with the feel of the leather hiking boots.
10. Adjustable shoe trees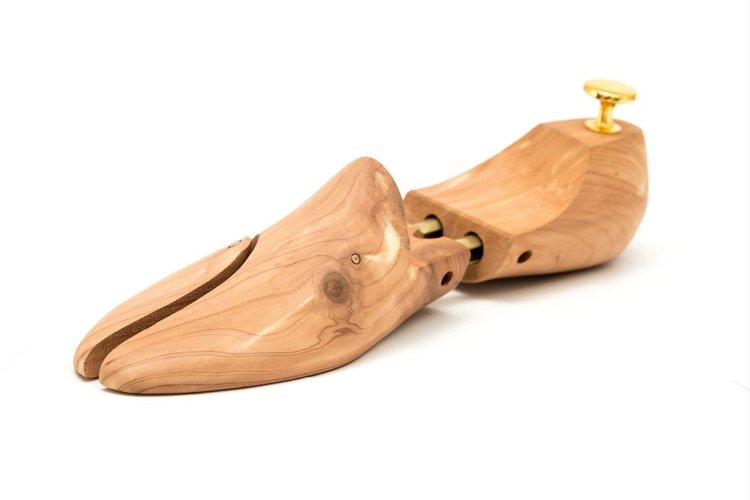 Shoe trees can assist you in enlarging the length and width of your hiking boots. Twist the adjustment handle of the shoe tree every 8 to 12 hours to keep spreading until you get the desired size.
This procedure can be integrated with a shoe stretching spray.
Best Ways to Soften Synthetic Boots
What about Synthetic Boots? Don't worry, keep continuing to see useful methods.
1. With lotion
You can apply lotion on your synthetic hiking boots like mesh, nylon, etc to make them less stiff. This works great!
However, this technique should only be used inside the boots and it must not be applied often. Because of the nature of lotions, they can darken the hiking footwear.
To be careful, test a tiny quantity of the cream on a small area of the boot before applying it all over.
2. Spray warm water
Tools needed:
Another way to soften hiking boots is to use warm water. Be careful not to ever soak them totally in the water, or you will spoil your boots.
The best way is to use a spray bottle to sprinkle some warm water inside your boots and leave it there to get cold.
Once the warm water cools down, dry it off and repeat the same process with another coating of warm water until the leather softens under your touch.
Ensure that you completely dry out your boots so that they don't get destroyed by the excess water.
3. Apply alcohol
Another trick is to apply alcohol inside the boots to loosen up and stretch them. They will feel more comfortable on your feet after this.
Alcohol works well to soften synthetic materials, but it might harm the exterior of your boots or cause your boots to stink. So be cautious when applying this treatment.
4. The thick socks technique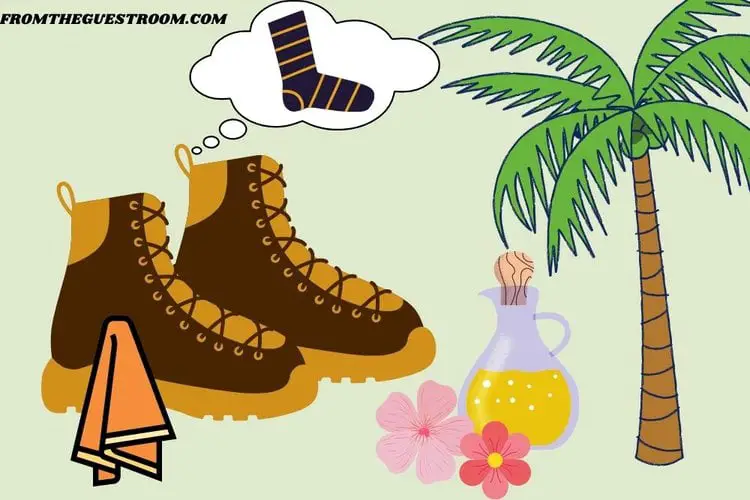 Tools needed:
Thick or heavy socks
Leather conditioner or coconut oil
Cloth or towel
Steps to follow:
Apply some leather conditioner on a cloth and start to rub it all over the surface of the boots.
Make sure to use circular movements when you apply the leather conditioner to the boots. You can replace the conditioner with coconut oil. This makes the boots soft.
Wear a pair of thick socks and put on your boots.
Walk around for 20-30 minutes then repeat the above steps every day.
Also, if your feet begin to hurt so much that you can not withstand the discomfort, remove the boots instantly and contemplate utilizing the other strategies in this article.
Please note that synthetic or plastic-based boots can only stretch half a size or, if you are fortunate, one full size. Do not try this with leather boots.
5. Freezing
Tools needed:
Steps to follow:
Put your boots in a plastic sack overnight.
Moisten a few pages of a newspaper, fold it up, and push it into each boot.
Then put your boots inside of the bag and shut the zipper 3/4 of the way. Remove the extra air out of the bag and fasten it.
Leave your footwear in the freezer overnight to loosen them up and spread them out.
Water extends when it freezes. As your boots freeze, the moisture inside of your boots will broaden, resulting in the concurrent expansion of the material.
Best Way to Soften Suede Boots
Tools needed:
Leather conditioner
Blow dryer
Shoe brush
Steps to follow:
Brush the boots for a while then sprinkle some conditioner on them.
Use a blow dryer to put warm air on the boots so that they soak in the conditioner better and faster.
Let the boots dry off in a warm area that is not in direct sunlight. Leave the boots for 24 hours before you put them on.
You can brush the boots one more time after the required 24 hours. This procedure should soften the suede material and make it more water-resistant.
Bonus Tip for People Who Hike Regularly
Wear them around the house with moist socks for about a week. If you hike in damp socks, it takes 25 or 30 miles to soften which is far less than the time it takes with dry socks.
This technique was tested by a regular hiker with two pairs of similar boots. With damp socks, it took about 20 miles for the boots to feel comfortable, but dry socks took closer to 50 miles until the boots softened.
Conclusion
Do you have stiff or solid hiking boots? Well, the above methods will allow you to sufficiently soften and break in your hiking boots just in time for your next hike!
Please note that you should avoid soaking your leather boots in water, as they are not as easy to dry out as you might think. Plus, they might break the material, making it unattractive.
Before applying a particular softening technique, remember to be sure of the kind of material that was used to make your boots, and choose accordingly.