Hiking is an adventure and some decide to make it more fun by trail running. At other times, running is a necessity for evading predators or to catch up with a pack during a hike.
Whether you are running intentionally or not, you will be at a greater advantage if your boots are suitable for running.
So, do you need to buy a new pair of running boots for the days you decide to run on a trail? Maybe not! Hiking boots can be used for running although they are not designed for runners who cover a huge mileage every day.
While many customers today are obsessed with lightweight shoes—which makes them choose trail runners over hiking boots—footwear experts agree that you can use hiking boots for running. But, how, when, and where you hike will affect your choice.
Interestingly, there is no one-size-fits-all when it comes to running with hiking boots. It usually boils down to comfort and personal preference.
Still curious to know more about running in hiking boots and how hiking boots compare to running boots? We have all the details below.
Can you run in hiking boots?
While it is possible to run in hiking boots, it may take you a while to master if you are new to hiking.
The wide and thick soles that come with hiking boots provide a stable base but also make the boots a bit heavier than running shoes. This will likely be the first challenge that you need to overcome when running with hiking boots.
Running occasionally in your hiking boots won't hurt although it may not be suitable for regular run training.
Most runners invest over 25 miles per week on their shoes and hiking boots are not built for such mileage.
The reason is that when you are running, your foot interacts with your boots and the ground in a different way compared to when you are hiking.
If you intend to run several times a week without the risk of injuries to your feet, you will need to change to specific running shoes.
Before choosing a hiking boot for running, there are a few questions that you need to ask yourself.
We shall highlight the questions and your answers will determine if you can run in hiking boots or not. Interestingly, no one can answer the questions for you.
1. What is the nature of your terrain?
Trails strewn with rock pieces and pebbles require boots with sturdier outsoles for more stability and to withstand the wear and tear from hiking such terrains. Hiking boots have rugged soles that can handle such abuse while keeping your feet safe.
If you are running in a meandering forest trail with fine grain sand, a boot with lean outsoles will suffice.
For a paved trail, even a pair of sneakers will be just fine.
If the weather forecast says it will be wet or cold, you will need sturdy hiking boots with a waterproof membrane to keep your feet safe and warm.
2. What is your running speed?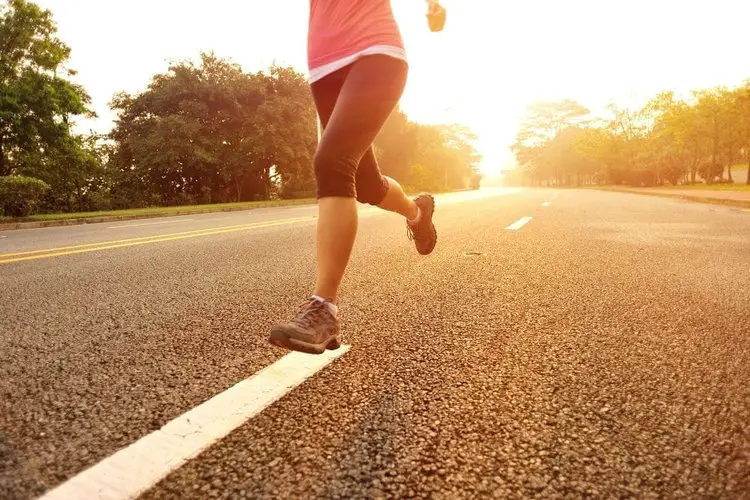 The faster you run, the more weightless you become and the higher your chance of tripping on the smallest obstacle.
If your running is equal to a brisk walk from start to finish, light trail runners will feel more comfortable.
On the contrary, if you are running on a rough trail with pebbles and tree stumps, you may need a hiking boot to provide extra support to your feet.
You can also rely on the deep lugs of the outsoles to improve your traction and prevent any form of slip and fall injury.
3. What kind of support does your body need?
Only you can understand your body and the kind of support that you need.
If you are the type that trips easily, having stable hiking boots will be a better option for running.
However, if you have no issues with stability, you can experiment with other types of shoes.
Is it Okay to run in hiking boots?
Running in hiking boots over short distances is totally fine—although it is not recommended if you run regularly.
To do this without any harm to your feet, make sure the boots are flexible and give a snug fit. Sliding your feet inside the boots is discomforting and can lead to blisters.
In fact, military training is often carried out in boots and they often involve lots of running.
This is because boots are designed for rugged terrains. Their weight, design, and material make them more effective for walking and climbing.
A boot that gives a snug fit can be paired with the right socks to prevent the sliding of the feet and lower the risk of having blisters.
A hiking boot that you intend to run with should have flexible outsoles to accommodate the movement of your foot while running.
Also, if you are going to be running with leather boots, make sure that the break in is properly done because it softens the leather and molds the boots into the shape of your feet for a more comfortable fit.
While it is okay to run in hiking boots, it is paramount that you start small and build up the pace with time.
Slowly increasing the pace will allow your feet to get used to the weight and flexibility of the boots. Don't try to run 10 miles on the first day because you may end up hurting your feet.
Start by short bursts of 1 mile with resting spaces in-between to give your feet time to recover.
Once your feet are used to running 1 mile in your hiking boots, you can push it up to 2 miles. Gradually push the limits until you get to your initial goal of 10 miles.
How to choose hiking boots for running
Using hiking boots for running has its pros and cons. These pros and cons explain why some hikers are promoting the practice while others think it is a bad idea.
Like we mentioned from the beginning, whether running in hiking boots is a good or bad idea is a personal choice.
The three main features that you need to pay attention to when choosing a hiking boot for running are fit, components, and type.
If you understand how these features affect where and how you hike, you will be able to make a better choice.
Fit
The right choice of hiking boots for you should fit snugly all around. No part of the boot should be too tight or too loose.
If you are making your purchase from the neighborhood shop, it is crucial that you test them—especially at the end of the day when the feet swell a little. Also, make sure you test them using the socks that you will be using for the hike.
While testing your boots for fitness, don't just put them on and take them off immediately. Spend some time (about 30 minutes) in the boots.
Walk around including climbing stairs to see if it pinches in some arrears. Once it passes this test, you can move to the next one.
If you are shopping online, it will be a smart idea to stick with products that you have worn before. Wearing boots that don't fit properly will make it more difficult for you to run—even for short distances.
Component
When we talk about components, we are referring to the material used in the making of the different parts of the boots from outsoles to insoles, and the uppers.
The properties of a hiking boot such as water resistance, breathability, weight, and durability will depend on the type of material used in making the boots.
The main type of materials used in making hiking boots are full-grain leather, split-grain leather, nubuck leather, synthetics, and waterproof membrane.
Full grain leather is the most durable and is suitable for rugged terrains. However, they are heavy and less breathable than the other materials.
In terms of the outsoles, you need to consider the lug pattern and the presence or absence of a heel brake.
The level of traction offered by a hiking boot will depend on the lug pattern on the outsoles. Deeper and thicker lugs help to improve grip.
Lugs with wider spaces in-between easily shed muds to keep the traction consistent when hiking muddy terrain. Running in terrains with boots that have inappropriate lugs will increase your risk of tripping or sliding to the ground.
Type
There are three broad types of hiking boots namely backpacking boots, day hiking boots, and hiking shoes. Their most obvious difference is the height of their ankle support.
Hiking shoes would be your best bet if your goal is to run on the trail. They have flexible low-cut models with a height that rests just on the ankles which makes it easier for you to move your feet.
Backpacking boots have a high upper that wraps above the ankle to provide excellent support. They are heavier and their outsoles are sturdier and stiffer which makes running in them really difficult. They are most suitable for on or off the trail hikes.
OVERALL RATING TABLE FOR USING HIKING BOOTS FOR RUNNING
| | |
| --- | --- |
| Features | Editor's rating |
| Comfort | ⭐⭐⭐⭐⭐ |
| Protection | ⭐⭐⭐⭐⭐ |
| Weight | ⭐⭐⭐ |
| Break in | ⭐⭐⭐⭐ |
| Waterproof | ⭐⭐ |
| Breathability | ⭐⭐⭐ |
| Durability | ⭐⭐⭐⭐ |
Comparing hiking boots and running shoes
The possession of different qualities sets hiking boots and running shoes apart. These include comfort, protection, weight, break in, waterproofing, and durability. How do these factors affect using hiking boots for running?
Comparing these two types of footwear using the aforementioned properties will give you a better understanding of the pros and cons of running with hiking boots and hopefully help you to make a better choice.
1. Comfort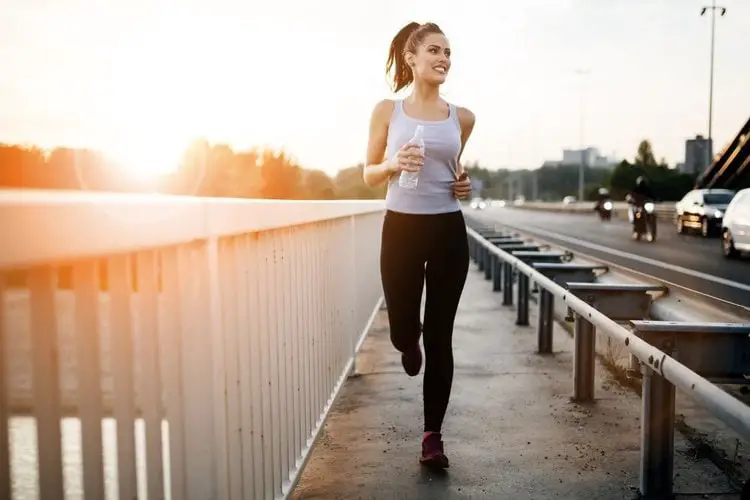 In terms of comfort, you need to make sure that the boots have adequate wiggle room for your toes.
However, the boots should not be too big so that your feet don't slide in them as you run. The toe box should not be narrow or compress your toes.
Hiking boots usually have stiffer soles, which restricts your feet from natural movement while running. This restrictive action will make them less comfortable for running compared to trail running shoes which offer more flexibility.
Ultimately, the more comfortable your boots are, the easier it will be for you to run in them.
2. Protection
Perhaps, the high level of protection offered by hiking boots is one of the reasons why many hikers are willing to take it for a run.
From sturdy outsoles with deep grooves to high ankle support, hiking boots tick all the boxes for optimal protection. The high ankle support prevents you from spraining your ankles while running.
While the thick outsoles also enhance protection, it creates a disconnect between your feet and the ground which can make it more difficult for you to balance.
Nevertheless, because of the thick outsoles of hiking boots, they provide better protection for your feet from debris compared to trail running shoes.
3. Weight
The heavier your boots, the more difficult it will be to lift them off the ground. Also, heavy boots put pressure on your calf and thigh muscles which can lead to a muscle pull.
This is one of the big disadvantages of running with hiking boots. The huge weight tends to slow you down and make you get tired faster.
While trail runners weigh between 1 to 2 pounds, hiking boots often weigh between 2 and 3.5 pounds.
Leather boots usually weigh more than boots made of synthetic material or suede. Regardless of the material used in the manufacture, they will still weigh more than trail running shoes.
On the positive side, when you run with a good pair of hiking boots, you will be doing more work because of their weight. The end result is that you will be more fit compared to someone using trail running shoes.
4. Break in
Before you can think of running with your hiking boots without hurting your feet, you need proper break-in—and this usually takes time to achieve.
On the other hand, you can use trail running shoes straight out of the box without breaking in.
This is because they have a more flexible design and less sturdy parts which makes them easier to move around. It is also easier to change trail running shoes on the fly compared to hiking boots.
5. Waterproofing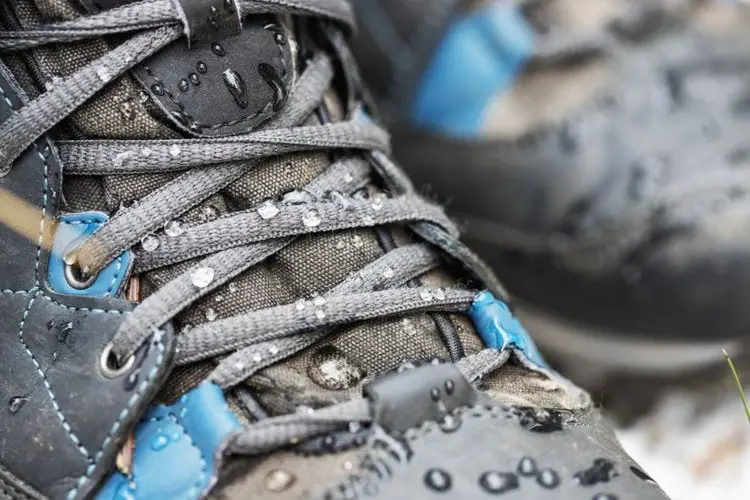 A vast majority of hiking boots have some sort of waterproofing that keeps water out so that your feet will stay dry. This makes it suitable for running on damp trails. Trail running shoes don't offer the same level of waterproofing you will get with hiking boots.
While hiking boots don't easily let water in, they stay dry for a longer time if water finds a way to get in. Trail running shoes usually dry faster.
Since it is not healthy (both to you and your boots) to hike in wet boots, the level of waterproofing can be an important point to consider depending on the nature of your hiking trail and the time of the year you plan to hike.
6. Breathability
The faster you run the higher your body's metabolism which leads to increased sweating. Having breathable boots prevents ending up with sweaty feet.
In terms of breathability, trail running shoes are the better option. They are usually made of synthetic mesh material that allows your foot to breathe and dry quickly.
Therefore, hiking boots are better for running in cold weather because they often have an insulating layer that keeps your feet warm. Trail running shoes are better for use during summer hikes.
7. Durability
While the material used in making hiking boots add to their weight, they also make them more durable.
Trail running shoes, on the other hand, are less durable. On regular use, their lifespan is barely 4 to 6 months or after going 500 miles.
Hiking boots are usually sturdier and can last up to 1,000 miles of hike. If you are cash-strapped and need footwear you can hike and run with, hiking boots will be a better option.
| | | |
| --- | --- | --- |
| | Hiking boots | Running shoes |
| Comfort | ⭐⭐⭐⭐ | ⭐⭐⭐⭐⭐ |
| Flexibility | ⭐⭐⭐ | ⭐⭐⭐⭐⭐ |
| Stability | ⭐⭐⭐⭐⭐ | ⭐⭐⭐⭐ |
| Protection | ⭐⭐⭐⭐⭐ | ⭐⭐⭐⭐ |
| Durability | ⭐⭐⭐⭐⭐ | ⭐⭐⭐ |
| Breathability | ⭐⭐⭐ | ⭐⭐⭐⭐ |
| Waterproof | ⭐⭐⭐⭐⭐ | ⭐⭐⭐ |
| Break in | ⭐⭐⭐ | ⭐⭐⭐⭐⭐ |
| Weight | ⭐⭐⭐ | ⭐⭐⭐⭐ |
Hiking boots that are suitable for running
Due to the vast number of available hiking boots, making a choice on the right hiking boot for running can be tough. Below are some of our picks that stand out for various reasons.
1. RAX Men's Wild Wolf Mid Venture Hiking Boots
Last update on 2021-09-28 / Affiliate links / Images from Amazon Product Advertising API
Key Features
High ankle support
Lightweight with EVA midsoles
Comprises suede leather upper and breathable lycra material
Antiskid multi-directional traction rubber outsoles
Pros
Lightweight design makes it more suitable for running
Multi-directional traction prevents you from skidding when running
Padded collar and tongue keep stones out
Features V-TEX waterproof upper
Cons
Suede material is not as durable as leather
The waterproofing is not up to standard
If you are worried about buying heavy hiking boots for running, RAX Men's Wild Wolf will be a good alternative.
It was designed to be lightweight so that you don't feel like you are carrying an extra load while running.
It has good ankle support too which should be one of your priorities when picking a hiking boot for running.
This hiking boots has a V-Tex waterproof upper which serves as a water barrier while remaining breathable.
The presence of a compression molded EVA midsole provides additional cushioning that absorbs shocks so that you can run for a longer distance without suffering blisters.
One of the biggest complaints by reviewers is that the waterproofing is not adequate. Besides that, it is a good pick.
2. NORTIV 8 Men's Ankle High Hiking Boots
Sale
Last update on 2021-09-28 / Affiliate links / Images from Amazon Product Advertising API
Key Features
Made of durable synthetic leather
Rubber toe cap and reinforced heel
Slip and abrasion resistant outsoles
Multi-directional traction rubber outsole
Pros
Flexible 6mm insoles provide comfort and cushioning
Padded tongue and collar provide adequate ankle support
Excellent grip in mud and dirt
Cons
Insoles are not glued and seems cheaply done
Narrow toe box can lead to pain
Several customers complain about the durability
One of the features that you should look out for when picking a hiking boot for running is the presence of shock-absorbing midsoles. NORTIV 8 has it which is why it stays comfortable when you transition from one terrain to another e.g. from gravel to mud.
The padded tongue and collar provide better support for your ankle.
NORTIV 8 has 5mm-deep lugs that are widely spaced for easy dislodging of muds and dirt which helps to maintain good traction.
The rubber covered toe cap provides additional protection for your toes from bumps and collisions.
When you purchase these boots you will get additional shoelaces which can come in handy.
Customers complain that the parts fall apart quickly. Also, the toe box is narrow which can make your toes hurt if the break in is not properly done.
3. Columbia Men's Newton Ridge Plus
Last update on 2021-09-28 / Affiliate links / Images from Amazon Product Advertising API
Key Features
Leather, mesh and suede upper
Thick rubber outsoles
Lace-up closure
Multi-terrain traction system
Pros
Thick outsoles for running on rough terrain
Omni-grip with multi-terrain patterns prevents slipping when running
Ankle support
Offers optimum protection for the feet
Cons
Suede has limited durability
Not completely waterproof
Columbia Newton Ridge has lots of admirable features starting from the rigid and rugged outsoles with thick and deep lugs that allow you to run on rough or wet surfaces without feeling any negative impact on your feet.
Due to the high-quality materials used in the manufacture, you will experience the same level of comfort like any other trail running shoes.
It comes with lightweight midsoles that provide superior cushioning for absorbing impacts and keeping your feet safe from blisters.
Many customers have reported that these boots failed after a short duration of use. It is still a good fit while it lasts.
Conclusion
Choosing a hiking boot for running is a personal choice and you need to make sure that you weigh all the necessary parameters.
For newbies, it would be smart to choose footwear made for a specific purpose. For example, choose only hiking boots for hiking and trail running shoes for running.
It is important to understand that your choice of footwear will affect your performance when running.
While it is OK to run in hiking boots, for competitions, stick with appropriate running shoes.