Socks can be seen as an overlooked part of your overall tactical outfit. But it's more crucial than you realize.
It contributes greatly to keep your feet healthy and your tactical boots well-maintained.
Check out these 10 best socks to wear with tactical boots below.
Socks ain't just a sort of winter accessories. Anyone who has to wear boots/shoes regularly for work or outdoor activities knows how important sock quality is.
It plays a big role in making wearers move comfortably as well as protecting the feet well.
For those who experience wearing tactical boots daily, the purpose of getting the right pair of socks even becomes vital.
You may not want a pair of fast-tearing socks when you have to run for miles every day.
You also don't want to get into trouble every day with a pair of socks that becomes stiffer over time that rubs against your ankles and scratches your skin.
A good pair of socks will help keep the feet clean. In addition, it also protects the inner surface of the boots from direct contact with sweat, resulting in the extended longevity of your expensive tactical boots.
If you are really wondering what socks to wear with tactical boots and how to choose the most suitable ones, read out this article below to find the answer.
Top 3 Picks For You
What Socks Do You Wear With Tactical Boots?
People who wear tactical boots regularly often face some situations that force them to deal with extreme working conditions such as harsh terrains, snowfalls or jungle.
Thus, socks often require to be made from thicker and comfortable fabrics rather than generic and light cotton.
It is meant to give wearers more protection, durability and resilience while wearing all day long.
Socks should also provide a good level of moisture-wicking and odor-resistance to keep your feet healthy and fresh as well.
So, you won't go home with several sore feet and foot-fatigue at the end of the day.
What kind of socks should I wear with tactical boots?
There are some kinds of socks that can incorporate well with your tactical boots.
Heavy-duty military socks
This kind of sock often comes in different length sizes, including ankle length, knee length and calf length.
The designs of these socks are meant to be worn in extreme working conditions.
Therefore, they feature a high level of comfortability, durability and moisture-wicking.
They are often made of wool, pure cotton for comfort and other advanced fibers for breathability.
A ribbed construction through the arch, ankle and calf helps reduce the issue of blisters and bunching well.
Anti-slip and cushioned soles are also very essential for ankle support.
If your job does not require a lot of travel but only stand in a place or move for short distances, then work socks are a good choice.
These socks feature durability, long wear as well as support and grip.
They are made from quality cotton, polyesters and advanced fibers for better moisture-wicking.
There may be some reinforcement in the toe and heel for better comfort and protection.
While military socks often serve heavy-duty purposes, the work socks serve light- and middle-duty jobs.
How to choose socks to wear with tactical boots?
Now is the time to learn how to choose the right socks to wear with tactical boots. There are some important features of the socks that you need to pay attention to, as below:
For people wearing tactical boots in tough working conditions, a pair of thick, soft socks will always make them feel most comfortable.
The thickness prevents the foot from being scratched by friction when moving a lot.
Meanwhile, the softness of the fabrics with cushioned soles contributes to reducing the risk of sore feet.
If you may wear socks in hot weather, it is better to go for light thick, soft and breathable fabrics such as wool, pure cotton, spandex and so on that provide good ventilation to prevent overheating inside the boots.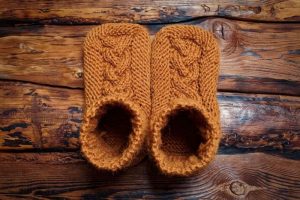 High quality cushioned sole
The purpose of a quality cushioned sole is mainly to prevent you from sore feet by creating a soft surface to reduce impacts on the feet's muscles and bones.
It is meant to make your feet less tired and improve the whole experience.
Many advanced technologies have been invented to greatly extend the longevity and productivity of the cushioned sole.
Thus, let's just consider carefully before deciding to buy any type of socks to wear with tactical boots if you don't want them to be worn out after a few days.
Medium cushioning socks – are perfect for all-weather conditions with a moderate cushion around the heels.
It features warmth and breathability. They are fine to wear in normal winter and hot seasons.
Heavy cushioning socks – are a great choice for extreme weather conditions such as sub-zero temperatures or heavy snowfalls with extra cushion through the arch, ankle and heel.
They feature a superior thickness and warmth. There is absolutely no worry to wear these socks during super cold weather conditions.
In order to pick the right socks for tactical boots, it's important to consider the height of your boots.
This means that you should choose a pair of socks that perfectly cover the skin of your feet that comes in contact with the boots.
This reduces the friction between the skin and the boot surface causing scratches.
As tactical boot height often comes in 6-inch and 8-inch heights, you can consider 2 types of socks in terms of height, such as ankle socks and crew (calf) socks.
The ankle socks are perfect for 6-inch tactical boots to provide thorough protection around the wearer's ankle bone area.
The crew socks go a few inches above the ankle area, making them a great choice for 8-inch tactical boots for better protection from rubbing off the boot's inner surface.
One of the key things tactical boot wearers look for in a good pair of socks is the ability to hold up well for long periods of time.
You will not be able to perform fast-paced action, cross difficult terrain and successfully carry out tough duty if your socks don't hold up but constantly keep saggy.
So choose socks that are well-structured, durable with advanced materials, so they will always stay on your leg for a long time, bringing a feeling of comfort and always ready for action.
The 10 best socks to wear with tactical boots
If you are still confused by our buying guides above, check out these 10 top-rated socks for tactical boots reviews to find your perfect option.
1. Dickies Men's Dri-tech Moisture Control Crew Socks Multipack
This Dickies Men's Dri-tech is one of the best moisture-wicking socks for tactical boots ever even when you work all day long in the hot weather conditions.
This is due to its advanced Dri-Tech technology that provides an excellent level of breathability, moisture-wicking and comfortability.
These sock fabrics deliver great ventilation and durability that are blended between cotton, polyester, spandex and nylon.
This sock line comes in a variety of colors and sizes for you to get the best choice.
To enhance the stability and performance at work for wearers, the sock's design offers an arch compression support that gives a stable grip to the feet.
So, there is no more worry about the annoying issue of slipping down on the sock.
Besides, for added safety and durability, these socks are reinforced in heel and toe.
Pros:
Perfect option in all-weather conditions
Great level of elasticity and durability
Good value for the money
Easy for machine wash
Con:
Might not be suitable for big-size feet
2. MIRMARU Men's Multi Performance Outdoor Sports Hiking Trekking Crew Socks
This MIRMARU men's sock is an excellent option for any sports activities such as hiking, trekking, trad climbing and a wide variety of winter outdoor sports.
This is due to its advanced blended fabrics between cotton, polyester and spandex that build up great strength and durability to be worn hundreds of times.
The sock features high-density fibers with an extra cushioned sole for added comfort, keeping your feet warm, dry, protective and preventing blisters and shear well.
The design comes with arch med-compressed and elasticity features for better ankle support and heels support during long walks in tough terrains.
This is a sort of calf-height sock which is a perfect option for 8-inch tactical boots.
Pros:
Available in 6 multi-colors sock packs to choose
100% quality and satisfaction guarantee from manufacturer within 60 days
Having sporty and fashionable looks
Great level of breathability and moisture-wicking
Con:
Buyers should pay attention to pick the size for online shopping
3. Fruit of the Loom Men's Work Gear Cushioned Crew Socks
Fruit of the Loom is one of the most trusted "made-in-USA" brands worldwide for clothing accessories.
And this men's work sock design is well-made for heavy duty in any type of boots, such as tactical boots, hunting boots or athletic shoes.
It has a crew height that is suitable for both 6-inch and 8-inch tactical boots. It comes in 3 basic colors (white, black and grey) to perfectly pair with any outfit.
The sock also provides extra reinforcement in the impact areas for added comfort and foot support.
The sock features high levels of moisture-wicking and odor-resistance which are perfect for working under hot weather conditions.
The advanced fabric is made of 80% cotton, polyester, fibers and lycra spandex for better ventilation and softness.
With a moderate thick cushioned sole, it keeps your feet warm enough during the winter and breathable during hot weather.
Pros:
Affordable price
Excellent moisture-wicking and ventilation
It restricts your feet from sweating
Con:
There might be some fuzzies left on your toe after wearing all day long
4. DANISH ENDURANCE Merino Wool Hiking & Walking Socks
This DANISH ENDURANCE Merino wool sock will not disappoint you for its excellent comfortability and dry-feet features in all-weather conditions.
This is due to the thermoregulation of wool blend fabric that helps keep your feet fresh and moisture-wicking.
The added ventilation mesh dries your sweat away quickly during the summer.
A great quality cushioned sole guarantees blister-free, no more hot spots or aching in your feet even after wearing all day long.
These made-in-European socks are kind of unisex and ideal for hiking, adventures and daily wear. An excellent cushioned sole provides great comfort when wearing boots.
These well-made socks are developed with Rasmus Kragh – a mountaineer who won the first Dance to climb Mount Everest in May 2019.
During the developing process, the design requires to be tested several times to make sure the highest standard of performance and fabric endurance.
Pros:
Available in 6 options of youthful and fashionable multicolor socks
Perfect option for the winter
Great softness and scratchless
Con:
Lacking a bit of elasticity
5. Fox River Military Wick Dry Maximum Mid Calf Boot Sock
Fox River Military boot sock is seen as the best military sock on the market today.
The fabrics are mainly made of 70% Polypropylene that gives a great quick dryness, scratchless and blister-free.
An extra cushioned sole delivers excellent comfortability, softness and superb fit, reducing the risk of getting blisters or bunching.
The URfit System combining memory knit compression and spandex compression zone gives wearers an ultimate response fit.
The sock features an outstanding technology that helps permanently prevent your feet and the sock from bad odor and smell.
Another technology helps dry moisture and sweat away from the feet, so you can feel much more comfy, dry and fresh.
Pros:
100% guarantees from the brand for 1-year return
Greatly reduce hot spots and friction scratches
Available in 3 basic colors
Mid-calf height is suitable for all types of boots
Perfect option for winter
Con:
Seems to be too thick for hot weather
6. ONKE Cotton Moisture Wicking Athletic Work Crew Socks Men Pack
These quality ONKE athletic work socks are perfect for all types of outdoor activities.
The premium fabric is made of 60% cotton, polyester, nylon and spandex that give excellent breathability and comfortability.
The knitting design delivers a snug fit as well as shape retention even after washing.
Extra cushioning for foot support in any tactical boot makes the socks the best option for heavy-duty jobs and long-day outdoor activities.
The sock features moisture control with advanced technical fibers, drying away sweat and wet quickly. It gives your feet a fresh, breathable and good dry feeling.
The nylon blend fabric supplements an added durability in high-tension areas, giving more protection especially in most extreme terrains.
Pros:
Perfectly fit the contours of the foot
Promote blood circulation and feet supports
Great elasticity
Con:
Come with excessive fuzzies all over the touch surfaces
7. Dickies Men's Dri-tech Moisture Control Quarter Socks Multipack
Another Dickies Dri-tech ankle socks are perfect for 6-inch tactical boots.
The premium fabric is specially blended between 73% cotton, polyester, spandex and nylon that help maintain shape retention after repeated washing with the machine.
This material provides a good level of softness and breathability to greatly prevent your feet from blisters and bunching.
It also features moisture control that easily dries sweat out in hot weather conditions due to ventilation channels that help enhance the airflow well.
One of the most noticeable things about this Dickies Dri-tech socks is the perfect full cushioned sole for better comfortability and ankle support.
Pros:
Arch compression for improved fit
Featuring reinforced heel and toe for better protection and durability
A great level of breathability
Con:
Pay attention to the size when shopping online
8. Under Armour Adult Tactical Heatgear Boot Socks
When you look at the name, you know better that these Under Armour Heatgear boot socks are the best accessories for winter.
Made of cotton and other advanced fabrics such as polyester and spandex, this sock keeps your feet perfectly warm and fit but lightweight and comfortable.
For those who are constantly on the go, the sock's dynamic arch support design gives a perfect aid to reduce foot fatigue.
The strategic cushioned sole provides great support for getting blister-free and flexible.
Anti-odor technology makes the sock a perfect option for those who cannot change their socks daily.
Furthermore, the sock is provided with a great moisture-wicking feature that dries fast in all weather conditions.
Pros:
Great lightweight and warm design
Mid-calf height is suitable for all types of tactical boots
Available in 4 basic monochrome colors
Perfect sweat-wicking and odor-resistance
Con:
Some may want to get one size up their size
9. Carhartt Men's 6 Pack All-Terrain Boot Socks
This Carhartt men sock is one of the best calf height socks for all-terrain conditions, which is suitable for 8-inch tactical boots.
This advanced fabric is made from 43% polyester, 35 % acrylic, wool, nylon and spandex, giving the socks great elasticity, all-season comfort and performance.
NanoGLIDE reinforcement helps reduce the risk of getting blisters and bunching while wearing them all day long.
Fast-dry technology delivers excellent sweat-wicking and odor resistance to keep your feet fresh and comfy.
One of the smartest things of the design is mesh cooling panels and instep channels for better airflow and ventilation.
Pros:
Superior American made for long last
Available in 3 basic colors
Great ventilation and exceptional durability
Con:
May not stay pulled up over the calf well
10. Darn Tough Boot Cushion Sock – Men's
Darn tough boot cushion sock for men continues to hold its position as one of the best socks for heavy-duty work.
Its midweight cushion helps withstand the tension of the foot for better comfortability.
The fine gauge knitted design gives a mid-level cushion density for foot support.
If you are looking for something that gives you invisible and extra-smooth feels while wearing, these socks are perfect for you due to their True Seamless technology.
The premium fabric is blended between Merino wool, nylon and lycra spandex, giving fast actions of moisture-wicking to dry sweat away.
Pros:
Great ventilation system for breathability and comfortability
All-weather performance socks
Mid-calf height is suitable for all types of tactical boots
Guarantee for Life without conditions from the manufacturer
Quality made-in-USA socks
Con:
Buyers should pay attention to the size when online shopping
Other questions
What are tactical socks?
Tactical boots ain't something ordinary like generic cotton socks.
Tactical socks are specially designed socks to provide the wearers the most comfortable experiences during long hours of walking.
This is a perfect match with tactical boots, making the duo the best option for working or operating under extreme weather conditions.
This type of socks gives you an excellent level of durability and breathability.
What socks do the army wear?
Socks are one of the most essential parts of military uniforms. Service members usually wear military socks along with other military uniforms.
Their socks are usually white in color and often specially designed to relieve foot pain during long-term commutes, improve blood circulation during long standing and stop blisters.
These specialized socks also provide an extremely good level of moisture-wicking, ensuring that feet stay dry and healthy even in hot weather conditions.
When wearing a tactical boot, should you double up socks?
Whether or not to double up socks when worn with tactical boots depends largely on the quality and purpose of the socks.
If your socks have a poor quality made of thin fabrics, resulting in a lack of protection and cushion, then it is necessary to wear double socks.
If your socks are high quality, seasoned, comfortable and well-covered, doubling up socks are not required.
In addition, if your tactical boots are slightly wider than your feet, and you need a perfect liner to fill the gap, doubling up socks can be a good solution.
Or, in case the tactical boots and your current socks don't provide you with enough warmth during the winter, adding a pair of socks will help your feet suffer from cold temperature.
However, if it's summer, then double up socks is definitely a bad decision.
When the tactical boots are not broken in, they can hurt your foot. Some people often double up socks to deal with new tactical boots.
What socks do police wear?
Police socks are often similar to army soldier socks in terms of durability and comfortability.
However, with the light- and mid-heavy job requirements in comparison to soldiers, police socks probably require a better softness and breathability while army sock needs to be more durable and cushioning.
This type of socks is usually provided by the state to law enforcement professionals rather than can be easily purchased from a store.
Wrapping it up
There are thousands of socks for tactical boots available in the market today, yet, picking up the right one is never a piece of cake.
It takes a lot of wrong and painful shopping experiences before you can choose the best socks for your use.
To save your time and effort, the above-mentioned sock list that has received a lot of positive feedback worldwide is highly recommended for rough and heavy-duty use.
If you have other options to consider, we suggest you should pay attention to the sock's ventilation, durability, cushioned sole and height.
These features are essential to keep your feet greatly protective and healthy. We hope you found our 10 best socks for tactical boots reviews helpful.