In 2021 and beyond, we see a gradual change in sport's shoes/boots into all-purpose tactical boots when it comes to picking up any outdoor footwear.
Since most folks more and more stick to adventurous outdoor activities, the push for this type of versatile, highly protective, and better foot support boots will continue to take over the market.
The biggest point of difference between the 2 lines is the level of protection: sports shoes/boots provide enough protection, while tactical boots generally deliver exceeding safe-keeping.
You probably may not feel too needy of that protection when choosing to buy a pair of normal footwear for running or doing gentle dog walking every day in urban terrains.
But if you also spend 3-4 times per month on rock climbing or trekking, then a pair of well-protected versatile tactical boots will always be the best option.
These functional tactical boots may weigh a couple more ounces than casual sports shoes/boots but you definitely receive a more secure fit, better roller prevention, great stability, and yeah, more protection.
With the experience of a long-time climber, I believe that in most cases the light and fast sports shoes/boots may not be all you need for safe and high-performance outdoor activities.
When you have to carry a heavy pack and go on traveling over difficult terrains in extreme weather conditions, that is when you know deep down you need something more durable, ankle support, and protective than the light low-cut footwear.
That is a reason why we came up with these 15 best outdoor tactical boots for you in this article today.
Best Outdoor Tactical Boots For All Activities
Don't be nervous because we have clearly divided types of boots for each specific activity and different types of terrain and weather to help you make the best decision yourself.
Let's just roll it down to read!
Best Outdoor Tactical Boots for Camping
Imagine if you are able to completely get rid of the troubles of everyday life and immerse yourself in a peaceful natural landscape, that's how camping brings you lots of fun and relaxation.
Although camping is a light outdoor activity, it may sometimes require you to climb hills, carry heavy loads or even go through the jungle.
Therefore, picking camping footwear can definitely make or break your wonderful trip.
Here are some suggestions for you to get a proper pair of camping tactical boots, according to 3 specific terrains: Mountain, Jungle and Desert.
Mountain
With this terrain, excellent traction, shock absorption and lightweight are a must.
The wearers need their tactical boots to enhance good agility and stability on rugged and high inclined surfaces like mountains or cliffs.
Besides, proper ankle support can be a great aid for heavy backpack carriers.
Jungle
You would wish to have highly ventilated and fast-drying tactical boots when deciding to camp in the jungle/forest.
Because the high humidity there will make your feet feel so breathless, irritating and smelly.
8-inch boots seem to be a better option to prevent you from insects or snake bites.
Desert
A breathable tactical boot is the most important thing when you are planning to camp in a hot condition like a desert.
The boots should also have excellent ventilation and abrasion-resistant materials to avoid fastly wear-out due to the high friction with sand and rock on the surface of the terrain.
Best Camping tactical boots for mountain terrain
One thing you will easily notify about this TACTICAL RESEARCH TR Men's Khyber TR550 boots is their excellent VIBRAM "IBEX" rubber outsole with a high-traction pattern design to handle all kinds of very rugged, rocky, and inclined surfaces such as mountain sides or cliffs.
The boots are not kinda heavenly lightweight but their weight is well-balanced and fit comfortably all day long with continuous movement and running.
You can feel these boys' fast break-in right out of the box but it will be a little stiff on your first try.
Besides, the boots already provide a pretty good arch-support and good fit but you still can insert one more light-cushion insole for more support up to 13 hours standing on them.
Yet, this boot is kinda hot. So they are not an ideal option for hot weather.
Features:
Quality 100% cattle hide leather & nylon fabric
Great cushioned and shock-absorbing midsole for comfortability
Lightweight and agile low-profile rubber sole
Strong lace-up system and quality seam for durability
Con:
Might not be an ideal option for hot weather
Best Camping tactical boots for the jungle terrain
These NORTIV jungle tactical boots have a highly ventilated design that is made from a breathable membrane to keep your feet dry and comfy in wet conditions like jungle or forest.
Due to their minimal construction, the boots usually run the same size as casual running shoes.
The lightweight outsole works well on either pavement/gravel or slippery surfaces, it is real slip resistant.
Many customers admitted that the boots can hold up well up to 18 hours per day without making your feet sweat and much pain at the end of the day.
However, keep in mind that the boots are not waterproof right out of the box. And you may need to pick other heavier boots for extreme cold weather.
Besides, you have 12 options of colors and designs to choose from.
Features:
Lightweight materials for anti foot fatigue and better agility
Breathable fabrics in wet conditions
High abrasion-resistant leather upper
Removable, shock-absorbent insole for better foot support
Slip, oil, and abrasion-resistant deep-section rubber outsole
Con: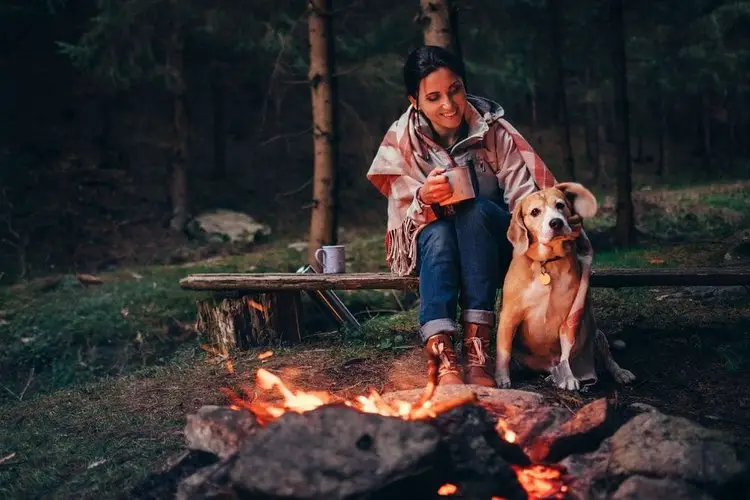 Best Camping tactical boots for desert terrain
Coyote ANTARCTICA Men's Military Tactical Boots is a perfect option for desert conditions due to their durable Cordura fabric reinforcements and nylon upper.
They are excellently abrasion-resistant and wear-resistant. At a very affordable price, you will feel the boot exceed your expectations on arrival.
Excellent ventilation and quick-dry material are all suitable for hot conditions like the desert.
Minimal design and lightweight enhances better agility and mobility on tiring sandy terrains.
The boot provides comfort and room-toe, making it a good option for wide feet wearers.
Non-slip and wear-resistant rubber outsoles provide maximum traction on sandy surfaces.
The major disadvantage of the boots is the thin insole that makes you feel every rock and roughness when you step on.
Some also complain about its durability as the boot may be broken within just a few months of frequent outdoor use.
So the boots are perfect for light-duty activities such as camping.
Features:
Available in 2 colors: Coyote, Black
3D Structure Ankle & Durable Eyelet to hold up well
Special rubber outsole design for traction, stability on all terrains
Full-grain leather, nylon upper, and Cordura reinforcements for anti-abrasion
Con:
Best Outdoor Tactical Boots for Motorcycling
Motorcycling boots seem to be commendable gear for passionate motorcycle drivers to enhance their charm.
Yet, tactical boots are a whole new level of function, protection, and of course, appearance for riders.
Safety is the first and foremost important factor when considering buying a pair of motorcycling tactical boots.
You will need the boots that are provided with a safety toe, heel reinforcement, heavy-duty materials, and solid construction.
The boots should be over 6 inches tall. This way, your legs are completely protected from heat dissipation from hot engines.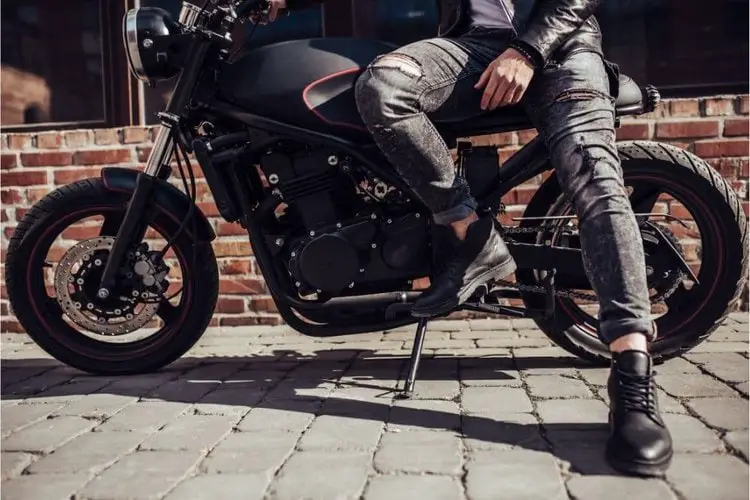 The scratch-resistant toe is also quite important when the wearers often have to shift gears while driving quite often.
Your good boots should not be treated badly just because of a few ugly scratches on the toe. If a charming look means everything to you, pay more attention to this feature.
Good traction and excellent grip outsole are inevitable, no matter if you are just sitting still on the motorbike and your feet are just resting on the pegs.
The highly functional outsole will help your feet hold up well and make good movements when necessary, greatly preventing you from slipping or falling.
Comfortability and lightweight are also a must beyond safety and functions. In the end, you're just looking for the most thrill of driving all the way.
So a pair of comfortable and lightweight tactical boots will be parts of your satisfaction.
Best motorcycling tactical boots for all-weather
What makes Reebok Men Rapid Response Tactical Boots a perfect option for motorcycling is their excellent safety composite toe and anti-scratch (for coyote, tan options) toe cap.
The 6" tall construction protects the leg from heat emitted by motorcycle engines while working.
Composite material is not much heavier, yet, is ideal for foot protection and security/airport entrance check.
It is proven to protect your feet from electrical hazards and impact resistance.
The boots appear well constructed, well finished, good fit, and sized properly that make your break-in smooth and easier.
Besides, they are lightweight, breathable, and well ventilated too. These boots are not overly hot in all weather, so you won't feel your feet sweat too much at the end of the day.
The boots have a wide and flat insole that provides proper placement of inconsistent movement while driving.
Features:
XTR brand extra wide composite toe cap for safety and lightweight
Quality leather and suede
Good traction rubber outsole
Available in 4 colors and designs
Strong lace-up system and eyelets
Con:
Moderate waterproofness and durability
Best Outdoor Tactical Boots for Cycling/Mountain Biking
In fact, you can ride a bike well in any footwear. But mountain biking riders can literally benefit more from tactical boots that have stiffer soles for extra grip on all surfaces and better protection.
Since conquering the harsh natural roads in the deep mountains becomes a big passion, tactical boots with grippy insoles for added traction on rugged terrains are highly recommended for any biker.
Besides, you also want to look for good ventilating boots with vented holes that can breathe well in hot and humid conditions.
Low-cut boots seem to be a better option for mountain bikers who often perform a lot of movement of the ankles and feet while riding a bike.
While high height boots may cause some entangled and uncomfortable feelings at these parts.
A Flatter outsole is also something better for mountain bikers.
A flat platform will provide better stick and traction to the pedals. It will not clip out and is easy to step on rather than other overly curved outsoles.
That makes your mountain riding trails/ casual riding/ technical riding more comfortable.
Best cycling/mountain biking tactical boots for holding up well
A pair of 4.5″ Danner Men Waterproof Tactical Boots is a perfect option for the mountain biker who often performs long riding trails.
The boots are fairly soft, hold up well, and fit perfectly, which prevents you from clip out the pedals.
They also breathe well in hot and humid conditions at the end of the day, but keep in mind that the boots deliver a very moderate water resistance. Your feet will still get wet in heavy rains.
They are well constructed, well made, lightweight, and comfortable all day long.
A very slightly curved outsole designed in special added traction patterns provides good grip and anti-slip even when the sole is stuck with wet soil.
The boots are true to size, many users advised. However, for those who have small feet, we recommend you to wear them along with thick socks to make them fit.
Features:
Quality full-grain leather with a breathable mesh upper
Danner Dry waterproof protection
Cushioning open-cell OrthoLite footbed for extra comfort
Vibram Fuga outsole with Megagrip tech pattern for added grip
Vibram SPE midsole for foot support
Con:
Best cycling/mountain biking tactical boots for slip resistance 
To be honest, mountain biking doesn't mean staying in the saddle all the time, bikers will still have to walk and even carry their bikes across rough and slippery terrains such as creeks, slippery cliffs, or gravel.
If you ever experienced these situations and are looking for the best footwear to accompany you, FREE SOLDIER Outdoor Men's Tactical Military Boots is perfect for you.
The boot outsole provides excellent grippy patterns for slip resistance and wear resistance.
No matter how long you walk during your trip, they are exceedingly durable, lightweight, and lasting protection to prevent foot fatigue all day long.
They hold up well and you can feel a good "stick" to the pedals while riding.
The boots have good waterproofing, so no worry step on small puddles without getting wet.
Many users said the boots tend to run smaller than usual shoe sizes, so you can pick 1/2 bigger sizes to get the best fit.
Features:
Well-constructed and unique design for added comfort & ankle protection
Shock Absorbent POLIYOU insoles for moisture-wick and sweat absorption
Anti-slip and wear-resistant rubber outsoles
Scratch-resistant Suede leather and Nylon upper
Anti-collision and well-reinforced toe
Cons:
No insulation
Moderate cushioning
Best Outdoor Tactical Boots for Trekking/Hiking 
The main purpose of getting yourself a pair of tactical boots for long trail walks such as hiking or trekking is to assist you in handling all rugged terrains on the way.
No matter if you wear them for mountains/ jungle/ desert, excellent comfort is a must.
Great tactical boots include a good amount of cushion in the insole and midsole for extra comfort while walking all day long.
Lightweight is the second feature to look at.
Just imagine your heavy boots will make you quickly tired when you only walk a few hundred meters, how terrible it is.
Let's pick something with leather, mesh, nylon, or fabrics for lightweight and breathability.
Mountain/jungle hiking tactical boots require a good level of waterproofness, non-slip, shock absorption and ankle & foot support.
While desert hiking tactical boots should be more ventilated, foot protection, anti scratches and come with sturdy construction that prevents sand from entering inside the boots.
Best trekking/hiking tactical boots for mountain terrain
These Rocky Alphaforce Zipper Tactical Boots are amazingly lightweight due to their leather and 1000-denier nylon combination.
With the thick and rough outsole design, they provide excellent traction and anti-slip on slippery and rugged surfaces such as soils, cliffs.
The boots fit well around the ankle, providing good ankle support while walking all day long. This is definitely something more than just a hiking boot.
They work well for both working and outdoor purposes.
Their water-resistant leather as well as Rocky Waterproof construction keep water out but still breath well in hot conditions.
However, the boots do have a polishable and shiny toe that may not be too suitable for rock climbing so far during your long trail hiking.
Features:
Oil- and slip-resistant, non-marking RigiTrac rubber outsole for excellent traction and grip
Side Zipper for ventilation and smooth on-off process
Decent Black look
Lightweight with leather and 1000 denier nylon
Con:
The boots are completely comfortable once broken in.
Best trekking/hiking tactical boots for the jungle terrain
A great option for jungle hiking tactical boots from a reputed manufacturer at affordable prices, these Thowi Men Tactical Boots with Zipper is a big fighter to conquer harsh jungle terrains.
Firstly, the boots feature a professional army outsole design to handle wet, slippery, and sticky surfaces when you encounter the jungle.
They are perfectly anti-slip with maximum grip on various terrains.
Besides, the wearers can feel a good and smooth fit when putting on due to the high-performance zipper.
There is often no break-in period required right out of the box.
Despite the heavy look and well-constructed design, they are very lightweight and surely will not weigh your steps down during long trail hiking.
Water repellent materials ensure your feet are kept dry and comfy in humid conditions.
Features:
Breathable, moisture-wicking liner for comfy feet
Quick and effective YKK Zipper
Waterproof cow leather and Nylon upper for durability
Fairly lightweight and fit well
Available in 2 colors: decent black & tan
Cons:
Moderate durability
Not a good option for overly hot conditions
Best trekking/hiking tactical boots for desert terrain
Agile, fast, and fashionable FREE SOLDIER Men 6 inch tactical boots are all you need for desert hiking or camping.
Endurable anti-scratches coyote suede leather and 1000D Cordura fabric make your desert trip seem to be worry-free from durability and lightweight.
The boots feature vented holes and thinner fabric that surely breath well and increase ventilation in the overly hot condition in the desert.
They fit perfectly, hold up well, and are lightweight to give you 20.000 – 40.000 effortless steps on average every day.
Featuring plenty of padded protection around the ankle is what a desert hiker wishes to get.
They will take a little while to completely break in but surely the boots are not heavy and clunky as shown in the pictures.
However, you should keep in mind that the boots will not include much cushion inside, so you will experience a little blister the very first time.
Features:
Available in 7 fashionable colors
Good value for affordable prices
Anti-scratch, lightweight suede, and 1000D Cordura fabric
Vented holes and thin fabrics for great breathability
Excellent ankle support and foot support
Skid-resistant outsole for added grip
Con: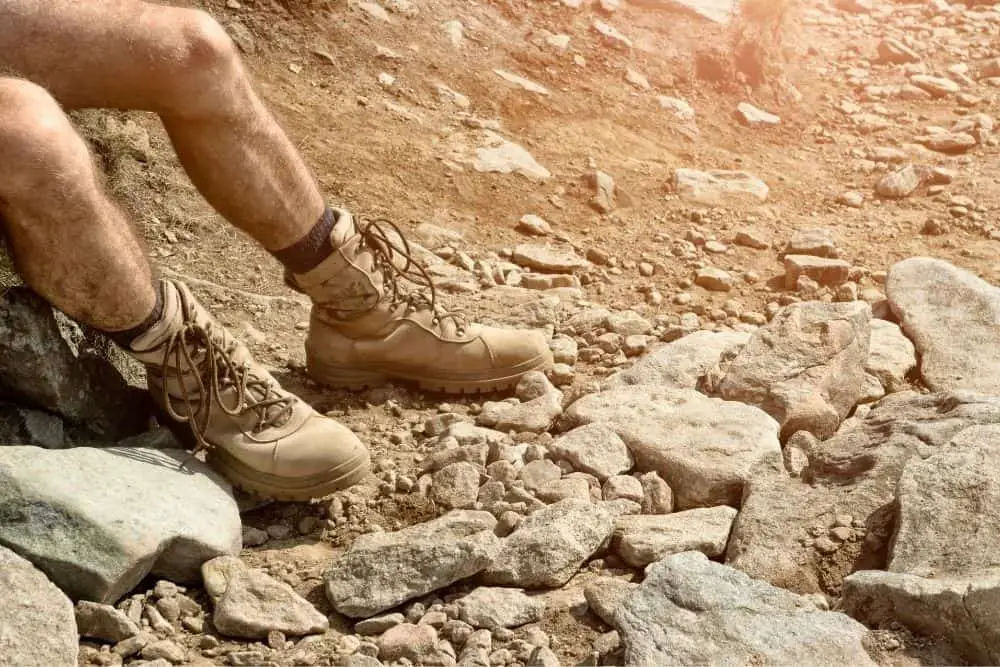 Best Outdoor Tactical Boots for Hunting
Hunting is an upgraded level of normal outdoor activities, it is a real tactical operation.
A heavy backpack, a binocular around the neck, and some kinds of hunting gear are not all what you think about its preparation.
A pair of good hunting tactical boots is also an important factor to keep in mind.
To pick the right tactical footwear, let's consider the terrains that you are going to encounter.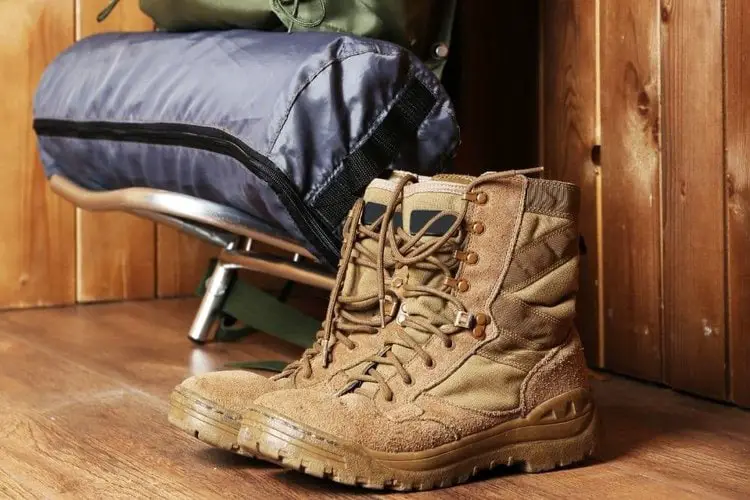 For instance, if you are going to chase down flat terrains such as desert and valley, good ankle support from hunting tactical boots seems to not be a big deal.
Yet, this feature is by far necessary for running through inclined and rugged terrains such as rocky mountains.
A mountain hunting boot should also be anti-slip and hold up well and longer.
Waterproof should always be an absolute plus. Hunting sometimes forces you to cross more types of terrain than you might think.
So if you don't want your feet soaking in water and sweat all the way, then this feature should always be what you are looking for in the first place.
Good comfortability sounds pretty straightforward. But comfortable hunting tactical boots may not always come with proper durability. So just decide which is the best for you.
Besides, reinforced toe and heel with steel or lightweight composite makes a better safety from any dangerous falling hard objects such as rocks, bricks or metal.
Puncture-proof outsole of the high shaft will greatly save you from getting bitten by snakes, scorpions and other insects.
Best hunting tactical boots for desert terrain
A strong constructed and high abrasion-resistant suede and mesh upper from FREE SOLDIER Men Military Mid Ankle Tactical Boots are perfect for high friction conditions like deserts.
Right out of the box, the boots are lightweight and very comfortable that hold up well all day long.
No worry if you run for miles every day, the footwear provides a roomy box toe for extra comfortability, especially for wide feet.
The boots appear super cool and rugged with high-performance shoelace systems and metal eyelets.
Moisture Wicking Lining included inside makes your hot hunting trip more comfortable and enjoyable.
Non-slip and wear-resistant rubber outsoles give better stability on unbalanced sandy terrains.
Feel free to walk and run on these boys for up to 11 hours every day without much foot fatigue. Overall, the boots are great for hot conditions despite their heavy look.
Features:
Available in 5 optional colors
Breathable, anti scratches leather + mesh upper
Protective anti-collision toe cap
Great cushioning midsole for comfort
Super anti-slip and abrasion-resistant outsole
Good ankle support and protection
Con:
Best hunting tactical boots for mountain/jungle terrain
Walking and running through the jungle/mountain requires a different level of outsole design to be anti-slip and grippy as much as possible.
That's why you should get these WIDEWAY Men Military Jungle Tactical Boots.
They feature a signature jungle outsole with anti-abrasion, minimal patterns of high groves that work well on mud, soil, and slippery wet dry leaves surfaces.
The boots are fairly soft and many said they break-in in just a day, even right out of the box.
Wear-resistant, ventilated, waterproof multi-threads make sure the wearers feel their feet dry and comfy all day long in humid conditions.
Besides, their quick-dry construction makes water drain and dry fast as expected.
Yet, if you are chasing down overly rugged terrains, the boots seem to provide not enough arch support and ankle support with thin pads around the ankle.
We recommend adding some cushion liners inside for better anti-foot fatigue.
Features:
Excellently breathable cowhide leather and nylon fabric upper
Minimal design for easy to wear
Highly anti-slip rubber outsole
Ventilated construction maintains air-gap and water drainage
Available in Black and Sand colors
Cons:
Moderate durability
Moderate level of foot support
Best Outdoor Tactical Boots for Rock climbing
Since rock climbing is just not the same as crawling up the climbing wall, the trad climbers will have to get involved in several unexpected dangers from nature.
Therefore, trad climbing shoes with ultra-sticky rubber toe patches seem not enough.
The climbers need more protective and multipurpose footwear beyond just functional features.
When it comes to climbing tactical boots, climbers immediately refer to their traction/grip ability. This feature is surely indispensable above all.
Besides, you should look for those that provide excellent shock absorption and impact-resistant materials to enhance better safety.
This is because the trad rock climbing process creates a lot of contact and friction between points on the boot surface and the rough rock surface.
A tactical boot made of durable and impact-resistant material helps reduce the risk of the footwear being torn while climbing.
The boot's shock absorption is also important as climbers will do a lot of sudden jumps from different heights.
Good shock resistance/absorption protects both the foot bones and the safety of the climber.
The anti-scratch and well-grabbed underneath part of the toe cap is also a must.
Every time this part contacts directly to the rocky surfaces while climbing, this is the only fulcrum that helps climbers keep their balance in mid-air.
Therefore, a good pair of climbing tactical boots require a very high-performance grippy outsole to climb well.
Lightweight, soft and flexible boot construction is the next necessary thing.
No matter how tall the boots are, a quiet, fast, and agile design will allow the wearers to climb up flexibly and effectively.
One more important factor is ankle support and foot support.
Since you will be moving a lot on the ankle, foot bones, and heels while climbing, proper cushioning insoles and plenty of pads around the ankle will help relieve better foot pains and foot fatigue.
Best rock climbing tactical boots providing perfect traction
The first thing you will notice about these RYNO GEAR tactical boots with coolmax lining is they are perfectly comfortable right out of the box.
Therefore, you can definitely start your rocky journey right away.
The boots feature a very grippy outsole and anti-slip underneath part of the toe cap that allows the climbers to crawl higher without the risks of slipping out.
You can accompany these boys through mountains, muddy valleys, or some other rugged terrains, they all work well and provide excellent stability and traction.
However, keep in mind that the boots are not 100% waterproof.
At a very affordable price for having all-purpose tactical boots, they hold up pretty well, run true to sizes, and are fairly lightweight.
The side zipper gives a better on-off process and ventilation, especially for those who perform climbing in humid conditions such as the jungle.
Features:
Lightweight leather and ballistic nylon
Breathable mesh lining for moisture-wick
Excellent anti-slip and grippy rubber outsole
Well constructed stitching detail
Padded collars for ankle support
Con:
Moderate durability and waterproofness
Best rock climbing tactical boots for ankle support
A unique TACTICAL RESEARCH TR Men's Khyber TR960Z tactical boots will definitely change your prejudice about 8-inch climbing boots.
The boots deliver very good ankle support with stiff arch form and cushioning liner for extra comfort.
They fit perfectly which helps prevent climbers from the risks of slipping out while climbing.
Besides, the boots are amazingly lightweight, well constructed, and highly breathable in hot and humid conditions.
They provide an excellent grippy outsole and highly anti-slip underneath part of the toe cap, enhancing your climbing movements and fast mobility.
An aggressive lace-to-toe system helps hold up better. Yet, if you are worried about the troublesome on-and-off process, the side zipper is a great aid for you.
Features:
EXCLUSIVE VIBRAM "IBEX" outsole to handle all kinds of rugged terrains
Highly cushioned, shock-absorbent insole for extra comfort
Lightweight low profile rubber outsole
Quality full-grain leather and nylon upper
Decent Black color
Con:
Best Outdoor Tactical Boots for Running/Dog walking
Casual running or dog walking is a sort of light outdoor activity with lots of fun. Many have usually performed on several kinds of fast and light sneakers or shoes.
Yet, these footwear often have low-cut construction and particularly lack ankle protection and safety when you may run through dense grass, soft soil, muddy or small rocky terrains.
For that reason, professional runners tend to wear protective and supportive running tactical boots instead of light and fast running shoes.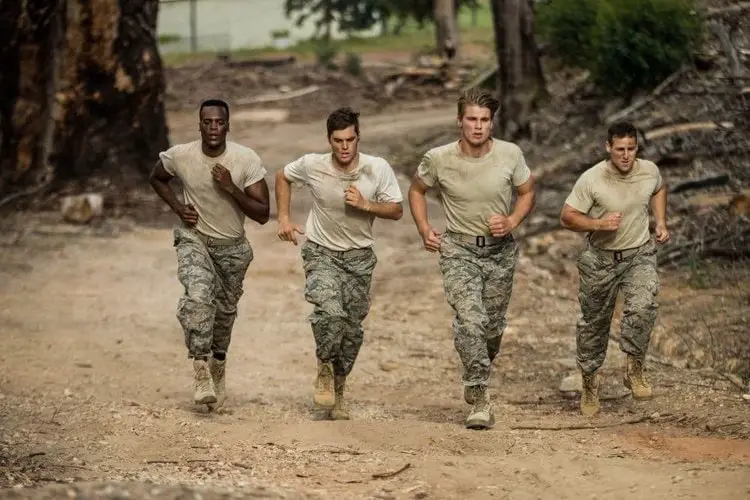 Lightweight is something necessary when you are looking for a good pair of tactical running boots. Lighter tactical boots deliver more flexible movements without blisters, foot fatigues, and pains.
This feature often comes with a minimalist approach such as a mesh upper or low profile rubber outsole that makes runners feel like they are wearing shoes.
Cushioning is also an important factor. It greatly increases the level of comfortability and foot protection.
Proper cushioning midsole and insole help absorb the shock of your fast and continuous movements by spreading the force evenly across the foot.
Read more: Best Tactical Boots for Running
Best running tactical boots for foot support
These Smith & Wesson Men's Breach Tactical boots are a great set of foot support running tactical boots.
You can perform walking and running for up to 13 hours every day and your feet and ankle still feel comfortable without any risks of getting sore or swollen so far.
Many said the boots brought comfort right out of the box with almost no break-in period.
A proper EVA cushion midsole with a padded collar delivers extra shock absorption and ankle support on a lot of uneven ground.
Besides, the boots give a middle level of warmth, yet still breath well in normal conditions.
We don't recommend this product for running in overly hot weather such as the desert.
The boots feature a super anti-slip rubber outsole to greatly prevent traction loss on rugged terrains.
One thing to keep in mind is that these boots are not really waterproof or water-resistant. So be careful to pass through a large puddle or creeks.
Features:
Quality leather and breathable nylon texture upper
Decent black color
Well-constructed and well-stitching reinforcement
Excellent anti-slip rubber outsole
High-performance YKK side zipper for easy on-off process
Con:
The middle level of durability
Best running tactical boots for lightweight
If you are chasing down the best lightweight running tactical boots, here you go, Under Armour Men's Stellar tactical boots are for you.
No worries about being on your feet all day long (up to 10 hours) whether running or dog walking, the boots make you feel perfectly comfortable due to their lightweight construction with 900D nylon textile upper.
They hold up and fit pretty well on all uneven terrains without the risks of slipping out.
The boots give a professional polishable black appearance right out of the box with very little break-in time.
Some said they are true to size. However, if you have wide feet, we recommend you pick half a bigger size for proper fit.
Overall, these affordable and lightweight boots are highly recommended for use in hot conditions.
Features:
Well-constructed DWR treated Leather & 900D nylon upper
Quick-dry design for better breathability
Slightly polishable to
Decent black color
Great grippy and anti-slip rubber outsole
Con:
Closing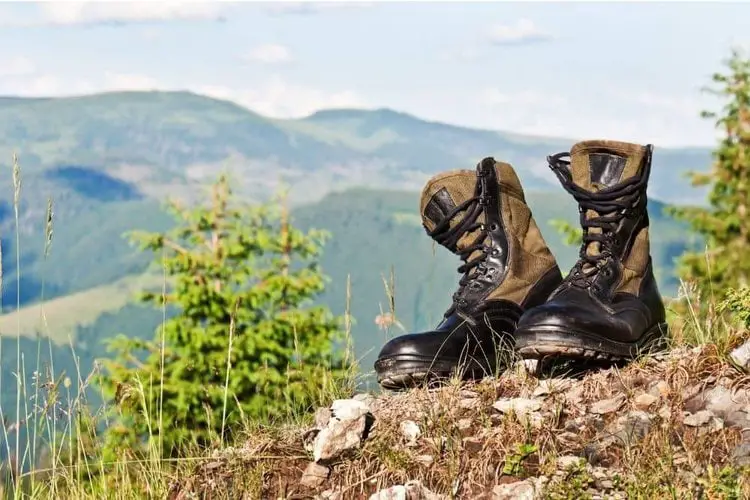 Outdoor activities are far from any gentle daily leisure. They can be very risky and unpredictable to your feet whether enjoyable dog walking, camping, hiking, or tricky hunting.
A pair of quality and proper tactical boots will help optimize protection, safety, and comfort altogether for you to feel free to enjoy doing what you like in nature.
Wondering what tactical boots to go for each outdoor activity? we hope this article is helpful to you.