Whether you've been wearing tactical boots for a long time or you just consider picking a pair of professional tactical boots instead of shoes for your job. You know well that the boot height has a big effect on how you will move around on them.
6-inch, 8-inch, or 10-inch tactical boots may be no strangers, but the low-cut tactical boots could be a new concept to this specialized tactical footwear.
There is actually no specific definition for this boot line.
When we were doing research on the current market as well as consulting boots experts at the same time, it comes out that the low-cut tactical boots can be seen as the tactical footwear line that is less than 6 inches in height and specially crafted for serving all tactical purposes.
With such height, wearers may find low-cut tactical boots more like light-duty work boots or running tactical boots rather than hard-duty tactical/military footwear.
But they are definitely more than what you think.
These boots are excessively agile, flexible and lightweight than traditional tactical boots to handle all situations no matter trail running, climbing, hunting or guard duties.
In comparison to other tactical boot lines, the low-cut boot has one major shortcoming: its ability to protect against foreign objects from splashing to the ankles is limited.
However, you should always have yourself a pair of these boots because it is versatile in all situations, even when coordinating with clothes.
Are you in a hurry? Here are the 3 best choices we have for you!
Why should you use low cut tactical boots?
There are some good reasons for you to pick yourself a pair of low-cut tactical boots.
But in this article, we will also provide you some drawbacks that you may want to consider before buying too.
Pros
They are easy to clean and maintain
Low-cut boots mean their usable area is almost 1/3 less than the high-neck tactical boots.
Most high-cut tactical boots have a high leather/ suede collar that are typically easy to get dirty and muddy from the environment.
While low-cut boots have a low collar with a polishable and anti-fouling shaft. Therefore, it is super comfortable to clean thoroughly.
They are expected to be cheaper
For a tactical boot line that offers full ranges of height, usually, low-cut boots will cost the lower or the lowest.
This is because the leather/ materials used for these boots is minimal, and therefore the production cost is likely to be lower unless they offer additional special features.
Easy to wear
High-cut tactical boots may require the wearer to put the pants in and can cause the wearer to have trouble keeping the leggings from escaping.
But you will, certainly, not face any of the same problems with low-cut tactical boots.
Feel free to match the low-cut boots with any of your outfits without too much messy and troublesome lacing.
Cons
Less protection
It seems like low-cut tactical boots aren't something ideal to deal with rugged or rocky terrains due to their less ankle-protection.
High-collar boots provide additional ankle and leg protection from dense bushes and gravel soil on the way.
Low heat-retention
Those who've ever gone through strong snowfalls or sub-zero-temperature winters will know how much you need high-collar boots to keep your feet warm thoroughly.
The high collar is often made of leather and is thickly padded inside to help retain heat and reduce the impact of wind entering the body through the pants. This is something low-cut tactical boots can't do.
Read more: Do 6 Inch Tactical Boots Provide Ankle Support?
Where/ When should you use low-cut tactical boots?
With the downsides shown above, low-cut tactical boots are not something reasonable to accompany through extreme cold winter and snow conditions.
The boots can be used in rocky and rugged terrains but you may need to wear them along with ankle protectors (if needed), calf/ mid-calf protective socks and endurable tactical pants.
They work better in hot and humid urban conditions due to the highly ventilated construction so far.
Besides, we don't encourage you to wear the boots in the tropical jungle and forest conditions if you don't want to regret it then.
With desert terrains without many rocks, quicksand or sandy mountains, the boots can be an ideal option due to their breathability, lightweight and flexibility to move faster.
Overall, low-cut tactical boots are better to be worn in urban and moderately rugged, cold, water and snow terrains.
You can wear low-cut boots as uniform footwear in administrative offices, less-watery machinery factories, construction sites or light-duty guard service/servicemen.
Besides, the boots can also be a perfect choice for running, rock climbing, hiking, walking, trekking or riding due to their agility, comfort and easy-to-wear.
Whenever you plan to wear the boots for any indoor or outdoor activity, consider the terrain and weather conditions you are about to experience to make good decisions.
How high are low cut tactical boots?
The boots that are generally considered low-cut when their height measuring from the bottom of the shaft to the highest point of the collar is usually less than 6 inches.
So you can find some types of low-cut tactical boots such as 5 inches/ 5.5 inches tactical boots or tactical shoes (looks similar to trainers or sport shoes but better machined with more premium materials).
Why use low-cut tactical boots rather than high-cut tactical boots?
It can be said that high-cut tactical boots are generally the best choice to wear in extreme training or working conditions because of their additional protection.
But if you're exercising, operating, or working under normal to mild extreme conditions, low-cut tactical boots are a better choice because they are versatile and easy to use.
However, whatever the boot is, whatever it is, we believe your actual physical and emotional experiences are of the utmost importance.
Choose for yourself the one that will work best for your purpose.
The 10 Best Low-cut Tactical Boots in 2021
There are many low-cut tactical boots on the market today, most of them under the name Under Armor, Bates, Merrel, M-Tac, … However, not all boots are really good or really suitable for your purpose.
To satisfy your needs, we have prepared 10 pairs of low-cut tactical boots of different categories.
These categories include terrain, weather, environment, price … Let's set out to find a ship of black pearl!
1. Best Overall Comfortable Low-cut Tactical Boot
Bates Men 5″ Ultralite tactical boots are something heavenly comfortable that can take serious abuse, even at the break-in stage.
You will be really impressed with their excellent ankle support while making the wearers feel like they are wearing pure lightweight trainers.
The SpeedLace reduces greatly the chances that you will be getting in real trouble to tie/ untie the laces every morning and evening.
Besides, you will feel the boots fit perfectly and supportively with a side zipper up to 12 hours of standing or running all day long.
Yet, some people will get through a few uncomfortable experiences due to the boot's low arch. But it may be fine enough after totally breaking in.
Furthermore, some real customers feel the boots are not breathable enough in the hot weather as their feet will sweat way too much during this condition.
We already tested its level of water resistance against a large puddle, the result comes out quite good as the feet are kept dry.
Yet, we suggest you not stay in the water for too long if you want the boots to last longer.
After all, this boot line is perfect for duty jobs ranging from light to heavy types such as long trail runs, construction sites, servicemen, or local law police services in all moderate conditions.
Polishable leather and nylon upper
Bates DRYGuard waterproofing membrane to keep feet dry and comfy
Ventilated materials for great breathability
Oil-and slip-resistant outsole for any greasy terrains
Style: professional Decent black look
Side zipper
✔️
Lightweight
⭐⭐⭐⭐⭐
Comfortability
⭐⭐⭐⭐⭐
Waterproofness
⭐⭐⭐⭐
Durability
⭐⭐⭐⭐
Protection
⭐⭐⭐⭐
Foot Support
⭐⭐⭐⭐
Breathability
⭐⭐⭐
2. Best responsive low-cut tactical boot
These Under Armour Men's Valsetz RTS waterproof tactical boots are the most lightweight Under Armour tactical boot due to 100% fabric and synthetic materials, making them by far responsive to move fast for the target.
The boot fits perfectly and brings up excellent comfort up to 12 hours standing or about 6 hours running on them.
The 1.5″ height heel leaves the wearer a good level of foot support and arch support.
A simple and easy Speedlace system makes your in-an-out process at ease every day. You can even get in the boots without unlacing them.
Outstanding anti-abrasion boot outer makes it ideal for jungle, desert, and rocky terrains.
This boot is amazingly comfortable and breathable in hot conditions.
You can definitely use these boys for normal-to-heavy duty jobs such as serviceman, construction site, long trail runs, or local law enforcement.
Yet, the major issue of this boot line is its durability. You may find the boots worn out at the bottom kinda early after months of frequent use.
Highly abrasion-resistant synthetic leather and textile upper
Ventilated materials for great breathability
UA Storm waterproof membrane for water repellence and ventilation
TPU toe cap for good protection
Style: Athletic Marine Od Green/ Khaki Base/ Black/ Grey
Side zipper
❌
Lightweight
⭐⭐⭐⭐⭐
Comfortability
⭐⭐⭐⭐⭐
Waterproofness/ Water repellency
⭐⭐⭐⭐
Durability
⭐⭐⭐
Protection
⭐⭐⭐⭐
Foot Support
⭐⭐⭐
Breathability
⭐⭐⭐⭐
3. Best low-cut trail running tactical boot
If you have ever performed any trail running, one thing for sure that you have to get through is embracing the pain.
Foot pains from running up a hill or going down the valley will drain your energy and enthusiasm quickly if you don't have a pair of good boots that help re-energy your every step in a better way.
And M-Tac tactical Combat boots are your best companion throughout the journey.
The boots are super lightweight when running, as well as very quiet while walking due to their 100% durable polyesters (no leather at all).
The wearers will feel them hold up well but fit a little bit bigger than usual.
Many said they experience outstanding comfortability, no break-in, and no foot pains all the way while standing or running on the boots all day long.
The boots are specially designed for hot conditions due to mesh surface, making them a perfect choice for patrolling, shooting range, or outdoor exercises in the summer.
100% lightweight Polyester
Re-energy tech midsole
Highly traction, durable and strong outsole for wear-resistance
Reinforcement toe cap and heel for durability
Style: Athletic Olive/ Coyote/ Black
Side zipper
❌
Lightweight
⭐⭐⭐⭐⭐
Comfortability
⭐⭐⭐⭐⭐
Waterproofness/ Water repellency
⭐⭐⭐
Durability
⭐⭐⭐⭐
Protection
⭐⭐⭐⭐
Foot Support
⭐⭐⭐⭐
Breathability
⭐⭐⭐⭐
4. Best durable low-cut tactical boots
Danner brand has always been many real boot players' favorites. And with these Danner Manufacturing Men Strikebolt GTX tactical boots, you will definitely get what you pay. Their quality even exceeds your expectations.
The boot leather construction is solid, strong, and super durable throughout all seasons and all types of terrains, whether you are running or performing tactical operations.
Yet, you will have to get through a little break-in period.
The wearer may find the boot fits your ankle comfortably without too tight feels. For those who have wide feet, we recommend you go a size up your Danner boots.
The outsole is designed in special Danner rugged and grip patterns to greatly fight against greasy and slippery surfaces.
The boot may not provide insulation, therefore it is better to wear in hot-to-normal-cold conditions.
Durable Danner leather and textile upper
GORE-TEX waterproof for better breathability
TERRA FORCE NEXT platform for arch support
Oil-and-slip resistant Vibram Striker Bolt outsole
The Vibram SPE midsole that enhances durability
Style: Athletic Black
Side zipper
❌
Lightweight
⭐⭐⭐⭐⭐
Comfortability
⭐⭐⭐⭐⭐
Waterproofness/ Water repellency
⭐⭐⭐
Durability
⭐⭐⭐⭐⭐
Protection
⭐⭐⭐⭐
Foot Support
⭐⭐⭐⭐
Breathability
⭐⭐⭐⭐
5. Best lightweight low-cut tactical boot
People said you receive for what you pay for these Danner Men Fullbore Tactical boots.
The first thing you will notice when wearing the boots is an amazing lightweight feel.
Even that makes you wonder what kinda damn material the boot is made of to give you a feeling like you are bouncing while walking.
The boots are exceptionally well-built and superb comfortable due to the added cushion footbed in the bottom heel.
They provide a lot of foot support and comfortability even when you are on your feet all day long.
The right-sized boots provide enough room in the toe box and fit greatly. Therefore, you can definitely experience no break-in so far. While others may get through the break-in period in a few days up to a week.
Besides, the boot can breathe well in warm conditions, but you may find your feet sweat away a lot as well in hot conditions.
The boots are perfectly durable and agile. Therefore, you can definitely perform all tactical, outdoor, and working activities on them.
Athletic look in leather and textile upper
Danner Dry waterproof protection on the outer
Vibram SPE midsole for better re-energy and comfort
Vibram Fuga Megagrip outsole for excellent grip on greasy and slippery surfaces
Style: Stylish athletic Black/ Gray
Side zipper
❌
Lightweight
⭐⭐⭐⭐⭐
Comfortability
⭐⭐⭐⭐⭐
Waterproofness/ Water repellency
⭐⭐⭐⭐
Durability
⭐⭐⭐⭐
Protection
⭐⭐⭐⭐
Foot Support
⭐⭐⭐⭐
Breathability
⭐⭐⭐
6. Best Desert low-cut tactical work boot
It is said these Reebok Work Duty Rapid Response tactical boots are fairly survival on heat desert terrains of Middle East countries.
The best thing you can feel is an amazing experience of dry feet all day long.
How awesome they are when everything is somewhat sweating during this horrible hot weather but the boot leaves your feet cool enough feelings at the end of the day.
They are excessively comfortable, good cushioning but breathable from the inside out and vice versa.
The boots hold up well and perfect fit without weighing your step down.
Their well-built construction is appropriately rigid to resist sands, water, and dry leaves from getting inside.
They can be a perfect work-boot option due to their non-metallic materials and high protection.
Yet, the boots may come in a stiff ankle (that may feel it at first) but it can be more comfortable after a complete break-in.
100% anti-abrasion leather + textile
Composite toe for safety working
Adjustable circumference for a better fit
Rubber outsole for grip and balance
Style: Decent Coyote/ Tan/ Black/ Khaki
Side zipper
✔️
Lightweight
⭐⭐⭐
Comfortability
⭐⭐⭐⭐⭐
Waterproofness/ Water repellency
⭐⭐⭐
Durability
⭐⭐⭐⭐
Protection
⭐⭐⭐⭐
Foot Support
⭐⭐⭐⭐
Breathability
⭐⭐⭐⭐⭐
7. Best Mountain low-cut tactical boots
If you are a long trail runner, a rock climbing and trekking enthusiast, you would expect your boots that are as light as possible as well as help reduce leg fatigue and foot pains throughout the day.
Besides, the boots should provide dynamic comfort to assist you to keep moving fast in mountain terrains. So these Salomon Unisex-Adult Xa Force Mid GTX En tactical boots are the best go-to choice.
You can even hike or run along the slopes up to the top mountain for about 50 miles per week without much foot fatigue and damaging the boots.
Some real customers who often wore the boots as work boots said they've received up to 14 hours of comfort shift and their feet are amazingly somewhat dry at the end of the day.
The boots also can handle submerged water situations perfectly, making them a great option for tropical forests and mountain terrains.
However, due to its excellent waterproofness, the wearers may also experience moderate ventilation and breathability from the outside in, leaving an acceptable warmness inside.
To handle this situation, a pair of breathable cotton socks can be a good choice.
100% anti-abrasion materials
Contagrip outsole for better traction when climbing
Sensifit midsole provides great fit and comfort
Style: Special Force Range Green/ Black
Side zipper
❌
Lightweight
⭐⭐⭐⭐⭐
Comfortability
⭐⭐⭐⭐⭐
Waterproofness/ Water repellency
⭐⭐⭐⭐
Durability
⭐⭐⭐⭐
Protection
⭐⭐⭐⭐
Foot Support
⭐⭐⭐⭐
Breathability
⭐⭐⭐
8. Best low-cut tactical boots for the hot weather
These NORTIVE Men Mid Ankle lightweight tactical boots are amazingly ventilating from the inside out because of a special mix between breathable fabrics and quality leather.
The boot is made for doing any outdoor and tactical operations mainly in the hot weather. So, its level of waterproofness is infinite, making the ventilation get more effective.
If you are a motorcycling enthusiast, the boots with a good toe are still ideal for shifting gears without much scratches on the boot toe.
But you can do polish the toe and the leather after a period of use to enhance the level of protection and durability.
Yet, this boot seems not to be a good option for running.
Some real customers said they often experience light blisters during their run. We recommend you try to run again on the boots after completing the break-in period.
The boot is actually not too as lightweight as others, but it fits tight and comfortably so we think the weight is not a big deal here.
Long-lasting and comfortable genuine leather
Breathable mesh lining for better ventilation
Wear-and-slip resistant Multi-Directional Traction (MDT) outsole
Style: Decent Black/ Brown
Side zipper
❌
Lightweight
⭐⭐⭐⭐
Comfortability
⭐⭐⭐⭐⭐
Waterproofness/ Water repellency
⭐⭐⭐⭐
Durability
⭐⭐⭐⭐
Protection
⭐⭐⭐⭐
Foot Support
⭐⭐⭐⭐
Breathability
⭐⭐⭐⭐⭐
9. Best waterproof low-cut tactical boot
These Bates Men Ultra-Lites GTX Boots are a truly big warrior to fight against the water, humid and wet conditions.
You can even go through marsh terrains and still feel comfortable and dry on your feet for up to 9-12 hours every day.
The boots fit nicely and hold up well no matter what kinda terrains you may run through.
However, the capacity of slip-resistance in the outsole is limitable after being tested in reality.
Therefore, you should be aware of getting risks of falling down on slippery surfaces.
The boots feature Goretex and some Thinsulate, so they may be not ideal for the hot conditions but they will still breath well for sure.
Many are impressed with the boot's longevity and durability. Some even said their Bates boots can last up to 3 years with multipurpose use.
Lightweight 70% leather + 30% nylon
GORE-TEX membrane for moisture-and-sweat wick while keeping warm
Cushioned EVA midsole for better comfort and foot support
Oil-resistant rubber outsole
Cement construction for water, mud resistance
Style: Decent Black
Side zipper
✔️
Lightweight
⭐⭐⭐⭐⭐
Comfortability
⭐⭐⭐⭐⭐
Waterproofness/ Water repellency
⭐⭐⭐⭐⭐
Durability
⭐⭐⭐⭐
Protection
⭐⭐⭐⭐
Foot Support
⭐⭐⭐
Breathability
⭐⭐⭐⭐⭐
10. Best anti-foot-fatigue low-cut tactical boot
As you can feel when looking at the name, these Reebok Men Sublite Cushion tactical boots are provided with Sublite foam midsole for added cushion that reduces greatly foot fatigue.
However, if your job demands long-standing up to 12-15 hours per day, we suggest you add a cushion pad/ liner/ subsidiary insole for better foot support and protection.
Besides, these boots can really be an ideal lightweight work boot. Even you may not trust their well-made quality because they are way too light.
The boots are indeed comfortable, breathable, and holding up well in hot conditions. Yet, many have complained about their durability and longevity.
The sole adhesive part of the boots does not seem too stable and tear-resistant in the water environment.
Therefore, we suggest you consider this factor carefully before deciding.
Lightweight 100% textile and synthetic leather
Full-Foot flex grooves for effective foot-support
Targeted rubber outsole for better grip and traction
Oil-resistant rubber outsole
Style: Decent Black
Side zipper
❌
Lightweight
⭐⭐⭐⭐⭐
Comfortability
⭐⭐⭐⭐⭐
Waterproofness/ Water repellency
⭐⭐⭐
Durability
⭐⭐⭐
Protection
⭐⭐⭐⭐
Foot Support
⭐⭐⭐⭐⭐
Breathability
⭐⭐⭐⭐⭐
Wrapping it up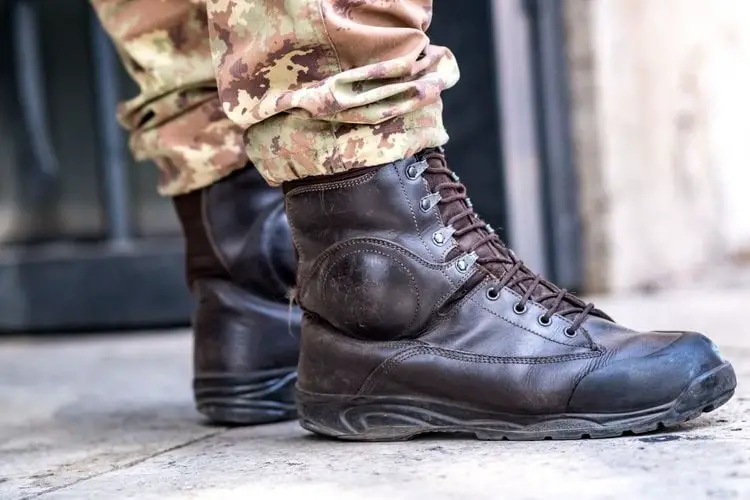 When people decide to switch to wearing tactical boots instead of shoes for their duty jobs, those who have never experienced high-cut boots will find the low-cut way more suitable and comfortable due to its athletic form and wearer-friendly design.
However, some of their features literally cannot compete well with high-collar tactical boots such as optimal ankle protection, effective warm keeping, and good water resistance.
If you are wondering whether to get a pair of low-cut tactical boots or not? We hope this article is helpful to you.