What are bunions? To put it simply, bunions are symptoms that some bones in the front part of the foot are not in the right place where they should be (offset). This happens when the bone is swollen in the big toe – on the joint at the base.
The tip of your big toe will then lean toward the smaller toes, but its joint at the base will be pulled outward. That makes the widest area of the foot inadvertently wider.
It is for this reason that footwear for your feet needs more room in the ball of the feet area. Cowboy boots are no exception.
That will limit the swelling affected, your feet will not be cramped, and have enough room to breathe.
So have you figured out which cowboy boots are suitable for bunions? I'll let you know in this article!
Which Cowboy boots are really suitable for bunions?
As mentioned at the beginning of the post, bunions will make the widest part of the foot (the ball of the foot) even wider.
So the simplest thing we can think of is to find a cowboy boot that is wide in the ball of the foot.
Following this criterion, you can consider cowboy boots with square toe, round toe, or broad square toe construction.
These cowboy boots have a wide toe room to ensure that your bump doesn't (or less) rub against the boots and your feet are comfortable with plenty of room.
In some cases, if your feet are too wide due to bunions, going up half a size to a size of cowboy boots may also be necessary.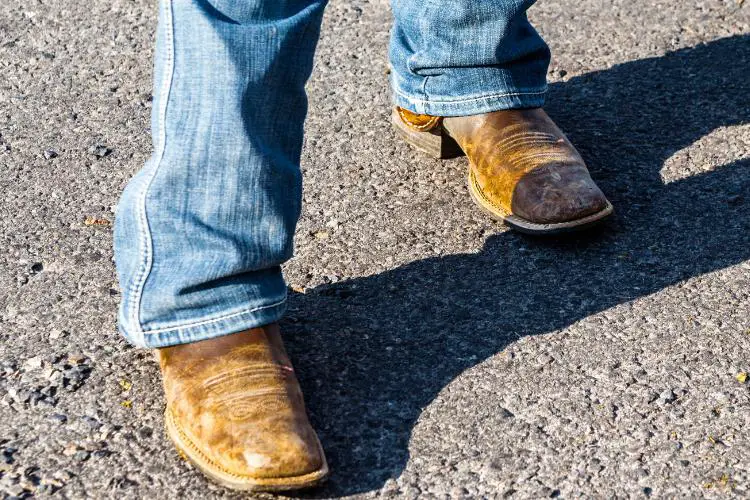 The first solution is very simple! Right?
The next thing you should know is to limit wearing cowboy boots with too high heels. High-heeled boots will cause your foot to slide forward with each step and your biggest toe and its bones will collide with the boots and make the situation worse.
To make sure you won't slip, use cowboy boots with heels no more than 1 1/2 inches high along with a good pair of anti-slip insoles.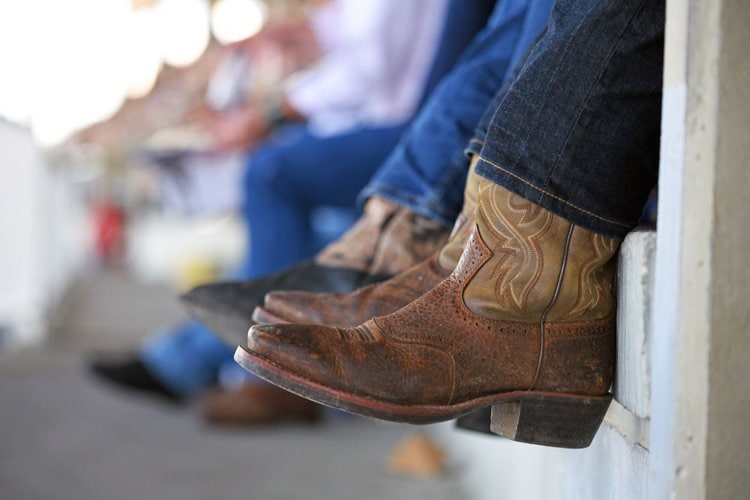 My personal experience is that you should choose cowboy boots made from soft leather. For me, it was ostrich boots.
Ostrich boots are extremely soft to pamper your feet, even if the swelling is bumped into the boot, the pain is greatly reduced.
In addition, socks with good cushioning and reinforcement in areas such as the heel and toe will also help. At the same time, they should also be moisture-wicking well to ensure your feet are dry, from which they do not move.
The last thing is to make sure your cowboy boots are broken in and fit well in the instep (the top of the foot).
The broken-in cowboy boots are soft enough to pamper your bunion feet!
Meanwhile, if your foot fits snugly at the instep or the ball of the foot, it will stay in place and not move.
You will probably need to read through our article on how to choose good-fit cowboy boots as well as how to properly break in cowboy boots.
Best Cowboy Boots for Bunions
Okay, to make it short, cowboy boots with lots of toe room (round toe, square toe, and broad square toe), and heels that aren't too high (no more than 1 1/2 inches) will be the top criteria for your purchase.
Follow me, here are a few great boots that I know will suit your bunion feet!
 1. The Doc from Tecovas
The Doc from Tecovas is a very safe choice for you, for both the feeling and the view.
With a broad square toe structure, they have a lot of room for your toes to breathe and the bunion is not painful if collides with the boots.
The boots not only make you satisfied with their function but also with their design. They are truly a handsome guy with a strong appearance.
Created from bison leather with a well-polished surface combined with natural cracks, The Doc Boots has an unbeaten style.
You do not necessarily have to wear The Doc boots with jeans, instead, they can act as dress shoes to go with slacks, chinos, or dress pants (just make sure the bottom of the pants is large enough to put the boot's shaft in).
These boots also have a high heel structure, 1 1/2 inches, which is enough to keep you stable in the boots without slipping forward and affecting your bunions.
A stacked leather heel also creates a style thanks to its unique appearance.
In addition to Bison, Goat or Bovine versions are also good choices!
Tecovas also has a very good and generous return policy, so if they accidentally spoil your bunion feet, don't worry too much!
2. The Emmitt from Tecovas
Extremely soft boots made from ostrich leather and have a lot of room structure at the TOE Box, isn't that what we are looking for?
Made from full quill ostrich, these boots are extremely soft, along with the Broad Square Toe structure, I firmly believe this will bring your bunion feet the best protection.
A 1 1/2-inch heel will make sure your feet are neatly lying in the boots without hitting the tip of the boots.
As for appearance, the biggest victory lies in the unique bumpy surface of Ostrich Leather, combined with Signature Details on the shaft, creating a unique appearance for the boots.
Along with that, Broad Square Toe and Double-Stitched Goodyear Welt structures also look very strong.
Stacked Leather Heel is very familiar in Tecovas cowboy boots, but they have a very good style, which is full of traditional but timeless.
Besides softness, Ostrich Leather is also one of the most durable leather over the years. So this is definitely a smart investment!
3. The Midland from Tecovas
In addition to the relatively basic range of cowboy boots with traditional features, you can also find boots that are great for bunions but are specially made for heavy work.
The Midland is such a boot with a very wide toe box construction to ensure your feet can always stay comfortable. At the same time, with their good texture, your ankle will be protected against pressure.
The boots also have good shock absorption, which is a good point for your bunion feet.
In terms of the overall construction, The Midland boots are very sturdy with thick and well-reinforced materials. Also, the insole is very comfortable to serve throughout the day.
Thick rubber soles and excellent anti-slip function can ensure high protection. They also have good resistance to external forces and are difficult to puncture.
Overall, if you suffer from bunions and want to find a pair of work boots, this is still a very good choice!
4. CHISOS NO. 2
Have you ever heard of Chisos' cowboy boots? Let me tell you, this is an extremely desirable shoe brand for this year.
Created by Texas son Will Roman, Chisos' cowboy boots are classic and traditional but embellished with very modern and innovative interiors.
Therefore, they still retain the breath of the western but bring great sensory experiences to the wearer.
Sounds appealing, right?
Try looking at Chisos No.2, you will understand what I say!
First, these boots are made from dairy cow hides, which gives a solid feel to your feet. Along with steel shanks, you will feel the balance in every step.
However, there is a strange thing that you still feel a very good comfort coming from the softness. It may sound contradictory, but put your feet in these boots and you'll see what I mean!
Maybe this magic comes from the high-quality structure. For example, some brands use plastic counters to reduce production costs, and yes it's true, but that will reduce the good experience of the original.
But for Chisos, you will know what a leather counter is, once you put your foot in, you will want to stay in it forever. That's a really good pair of cowboy boots!
Leather heel rand, leather insole, leather lining, etc. will make you really fall in love with these cowboy boots!
The structure of this boot has a heel height that is not too high, beautiful enough and ensures good stability for the foot. Along with the square toe enough width for the big toe and its bump!
What more do you expect?
Conclusion
Those are cowboy boots you should opt for bunion feet. I have tried to choose boots that are both beautiful and satisfy the criteria of wide toe room and not too high heels.
In fact, it must be admitted that finding cowboy boots for bunion feet, or simply wide feet, is often not easy.
However, just make sure the boots fit well in the instep, then you can absolutely wear boots that are a bit wider than your foot to pamper bunions' feet.
Good luck!
Howdy y'all, and welcome to From The Guest Room, your ultimate guide to all things Western! I'm Jay Gatz, a lifelong cowboy boot enthusiast with over 5 years of experience in the Western style world. I'm excited to share my knowledge with you and help you discover the perfect cowboy boots and western gear to elevate your style. Let's explore the rich history and timeless appeal of Western fashion together!