You are a lover of cowboy boots and you want to own a fashion item representing the Wild West cowboys.
However, you are having trouble buying cowboy boots because of the high arch of your foot.
Don't worry, today From The Guest Room will solve that problem for you and find the 10 best cowboy boots to suit your high arched feet.
Let's begin! – Let's find 10 best cowboy boots for high arches
Comparison Table
What is a high arched foot? (Cavus Foot)
True to its name, also known as Cavus Foot, a high arched foot means your foot has a very high arch that is higher than that of the average person.
This type of foot is quite common with many people around the world, it can happen at different ages. A person may have one or both feet with high arches.
Due to the unusual structure of the high arched foot, bodyweight is more focused on the heel and ball of the foot than the normal foot. That leads to many symptoms such as foot pain, instability or imbalance.
How do you know if you have high arches?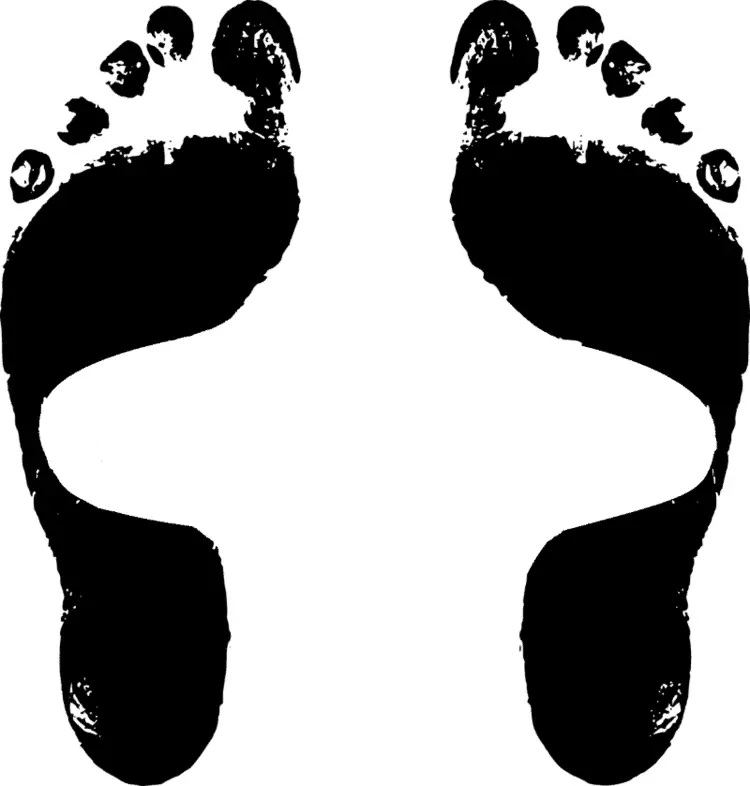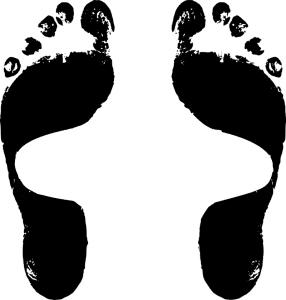 Wet your feet and stand on the sand or a sheet of paper, then lift your feet to see what your foot type is. (Refer to the image above)
If the arch of your foot is higher than normal, the imprint on the paper (or sand surface) includes the front (the ball) and heel of your foot (no imprint of the midfoot).
Actually this is probably quite redundant because when you click on this topic, you know you might get a high arched foot.
How do I choose a cowboy boot to suit my high arched foot?
The high arched foot is less able to withstand the weight of the body compared to the normal foot when walking or jogging. In the long term, it can adversely affect ankles, knee joints and spine …
It can be said that choosing cowboy boots or shoes for people with high arches is difficult because of the features of their feet.
Usually, people with high arches prefer to wear sneakers, because they have very good arch support. This feature creates a sense of smoothness and comfort when walking or exercising.
Saying that does not mean that the high arched feet cannot wear cowboy boots, there are 2 ways to solve this problem.
First ways: Use arch support for high arches
In the market, there are many specialized cushion insole products to support the high arch of the foot. You should buy reputable products that meet the health ministry's standards for health protection.
These high arch support products regain balance and stability just like a normal foot.
Besides, high arch support products create a good cushion to complement the missing midfoot part of the high arched foot.
If you use arch support for high arches:
The bodyweight will put evenly on the foot
The shock resistance of the foot when jogging or walking is increased

If you want to see more arch support products, here.
Read more: Cowboy Boots Tight Instep
Second ways: Use cowboy boots that have good arch support
It is a pity that most types of cowboy boots do not have good arch support. Because most cowboy boots have wide and flat soles, it is very comfortable for the wearer with normal feet, but not for high arched feet.
Unlike a normal, wide or flat foot, the wide and flat sole of a cowboy boot can not help much for a high arched foot – What people with high arches need is cowboy boots with good arch support on the insoles. But cowboy boots lovers don't worry, that's not the end.
Apparently, understanding those difficulties, manufacturers have launched a product line: cowboy work boots (western work boots)
These innovative cowboy boots combine the wild beauty of traditional cowboy boots with the advantages in the design and function of work boots.
The great feature of cowboy work boots is that they have very good arch support for people with high arches.
These boots are designed to cater to those who need to wear cowboy boots all day long. Cowboy work boots have a low heel design, the sole is usually made of thick and durable rubber but still ensures a smooth and stable state. The cowboy work boots insoles have excellent cushions to support the gaps of the high-arched feet.
Bonus: Maybe you do not know
Nowadays, some famous cowboy boots brands have developed EVA footbeds for cowboy boots.
EVA footbed is midfoot support, which is great for people with arched feet. Besides, it reduces shock very well for your feet when you walk or jog.
So if you don't like cowboy work boots, you can also look for other cowboy boots that use EVA footbeds.
Currently, the most famous brand of foot support technologies is Ariat, they have famous ATS technology. The proof is that many big sports events, Rodeo, … and athletes believe in Ariat cowboy boots with ATS technology.
ATS technology is a foot cushion made from 4 different pads. It supports the heel and midfoot of people with high arches very well.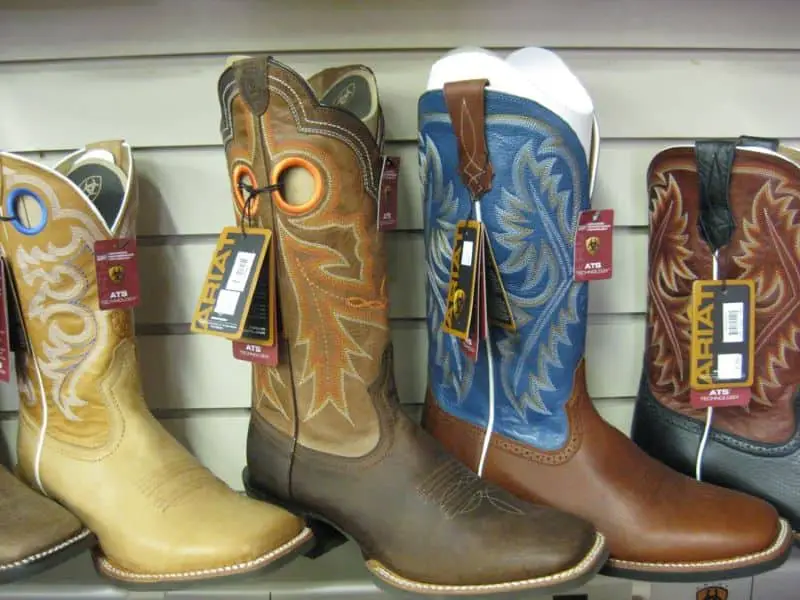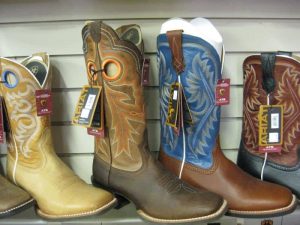 You can also look for Durango cowboy boots, they also have EVA Footbed cowboy boots.
In our opinion, the most comfortable cowboy boots and the best arch support for the foot arches often belong to Durango and Ariat brands.
However, not all cowboy boots have EVA footbeds, so we recommend that you use cowboy work boots, as most cowboy work boots have foot support.
If it's too difficult for you to find cowboy boots that have EVA footbed, don't worry, we'll find it for you, just scroll down and read through this article.
Read more: How To Break In Ariat Cowboy Boots
The 10 best cowboy boots for high arches
1/ ARIAT Men's Circuit Patriot
We think you will love this boot at first sight, it is very wild and masculine. ARIAT Men's Circuit Patriot boots are full of real power for real men.
What we like:
4LR technology
Leather lining
Full-grain leather foot and upper
Fit: As expected
What we don't like:
The sole deteriorate quickly
2/ ARIAT Women's Primetime
This is not a cowboy boot, this is a piece of breathtaking artwork of the American West! ARIAT Women's Primetime perfectly harmonizes in structure: from heel, sole, to shaft, you just can't be wrong with these boots.
What we like:
Goodyear welt
Full-grain leather foot & upper
Six-Row stitch pattern on upper
ATS footbed
What we don't like:
Read more: Comfortable Cowgirl Boots For Wide Feet
3/ Ariat Men's Heritage Roper
Give British-made cowboy boots a chance, such as this Roper boot. The beauty of this boot comes from the full-color design, which is enough for a simple style. Besides, it is easy to match with any kind of clothes. No need to think more, order one now!
What we like:
Leather lining
Classic Western styling and rich
Shock absorption
100% Leather
What we don't like:
It is stiff when you first get them (just let it some time to stretch, it will be okay)
4/ Durango Rebel Frontier
A pair of western cowboy boots with leather distressed sunset brown.
The boots have a tough appearance but the inside is soft and pampers your feet.
What a perfect choice!
What we like:
Air mesh lining
Fiberglass shank
Lightweight
Perfect for riding
What we don't like:
The sole wear out quickly
5/ Ariat Men's Mesteno
Another super product of the brand Ariat has just been launched – the Ariat Men's Mesteno Western Cowboy Boot collection. With masculine and outstanding colors, you will be overwhelmed by this collection!
What we like:
Leather sole
Leather Lining
Goodyear leather welt
Composite forked shank
What we don't like:
One customer reports that the heel was broken after 90 days using
6/ ARIAT Women's Primetime
A great combination of impressive textures on the shaft and lightweight comfort. This is like Picasso's work of cowboy boots.
These boots have harmonious colors and motifs that impress others' eyes. It would be great to match a pair of skinny jeans with these boots.
What we like:
100% Leather and Textile
Rubber sole
Wide enough for wider calf
Lightweight
What we don't like:
You might get headache when choosing a boot among a lot of colors
Read more: How to Fix Heel Slippage in Cowboy Boots
7/ Ariat Women's Unbridled Roper Boots
A simple but lovely and sophisticated Roper boots are what you need to go down the street with your friends or work at the office.
A pair of Roper boots with a pair of skinny jeans is a good combination for a youthful style.
What we like:
Full-grain leather foot and upper
ATS technology
Fit: As expected
Feminine design
What we don't like:
8/ Durango Women's Classic
A classic pair of Riding boots that makes you look like a real cowgirl. Riding boots always give you girls a sexy appearance because of the curves created by high heels.
You will get the arrogance and confidence that only genuine cowgirls own.
What we like:
100% Leather
Leather shaft lining
Cowgirl heel
Cushion insole
Durable welt construction
What we don't like:
The red color is not flashy as in the picture
9/ Durango Women's DRD0208
We know that some people love boots with accessories, such as concho strap, spur… Here we have a super product for you, that's Durango Women's DRD0208,
This boot is extremely unique since brown Khaki leather is very rare. And what we love about this boot is the bottle opener included on the US Flag strap.
What we like:
Soft Mesh Lining
Cushion Flex Insole
Full-grain leather
Tempered steel shank
What we don't like:
10/ Ariat Women's Heritage Lacer II
This is a very fancy pair of boots – a combination of Lacer boots and Cowboy boots. Maybe this is a new breeze for your wardrobe. Don't miss out on this unique and innovative cowboy boot.
What we like
Short shaft
Durable
True to size
ATS footbed
What we don't like
It is quite stiff around the ankle
Read more: How to Wear Cowboy Boots in the Winter
Tip: You can wear other types of hiking socks, which have a lot of features to support the high arched feet, such as:
Cushion to support comfortable feet
Elastic arches to support the high arches
Read more: Best Socks for Cowboy Boots
5 best cowboy work boots for high arches
1/ Ariat Men's Ironside H2O
Starting with the Ariat Men's Ironside H2O cowboy boots, as we said above, the Ariat brand always has very good care for their customers' feet, typically this boot.
This product adopts modern and well-known ATS technology. It has a lightweight and supportive composite shank. These features allow your high arched feet to be comfortable all day.
What we like:
Rubber sole
Lightweight
Waterproof
Durable
What we don't like:
2/ Ariat Men's Workhog Mesteno
If the above boot just please you for its usage but it is not cool enough to wear, try Ariat Men's Workhog Mesteno.
With an impressive pattern and texture on the shaft, Mesteno Workhog absolutely brings you a cool, strong and masculine look.
What we like:
100% Leather
Rubber sole
Fits as expected
Waterproof pro
Self-cleaning
What we don't like:
3/ Durango Rebel
In addition to the Ariat brand, we also appreciate the Durango cowboy boots. Durango Rebel also has a flexible molded EVA midsole that supports the arch of the foot very well.
Besides, Durango Rebel boots are also very light and durable, flexible for outdoor activities.
Cowboy boots from Durango have a very strong design and texture, with a variety of colors. It is a mix between traditional cowboy boots and modern beauty.
What we like:
Slip and Oil resistant
Full-Grain Leather
Lightweight
EVA midsole
What we don't like:
4/ Durango Women's Rebel
The outstanding color shaft will give you a bold look. Brown full-grain leather contrasts with the shaft color. It comes with 4 color choices for you. The boot offers shock absorbing EVA midsole for your foot. Also, slip-resistant outsole grips on any surfaces. This wonderful boot has soft leather. It is best for going around the town all day long with no worry of blisters or pains.
What we like:
Comfortable wearing
Removable cushioned footbed
Form the shape of your foot
Beautiful color choice
What we don't like:
The leather upper of these boots is worn out after 2 years of using boots
5/ ARIAT Women's Tracey 
Tracey cowboy boot is a gift for girls who love cuteness. It is a delicate combination of western cowboy boots and work boots.
This combination will give you a unique look. Don't just wear it to work, take it to picnics, parties with friends, they will be surprised by how cute this boot is.
What we like:
Full grain leather construction
Moisture-wicking sock liner
4LR footbed with EVA cushioning
Forged steel shank
What we don't like:
[FAQ]
What brand of cowboy boots are the most comfortable?
You can search for comfortable cowboy boots from the Durango brand and the Ariat brand.
The Ariat brand has very famous ATS technology, and this technology is applied almost to most of their products.
Ariat cowboy boots are always very diverse. The most famous of this brand may include workhog boots, fatbaby, riding boots, stockman …
Ariat cowboy boots are heavily used by athletes. And Ariat is also one of the main cowboy boots sponsors at small or big sporting events …
Besides, you can look for the Durango brand. The Durango brand is rated as extremely durable and comfortable cowboy boots by many customers.
Durango cowboy boots use EVA footbeds, which support your soles very well. EVA footbeds make you feel comfortable wearing boots all day long.
However, Durango cowboy boots are not as diverse as Ariat.
Besides, if you love western boots, then Laredo and Dan Post boots are good choices. The western boots of these two brands are highly rated for their comfort.
Read more: Where Are Laredo Boots Made
Are cowboy boots good for horse riding?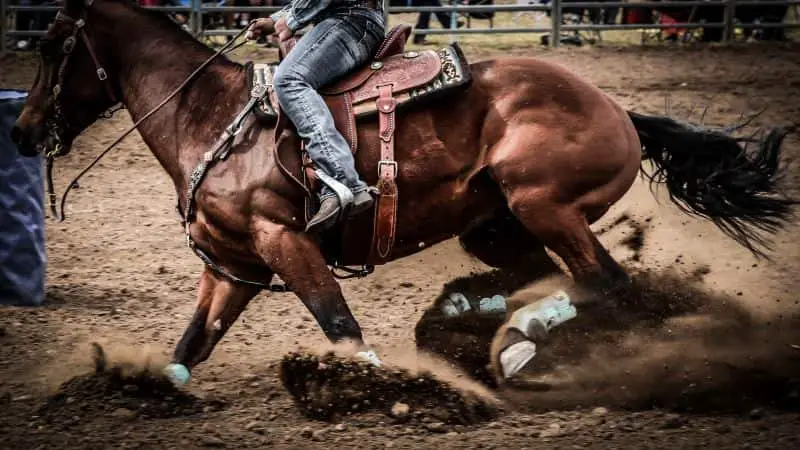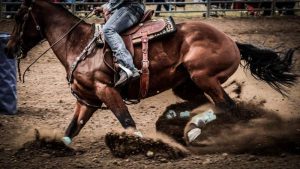 Absolutely, cowboy boots are perfect for horse riding.
Back when the cowboy boots were born.
Farmers and cow-riding boys working on the western prairie need sturdy and durable shoes at affordable prices. That's the reason cowboy boots were born.
For cowboy riding purposes, cowboy boots feature high heels (although most cowboys are men) and the nook of the heel is designed to hook into the stirrups to remain balance, stability and to increase control when sitting on the saddle.
So far, many different cowboy boots have been introduced (Work boots, Stockman, Western boots …). If you want to buy cowboy boots for riding, make sure to choose the right riding boots (traditional cowboy boots).
Riding boots often have the following characteristics: pointed toe shape (to easily slip into the stirrup), wide and flat sole. Also, the shaft is usually taller than the mid calf, and especially the heel of riding boots is usually 2″ or higher. The riding boots are usually inclined about 60 degrees to 70 degrees to the ground. (so that the heel can hook tightly into the stirrup).
Because of these design features, there are no more suitable boots for horse riding than traditional cowboy boots.
Read more: Are Cowboy Boots Bad For Your Feet?