High-arched feet are one of the very common symptoms in many people, which makes it very difficult for them to choose the right footwear for their feet, including cowboy boots.
For many people, getting their high-arched feet into their boots is extremely difficult, as high arches are often accompanied by high insteps.
Besides, a lot of traditional cowboy boots don't really have good enough arch support to soothe your finicky feet.
Haiz, it's so difficult!
As one who loves cowboy boots and has high arches, I get it!
And today's post is to show you how I deal with that problem. Besides, I will tell you which cowboy boots are suitable for high arches.
Follow in my footsteps!
What is a high-arched foot? (Cavus Foot)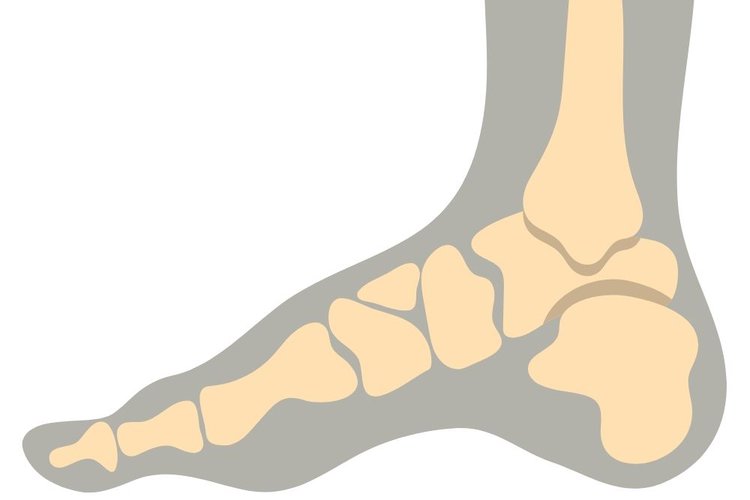 As the name implies, a high-arched foot (also known as Cavus Foot) has an arch that is higher than the average height of a normal arch.
This type of foot is quite common with many people around the world, it can happen at different ages. A person may have one or both feet with high arches.
Due to the unusual structure of the high-arched foot, bodyweight is more focused on the heel and ball of the foot than the normal foot.
That leads to many symptoms such as foot pain, instability or imbalance.
How do you know if you have high arches?
Wet your feet and stand on the sand or a sheet of paper, then lift your feet to see what your foot type is (Refer to the image above).
If the arch of your foot is higher than normal, the imprint on the paper (or sand surface) includes the front (the ball) and heel of your foot (no imprint of the midfoot).
Actually, this is probably quite redundant because when you click on this topic, you know you might get a high-arched foot.
How do I choose a cowboy boot to suit my high-arched foot?
The high-arched foot is less able to withstand the weight of the body compared to the normal foot when walking or jogging.
In the long term, it can adversely affect ankles, knee joints and spine, etc.
It can be said that choosing cowboy boots or shoes for people with high arches is difficult because of the features of their feet.
Usually, people with high arches prefer to wear sneakers, because they have very good arch support. This feature creates a sense of smoothness and comfort when walking or exercising.
Saying that does not mean that the high-arched feet cannot wear cowboy boots, there are 2 ways to solve this problem.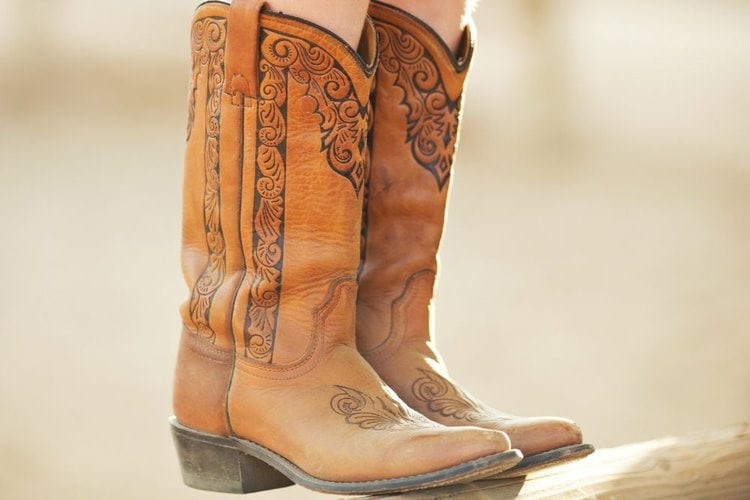 First way: Use arch support for high arches
In the market, there are many specialized cushion insole products to support the high arch of the foot.
You should buy reputable products that meet the health ministry's standards for health protection.
These high arch support products regain balance and stability just like a normal foot.
Besides, high arch support products create a good cushion to complement the missing midfoot part of the high-arched foot.
If you use arch support for high arches:
The body weight will be distributed evenly on the foot
The shock resistance of the foot when jogging or walking is increased
As you can see, the insoles designed for high arches have the mid raised to support the arches.
If you want to see more arch support products, here.
Second way: Use cowboy boots that have good arch support
It is a pity that most types of traditional cowboy boots do not have good arch support.
Because most traditional cowboy boots have wide and flat soles, it is very comfortable for the wearer with normal feet, but not for high-arched feet.
Unlike a normal or wide foot, the wide and flat sole of a cowboy boot can not help much for a high-arched foot (or flat foot).
What people with high arches need are cowboy boots with good arch support on the insoles. But cowboy boots lovers don't worry, that's not the end.
Apparently, understanding those difficulties, manufacturers have launched a product line: cowboy work boots (western work boots)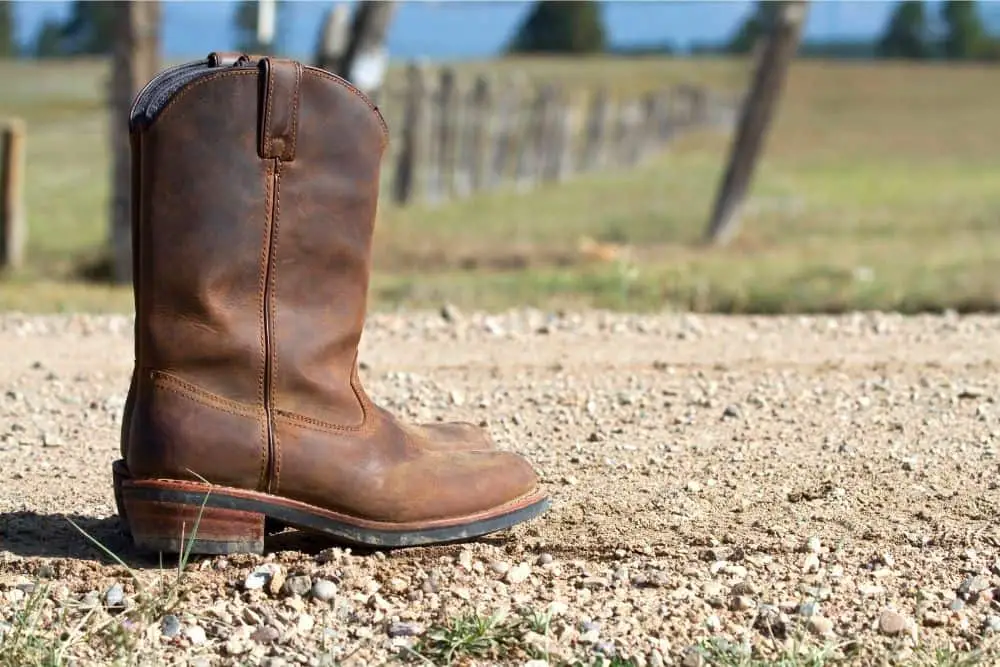 These innovative cowboy boots combine the wild beauty of traditional cowboy boots with the advantages in the design and function of work boots.
The great feature of cowboy work boots is that they have very good arch support for people with high arches.
These boots are designed to cater to those who need to wear cowboy boots all day long.
Cowboy work boots have a low-heel design, the sole is usually made of thick and durable rubber but still ensures a smooth and stable state.
The cowboy work boot insoles have excellent cushions to support the gaps of the high-arched feet.
3rd way: Upsize your boots
Being a person with a high arch mostly means that you also have a higher instep than the average person.
So you will probably need to size up your boots to make sure your feet can get inside the boots easily.
How much sizing up depends on the height of your instep. But most of the time it will range from half size to one size.
Read more: How To Fix Cowboy Boots Tight Instep?
Bonus: Maybe you do not know
Nowadays, some famous cowboy boot brands have developed EVA footbeds for cowboy boots.
EVA footbed is midfoot support, which is great for people with arched feet. Besides, it reduces shock very well for your feet when you walk or jog. So if you don't like cowboy work boots, you can also look for other cowboy boots that use EVA footbeds.
Currently, the most famous brand of foot support technologies is Ariat, they have famous ATS technology. The proof is that many big sports events, Rodeo, etc. and athletes believe in Ariat cowboy boots with ATS technology.
ATS technology is a foot cushion made from 4 different pads. It supports the heel and midfoot of people with high arches very well.
So we recommend that you (those with high arches) use modern cowboy boots. They have a good arch, heel and toe support.
People with high arches should refrain from using traditional cowboy boots because they don't really have good arch support.
Update 2023: Recently, many brands have started developing technologies for their cowboy boots, such as Tecovas boots with EVA strips that can provide great arch support, ensuring you can stay comfortable all day.
So, if you are looking for cowboy boots with a classic look, then Tecovas boots will be the ideal destination.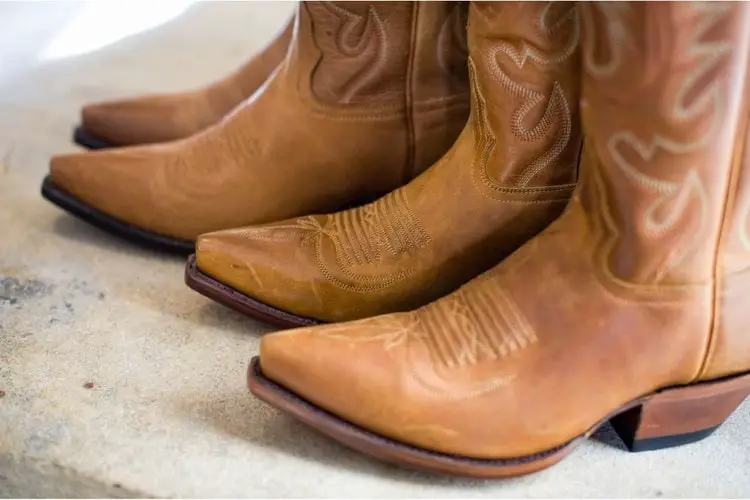 You can also look for Durango cowboy boots, they also have EVA Footbed cowboy boots.
In our opinion, the most comfortable cowboy boots and the best arch support for the foot arches often belong to Durango and Ariat brands.
However, not all cowboy boots have EVA footbeds, so we recommend that you use cowboy work boots, as most cowboy work boots have foot support.
If it's too difficult for you to find cowboy boots that have an EVA footbed, don't worry, we'll find it for you, just scroll down and read through this article.
Read more: How To Break In Cowboy Boots?
The 4 best cowboy boots for high arches
Now, let's take a look at the cowboy boots that helped many people with high arches feel comfortable.
1. The Annie from Tecovas
As one of the most famous cowboy boot brands in the world, Tecovas should always be the number one choice of everyone, and not exclude those with high arches.
While there are no boots specifically designed for high-arched feet, Tecovas boots always have great arch support, which ensures you don't experience pain while wearing them.
The Annie is one of those boots, not only does it support those with high arches, but it also has an extremely soft and feminine look.
The most prominent feature is the unique suede nappy surface, along with the graceful texture of the curves in the vamp, leather sole, and toe shape. These boots bring a sense of grace to any girl.
The Annie carries in them traditional beauty and classic spirit thanks to the beautiful stitching flowing from the shaft to the vamp.
The 2-inch heel can make you feel taller and more confident, while the snip toe is also a great feature of the boots to make your legs look slimmer.
Not only the outer beauty, The Annie boots will also bring comfort through the leather sole and leather lining when these two parts are breathable and have good sweat absorption.
Not to mention the softness of suede, for those who don't know, suede is also more breathable than full-grain leather because it is thinner due to multiple processing steps.
The Annie boots bring in the classic style but apply advanced designs on the soles to create good arch support. That's what I like most about Tecovas, and I believe those with high arches will do too.
Tecovas customer support is quick and great, if in doubt about their size, you can pick up the phone and get an answer in just 30 seconds.
2. The Earl from Tecovas
The next pair of boots that will make your high arch more comfortable than ever is The Earl by Tecovas.
As one of the most successful products of Tecovas, The Earl boots look great, but they also support the wearer's arch very well. That is the basis for the success of these boots.
Made from goat leather, The Earl boots are very durable and especially breathable, if you don't know, the reason is that goat leather has larger pores than other types of leather.
Besides, you will also love their look, especially the color and very natural wrinkles that only goat leather has – natural but very luxurious. A night out, wedding, casual wear, etc. – all is possible when you put on The Earl boots.
And yet, goat boots are also durable enough for multi-use, you can completely use them for many different jobs such as yard work, farm work, etc.
Not only is the material outstanding, but many other characteristics of The Earl are also very interesting.
Like a leather sole with delicate curves that bring confidence to every step. The leather lining will cool your feet in the summer because of its good sweat absorption feature.
It must also be mentioned the excellent workmanship of the Tecovas craftsmen. I really like the color of their boots, rich and not boring. The Earl is one of them!
3. The Daisy from Tecovas
The Daisy by Tecovas is one of the next great products you should consider, as they are also rated as very suitable for high arches by users.
The Daisy has a very prominent arch because it is built to reduce force and pressure on the wearer's entire foot. That's why you will feel more comfortable!
In addition to the high-end interior that supports high arches, The Daisy has a great exterior as it gets a soft appearance of the fuzzy suede surface.
Besides, thanks to the high heel, there's a lovely curve from the heel to the tip of the leather sole. The Daisy's heel is also very tall at 2 1/2 inches, giving you a more confident and taller look. I also like its stacked leather design, which is very unique and beautiful.
The leather sole of these boots is very thin, giving a slim and light feel to every step, not clunky like the rubber one.
The sophistication of this baby is multiplied when it has an oblong toe snip that feels luxurious and attractive.
Finally, what I like most about this is the zipper size. This feature makes it easier for people with high instep to access cowboy boots. The reason is that it allows wearers to put them on easily.
The side zipper of these boots does not make them clumsy, on the contrary, it is decorated with a very delicate leather fringe. This is truly an impressive sensibility of the Tecovas craftsmen.
4. The Cartwright from Tecovas
As one of the best Tecovas cowboy boots, you definitely can't say no to The Cartwright.
What I like most about The Cartwright is that the colors are extremely well-polished and very classic. The uniform color from the top down the vamp and the darkened color towards the tip of the toe is definitely a fine wine.
The next thing I love about The Cartwright is their shape!
You can see that The Cartwright's round toes are beautiful as they taper towards the tip and are not too wide. This round toe shape is perfect to go with jeans or khakis.
Besides, the stacked leather heel structure is very eye-catching and the height of 1 1/2 inches creates a tall look for you.
There's no one like me, but I like The Cartwright's slightly raised toe shape. It brings a more confident, and slightly arrogant look to the wearer.
There's an edgy look to these boots thanks to the very thin and smooth leather sole with a heel-to-tip curve.
Finally, with the signature smooth and soft details on the shafts of Tecovas, The Cartwright boots will motivate you to put on them every day.
The most important thing you look for is that The Cartwright boot has very great arch support (thanks to the EVA strip), which ensures your high arch foot is well-cushioned.
The only problem you need to deal with is the size of the boots. Don't hesitate to call Tecovas customer support for good advice, I love Tecovas customer service as they solve problems very quickly.
The Cartwright's leather lining and leather sole will keep you comfortable due to its good breathability and moisture absorption. These two parts also mold feet better than ones made of mesh and fabric.
You also have a wide choice of colors and materials at The Cartwright. For example, if you are looking for summer boots, The Cartwright goat boots will be a fun choice with their natural colors and amazing ability to cool down the heat!
Before You Leave
In conclusion, finding the right cowboy boots for high arches requires attention to detail and understanding your unique needs.
To guide you in your search, we have provided a comprehensive guide that covers key factors such as arch support, cushioning, materials, and fit.
We have also reviewed a wide selection of cowboy boots suitable for high arches, highlighting their features, pros, and cons.
This will help you make an informed decision and find boots that offer the comfort and support your high arches require.
With our guide and reviews, you can confidently choose the best cowboy boots for your high arches, ensuring a comfortable and enjoyable experience.
So before you leave, take the time to select the perfect pair that meets your preferences and requirements.
Howdy y'all, and welcome to From The Guest Room, your ultimate guide to all things Western! I'm Jay Gatz, a lifelong cowboy boot enthusiast with over 5 years of experience in the Western style world. I'm excited to share my knowledge with you and help you discover the perfect cowboy boots and western gear to elevate your style. Let's explore the rich history and timeless appeal of Western fashion together!